The HARISON B8 Recumbent Bike is a relatively new release from HARISON Fitness. The B8 Recumbent Bike is sturdy and durable, functional, and versatile, includes a good set of user-friendly features, is easy to assemble, comes with a generous warranty, and is reasonably priced.
It comes with a smooth and efficient 14 level manual magnetic resistance system. This is quite a plus, as most exercise bikes with a manual magnetic brake only offer eight tension levels. You'll be able to target cardio, burning calories and fat, and strengthening your leg muscles.
The B8 has a 29 lb (13 kg) flywheel with a balanced design. It delivers pretty consistent momentum and also allows pedaling in reverse. The bike has a thick multi-grooved belt-driven system. This leads to a very smooth, vibration-free pedaling motion.
The B8 features a real-time digital LCD console that tracks the leading workout statistics distance, time, calories, speed, RPM (power), odometer, and pulse through the integrated pulse sensors in the handlebars. It also has goal settings for time, distance, and calories burned.
Learn more in my complete review below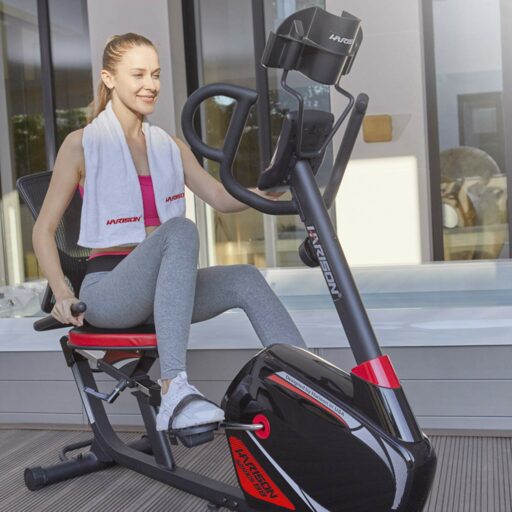 Product: HARISON B8 Recumbent Bike
Price: For a great deal on this bike, merely go here on Amazon
Warranty: Frame 1 year / Parts 5 years
My rating: 8.75/10
Amazon Affiliate Disclosure: I may earn commissions on purchases made through links in this post.
Details and Specifications
Assembled dimensions: 60.2″L x 21.6″W x 41.3″H (153L x 55W x 105H cm)
Assembled weight: 120 lbs (54 kg)
Flywheel weight: 29 lbs (13 kg)
Weight capacity: 350 lbs (159 kg)
Seat: Adjustable
Resistance: Manual magnetic, 14 levels
Console: Time, speed, distance, total distance, RPM, calories, and pulse
Extras: Bottle holder, tablet holder, phone holder
Warranty: Frame 1 year / Parts 5 years
B8 Frame
The HARISON B8 features a frame made of steel tubing, featuring construction and overall sturdiness, which is pretty close to a light-commercial recumbent bike.
It also has a maximum weight capacity of 350 lbs (159 kg), which is excellent for a bike made for home use. Of course, the bike also integrates several ABS parts. For example, the frame of the backrest, the covers of the flywheel, and several other covers are durable ABS. All the steel parts in the bike's construction come with a corrosion-resistant paint finish. The color used is black except for the seat sliding rail, which has a chrome finish.
The bike's frame has two main pieces. These two pieces connect in the middle via a set of screws. There is also a small adjustable stabilizer at the joint between the two frame sections.
The bike's bases consist of two cylindrical tubes. The front base tube features two small transport wheels. The rear base tube comes with two polygonal caps, which can rotate to stabilize the unit on any floor. Also, the rear base bar features a lifting handle that facilitates the use of the front transport wheels.
The fully assembled bike is relatively large. It is approximately 60.2″ (153 cm) long, and 21.6″ (55 cm) wide. Thus, it requires a minimum usage area of 80″ x 60″ (203 x 152 cm). Additionally, the highest point of the bike is the top of tablet support, which reaches approx. 41.3″ (105 cm) above floor level.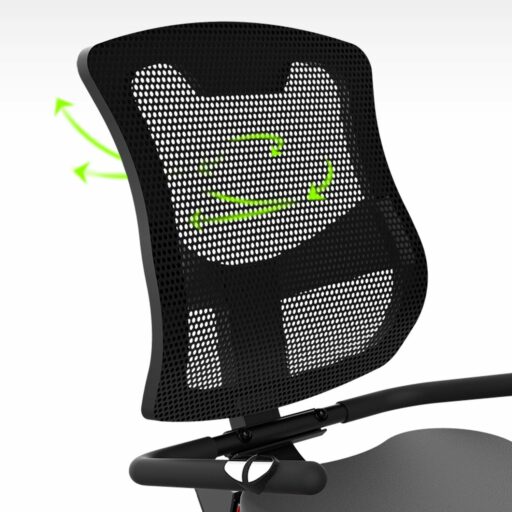 Last but not least, the bike is considerably heavy. With all the parts assembled, it weighs approximately 120 lbs (54 kg). Therefore, it is advisable to be transported and assembled by two people. However, once assembled, its relocation is (made) via the front transport wheels.
Seat and handlebars
The HARISON B8 recumbent bike comes with a comfort seat. The seat pad features 2″ of foam padding and durable vinyl upholstery. It's reasonably large, approx. 15.7″ (40 cm) wide, and 11.4″ (29 cm) long, offering plenty of contact surface.
The backrest features a heavy-duty ABS frame with a mesh structure for superior breathability and flexibility. It is approximately 20.5″ (52 cm) long, and 18.5″ (47 cm) wide, and slightly arched for extra comfort. The backrest does not adjust independently from the rest of the seat, nor does it have a reclining system.
The whole seat assembly is adjustable. It is attached to an oblique rail and can move closer or farther from the pedals. The adjustment system consists of a dial placed on the right side.
The adjustment span is long enough to accommodate users between 5'0″ and 6'3″ (153 – 188 cm). Also, as I've mentioned above, the seat assembly is durable enough to support users up to 350 lbs (159 kg).
This HARISON B8 exercise bike comes with two sets of handlebars. One is attached to the seat assembly, and the other to the front mast. The seat handlebars integrate stainless steel pulse sensors.
The distance between them is approx — 23″ (58 cm), similar to the gap between the armrests of the average office chair. The front handlebars feature a multi-grip design but do not have pulse sensors. Both sets of handlebars feature rubberized grips for extra comfort and hand adherence.
B8 Resistance System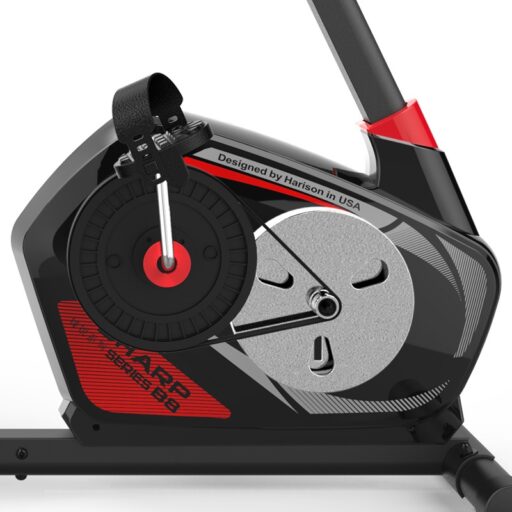 The HARISON B8 exercise bike features a magnetic resistance system. However, it does not have an internal motor, and the resistance adjustment is manual. Also, the console does not control the resistance in any way, and the bike does not require an external power source.
The bike's resistance system consists of a mechanical, magnetic brake which connects to the adjustment dial on the front mast. By turning the dial clockwise, the brake moves closer to the flywheel, which results in a higher intensity of the internal magnetic field, which leads to an increased pedaling difficulty.
Since the bike's resistance is magnetic, the resistance elements do not touch. This leads to a smooth and quiet operation, and almost inexistent wear and tear of the brake system.
The HARISON recumbent bike offers 14 levels of resistance. This is quite a plus, as most exercise bikes with a manual magnetic brake only offer eight tension levels. The 1-3 levels deliver a light resistance, best for exercising heart and lung function.
The 4-6 levels are for advanced aerobic exercise and burning calories. Additionally, the 7-10 levels are good for toning leg muscles and improving strength and stamina, while the 11-14 levels offer the possibility to undergo high-intensity training.
Drive System
The bike's internal flywheel is relatively heavy for a recumbent bike. It weighs approx. 29 lbs (13 kg) and has a balanced design. It delivers a pretty consistent momentum and also allows pedaling in reverse.
The bike has a belt drive system. This leads to a very smooth, vibration-free pedaling motion. Plus, you will never have to lubricate it, such as a chain drive system.
The bike comes with solid steel crank arms. The included pedals have a weighted design, which enables them always to turn face-up when you remove your feet from them. They have a textured, non-slip surface and also include adjustable straps so you can entirely secure your feet on them during pedaling.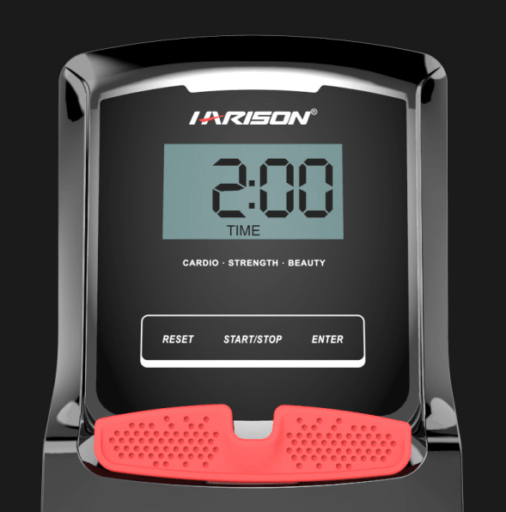 B8 Console
Since the bike doesn't have an automatic resistance system, the console does not have preset programs and does not automatically adjust the resistance.
Thus, it's only a console that tracks the main workout statistics, including time, distance, speed, RPM, calories, and pulse. It also has an odometer function that keeps track of the total miles ridden since the first day of use.
The pulse reading function can only use the sensors integrated into the seat handlebars. The console cannot read your pulse through a wireless strap transmitter.
The console unit features a large LCD and three main buttons. You can select any of the workout metrics to be shown on display all the time. Or, select the SCAN mode, which rotates all the metrics showing each one for several seconds. It also has goal settings for time, distance, and calories burned.
The console starts when you begin pedaling or when you press the Start button. It also has a sleep mode to which it will enter after a few minutes of inactivity on the bike.
In terms of accessories, the HARISON B8 includes a tablet holder that connects to the back of the console and will not block the LCD. This accessory also integrates a bottle holder compartment which can hold any hydration bottle. And finally, another small shelf is embedded at the bottom of the console; this accessory can serve as a phone holder.
B8 Assembly and Maintenance
The front unit of the bike with the drive and resistance elements comes pre-assembled. However, the other parts still require assembly. Therefore, you will have to connect the two main frame sections, add the two base stabilizers, add the console mast, the console, the tablet support, assemble the seat, and finally add the pedals.
This may take up to two hours of your time. The manual provides clear assembly instructions, and an essential toolkit is also (included).
Maintenance doesn't require much. Once assembled, you only have to keep the unit clean, keep liquids away from the console, and periodically check for loose or broken parts.
Pros
Sturdy, steel frame – 350 lbs capacity
It comes with adjustable stabilizers on the rear base;
Transport wheels on the front base;
Step-through frame design for easy access to the seat;
Seat handlebars with pulse sensors;
Multi-grip handlebars at the front;
Cushioned and contoured seat;
Multiple adjustment positions for the seat;
Vented backrest for superior breathability;
Quiet magnetic resistance system;
14 levels of resistance available for superior micro-adjustability;
Weighted pedals with adjustable straps;
LCD console that can track time, distance, odometer, speed, calories, RPM, and pulse;
Goal setting functions for time, distance, and calories;
Tablet holder included;
Bottle holder included;
Phone holder included;
Fairly easy to assemble;
Little to no maintenance required;
Decent warranty.
Cons
The LCD isn't backlit;
The console is not telemetrically enabled;
No preset workout programs.
HARISON B8 Recumbent Bike Summary
The HARISON B8 Recumbent Bike is made for home use, featuring a manual magnetic resistance system with 14 distinct tensions settings. It comes with a comfortable seat and an LCD console that tracks the essential workout metrics.
It's a great exercise bike for light to mid-range cardio training, recovery training, muscle toning, and weight loss. In all, it offers excellent value for the price.
I hope you found this article helpful and informative. If you have anything that you'd like to share or any opinions about my website, please do speak up. I look forward to your comments, questions, and the sharing of ideas.
Related articles: