The Merax Water Rowing Machine looks sleek, modern and elegant in black and dashing blue. This solid rower can expect durability and consistent performance that supports user weights up to 330 pounds. In addition, a uniquely inclined water tank ensures more powerful resistance than others in a flat position. As a result, get a more effective aerobic workout and cardio health on the upswing.
With a unique design, the blue water tank offers enhanced resistance compared to the other rowers sitting in a flat position. With varying low to high intensity, this water rower challenges you and puts you in a race mode. In addition, the Merax water rowing machine provides a soothing glide that mimics the dynamic rowing movements across the actual water.
The large contoured seat is molded for comfort, measures 12.5 x 10 inches, and will make you feel comfortable during long sessions. The footrests are 12 inches long, pivot safely with your feet, and include Velcro straps that you can adjust for comfort.
The Merax water rowing machine has a large multifunctional LCD fitness monitor that tracks valuable stats such as calories burned, distance, strokes, duration of rowing, and heart rate. In addition, it has Recovery, Reset, Start/Stop, Up, and Down buttons. The Quick Start and Stop buttons let you start rowing with the push of a single button.
Learn more in my complete review below!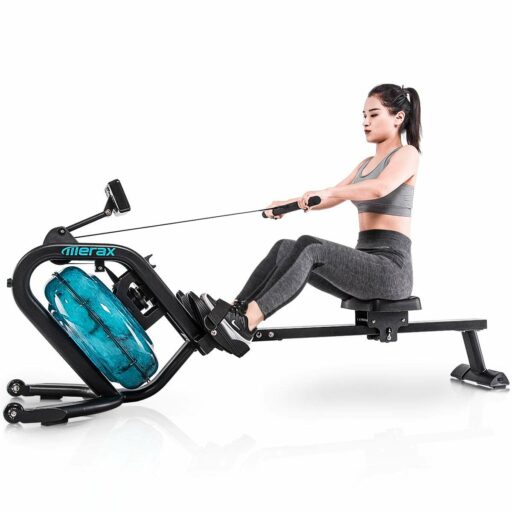 Product: Merax Water Rowing Machine
Price: For a great deal on this rower, merely go here on Amazon
Warranty: 1 year limited
My rating: is 9/10
Affiliate Disclosure: As an Amazon Affiliate Program participant, I earn commissions on purchases made through links in this post. Full disclosure
Details and Specifications
Assembled dimensions: 78″L x 20″W x 25.5″H (198L x 51W x 64H cm)
Assembled weight: 72 lbs (32.6 kg)
Weight capacity: 330 lbs (150 kg)
Frame: Steel
Resistance type: Water
Fitness Monitor: Time, count, total count, calories, distance, pulse, race program
Warranty: 1 year limited
Merax Frame
The Merax water rowing machine features a durable steel frame with a sturdy and relatively long rail for the seat. The seat assembly and the railway should support 330 lbs (150 kg) users. Also, the rail is long enough to accommodate users up to 6'3″ (190 cm).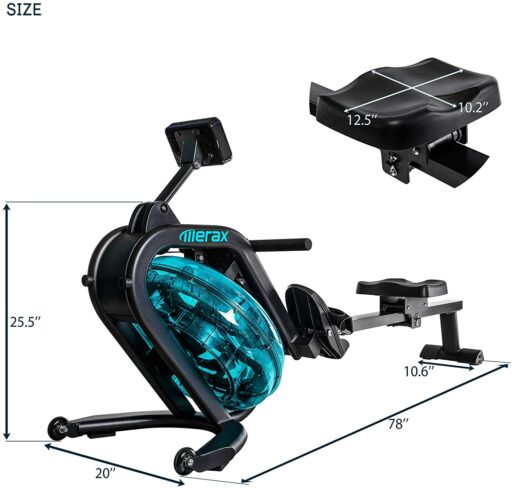 The fully assembled rower is relatively large. It takes approx. 78″L x 20″W (198 x 51 cm) of floor space, and on top of this, you have to add at least two feet of clearance on each side and at the rear, and at least one foot of clearance at the front, for safe usage and ease of access. Thus, it may not fit too well in a small room or apartment.
The rail of this rower does not fold like the rail of the Merax magnetic rower. However, the machine can be stored vertically on the front frame bars. This way, its footprint is reduced to approx. 25″L x 20″W (64 x 51 cm). Also, the water can remain in the machine's tank when stored vertically.
The unit's net weight is approximately 72 lbs (32.6 kg). So it's not extremely heavy, but it's heavy enough to provide excellent stability. Plus, its rear stabilizer features adjustable levelers with rubberized pads.
The front base also rests on (non-adjustable) rubber pads. These offer an excellent grip on the floor, preventing the unit from sliding or moving if you engage in a more intense workout.
The front base of the unit features a set of silicone wheels. Therefore, its relocation shouldn't be a problem for only one person once assembled. Using these wheels, you won't have to handle more than 20 lbs (9 kg).
The machine's frame comes with a corrosion-resistant and abrasion-resistant paint finish. The color used is black, the only color available for this model.
Seat and other parts
The Merax water rowing machine has a reasonably large seat. It is approx. 12.5″ (31.7 cm) wide and 10″ (25.4 cm) long. It provides enough contact surfaces for a comfortable workout. It stands at approx. 16″ (40.6 cm) above floor level. Therefore, entry and exit shouldn't be difficult for elderly users or users with specific disabilities.
The top of the seat does not integrate any cushioning. However, it does have a contoured surface to provide optimal comfort and adherence. It's a durable, fiberglass-reinforced ABS material, and as I've mentioned earlier, it should be able to support users up to 330 lbs (150 kg).
The supporting frame of the seat is steel. It integrates three sets of rollers. Two are on top of the rail, and the third is placed under the railing to maximize stability. The rollers embed ball bearings to provide smooth motion for the seat.
The machine's footrests are not size-adjustable. However, they're large enough to accommodate footwear of all sizes. They also have heel guards and adjustable straps with Velcro closure.
Just like the seat, the footrests are made of durable ABS material. In addition, they have a pivoting design, allowing a slight movement of the feet during every stroke. Therefore, you can focus on your calves by stretching your feet forward. Also, their rear stoppers allow a maximum angle of approx — 50 °.
The pulling handle is a simple, straight metallic bar with rubberized grips for optimal comfort. It measures approximately 20″ (51 cm). It is attached to a mesh strap, which is highly resistant to abrasion.
Unfortunately, the pulling handle doesn't have integrated HR pulse sensors. Therefore, you will need an HR chest strap to have your heart rate read.
Merax Water tank and resistance system
The Merax water rowing machine has a solid polycarbonate water tank with an internal multi-blade impeller. As you pull the handle, the impeller spins into the water inside the tank, generating resistance.
The tank's exact capacity is not specified, but it's probably between three and four gallons (11-15 liters). Unfortunately, the tank does not have a resistance adjustment dial like First Degree Fitness rowers.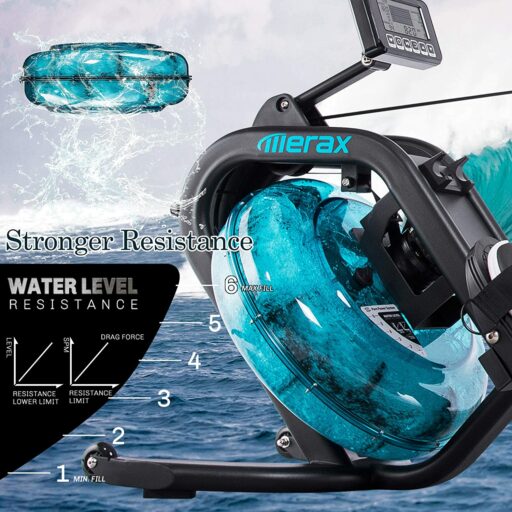 However, you can still add or remove water from it to increase or decrease the overall resistance. There are six different levels of resistance marked on the water tank.
Like any other rower with fluid resistance, the Merax model delivers a dynamic response during rowing. Therefore, the resistance increases by the strength you put behind each stroke (the harder you pull the handle, the more resistance you will get). Thus, it creates similar rowing to an actual boat through the water.
The level of noise generated by the machine is shallow. As a pointer, it won't cover the sound of your TV set on one of the lowest sound settings.
Fitness monitor
The fitness monitor with the Merax water rowing machine features an LCD that divides into multiple sub-sections. It indicates time, SPM, strokes, distance (measured in meters), calories burned, and pulse.
In addition, the pulling handle doesn't have integrated pulse sensors, so the monitor can only read your pulse via a wireless HR chest strap. Furthermore, the HR chest strap does not come with the rower.
Unfortunately, the fitness monitor does not have any online connectivity, nor is it compatible with any fitness apps. However, it has two main programs, Manual and Race.
The Manual Mode has two options. One, you can start rowing, and the unit will count the values of your workout. And two, you can set up target values for time, distance, strokes, calories, and pulse, and the monitor will countdown from there.
As its name suggests, the Race mode allows you to compete against the computer to test your fitness level. This program has multiple levels of difficulty. Each level has its preset time/of 500m.
A Recovery function is also available on this fitness monitor. This program gives you the possibility to calculate your fitness level. At the end of the workout, the heart rate will provide a fitness rating between F1 (Excellent) and F6 (Poor).
Apart from the workout metrics mentioned above, the machine's monitor displays room temperature, clock, and calendar. The monitor is battery-operated and requires two AA batteries, which come included. In addition, it also has a sleep mode to enter without machine input for several minutes.
Merax Assembly and Maintenance
The unit's tank comes pre-assembled and attached to the front part of the rower. Therefore, you only need to connect the seat to the rail, attach the track to the front part of the frame, and add the rear stabilizers, the footrests, and the fitness monitor.
Consequently, it shouldn't take more than 30-40 minutes of your time — an essential toolkit with the assembly tools comes included. Also, the manual provides precise assembly instructions.
It is advisable to periodically treat the water in the tank with the supplied chlorine pills for maintenance. It would also help keep the rail clean to prevent damage to the seat rollers.
Pros
Sturdy steel frame – can support users up to 330 lbs;
It can store vertically, and the water doesn't need drainage for storage;
It comes with adjustable stabilizers on the rear base;
Transport wheels on the front base;
Durable, contoured seat;
The seat's top is 16″ above floor level for easy entry and exit;
Pivoting footrests with adjustable straps and heel guards;
Water-resistance system which provides a dynamic response during rowing and a natural feel;
The inclined water tank provides extra resistance;
LCD monitor, which shows time, distance, SPM, total strokes, calories, and pulse;
Two workout modes – Manual and Race;
Recovery function;
Clock, calendar, and room temperature reading function on the meter;
Its operation is smooth and quiet;
Chlorine tablets for water purification are included with the machine;
Batteries for the monitor are included with the machine;
Tools for assembly included;
Little maintenance is required.
Easy to assemble.
Cons
An HR chest strap does not come with the rower;
The fitness monitor LCD does not have a backlight.
Merax Water Rowing Machine Summary
The Merax water rowing machine features a durable steel frame, an inclined polycarbonate water tank with six resistance water levels, a reasonably long rail, and a fitness monitor with two main workout programs (Manual and Race).
It's perfect for a full-body cardio workout, muscle toning, stamina improvement, and weight loss. And finally, even though it's not the cheapest rower, it's one of the most affordable machines with water resistance.
I hope you found this article helpful and informative. Would you please speak up if you have anything you'd like to share on the topic or any opinions about my website? I look forward to your comments, questions, and the sharing of ideas.
Please remember that you should consult your physician to determine if you have any medical or physical conditions that could risk your health and safety or prevent you from using the equipment properly. In addition, your physician's advice is essential if you are taking medication that affects your heart rate, blood pressure, or cholesterol level.