The Body-Solid GPR378P4 Pro Power Rack Package is a perfect option for home users who want to build muscles and get in better shape. Unlike other home gyms like Bowflex, which use a power rod resistance system.
Instead, the Body-Solid GPR378P4 uses a power rack system, which is much simpler and straightforward than other gyms in a similar price range. It offers enough features and a workout area to perform intense exercises with easy mobility.
You won't get bored using the Power Rack in your daily routine. These great features, combined with long-term durability and robust strength, make the Body-Solid GPR378P4 Power Rack Package one of my recommended buys for 2019.
The Body-Solid GPR378P4 Power Rack Package includes a Power Rack, a lat attachment with its weight stack, a heavy bench, a dip attachment, a preacher curl station, and a leg developer for the bench. However, this package does not include a squat bar with Olympic plates.
Learn more in my complete review below!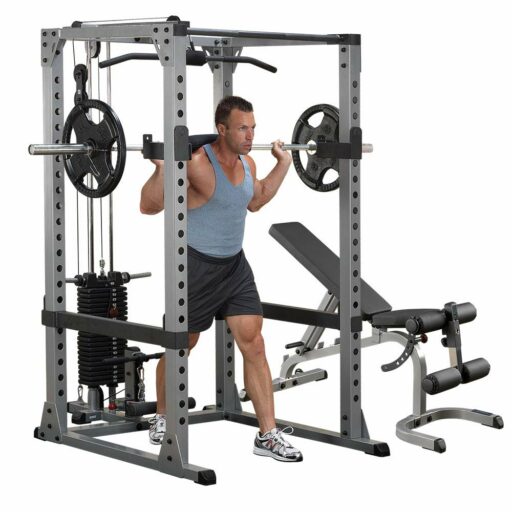 Product: Body-Solid GPR378P4 Pro Power Rack Package
Price: For a great deal on this gym, merely go here on Amazon
Warranty: In-home Lifetime (see the light-commercial warranty below)
My rating: 9.75/10
Affiliate Disclosure: As an Amazon Affiliate Program participant, I earn commissions on purchases made through links in this post. Full disclosure
Note: Olympic bar and weight plates contained in some images are not included with the rack.
Details and Specifications
Assembled dimensions (rack): 49L x 46W x 80H inches (125L x 117W x 203H cm)
Assembled dimensions (bench): 70L x 28W x 19H (178L x 71W x 48H cm)
Total weight: 400+ lbs (181+ kg)
Weight capacity (spotters): 800 lbs (362.8 kg)
Weight capacity (bench): 1,000 lbs (453.5 kg)
Lat attachment: Cast iron plates, 210 lbs (95.25 kg)
Possible exercises: 50+
In-home Warranty: Lifetime
Light Commercial Warranty: Frame & Welds Lifetime / Pulleys, Bushings, Bearings, Hardware, Plates, Guide Rods 3 years / Cables, Upholstery, Grips (Normal Wear) 1 year
 GPR378P4 Power rack
The main component of this home gym system is the Body-Solid GPR378 Power Rack. This strength cage features high tensile steel construction with a 3″ x 3″ 11-gauge base and upright tubes. In addition, it has an all-4-side welded construction, offering extreme sturdiness and commercial-grade quality.
The unit's mainframe features an electrostatically applied powder coat finish, which is highly resistant to abrasion, chipping, and corrosion. The colors are gray for the cage's mainframe, while the safety and lift-off bars are black.
The upright columns of the power rack feature 20 adjustment positions for safety and lift-off bars. The distance between the adjustment holes is 3″ (7.6 cm). Also, the spotter bars' weight capacity and lift-off bars are 800 lbs (362.8 kg).
The power rack base doesn't have adjustable stabilizers or any holes for anchoring it to the floor. If you want to attach it to the floor, you can improvise and drill holes, but this will void its warranty. However, it weighs 400+ lbs, including the weight stack, so it shouldn't have any stability issues.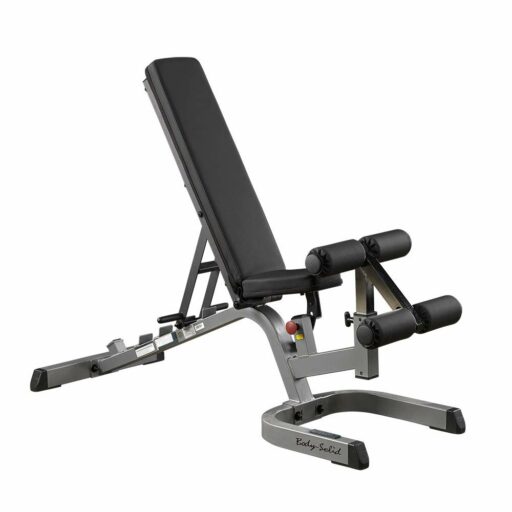 The top front part of the rack features a pull-up/chin-up bar. Its knurled surface provides a secure grip.
In terms of dimensions, the rack itself has a footprint of approx. 49″L x 46″W (125 x 117 cm). Its height reaches approximately 80″ (203 cm), which means it can fit in a room with a 7′ (213 cm) room.
However, if placed in a room with a 7′ ceiling, the remaining clearance above will be only 4″ (10 cm), which may not be enough for performing chin-ups correctly.
Bench
The bench included with this power rack is the Body-Solid GFID71. It's built on a 2″ x 3″ heavy-duty steel frame and has a weight capacity of 1,000 lbs (~453 kg). Its back and seat pads lock into eight distinct positions, offering the ability to perform inclined, horizontal, and decline exercises.
The dimensions of the bench are 70″L x 28″W x 19″H (178L x 71W x 48H cm). Therefore, the rack with the bench assembly requires a workout area of at least 7′ x 6′ (213 x 183 cm).
Also, the 19″ (48 cm) height of the bench refers to its horizontal position. Therefore, when the backrest is at its maximum incline position, the unit's highest point is approx — 50″ (127 cm).
The bench's base bars don't include adjustable stabilizers, but they rest on rubberized pads, improving its grip on the floor and stability. Also, its rear part has transport wheels to enhance its relocation.
The bench comes with 2¾" thick DuraFirm™ pads, designed never to bottom out. Also, its upholstery is a durable vinyl material that can last a lifetime with proper care.
The front section of the bench can take various attachments, such as a preacher curl station or leg developer, which comes with the package. The GLDA3 leg developer attachment comes with 4″ foam rollers, which provide optimal comfort for the legs. Additionally, it comes with a Standard 1″ diameter bar for Standard weight plates. However, you can always add an Olympic adapter to load it safely with Olympic (2″) plates.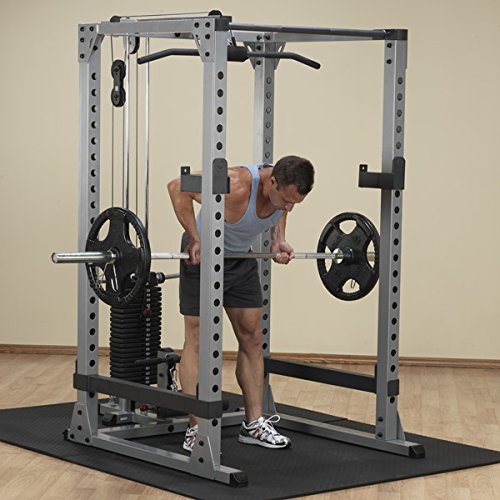 GPR378P4 Lat attachment & weight stack
This home gym system also contains the Body-Solid GLA378 lat attachment. This additional workout station includes 20 cast iron weight plates, 10 lbs (4.5 kg) each.
The plates are cast iron, and not a vinyl/cement or vinyl/sand combo is quite a plus. In addition, iron plates are highly durable, can take a lot of abuse, and can last a lifetime with proper usage.
The stack's top stopper plate also weighs 10 lbs (4.5 kg); thus, the 210 lbs weight.
Using standard weight plates, the GLA378 lat attachment features two 1″ diameter side pegs. If you opt for an Olympic plate adapter, you can also use Olympic plates on them safely.
The lat attachment comes with several fiberglass-reinforced nylon pulleys. They integrate heavy-duty ball bearings to provide smooth operation. Also, the included cables are nylon coated and aircraft quality rated for a 2,200 lbs test.
Lastly, the lat station includes a standard lat bar with curved grips and a short, low-row bar with straight grips. Both bars have their grip points covered by a layer of rubber foam to provide optimal comfort.
Possible Exercises
This home gym system offers the possibility to perform various exercises. I've enumerated at least 50 in the section below, but this exercise base can expand with extra accessories and a little ingenuity.
Pull-ups
Wide grip pull-ups
Muscle pull-ups
Behind head pull-ups
Around the world, pull-ups
One-arm pull-ups
Cliffhangers
Weighted pull-ups
Chin-ups
Close grip chin-ups
Wide grip chin-ups
One hand chin-ups
Weighted chin-ups
Hanging knee raises
Hanging leg raises
Dips
Assisted dips
Weighted dips
Band-resisted dips
Dip to leg raise
Side-to-side dips
Gironda dips
Reverse Gironda dips
Lat pulldowns
Close-grip pulldowns
Behind head pulldowns
Aerobic rowing
Kneeling rowing
Biceps curls
Triceps press downs
Chest presses
Single-arm chest presses
Wide grip chest presses
Close grip chest presses
Cable crunches
Cable twist crunches
Seated trunk rotations
Standing trunk rotations
Leg curls
Stand-up leg curls
Calf raises
Sit-ups
Squats
Single-leg squats
Kneeling single-leg squats
Wide squats
Twisting squats
Jumping squats
Hip extensions, Hip adductions, and Hip abductions
and more
The Body-Solid GPR 378P4 Power Rack Package includes GPR378 (power rack), GLA378 (lat attachment), SP200 (200 lb weight stack), DR378 (dip attachment), GFID31 (flat incline/decline bench), GPCA1 (preacher curl station), and the GLDA1 (leg developer attachment).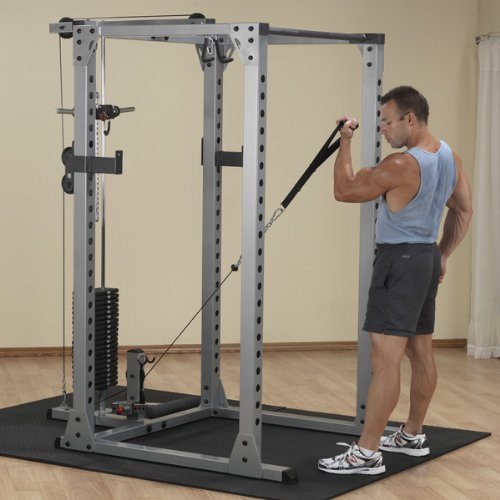 Also, remember that an Olympic or Standard barbell with weight plates does not come with the package. So you will have to use your own.
GPR378P4 Assembly & Maintenance
Considering that this gym system includes three main parts, the power cage, the lat attachment, and the bench, the complete assembly will take more than two hours. Furthermore, two people should do the construction.
The included manuals provide clear assembly instructions, and considering the machine doesn't integrate many pulleys and cables, the process is pretty straightforward.
Tools for assembly do not come with the rack. Therefore, you will need two adjustable wrenches, a Phillips screwdriver, and a rubber mallet.
Once assembled, maintenance doesn't require much. However, it is advisable to periodically check for loose bolts and parts and retighten them if necessary. In addition, it would be best to lubricate the weight stack's guide bars regularly to provide a smoother action. The pulleys may also require lubrication.
Pros
Extremely sturdy, commercial-grade construction;
High weight capacity (800 lbs) for the safety bars and lift-off bars;
Pull-up bar included;
20 attachment positions for the safety and lift-off bars;
Power bench included;
1,000 lbs weight capacity for the bench;
Eight adjustment positions for the backrest and seat of the bench, allowing horizontal, inclined, and declined exercises;
DuraFirm pads on both backrest and seat;
Transport wheels on the bench rear base;
T-Bar Leg Stopper and Leg Developer attachments for the bench;
Preacher curl station included;
Lat pulldown station included;
210 lbs cast iron plate weight stack;
Standard pegs for extra loads attached to the lat station carriage unit;
Heavy-duty fiberglass reinforced nylon pulleys;
2,200 lbs tensile strength steel cables;
Lat pulldown bar included;
The short row bar included;
Over 50 possible exercises;
Its operation is quiet;
Little maintenance is required;
Reasonably easy to assemble.
Excellent warranty.
Cons
Olympic or standard barbell does not come with the package;
Olympic weight plates do not come with the package.
Body-Solid GPR378P4 Pro Power Rack Summary
This Body-Solid GPR378P4 Pro Power Rack Package home gym system includes the GPR378 power rack, the GLA378 lat pulldown station, the 210 weight stack, the GFID71 power bench, the preacher curl station, and the GLDA3 leg developer for the bench.
These parts feature heavy-duty construction, with up to 800 lbs weight capacity for the power cage and 1,000 lbs total for the bench. In addition, the bench offers multiple adjustment positions, while the lat station features a 210 lbs cast iron weight stack, with the possibility to load it with extra weight plates.
This Body-Solid home gym system allows the execution of over 50 exercises. It's perfect for users of all levels. In addition, it comes with a full lifetime warranty for all parts for home users. In all, it's an excellent piece of fitness equipment offering outstanding value for the price.
I hope you found this article helpful and informative. Would you please speak up if you have anything you'd like to share on the topic or any opinions about my website? I look forward to your comments, questions, and the sharing of ideas.
Please remember that you should consult your physician to determine if you have any medical or physical conditions that could risk your health and safety or prevent you from using the equipment properly. In addition, your physician's advice is essential if you are taking medication that affects your heart rate, blood pressure, or cholesterol level.