The HARISON Pro B1850 Indoor Cycling Bike is an affordable and practical spin bike for home use. Whether you are a beginner or advanced bike enthusiast, the B1850 will help you get the best workout possible. No matter if your goal is strength training or weight loss, the B1850 is a beautiful partner!
The B1850 has a friction resistance system that is infinite. The felt pad faces down next to the flywheel and connects to the tension knob on the mainframe tubing. By turning the knob clockwise, the resistance increases. There aren't any settings marked on the knob. You can keep turning the knob until it becomes too hard to pedal.
The B1850 comes with a multi-functional digital monitor. The LCD monitors time, speed, distance, calorie, RPM, ODO, scan, pulse. The workout metrics displayed are time, speed, distance, calories burned, RPM, Odometer, and heart rate.
The HARISON Pro B1850 Indoor Cycling Bike saddle reduces the friction between your legs and the seat while you are riding. In addition, you can adjust the handlebars and seat vertically and horizontally better to accommodate your body's shape and riding posture. These basic features also make it possible for you to sit or stand while riding, just as you can on a road bike.
Learn more in my complete review below!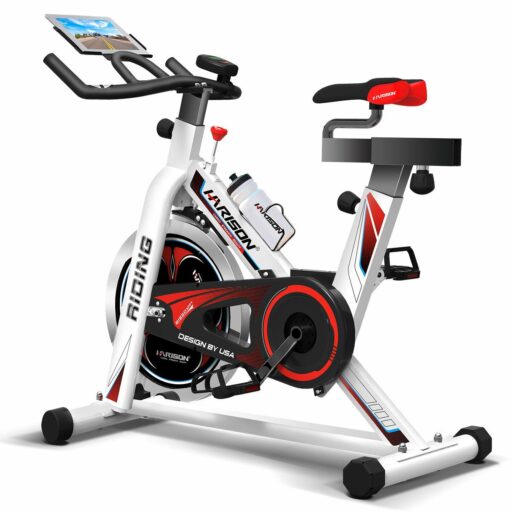 Product: HARISON Pro B1850 Indoor Cycling Bike
Price: For a great deal on this bike, merely go here on Amazon
Warranty: 1-year limited
My rating: 8/10
Affiliate Disclosure: As an Amazon Affiliate Program participant, I earn commissions on purchases made through links in this post. Full disclosure
Note: The tablet contained in some of the images does not come included with the bike.
Details and Specifications
Assembled dimensions: 47L x 20W x 44H inches (119L x 51W x 112H cm)
Assembled weight: 68 lbs (30.8 kg)
Flywheel weight: 29 lbs (13 kg)
Supported weight: 280 lbs (127 kg)
Seat: 4-way adjustable
Handlebars: 2-way adjustable
Drive: Belt
Resistance: Friction, felt-pad
Console: Time, speed, RPM, distance, total distance, calories, pulse, scan
Accessories: Bottle holder, tablet holder
Warranty: 1 year limited
B1850 Frame construction
The HARISON Pro B1850 indoor cycling bike features a heavy-duty 48 mm steel frame. It's solid enough to support users up to 280 lbs (127 kg), which is not bad for a home-use bike. Most tubes in the bike's construction have a rectangular shape, except for the front fork tubes, which are oval, and the round base bars.
Also, all the steel components come with a corrosion-resistant paint finish. The primary colors used are white for the core frame and black for the seat and handlebar tubes. Of course, the frame features several stickers with the "HARISON" logo.
The fully assembled bike is slightly larger than other models. It is 47″ (119 cm) long and approximately 20″ (51 cm) wide. Therefore, you will need a usage area for it of at least 70″ x 60″ (177 x 152 cm). However, the bike isn't as heavy as other models in terms of weight, mainly because it has a lighter flywheel.
However, it still weighs approximately 68 lbs (30.8 kg), twice the average of a road bike's weight. Plus, it has a low center of gravity; so, it provides excellent stability. The bike's rear base bar features two octagonal caps, which rotate, allowing you to level the bike on any floor perfectly. It is advisable to place it and use it on a mat. If you're wondering, this HARISON exercise bike doesn't fold. However, its front base integrates two transport wheels which facilitate its relocation.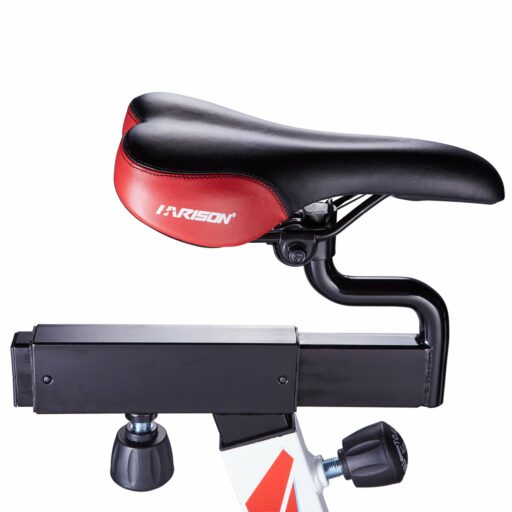 Another essential element that other spin bikes do not have is the step-up element connecting the seat tube with the mainframe oblique tube. This small horizontal bar is precision-welded to its two adjacent tubes providing superior sturdiness.
It also has a top cover to prevent the wear of its paint in case of repeated use. This gives you the possibility to quickly step on the bike whenever you want to commence your workout or perform specific spin workouts that require you to mount and dismount repeatedly.
Seat and handlebars
The HARISON Pro B1850 comes with a spin seat. Now, as a general idea, these seats are not made for super comfort. The saddle is very slim at the front but does have a layer of padding, which is thicker in its rear area. It also has a longitudinal groove, which improves breathability during seated workouts.
The bike's saddle has a collar-based standard connection system to the slider. Therefore, if you don't find it too comfortable, compatible options for it are widely available. Its comfort can be improved by a gel seat cushion, though.
The seat assembly offers 4-way adjustability. It can move up, down, forward, and backward. Its upright post features several adjustment holes, while the horizontal slider provides a few extra inches of front-back adjustment.
Therefore, the bike can accommodate users between 5'0″ and 6'4″ (153 – 193 cm) with no problem. Also, the seat assembly supports users up to 280 lbs (127 kg) with no problem.
The HARISON Pro B1850 comes with a multi-grip handlebar. In addition, it features two extended side grips and a loop aero bar in the middle. The aero bar also integrates a device holder on which you can place your smartphone or tablet.
A layer of high-density foam material covers the whole handlebar to provide a secure grip. Its side grips integrate metallic pulse sensors, while the included exercise meter can monitor your pulse. Some of the more expensive spin bikes do not have a pulse reading function, so this is a plus.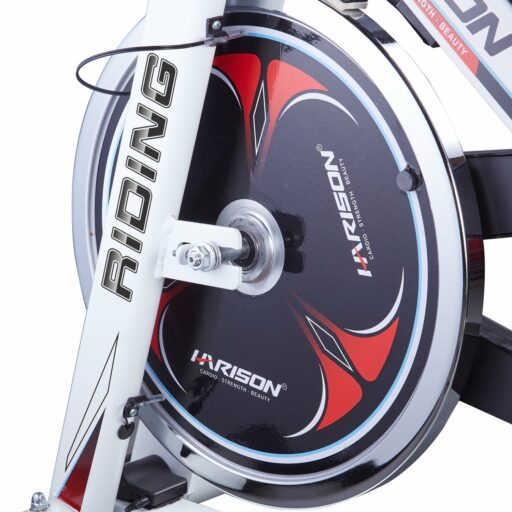 B1850 Resistance System
The HARISON Pro B1850 indoor cycling bike comes equipped with a mechanical magnetic resistance system. This means it doesn't offer automatic resistance control and does not require connection to an external power source.
The bike's resistance system consists of a felt pad attached to the tension knob on top of the bike's main tube. If you turn the knob clockwise, the brake pad applies more friction to the flywheel, which leads to an increased pedaling difficulty.
The brake system does not have pre-determined settings. Instead, you tighten the brake on the flywheel until you get the desired pedal tension. The tension knob also has the emergency brake function; you can press it down to instantly stop the wheel from spinning.
This exercise bike comes with a slightly lighter flywheel than other bikes. It weighs only 29 lbs (13 kg), while for most other spin bikes, the flywheel weight starts at 40 lbs (18 kg).
But the flywheel features a perimeter-weighted structure. This leads to a very consistent pedaling motion even with a low friction factor, which is excellent for spin workouts.
The flywheel allows pedaling in reverse. However, coasting is not possible on this bike. The pedals continue to spin for as long as the wheel is spinning. Thus, when pedaling in reverse, you will get the same resistance as when pedaling forward.
B1850 Drive System
The bike's drivetrain involves a heavy-duty belt. As a general idea, a belt transmission comes with several advantages. For example, you won't ever have to lubricate it, it generates less vibration than a chain drive, and the pedaling motion is smooth and quiet.
Last but not least, this HARISON exercise bike has a solid crankset. It features steel crank arms that can hold users up to 280 lbs (127 kg) in a complete standing-up position. The pedals are made of durable nylon material but do have a steel core. They have toe cages but do not have SPD clips for spin shoes. Their threads are 9/16″, though, so that you can find replacements for them in any bike shop.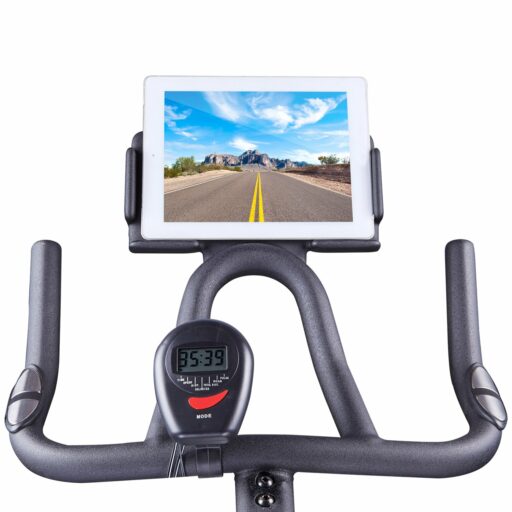 Console
The LCD included with the HARISON Pro B1850 is slightly better than a fundamental unit. That's because it also shows RPM and pulse, along with the primary readings – time, distance, total distance (odometer), speed, and calories burned.
Speed and distance are in imperial units (you cannot set to metric). Also, for the pulse reading function, you will have to use integrated sensors. The console is not telemetric, so it cannot read your pulse through a chest belt transmitter.
The console is straightforward to use. It only has one button. By pressing this button repeatedly, you can scroll through the metrics and select the one you want to view.
It also has a Scan function; when the Scan function is selected, the meter rotates all the values showing each one for several seconds. Also, by pressing and holding the button for a few seconds, you can clear all the metrics to zero.
The console does not have any preset programs or online connectivity. It has a standard LCD and requires one AA battery as its power source. It starts up when you press its button or when you begin pedaling. Furthermore, it also has a sleep mode to enter if there is no input on the bike for a few minutes.
B1850 Assembly and Maintenance
The bike's drive and resistance elements (flywheel, crank, belt, and brake) are pre-assembled. Next, you'll have to connect the base bars, the pedals, the seat post and saddle, the handlebar post and handlebars, and the console.
This shouldn't take more than one hour — a set of necessary tools for the task (is included). Also, the process is relatively straightforward, and the manual provides clear step-by-step assembly instructions.
Since the bike has a belt drive system, its transmission doesn't need lubrication. Therefore, you only need to periodically check for loose bolts and parts in terms of maintenance and re-tighten them if required.
Pros
Durable frame – can support users up to 280 lbs;
It comes with adjustable stabilizers on the rear base;
Transport wheels on the front base;
Step-up bar above the crank;
4-way adjustable seat;
2-way adjustable handlebar;
Multi-grip handlebar with a loop aero bar in the middle;
Pulse sensors integrated into the handlebar;
Smooth and silent belt drive;
Inertia-enhanced flywheel;
Friction resistance for a wide range of tension levels;
It comes with a console – it can track time, distance, total distance, RPM, speed, calories, and pulse;
Tablet holder included;
Bottle holder included;
Easy to assemble;
Assembly tools (are included);
Little maintenance is required.
Cons
The LCD isn't backlit;
The console does not have metric readings.
HARISON Pro B1850 Indoor Cycling Bike Summary
The HARISON Pro B1850 Indoor Cycling Bike is for home use and capable of supporting any spin workouts. It features a friction resistance system, a 29-lb flywheel, a belt-drive, and a 4-way adjustable seat. It also comes with a console that tracks the essential workout metrics.
It's a great trainer for users of all levels, interval training, high-intensity cardio training, weight loss, leg muscle strength development, and boosting stamina. It's also an affordable bike, an excellent alternative to a more expensive gym-grade spin bike.
I hope you found this article helpful and informative. If you have anything you'd like to share or opinions about my website, please speak up. I look forward to your comments, questions, and the sharing of ideas.