The JOROTO X2 Indoor Cycling Bike is a slick design, high-end, belt-driven magnetic indoor spin bike with an excellent quality flywheel. This stationary home gym bike has an AV-type frame with a 5 cm thick frame tube to carry a maximum user weight limit of 280 pounds.
You can adjust the seat and handle it four ways- up and down, back and forth to accommodate taller and shorter adults. The upturned handlebar angle is 18 degrees. The suitable inseam is a minimum of 27.5 inches and a maximum of 36.2 inches.
This belt-drive bike has a magnetic resistance system with six magnets that increases the magnetic field resistance and offers a responsive and smooth ride. And the sturdy steel bidirectional 30 lb flywheel with the aluminum cover provides stability.
It has a digital fitness monitor with the usual indicators of speed, time, calories, distance and a scan that moves between each metric every 9 seconds without pressing the button. The multi-use holder above the display panel can hold your water bottle, phone, small items, and tablet.
Learn more in my complete review below!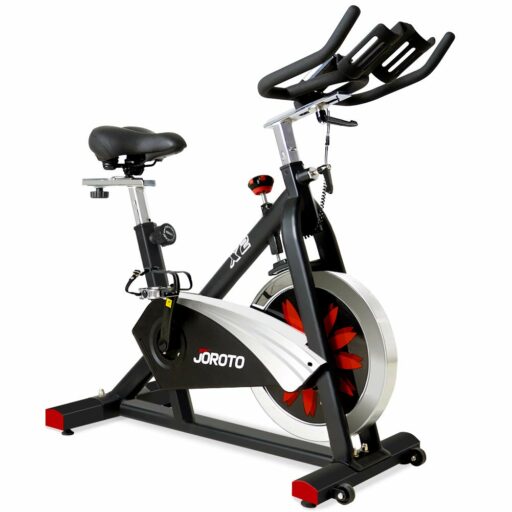 Product: JOROTO X2 Indoor Cycling Bike
Price: For a great deal on this bike, merely go here on Amazon
Warranty: 1 year limited
My rating: 9.25/10
Affiliate Disclosure: As an Amazon Affiliate Program participant, I earn commissions on purchases made through links in this post. Full disclosure
Details and Specifications
Assembled dimensions: 40.2L x 20W x 48.4H inches (102L x 51W x 123H cm)
Assembled weight: 94 lbs (42.6 kg)
Flywheel weight: 30 lbs (13.6 kg)
Supported weight: 280 lbs (127 kg)
Handlebars: 4-way adjustable
Seat: 4-way adjustable
Drive mechanism: Belt
Resistance: Magnetic
Fitness Monitor: Time, speed, distance, calories, scan
Warranty: 1 year limited
X2 Frame Construction
The JOROTO X2 indoor cycling bike features a solid steel frame that supports 280 lbs (127 kg) users. It combines cylindrical, hexagonal, and oval tubes in its construction. The main oblique bar is circular, and the seat and handlebar tubes are hexagonal. Therefore, it prevents the seat and handlebar from turning sideways, and several other bars are oval for improved sturdiness and aspect.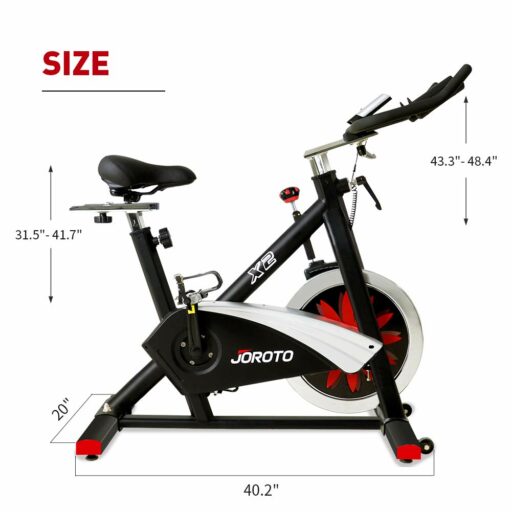 The bike's mainframe features a black paint finish resistant to corrosion. However, the seat post, the handlebar post, and the flywheel are chrome plated.
The bike isn't hefty like the Body-Solid Endurance ESB250, weighing 145 lbs (65.7 kg). However, it weighs approximately 94 lbs (42.6 kg), which is still more than twice the average road bike's weight. All this weight considerably improves the bike's stability.
Both base bars of the bike comes with adjustable levelers with rubberized pads on the bottom. These allow you to stabilize the unit on any floor correctly. Also, placing and using the bike on a rubber mat is unnecessary.
The bike does not have a folding frame. However, its front base features two transport wheels which facilitate its relocation. Using these wheels to move the bike, you won't be handling its total weight, only approx. 1/3.
The JOROTO X2 isn't a large fitness machine like most indoor cycling bikes. It is approx — 40″ (102 cm) long and 20″ (51 cm) wide. Its highest point is approximately 48″ (123 cm) when the handlebar is (extended) upward. However, it is advisable to have at least two feet of clearance all around it for safe usage and ease of access.
Seat and handlebars
The JOROTO X2 comes with a high-comfort saddle. To begin with, it is considerably more significant than the average spin seat. It's 10.6″ (27 cm) long and 8.3″ (21 cm) full, offering plenty of contact surface.
It integrates a thick layer of padding and has two springs at the rear, enabling it to adapt quickly to the user's movement. It also has a contoured surface with a longitudinal groove, which improves breathability.
The seat is 4-way adjustable (up, down, forward, and backward). Its vertical post offers an adjustment span of 8.7″ (22 cm), between 27.5″ (69.8 cm) and 36.2″ (92 cm).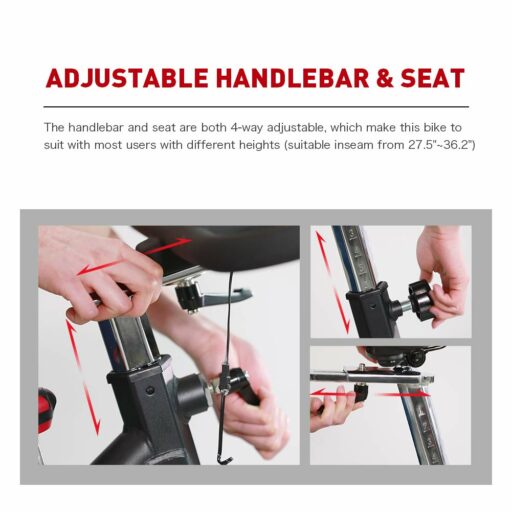 Therefore, the seat can accommodate users between 5'0″ – 6'5″ (153 – 196 cm) with no problem. Plus, the horizontal slider of the seat also adds a few inches of front-to-back adjustment.
It is also important to mention that the bike's saddle features a standard, collar-based attachment system to the slider element. Therefore, compatible alternatives are widely available compatible alternatives are widely available if you ever need to replace this saddle.
This JOROTO exercise bike has a multi-grip handlebar. Although it does not have the drop-down grips as the PYHIGH S7 bike, it does offer the possibility to adopt at least four grips. In addition, it has a small loop bar at the center, which integrates a dual bottle holder and a device holder on which you can place your smartphone or tablet.
The handlebar does not have pulse sensors. Instead, a layer of high-density foam material covers it, giving it a secure grip. Also, just like the seat, it is 4-way adjustable. Its vertical adjustment span is approx — 5″ (12.7 cm), between 43.3″ and 48.4″ (110 – 123 cm).
X2 Drive elements
The JOROTO X2 comes with a 30 lbs (13.6 kg) flywheel. As a result, it is lighter than other bikes. However, since the bike's resistance system is magnetic, the wheel's weight doesn't matter much, especially when you exercise on one of the highest difficulty settings.
Nonetheless, the flywheel has a perimeter-weighted design. This type of construction is excellent for spin workouts and is present in most spin bikes because it provides aggressive inertia. The wheel is also bi-directional. For instance, it allows you to pedal in reverse if you want to add diversity to your training.
The bike's drive system uses a heavy-duty belt. Thus, you don't have to lubricate its transmission. As a result, the pedaling motion is tranquil and produces considerably less vibration than the chain drive in specific bikes.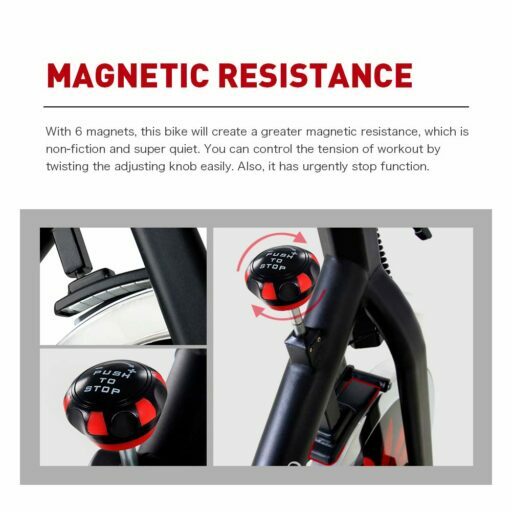 Since it's an exercise bike designed for spin workouts, the JOROTO X2 has a durable crankset. In addition, it features solid steel crank arms and metallic alloy pedals. Therefore, as long as you don't exceed the specified 280 lbs (127 kg) weight limit, you should be able to stand on the pedals with no problem.
The pedals do not have SPD clips for spin shoes. However, they have adjustable toe cages, so you can still secure your feet on them if necessary. In addition, their threads are 9/16″ (standard), so compatible versions are widely available compatible versions are widely available if you want to replace them.
Resistance system
This indoor cycling bike features a magnetic resistance system. It consists of a magnetic brake pad attached to the knob on the main tube of the frame.
This brake is entirely mechanical. It is not motorized and does not require an external power source. Also, the fitness monitor does not control it and does not automatically adjust the difficulty.
Since the resistance is magnetic, the brake does not touch the rotating mass. Therefore, the spinning of the flywheel is continuous and quiet.
Unlike other exercise bikes with a magnetic resistance system, the JOROTO X2 does not have pre-determined resistance settings (or clicks) on the tension dial.
Instead, to increase the resistance, you turn the knob clockwise, and the magnetic brake will move closer to the flywheel, which increases the pedaling difficulty. As a general idea, the bike's magnetic brake's maximum resistance is comparable to a steep climb.
The tension knob also fulfills the function of an emergency brake. You can press it down to immediately stop the flywheel from spinning. Therefore, it may be necessary, especially if you have been pedaling at high speed, and you need to stop suddenly, or you want to begin pedaling in reverse.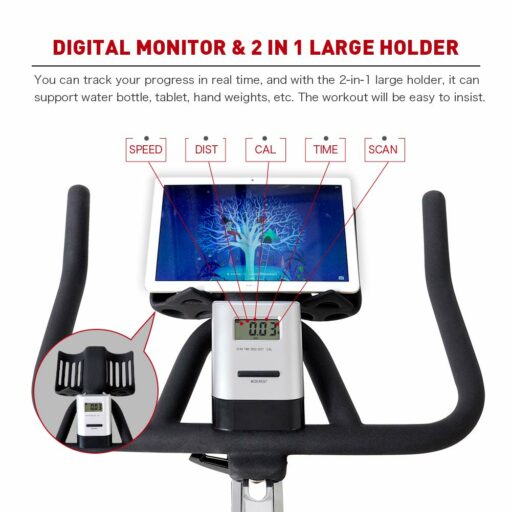 X2 Fitness monitor
This exercise bike comes with a fitness monitor. In addition, it features an LCD, which is battery-powered. It starts when you begin pedaling and automatically turns off after a few minutes of inactivity on the bike.
The fitness monitor shows the essential workout metrics, including time, distance, speed, and calories burned. Unfortunately, the bike does not have pulse sensors.
The console does not have a pulse reading function,, so it won't communicate with any wireless HR chest straps. Therefore, if you want to monitor your pulse, you need a separate device.
The button allows you to turn ON/OFF the unit's SCAN Mode. When SCAN Mode is ON, all the metrics display in a sequence. Each one appears on the screen for a few seconds.
By toggling the SCAN mode off, you can lock one of the workout metrics on display to view all the time. However, since it's a simple fitness monitor, it does not have goal settings, preset programs, or online connectivity.
X2 Assembly and Maintenance
The main body of the bike comes pre-assembled with all the drive and resistance parts already in place. Therefore, you only need to attach the two base bars, the seat post, the saddle, the handlebar post, the handlebar, the fitness monitor, and the pedals.
Therefore, it shouldn't take more than 30-40 minutes of your time. The manual will guide you through all the assembly steps, and an essential toolkit comes with the bike.
Since the bike has a belt drivetrain, its transmission does not require lubrication. Therefore, the only maintenance you will need to complete once assembled is a periodic check for loose bolts and parts.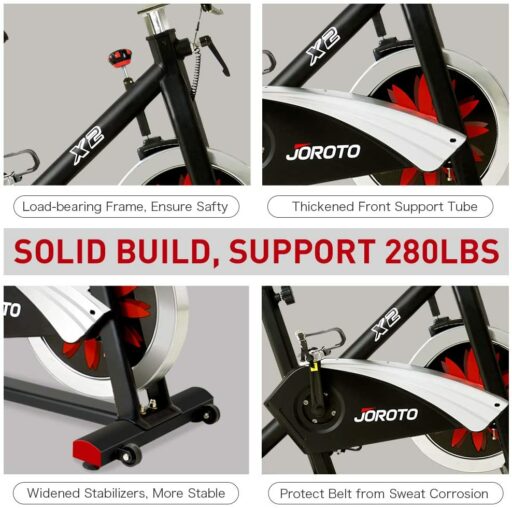 Pros
Sturdy steel frame – can support users up to 280 lbs;
It comes with adjustable stabilizers on both base bars;
Transport wheels on the front base bar;
4-way adjustable handlebar;
4-way adjustable seat;
Large, high-comfort saddle;
Multi-grip handlebar;
Smooth, almost silent belt drive;
Bi-directional, 30-lbs flywheel for consistent momentum;
Durable metallic pedals with adjustable toe cages and standard 9/16″ threads;
Zero friction magnetic resistance;
The included fitness monitor – can track time, distance, speed, and calories burned;
Tablet holder included;
Dual bottle holder included;
Easy to assemble;
Little maintenance is required.
Cons
The fitness monitor does not have a pulse reading function;
The fitness monitor LCD isn't backlit.
JOROTO X2 Indoor Cycling Bike Summary
The JOROTO X2 is an indoor cycling bike designed for spin workouts. It features a manual magnetic resistance system, a 30-lb flywheel, and superior micro-adjustability; the seat and the handlebars are 4-way adjustable. In addition, it includes a high-comfort saddle and fitness monitor.
It's an excellent bike for light to intense cardio workouts, endurance training, interval training, and weight loss. It's also considerably cheaper than most club-grade spin bikes, an excellent choice for any home gym.
I hope you found this article helpful and informative. Would you please speak up if you have anything you'd like to share on the topic or any opinions about my website? I look forward to your comments, questions, and the sharing of ideas.
Please remember that you should consult your physician to determine if you have any medical or physical conditions that could risk your health and safety or prevent you from using the equipment properly. In addition, your physician's advice is essential if you are taking medication that affects your heart rate, blood pressure, or cholesterol level.