Incorporate aerobic exercise wherever you are. For example, keep the LifePro Flexstride Under-Desk Elliptical near the couch and exercise while watching TV, or slip it under your desk at the office to keep your muscles loose while you work. It weighs just 26.5 lbs (12 kg) and includes a built-in handle, so you can take it to the office or quickly move it from one room to another.
Regular exercise builds muscle mass and boosts metabolism, so you keep burning calories more efficiently, even while resting. For example, aerobic exercise for 15 minutes daily can increase muscle flexibility and bone density, improve circulation, and boost metabolism. Discover the power of your body's potential by building muscle and improving flexibility.
The LifePro Flexstride Under-Desk Elliptical has eight levels of manual magnetic resistance for different exercise needs. Use low resistance for circulation and pain relief. Higher resistance burns calories faster and improves bone density. Take an active role to gain strength, overcome obstacles, and achieve your goals.
The vibrant fitness monitor LCD makes it easy to check your progress, showing the time, RPM, count, total count, distance, calories burned, Bluetooth, and scan. With a non-slip rubber surface, the oversized pedals provide stability while you train. Product Dimensions: 22.7 L x 18.5 W x 12.9 H (58L x 47W x 33H cm).
Learn more in my complete review below!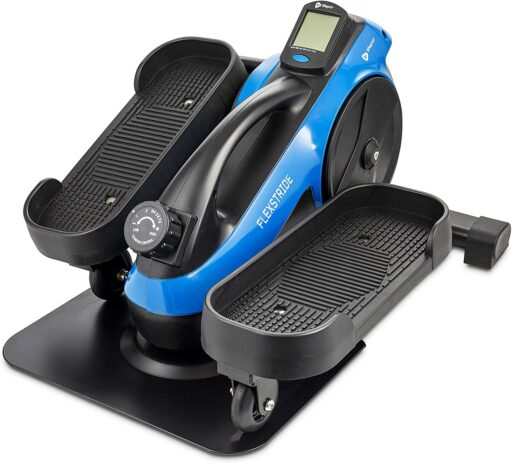 Product: LifePro FlexStride Under-Desk Elliptical
Price: For a great deal on this elliptical, merely go here on Amazon
Warranty: Lifetime
My rating: 9.25/10
Affiliate Disclosure: As an Amazon Affiliate Program participant, I earn commissions on purchases made through links in this post. Full disclosure
Details and Specifications
Assembled dimensions: 22.7L x 18.5W x 12.9H inches (58L x 47W x 33H cm)
Assembled weight: 26.5 lbs (12 kg)
Weight limit: 110 lbs (49.8 kg)
Stride length: ~7 inches (17.7 cm)
Drive: Belt
Resistance: Manual magnetic, eight levels
Fitness Monitor: Time, RPM, count, total count, distance, calories burned, Bluetooth, scan
Warranty: Lifetime
Flexstride Frame
The LifePro FlexStride under-desk elliptical trainer sits on a small steel frame. However, most of it and the drive and resistance elements have side panels. These are durable thermoplastic materials. In addition, all the steel parts in the unit's construction come coated with a corrosion-resistant paint finish.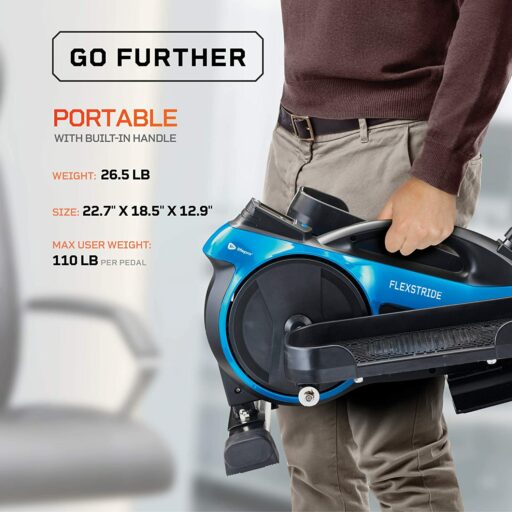 The unit's front base bar rests on two textured rubber pads, enhancing its grip on the floor during usage. The side covers form a large top handle which considerably improves its portability. It's a light unit weighing 26.5 lbs (~12 kg).
Like most other under-desk ellipticals, the LifePro FlexStride is not too large. With all the parts assembled, it is 22.7″ (~58 cm) long and 18.5″ (~47 cm) wide. Also, its highest point is approximately 12.9″ (~33 cm) above floor level.
Therefore, it should fit under any desk, and unless you're tall, you shouldn't hit your knees on the top of the desk while using the machine.
Pedals
The unit's pedals are also made of a rigid thermoplastic material (nylon or polypropylene). They are relatively large, approximately 13″ (33 cm) long, so they accommodate most shoe/feet sizes with no problem. In addition, their surface comes textured for an improved grip, and they also have front, inner, and rear guards for extra foot stability.
Each pedal attaches to a short, rectangular metallic bar via two bolts, and the pedals are non-adjustable. Therefore, you cannot change the elliptical path's position or the stride's length. Also, the pedals do not have extra articulations or cushioning. However, this one delivers a very low-impact workout like any other elliptical trainer.
Each pedal attaches to the machine's crankset at the front and rests on a giant wheel at the rear, and they include sealed ball bearings inside and a thick layer of silicone rubber on the outside to minimize noise. The wheels slide on a metallic plate for a smooth motion.
The machine has a maximum user weight capacity of 110 lbs (49.8 kg) for each pedal. However, standing on the pedals is not advisable, even if you do not exceed this weight. It is, after all, an under-desk elliptical and requires the user to be seated on a chair during usage.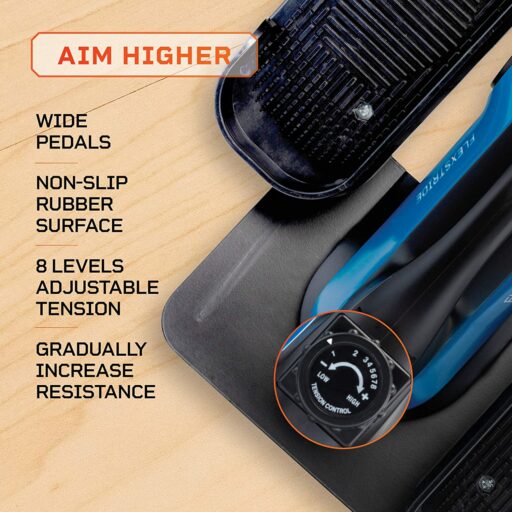 Flexstride Resistance and drive
The LifePro FlexStride under-desk elliptical comes equipped with a manual magnetic resistance system. Thus, it does not require a connection to an electrical circuit, an adapter, or an external power source. In addition, it cannot adjust the resistance automatically and does not have pre-set workout programs like most motorized ellipticals.
The resistance system consists of an internal magnetic brake that connects to the tension dial on top of the trainer. For example, when turning the knob, the brake changes its position to the inner flywheel, leading to a more difficult or lower difficulty.
Like most other exercise bikes or elliptical trainers with a manual magnetic resistance system, the LifePro FlexStride offers eight resistance levels. The first level delivers a reasonably light workout load. Conversely, the 8th tension level provides considerably more resistance, which is excellent for anyone who wants a more consistent workout and a bit of muscle burn.
The exact weight of the internal flywheel is not specified. But considering that the machine's net weight is only 26.5 lbs (12 kg), the flywheel probably isn't heavier than 10 lbs (4.5 kg). In addition, it is perimeter-weighted, so it provides a more consistent momentum. Furthermore, it is also bi-directional, so you can pedal reverse if you want.
Lastly, the FlexStride under-desk elliptical has a belt drive system. As a result, this transmission type does not require periodic lubrication. So you don't have to go through the hassle of taking the unit apart to oil its drivetrain. Also, the belt delivers slightly less vibration than a chain, so this is another plus.
Fitness monitor
The LifePro FlexStride under-desk elliptical does not have a motorized resistance system. Unfortunately, the included fitness monitor does not control the resistance or has pre-determined workout programs.
However, it does have Bluetooth connectivity, and you can sync it with various apps, such as Zwift, for workout planning and online progress tracking.
The monitor features an LCD that divides into two sub-sections. It displays the Time, RPM, Count, Total Count, Distance, and Calories Burned. The distance is in Imperial units (there is no option for changing it to kilometers or meters).
The monitor does not indicate speed in MPH or km/h but does have an RPM reading, basically the number of strides per minute. The count reading shows the number of strides per current workout, while the t-count (total count) is an odometer and the total number of strides since the machine's first use.
Unfortunately, the FlexStride elliptical does not have a pulse reading function. Thus, it has no sensor or an internal pulse receiver. Therefore, you cannot sync it with a wireless HR chest strap. So, to keep track of your pulse during workouts, you must use a separate device like a fitness band or smartwatch.
The fitness monitor is easy to use and only has one button. You can scroll through the workout metrics and select those you want to view by pressing them repeatedly.
It also has a Scan Mode, which automatically rotates all the workout metrics showing each one for a few seconds. The button also covers the monitor's reset function. So if you press and hold it for a few seconds, it clears all the values to zero.
The fitness monitor is battery-powered, and it requires two AAA batteries which come included with the elliptical. In addition, it starts when it detects pedal movement or when you press the button. It also automatically turns off after four minutes of inactivity on the elliptical.
Flexstride Assembly and Maintenance
The main body of the trainer, with all the drive and resistance elements, comes pre-assembled. So, all you have to do for the assembly is attach the pedal trays to their bars and put the batteries into the fitness monitor.
Consequently, this shouldn't take more than 10 minutes of your time. A wrench for the pedal assembly comes included, and the manual provides clear assembly instructions and schematics.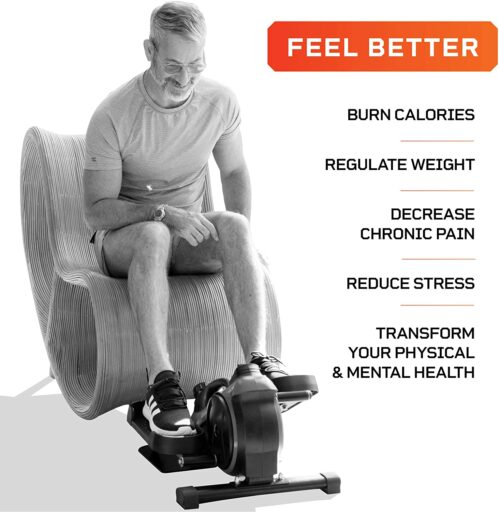 For maintenance, the pedal joints may require lubrication. Besides, you only have to keep the unit clean, periodically check for loose parts, and retighten them if necessary to ensure it still functions properly.
Please note that LifePro offers a lifetime warranty for this product. Still, you must register on their website within two weeks of receiving and opening the package to benefit from it.
Pros
Compact construction, small footprint;
Lifting handle included;
Non-slip rubber base pads;
Extra-large pedals with inner, front, and rear guards;
Large silicone wheels for reduced noise;
No-friction, magnetic resistance system (8 levels);
Belt drive system for a smooth and quiet pedaling motion;
Fitness monitor included – it tracks RPM, count, total count, distance, time, and calories burned;
Bluetooth connectivity and compatibility with various fitness apps;
Batteries for the monitor included;
Easy to assemble;
A wrench for the assembly included;
Little maintenance is required;
Excellent warranty.
Cons
Does not support standing up exercising (exclusively for use while seated);
The fitness monitor does not have a pulse reading function.
LifePro Flexstride Under-Desk Elliptical Summary
The LifePro FlexStride is an under-desk elliptical trainer for home or office use. It has an 8-level manual magnetic resistance system and a fitness console that tracks time, distance, RPM, count, t-count, and calories burned.
In addition, the fitness monitor is also Bluetooth enabled so that you can sync with various apps such as Zwift for online progress tracking and workout planning. Moreover, it's an excellent elliptical for light exercise, recovery training, stamina and strength improvement, stress reduction, and cardiovascular fitness.
I hope you found this article helpful and informative. Would you please speak up if you have anything you'd like to share on the topic or any opinions about my website? I look forward to your comments, questions, and the sharing of ideas.
Please remember to consult your physician to determine if you have any medical or physical conditions that could risk your health and safety or prevent you from using the equipment properly. In addition, your physician's advice is essential if you are taking medication that affects your heart rate, blood pressure, or cholesterol level.