The Marcy ME-1016U Upright Bike is the perfect cardio addition to your home gym. Simple yet efficient, use the Marcy ME-1016U to shred calories conveniently in your home. This affordable, portable, multi-functional bike will help you complete your fitness repertoire!
The versatile 4-way adjustable seat and the angle-adjustability handlebars allow quick adjustments to fit users of all sizes. Furthermore, the gripped pedals and foot strap will prevent your feet from slipping during usage. And the manual 8-level adjustable resistance will help to simulate different terrains.
Track your workout with the easy-to-read fitness monitor LCDs time, speed, distance, pulse, and calories burned. This monitor also includes a pulse monitor for users who prefer to measure their performance based on their heartbeat rate. Keep pace with the included monitor that tracks your progress and never misses another stride.
The ME-1016U uses 14 gauge steel, making it a dependable and lasting exercise bike. The ME-1016U assembled dimensions are 33″ L x 19.5″ W x 52″ H with a maximum user weight of 250 lbs. Experience hassle-free training using the exercise equipment that provides enhanced functionality and will adapt to your training plan.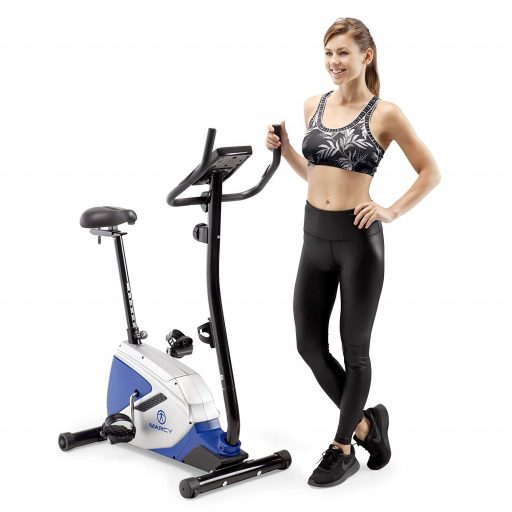 Learn more in my complete review below!
Product: Marcy ME-1016U Upright Bike
Price: For a great deal on this bike, merely go here on Amazon
Warranty: 2-year limited
My rating: 8.25/10
Affiliate Disclosure: As an Amazon Affiliate Program participant, I earn commissions on purchases made through links in this post. Full disclosure
Details and Specifications
Assembled dimensions: 33L x 19.25W x 52H inches (84L x 49W x 132H cm)
Assembled weight: 60 lbs (27.2 kg)
Weight capacity: 250 lbs (113 kg)
Seat: 4-way adjustable
Pedals: Weighted, with straps
Drive: Belt
Resistance: Manual magnetic, eight levels
Fitness Monitor: Time, distance, speed, calories, ODO, pulse, SCAN, goal setting
Amenities: Tablet holder, bottle holder
Warranty: 2 years limited
ME-1016U Frame Construction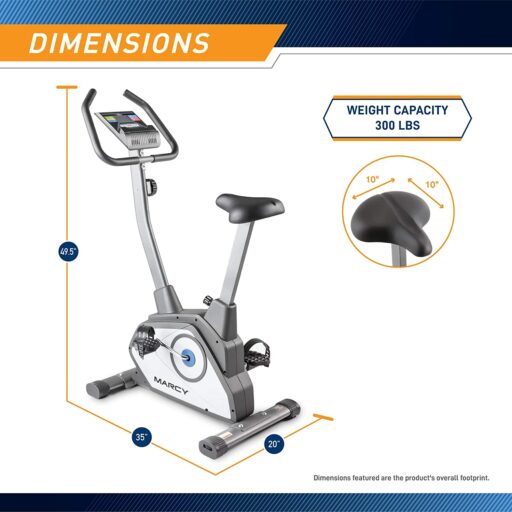 The Marcy ME-1016U upright exercise bike features a frame made of steel tubing. The only major ABS parts are the covers of the flywheel.
All the steel bars in the frame's composition feature a durable paint finish resistant to corrosion. The powder coating color used is black, the only color available for this unit. The plastic side covers combine silver, blue, and black.
Although it has a steel frame, this Marcy exercise bike is far from heavy. It weighs only 60 lbs (27.2 kg). Therefore, one person can carry and assemble the bike. Once completed, the bike is effortless to relocate due to the wheels integrated into its front base.
The bike does not have a folding frame. However, it has quite a small footprint compared to other fitness machines. It takes approximately 33″L x 19.25″W (84 x 49 cm) of floor space. However, it is advisable to leave at least two feet of clearance all around it for safe operation.
The bike's crankset is quite durable, featuring solid steel arms. However, this is not a spin bike, so it's not for standing on the pedals. Thus, pedaling while standing up is not advisable, even though it may support your whole weight. In addition, it may result in severe wear and tear on the internal parts.
The included pedals have a metallic core, a nylon top, and a weight element on the bottom. Therefore, they always turn up when you remove your feet from them. They have a non-slip surface and adjustable straps as well. However, they do not have SPD elements for spin shoes.
Seat and handlebars
The Marcy ME-1016U comes with a 4-way adjustable seat. Its vertical post offers several adjustment positions, while its horizontal slider allows a few extra front-to-back inches of adjustment.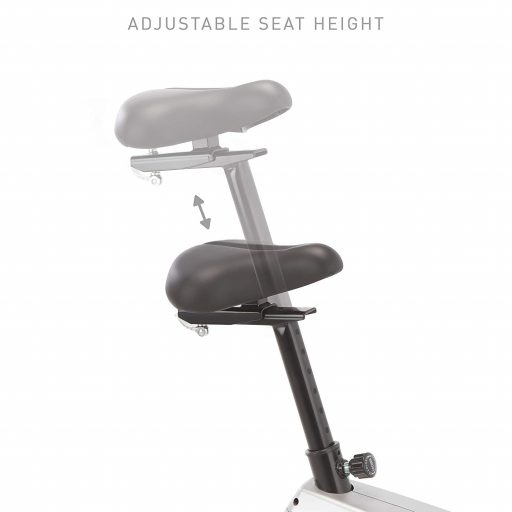 The vertical post adjusts via a turn-knob close to its base. The slider features a small lever that can easily lock and unlock the saddle closer or farther from the bike's front. Thus, the bike can accommodate users up to 6'2″ (188 cm) with no problem.
The included saddle is not consistently cushioned but does integrate a layer of foam cushioning. In addition, it has soft and durable upholstery. It's also considerably more extensive than most seats included with spin bikes. Therefore, I can safely say that the seat is for optimal comfort.
The front mast of the bike is non-adjustable. However, the angle of the handlebar is adjustable. The handlebars attach to the pole via a small knob, which you can always loosen to change the handlebar's position.
The bike's handlebar features a multi-grip design. In addition, it has a layer of rubber foam material to provide a better grip and optimal comfort. Its side grips integrate pulse sensors, while the fitness monitor can track your pulse.
ME-1016U Drive and resistance
The Marcy ME-1016U upright bike features an internal belt drive system. It uses a heavy-duty v-belt resistant to stretching and abrasion. It does not require lubrication and delivers a quiet (almost wholly silent) pedaling motion.
The bike's internal flywheel is perimeter-weighted. Therefore, it offers a pretty consistent momentum and a steady pedaling motion. The weight of the wheel is not specified. However, considering the unit's total weight isn't more than 60 lbs (27.2 kg), the flywheel shouldn't weigh more than 20 lbs (9 kg).
The flywheel is also bi-directional. Therefore, you can pedal in reverse if you want. But when driving in reverse, the resistance will remain constant.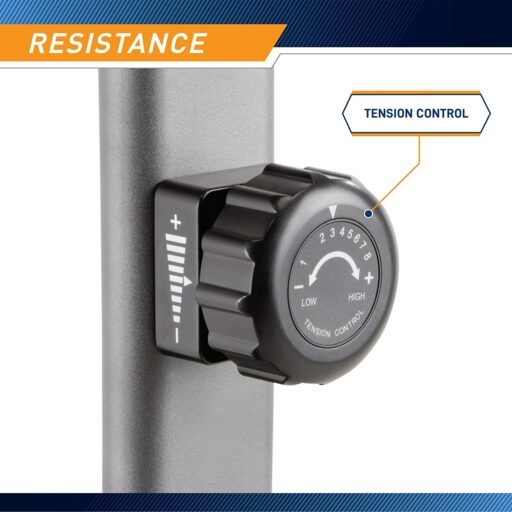 This Marcy exercise bike integrates a mechanical, magnetic resistance system. It consists of an internal brake pad connected to the tension knob on the bike's front mast through a steel wire.
Therefore, when you turn the knob clockwise, the brake pad will move closer to the flywheel, increasing the magnetic field's intensity and producing more resistance.
Thus, the bike does not require an external power source. Also, the fitness monitor does not play any role in the resistance adjustment.
The bike makes available eight levels of resistance. The first two levels deliver little pedaling difficulty, so they're great for recovery training or conditioning. The 8th level, on the other hand, provides a considerably higher resistance simulating a hill climb.
Fitness monitor
The bike's fitness monitor has no online connectivity, Bluetooth, or preset programs. However, it does have goal-setting functions and tracks the essential workout metrics. It features an LCD indicating distance, total distance, the time elapsed, speed, calories, and pulse.
You have to use the integrated HR pulse sensors in the handlebar to track your pulse; unfortunately, the monitor is not telemetric and cannot read through a chest band transmitter. Also, speed and distance are in imperial units (MPH and miles); you cannot metric them.
The fitness monitor is straightforward to use. It has three buttons. These are Mode, Set, and Reset. The Mode button allows you to select one of the metrics shown on the display or the Scan Mode, which rotates all the metrics for 6 seconds.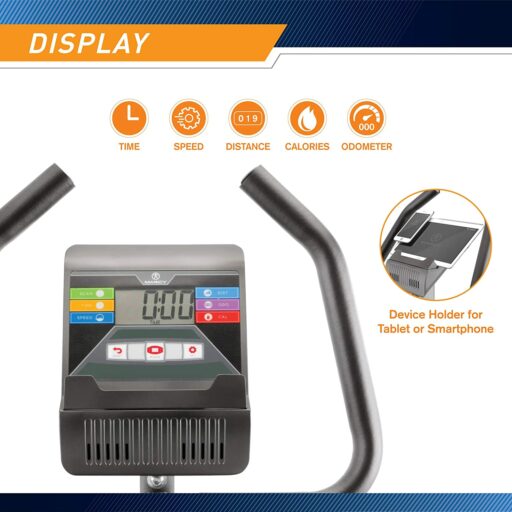 The Set button allows you to set up time, distance, calories, and pulse values. And finally, the Reset button will enable you to clear all the monitor metrics to zero.
The bike's fitness monitor requires two AA (1.5 V) batteries, which come with the bike. The monitor starts up when you begin pedaling or press the Mode button. It also automatically shuts down after four minutes of inactivity on the bike.
Lastly, the fitness monitor comes with a foldable device holder. It is at the bottom of the monitor and is wide enough to support any tablet or smartphone. However, there are no USB or Aux ports to connect your device.
ME-1016U Assembly and Maintenance
This Marcy exercise bike is effortless to put together. Its main body with the drive and resistance elements is pre-assembled. The only parts that need assembly are the base bars, the seat post, the saddle, the pedals, the fitness monitor mast, the handlebars, and the monitor.
You must also connect the brake cable to the extension cable on the tension knob. The whole task shouldn't take more than one hour. The manual provides all the necessary assembly instructions, and an essential toolkit comes with the bike.
You only have to keep the bike clean and periodically check for loose parts for maintenance. The internal mechanism should not need any support for an extended period.
Pros
Durable construction for a home-use bike;
Small footprint;
Transport wheels included;
Multi-grip and angle adjustable handlebar;
4-way adjustable seat;
A perimeter-weighted flywheel that supplies smooth and consistent momentum;
Quiet belt drive;
Zero friction manual magnetic resistance;
Eight resistance settings;
Weighted pedals with adjustable straps;
The fitness monitor included capable of tracking time, speed, distance, total distance, pulse, and calories;
SCAN and goal-setting functions are available;
The bottle holder comes includes;
Tablet holder included;
Little maintenance is required;
Easy to assemble.
Cons
The fitness monitor LCD does not have a backlight;
Calorie reading is not too accurate.
Marcy ME-1016U Upright Bike Summary
The Marcy ME-1016U is an upright exercise bike designed for home use. It features a manual magnetic resistance system, a quiet belt drive, and a fitness monitor that tracks essential workout metrics. It also offers better micro-adjustability than other upright bikes, as its seat is 4-way adjustable, and the handlebars are angle-adjustable. It's also an affordable exercise bike.
Moreover, it's an excellent trainer for muscle toning, stamina development, recovery training, weight loss, and light cardio training.
I hope you found this article helpful and informative. Would you please speak up if you have anything you'd like to share on the topic or any opinions about my website? I look forward to your comments, questions, and the sharing of ideas.
Please remember that you should consult your physician to determine if you have any medical or physical conditions that could risk your health and safety or prevent you from using the equipment properly. In addition, your physician's advice is essential if you are taking medication that affects your heart rate, blood pressure, or cholesterol level.