Lose those unwanted pounds and achieve a leaner and toned body with the Marcy NS-1201U Upright Bike! Shed that extra weight with fat-burning workouts right in the comfort of your home!
This innovative exercise gear showcases a heavy-duty steel frame that effectively resists scratches, chips, and damage from environmental factors, guaranteeing that it can withstand daily use. In addition, its adjustable seat can accommodate users of different body sizes, allowing it to conform precisely to your body's shape.
This home gym workout equipment comes with a magnetic resistance system that features eight preset levels designed to simulate the effects of biking on different terrains. In addition, the resistance is adjusted through the tension knob, allowing you to control and customize your cardio training according to your fitness level.
This workout bike has a fitness monitor that tracks time, current speed, distance traveled, and calories burned for easier progress monitoring. In addition, the pedals come equipped with adjustable foot straps to maximize your comfort during workouts and let you create the exact fit for stabilized treading.
Learn more in my complete review below!
Product: Marcy NS-1201U Upright Bike
Price: For a great deal on this bike, merely go here on Amazon
Warranty: 2 years limited
My rating: is 8/10
Affiliate Disclosure: As an Amazon Affiliate Program participant, I earn commissions on purchases made through links in this post. Full disclosure
Details and Specifications
Assembled dimensions: 33L x 20W x 52H inches (84L x 51W x 132H cm)
Assembled weight: 45 lbs (20.4 kg)
Weight capacity: 300 lbs (136 kg)
Seat: 2-way adjustable
Handlebars: Angle adjustable
Drive: Belt
Resistance: Manual magnetic, eight levels
FitnesMonitor: Time, distance, speed, calories, ODO, SCAN, goal setting
Warranty: 2 years limited
NS-1201U Frame Construction
The Marcy NS-1201U upright bike features a sturdy frame of 2″ and 14-gauge round steel tubing. However, the covers of the drive and resistance elements are ABS material. In addition, the steel tubes have a dark gray paint finish, which is resistant to corrosion.
Even though it's an entry-level model, this Marcy exercise bike has an impressive weight capacity of 300 lbs (136 kg). Moreover, despite its light weight of 45 lbs, it provides excellent stability, even if the user is near the maximum weight capacity.
That's because it has a low center of gravity. Plus, its rear base has polygonal caps that can rotate, allowing you to stabilize it on any floor correctly.
Even though the fully assembled unit isn't too heavy, its front base integrates small wheels to facilitate its transport. Therefore, you will be handling less than half of its total weight by leaning it forward on its wheels and tilting it along by leaning it forward on its wheels.
Last but not least, the fully set up unit isn't enormous. It is approx. 33″ (84 cm) long and 20″ (51 cm) wide, while its highest point is approx. 52″ (132 cm) is given by the handlebar when it's at a maximum upright angle.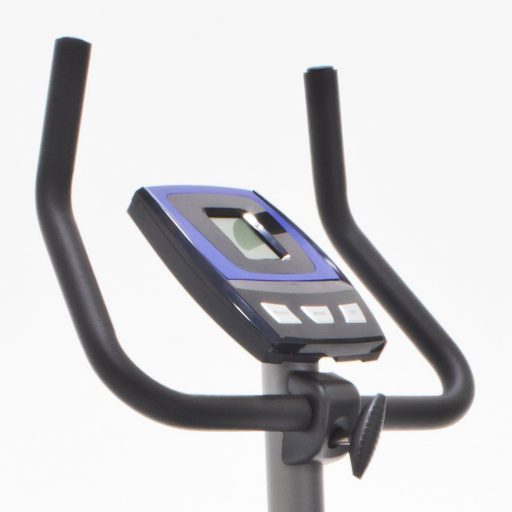 Seat & handlebars
The Marcy NS-1201U has a standard bike saddle designed for optimal comfort. It has a layer of high-density foam, a robust vinyl covering, and a contoured surface. The top of the upright post features a triangular plate to which the saddle attaches via three screws.
The seat is two-way adjustable (up, down). Its vertical post features several adjustment positions. Thus, the bike can accommodate users between 5'0″ and 6'2″ (153 – 188 cm), allowing wide-leg stretching during pedaling.
The bike's handlebar is U-shaped, with its side grips made of high-density rubber foam material, which provides excellent hand adherence. In addition, it offers the possibility of multiple grips. Unfortunately, it does not integrate any HR pulse sensors.
The handlebar is angle-adjustable. It connects to the front mast via a knob, allowing you to quickly untighten it and secure it in the desired position. Unfortunately, not all upright bikes offer this feature.
NS-1201U Resistance
This Marcy upright bike features a standard manual magnetic resistance system. Differently put, the adjustment of the resistance is manual. The unit does not need a connection to a power source. Also, the fitness monitor does not play any role in the resistance adjustment.
The bike's resistance system consists of an internal brake pad connected to the tension knob on the bike's front mast through a steel wire. Therefore, when you turn the knob clockwise, the brake pad will move closer to the flywheel, increasing the magnetic field's intensity and producing more resistance.
There are eight resistance levels available, marked on the tension knob. However, since this bike is for light to mid-range training, it doesn't deliver extreme difficulty. The 1-2 tension settings result in minimal pedaling difficulty. Although the 7-8 levels provide a considerably higher resistance, they don't offer the challenge of a light-commercial bike or a spin bike.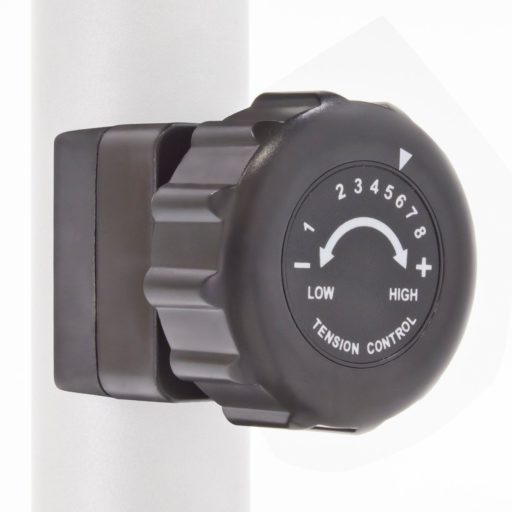 NS-1201U Drive
Regarding the bike's driving system, there are four main elements to cover here. These are the internal flywheel, the transmission, the crankset, and the pedals.
Since this is a pretty light exercise bike, with a total weight of approx. 45 lbs (20.4 kg), it's pretty evident that the flywheel can't be too heavy.
Its exact weight is not specified, but it should be between 8 and 12 lbs (3.6 – 5.4 kg) as a general idea. It provides a steady and comfortable pedaling motion. It's also bi-directional; therefore, you can pedal in reverse.
The bike's internal transmission uses a durable rubber belt. This type of transmission comes with its advantages. For example, it doesn't need periodic lubrication and generates considerably less vibration than a chain. Also, the pedaling motion is almost entirely silent.
The bike has a durable crankset. However, since it's an upright bike, not a spin bike, it's important to mention that its crank assembly isn't for standing-up or other types of spin workouts.
Finally, the bike's pedals are made of durable nylon material. They have a metallic core and a weight element, enabling them to turn face-up when you remove your feet from them, and they feature a non-slip surface and adjustable straps. In addition, they have standard 9/16 threads; therefore, compatible options are widely available if you need to replace them.
Console
The Marcy NS-1201U upright bike features a manual magnetic resistance system, so the fitness monitor doesn't play any role in the resistance adjustment. Instead, it's a simple fitness monitor that tracks essential workout metrics.
Its LCD shows time, distance, total distance, speed, and calories. Unfortunately, it does not have a pulse reading function. Therefore, if you need to monitor your pulse during workouts, use a separate device.
The speed and distance are shown only in English units (MPH and miles). There is no metric option for the display of these workout metrics.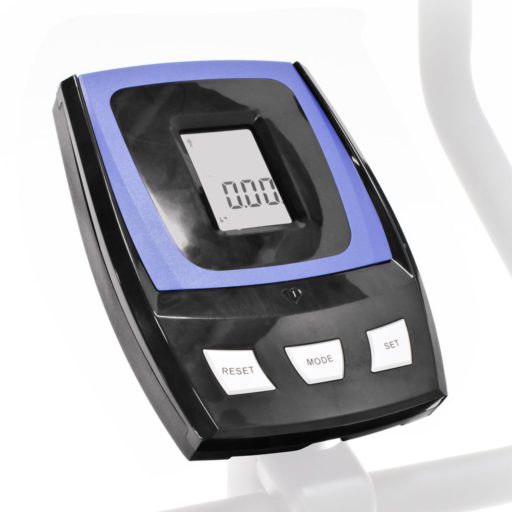 The fitness monitor is relatively easy to use. It has three buttons – Set, Mode, and Reset. The Set button allows you to select goal values for time, distance, and calories. When a goal value is determined, the monitor will indicate the remaining time, distance, or amount of calories burned until you reach your goal chosen.
The Mode button toggles ON/OFF the unit's Scan Mode. With the Scan Mode ON, all the metrics show in a sequence. With each one appearing on the screen for 4 seconds. You can also repeatedly press the Mode button to select any of the metrics to be shown on display all the time. And finally, the Reset button allows you to clear all the values to zero.
The monitor requires two 1.5V (AA) batteries that do not come with the bike. It has a self-shutdown mode, which will initiate after 4 minutes of bike activity. It also starts up when you begin pedaling.
NS-1201U Assembly & Maintenance
The Marcy NS-1201U upright bike comes partially assembled. All the drive and resistance parts are already in their place, attached to the base frame, and covered by ABS shrouds. Therefore, you only need to connect the base tubes, the seat and handlebar posts, the saddle, the handlebar, the fitness monitor, and the pedals.
Therefore, it shouldn't take more than 30 minutes of your time. The included manual provides all the assembly instructions, and the tools come with the bike.
The bike doesn't require any internal maintenance. You only need to periodically check if any parts need to be re-tightened or if any parts have sustained any damage to replace them before accidents can happen. Other than this, keep the unit clean and keep liquids away from the console.
Pros
Solid construction for a basic bike – can hold users up to 300 lbs;
Adjustable stabilizers;
Transport wheels;
Multi-grip and angle adjustable handlebar;
2-way adjustable seat;
Balanced flywheel, supplying a smooth and consistent momentum;
Quiet belt drive;
Zero friction magnetic resistance;
Eight tension settings;
Weighted pedals with adjustable straps;
Fitness monitor included, capable of tracking time, speed, distance, and calories;
ODO, SCAN, and goal-setting functions on the monitor;
Little maintenance is required;
Easy to assemble.
Cons
The fitness monitor doesn't have a pulse reading function;
There is no tablet holder;
There is no bottle holder.
Marcy NS-1201U Upright Bike Summary
The Marcy NS-1201U is an entry-level upright bike with a manual-magnetic resistance system and a fitness monitor to track the main workout metrics. It has a pretty sturdy construction and offers plenty of micro-adjustability.
It's a great training bike for light to mid-range cardio training, muscle toning, stamina, and even weight loss. You can burn up to 4-500 calories per hour on it, depending on the selected tension level. And finally, it's an affordable trainer, offering an excellent value for the price.
I hope you found this article helpful and informative. Would you please speak up if you have anything you'd like to share on the topic or any opinions about my website? I look forward to your comments, questions, and the sharing of ideas.
Please remember that you should consult your physician to determine if you have any medical or physical conditions that could risk your health and safety or prevent you from using the equipment properly. In addition, your physician's advice is essential if you are taking medication that affects your heart rate, blood pressure, or cholesterol level.