BodyCraft HFT Functional Trainer Workouts are nearly Limitless! One of my favorite home gym manufacturers of all-time is Bodycraft! Their focus on delivering nothing but the utmost quality is a signature of the Bodycraft. It's something that you'll find in both the Bodycraft Xpress Pro and the more exclusive HFT Functional Trainer.
One of the most prominent standout features of the HFT Functional Trainer is the ability to neatly tuck away your home gym into any corner of your basement, garage gym, or room. It is, in other words, one of the most functional, versatile, and space-saving home gyms you'll find today.
The best aspect of this feature is that it doesn't compromise the space you have in your home gym. It gives you plenty of space to comfortably fit other pieces of home gym equipment, which is very important when attempting to build any gym within your home.
So if you're looking for a high-quality gym with a somewhat more significant focus and emphasis on upper body workouts, you may prefer going with the HFT Functional Trainer, which also gives plenty of room for lower body workouts as well.
Learn more in my complete review below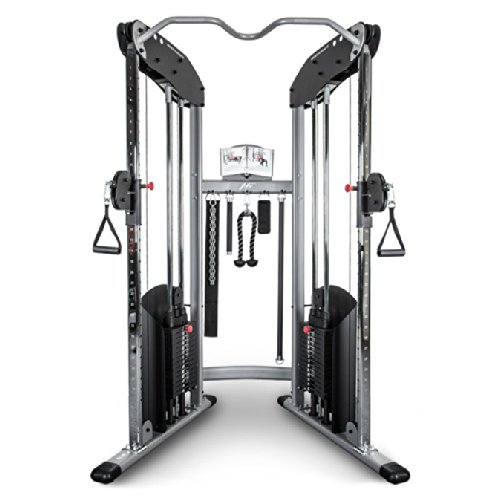 Product: BodyCraft HFT Functional Trainer
Price: For a great deal on this gym, merely go here on Amazon
Warranty: in-home: Lifetime / Light-commercial: 10 years frame, 2 years parts
My Rating: 10/10
Amazon Affiliate Disclosure: I may earn commissions from purchases made through links in this post.
Details and Specifications
Assembled dimensions: 40″D x 56″W x 82″H inches (102D x 142W x 208H cm)
Assembled weight: 530 lbs (~240 kg)
Weight resistance system: Steel plate stacks
Max. weight resistance: 2 x 150 lbs (68 kg) (2:1 ratio)
Possible exercises: 70+
Accessories: Long bar, short bar, chin bar, pull up strap, two extension chains, two D-handles, tricep rope, exercise booklet
In-home Warranty: Lifetime
Light-commercial Warranty: 10 years frame / Parts two years
HFT Frame, parts & accessories
The BodyCraft HFT functional trainer features a heavy-duty frame, made 11-ga 3.25″ x 1.75″ ovalized steel tubing. The base bars, the rear upright bars, and several other parts feature a platinum gray paint finish, while the top pulley covers and the stack covers have a textured black finish.
Both types of paint finish are corrosion-resistant. The guide rods of the weight stacks and the adjustment bars of the movable pulleys are chrome plated.
Compared to other trainers, this BodyCraft home gym isn't as large. The widest point of its base is ~56″ (142 cm), while its depth is approx — 40″ (102 cm). At the rear bottom section is 22″ (56 cm). Along with these dimensions, it's recommended to leave at least one foot of clearance on each side and at the rear of the unit, and several feet of clearance at the front, especially if you will be using a bench.
The trainer's height is approximately 82″ (208 cm). This means it can fit in a room with a 7′ (213 cm) ceiling. However, the remaining two inches of clearance above will not be enough for the correct execution of most pull-up exercises.
Upright and Pull-up Bars
The upright bars of the machine has 31 adjustment positions for the mobile pulleys. The highest setting is at approx. 78″ (198 cm) above floor level, while the lowest is at approx. 14″ (36 cm). The adjustable pulleys have a pivoting design; they can rotate 180° on their axis, allowing you to perform exercises from multiple angles.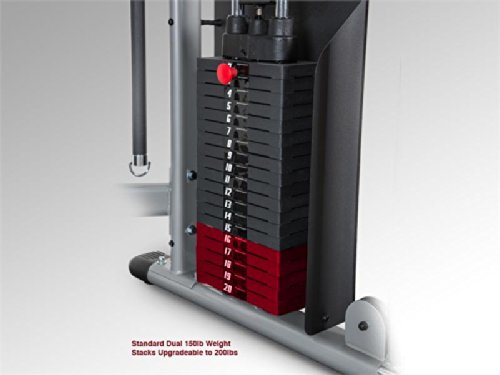 The pull-up bar offers multiple grip possibilities. Its main grip sections are knurled to provide better hand adherence. Although it's weight capacity isn't specified, users have reported that it's sturdy enough to hold 300 lbs (136 kg). So, it should be safe to perform pull-up exercises with some extra weight.
Pulleys
The machine has multiple fiberglass reinforced nylon pulleys. Each pulley incorporates a sealed ball bearing to provide smooth operation. The cables are 2,000 lbs tensile strength steel ropes, covered by a sheet of flexible nylon to prolong the lifespan of the pulleys.
Accessories
The rear mid-section bar of the frame has several supports for hanging the included accessories. It also has support for the included booklet with exercises.
Last but not least, there are quite a few accessories included with this home gym. Among them, we can count a long bar, short bar, chin bar, pull-up strap, two extension chains, two D-handles, tricep rope, and the exercise brochure.
Weight Resistance
The BodyCraft HFT functional trainer has two 150 lbs (68 kg) weight stacks. Each weight stack contains 15 weight
 plates of approximately 10 pounds (4.5 kg) each. The weight plates are made of top-quality cast iron and can last a lifetime even with a certain amount of abuse. This is one of the reasons this fitness machine is considerably more expensive than a similar one with vinyl/cement weight plates.
Each weight stack of the BodyCraft HFT trainer is upgradable. There are 5-plate upgrade stacks available. In the attached photo here, you can see a fully upgraded weight stack with all the 20 weight plates.
The weight ratio of the machine is 2:1. This means the maximum weight resistance generated for each stack is 75 lbs (34 kg), or 100 lbs (45 kg) with the stack fully upgraded.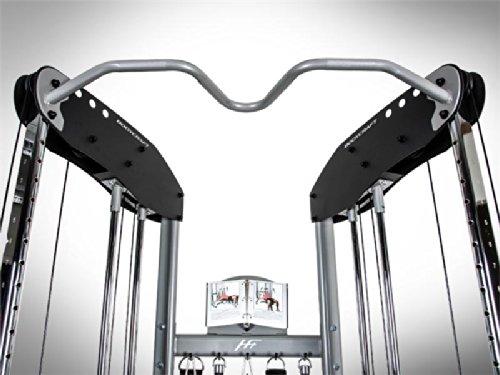 Last but not least, the adjustment is made with ease. You insert the pin in the plate with the desired weight marked on it.
HFT Possible Exercises
This fitness machine offers the possibility to execute more than 70+ exercises for the main groups of muscles. Some of the most important ones are:
Arm exercises
Bicep curls
Lateral single-arm biceps curls
Lying biceps curls
Close-grip pulldowns
Triceps extensions
Triceps press-downs
Kneeling triceps extensions
Lateral single-arm triceps extensions
Prone triceps extensions
Pull-ups / Chin-ups
Assisted Pull-ups / Chin-ups
Abdominal Exercises
Cable crunches
Cable twist crunches
Seated trunk rotations
Standing trunk rotations
Golf swings
Back Exercises
Prone back flies
Prone reverse flies
Lat pulldowns
Aerobic rowing
Crossover rowing
Kneeling rowing
Back flies
Back presses
Chest Exercises
Chest presses
Single-arm chest presses
Wide grip chest presses
Close grip chest presses
Chest Flies
Incline chest flies
Lateral chest flies
Single-arm chest flies
Leg Exercises
Stand-up leg curls
Calf raises
Squats
Single-leg squats
Kneeling single-leg squats
Wide squats
Twisting squats
Jumping squats
Front Lunges
Hip extensions
Hip abductions
Shoulder Exercises
Shoulder Presses
Upright rows
Lateral deltoid raises
Front deltoid raises
Lying front deltoid raises
Front deltoid raises with leg curls
Shoulder extensions
Lateral arm pulls
…and more.
The included training booklet covers 70+ exercises and variations that are performable on the machine. However, some of them (and some of the ones in the list above) require accessories (not included), such as an adjustable bench or a stability ball.
HFT Assembly & Maintenance
This functional trainer comes in several separate boxes and requires complete assembly. Its task may take at least a couple of hours, as there are many pieces to put together. However, the included manual provides clear, step-by-step assembly instructions.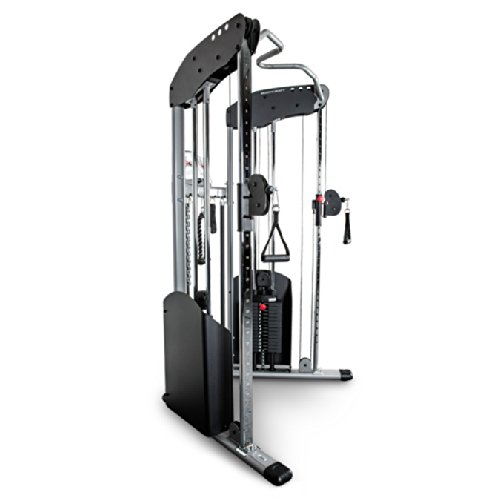 For maintenance, it's recommended to periodically lubricate the guide rods of the weight plates for a smoother operation. The pulleys may also require periodic lubrication, but you apply a bit of oil on each one of them during assembly. And finally, checking the machine's joints from time to time, or before each workout is not a bad idea.
Pros
Light-commercial grade sturdiness;
Smooth pulley and cable movement;
31 adjustment positions for its mobile pulleys;
The mobile pulleys rotate 180°;
Ergonomic, multi-grip pull-up bar;
Top-quality cast iron weight plates;
Weight stack guards on each base;
Pulley guards on top;
150 lbs weight for each stack;
Upgradable weight stacks by up to 50 lbs each;
Over 70+ exercises available;
Relatively small footprint for a home gym system;
Multiple accessories included;
Little maintenance required;
Quiet operation;
Fairly easy to set up;
Excellent warranty.
Cons
The bench is not (included) with the trainer.
BodyCraft HFT Functional Trainer Summary
There are so many features and aspects that make the HFT Functional Trainer truly one of the most functional home gyms out there. More importantly, is Bodycrafts exceptional attention to detail (e.g., laser-cut etched weight stacks, fiberglass nylon pulleys, and 31 height positions with 180-degree swivel) that allows this gym to perform so flawlessly.
Equally as important is the fact that the workouts with the HFT Functional Trainer are nearly limitless – hence its name functional trainer, allowing for greater mobility, a range of motion, and some of the most effective strength training workouts that can be performed.
While it's the small things that do stand out in the HFT Functional Trainer, one can't forget about its attention to detail when it comes to size, build, and placement. For someone in the market who needs something so compact, but effective, this gym comes highly recommended!
I hope you found this article helpful and informative. If you have anything that you'd like to share or opinions about the content on my site, please do speak up. I look forward to your comments, questions, and the sharing of ideas.
Recommended articles:
Please follow and like us: