The new Sole TT8 Non-Folding Treadmill is a light commercial model sold with warranties for gyms and light commercial settings such as office park workout centers and hotel fitness rooms. It features premium high-performance components, such as an extra-large four-ply track, a virtually silent 4.0 CHP motor, and 3″ track rollers that support low maintenance.
The only Sole treadmill features a power decline in addition to incline; the range is -6% to 15% and is adjustable during workouts with handlebar-based controls. The TT8 has a 22″ x 60″ tread track, the largest available from Sole Fitness and most other treadmill brands. It has four layers for smooth low-maintenance operation, and it moves over commercial 3-inch rollers to minimize noise and wear.
The new TT8 treadmill also shows off Sole Fitness's best data screen, a 10.1″ graphics display, and has a port and speakers for an MP3 player. Additionally, the new TT8 can use Bluetooth to connect to a mobile device running the Sole Fitness App. The treadmill has unlimited user-profiles and lets each user store workout history and wirelessly share fitness data. In addition, the Sole Fitness app can sync with iHealth, MyFitnessPal, and other mobile apps for fitness management.
The TT8 Light Commercial supports comfortable running with its CushionFlex Whisper Deck. This commercial cushioning system helps run a Sole treadmill up to 40% gentler on joints than on pavement. The Whisper Deck also helps muffle the sound of each step for quieter workouts.
Learn more in my complete review below!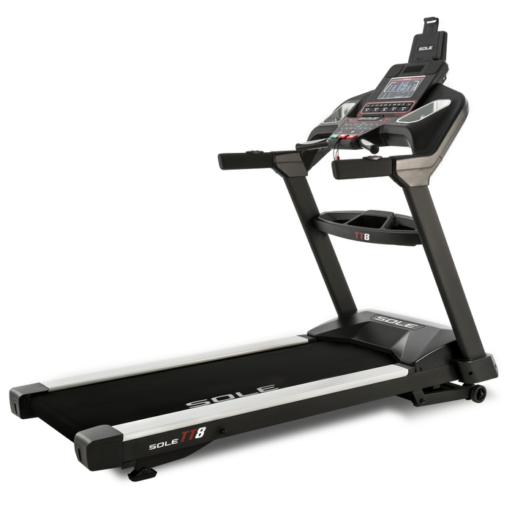 Product: Sole TT8 Non-Folding Treadmill
Price: For a great deal on this treadmill, merely go here on Sole Fitness.com
Warranty: Residential Warranty: Frame lifetime / Motor lifetime / Deck lifetime / Electronics 5 years / Labor 2 years (see the commercial warranty below)
My rating: 9.5/10
Affiliate Disclosure: As a Sole Fitness Affiliate Program participant, I earn commissions on purchases made through links in the post. Full disclosure
Details and Specifications
Assembled dimensions: 83L x 35W x 57H inches (210.8L x 89W x 144.7H cm)
Tread belt dimensions: 60L x 22W inches (152.4L x 55.8W cm)
Product weight: 265 lbs (120.2 kg)
Supported weight: 400 lbs (181.4 kg)
Motor: 4.0 CHP, DC type
Incline: Automatic, -6% to 15%
Deck cushioning: Yes
Speed levels: 0.5-12 MPH.
Training programs: 10
Pulse sensors: Yes
Amenities: Chest strap, sound system, cooling fans, tablet holder, accessory shelf
Residential Warranty: Frame lifetime / Motor lifetime / Deck lifetime / Electronics 5 years / Labor 2 years
Commercial Warranty: Frame lifetime / Motor lifetime / Deck lifetime / Electronics 3 years / Labor 1 year
TT8 Deck
In general, a considerably massive deck in a treadmill indicates that the machine is sturdy and stable, in most cases incorporating heavy-duty components. The Sole TT8 has one of these decks, made to withstand 400 lbs (181.4 kg) of user weight with no problem.
It uses 3″ rollers, another indicator that this deck was built for commercial use, as most treadmills in this category use rollers starting at 2.75″. In addition, rollers feature a sealed bearing design, enabling them to last much longer. And one of the best aspects of this treadmill's rollers is that they feature copper ground wiring to reduce the static effect.
As for any high-grade treadmill, the deck of the TT8 integrates a cushioning system. In addition, the patented Cushion Flex suspension system absorbs up to 40% of the leg joints' shock when running.
This results in a workout with a considerably lower impact than running on concrete, asphalt, and even a running track. And this cushioning system also absorbs some cadence-thumping sounds, rendering a workout on this treadmill less noisy. Last but not least, the deck of this running machine does not fold.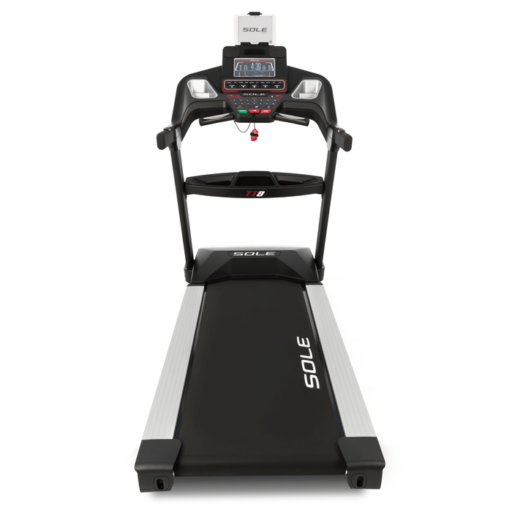 Tread Belt
Another essential component of the unit's deck is the tread belt. The TT8 features a 4-layered, heavy-duty belt, integrating two rubber layers, a middle PVC layer, and a nylon backing. The PVC layer prevents the belt from stretching, the rubber layers provide durability, and the nylon backing adds smoothness and reduces static.
The belt offers the standard surface for running, 60″L x 22″W (152.4 x 56 cm), which means it can comfortably accommodate runners up to 6'6″ (198 cm). Taller users should also use this treadmill, but it may feel short for the top speed settings.
TT8 Frame
There isn't much to be said about this treadmill's frame. It's a durable frame made from welded (not bolted) steel bars, which adds a lot of sturdiness. In addition, all metal segments are powder coated with epoxy paint, scratch, and corrosion-resistant.
The rear of the frame features leveling feet with rubber caps. The front section rests on wheels that help the incline and transport wheels for the assembled machine.
It has a relatively large footprint, taking 83″L x 35″W (210.8 x 89 cm) of floor space, to which you should add at least one foot (30.5 cm) on each side, and at least three feet (91.5 cm) at the rear, for proper safety of use.
One last aspect to mention is the accessory shelf connected to the upright tubes, which is pretty handy if you want to keep multiple accessories at hand as you work out.
Motor and incline
The Sole TT8 treadmill has a 4 CHP, DC type, continuous-duty motor. It offers speeds between 0.5 – 12 MPH, the optimal speed range that a professional runner would need. In addition, it's strong enough to support a 400 lbs user for a prolonged workout at the highest speed settings without overheating or choking.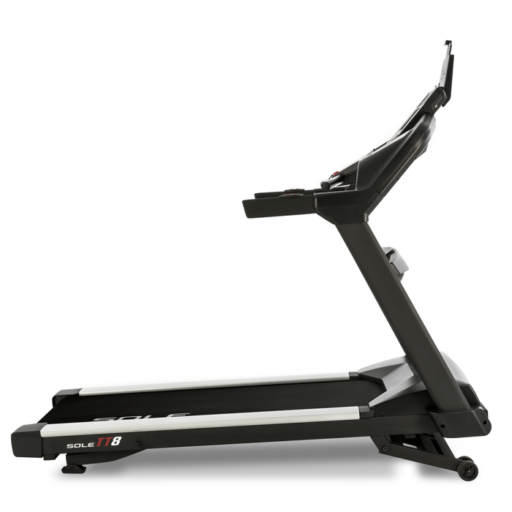 The speed can adjust gradually from the +/- keys, in increments of 1 MPH, or the direct keys. In addition, when using the built-in workout programs, the machine will automatically adjust speed (and incline) depending on the current segment of the selected application.
The motor features an all-steel, zinc-coated flywheel to minimize the tread belt's vibration, run more relaxed, and a lower amp draw. Speaking of power draw, you shouldn't worry much about electricity bills.
Even if you use this treadmill for at least one hour, it shouldn't add more than $15-$20 to your monthly electricity cost for five days a week.
The treadmill requires access to a 120-volt, 15-amp grounded, standard U.S. outlet, preferably with only the treadmill plugged into the circuit, to minimize the risk of burns, fires, or electric shock. The power cable connects with the treadmill at the front, below the motor hood. It also has a power switch.
This treadmill also features a motorized incline system. Like the speed settings, you can adjust the incline freely as you run, or using one of the preloaded workout programs will automatically adjust the incline.
The maximum incline/decline level is -6% to 15%, in other words, about 11°. It's not an extreme incline, but running at 10 MPH with the incline set at 15% will give you a consistent workout.
TT8 Console
Although it doesn't offer a wide array of workout programs, the console supplied with the Sole TT8 treadmill still has all the functions required by any runner. First, it can track distance, time, calories, and heart rate and indicate the treadmill's current speed and incline.
The console is pretty easy to use. There are keys for gradually adjusting speed and incline in 1 MPH and 1% increments. However, there are also keys for direct adjustments, such as 1,3,6,9,12,14,15 for incline and 2,3,4,5,6,9,12 for speed. Each program has its key. Stop and Start keys are also present if you need to interrupt your workout. Also, this model comes with a magnetic safety key like most treadmills.
Sole allows users to transfer workout data via Bluetooth from their Sole fitness equipment to their smart device. Users can download and track their info on the Sole app for free or have their fitness data transferred to fitness apps (Fitbit, Record, Mapmyrun, Apple Health).
Sole is proud to offer integrated message boards on most models. The Sole Message Board; is an alphanumeric text center that sends scrolling messages to the user to guide them through every workout's details. Ever wonder how to set up the user profile workout? Just push the user profile button the message board will walk you through the rest.
After years of seeing people get frustrated in the gym and at home, Sole came up with a better way to help you use the full capabilities of their treadmills, and they made it very user-friendly. The message board will also recap your entire workout so that you'll see your progress.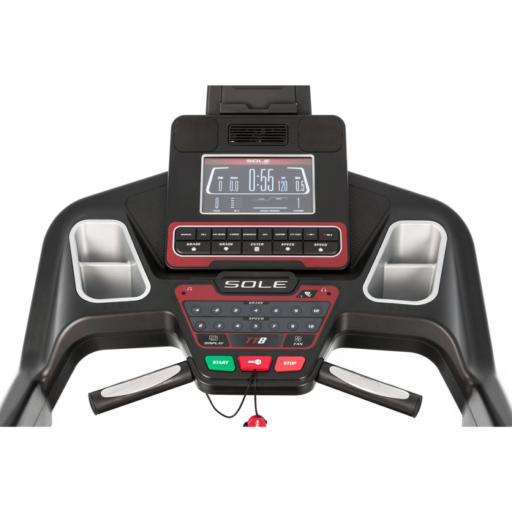 Lastly, the front handlebars attached to the treadmill's dashboard have integrated pulse sensors. However, the console is chest strap compatible. Therefore you can use an HR chest strap transmitter for pulse reading without holding the transversal handlebars.
Workout Programs
It has ten preloaded workout programs, including 1 Manual, 5 Preset, 1 Custom, 1 Fitness Test, and 2 Heart Rate programs. The Manual program allows you to freely use the treadmill, adjusting incline and speed as you like during your running session.
The Fitness Test program establishes your current fitness level and great function for continuous improvement.
The Custom program allows you to enter your Age, set a time goal for your workout, and customize and save a complete course via segments and columns. The Heart Rate programs focus on cardio and weight loss, helping you determine the best HR interval for a workout to obtain maximum results.
And finally, the 5 Preset programs include Hill, Fat Burn, Interval, Strength, and Cardio exercises, ready-made for you to train. There is also a 1/4 Mile Track function, which is excellent if you want to qualify as a professional track runner.
Amenities
The treadmill's dashboard integrates several amenities along with the 10.1″ LCD blue backlit display. For example, the top part features two cooling fans, while two acoustic chambered speakers flank the screen.
This sound system is compatible with most MP3 players, smartphones, and tablets. Under each one of the speakers, there's a small accessory compartment that you can use to keep a water bottle, your phone, etc. Also, there is a tablet holder.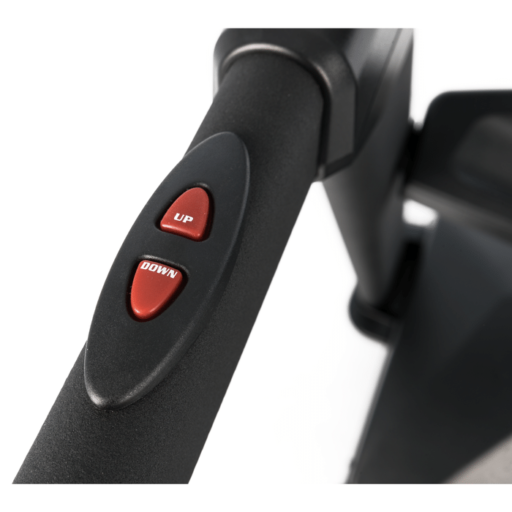 TT8 Assembly and Maintenance
The TT8 Sole treadmill assembly is far from complicated; however, the machine is heavy. Therefore, it's a good idea to assemble it precisely where it's supposed to go. Also, placing it on a mat can prevent damage to your carpets or flooring.
Assembly shouldn't take more than one hour and a half. So it doesn't require much. The deck is already fully assembled. Next, you need to attach the upright tubes, the accessory shelf, and the console, connecting all the wires.
A hard copy of the owner's manual, supplied with the box, will guide you step-by-step through the assembly process. Tools are also (provided).
Maintenance requires the cleaning of the belt regularly with a damp cloth. The treadmill uses a low-friction deck featuring a wax coating that should withstand up to 20,000 miles of use and shouldn't require lubrication. Vacuuming under the deck is also necessary, as dust or pet hair accumulating underneath may block air inlets.
Pros
Extremely sturdy and stable treadmill;
Professional, elegant design;
Cushioned deck, reducing up to 40% of the impact on the joints when running;
Industrial duty, 4 CHP motor, with a high peak duty and continuous duty, offering speeds up to 12 MPH, the average speed for professional marathon runners.
Its motor is quiet; it doesn't interfere with your TV sound or your music;
Automatic incline mechanism, -6 to 15% incline;
Multifunctional console with ten built-in workout programs;
The large, 10.1-inch LCD, LED-backlit
Transversal handlebars integrate pulse sensors;
Lateral handlebars combine speed and incline buttons to adjust;
Telemetry enabled the console and included a chest strap for hands-free heart rate tracking;
Tablet holder, double fan, sound system, accessory shelf;
The easy assembly process and low maintenance;
Great warranty package.
Cons
The fitness console does not have online connectivity;
A limited number of workout programs.
Sole Fitness TT8 Treadmill Summary
It's safe to say that the Sole Fitness TT8 Non-Folding Treadmill comes with an excellent price/quality ratio. In addition, this model is available for less than $2,500, which is quite a fair price for what it offers.
Its solid deck and continuous duty 4.0 CHP motor are parts built to last a lifetime; they also come with a lifetime warranty.
Overall, this machine is excellent for users of all levels, offering the optimal training set for excellent cardio training, muscle toning, stamina building, and weight loss. If you want a treadmill that focuses on deck durability and performance, this Sole model is one to put on your list.
I hope you found this article helpful and informative. Would you please speak up if you have anything you'd like to share on the topic or any opinions about my website? I look forward to your comments, questions, and the sharing of ideas.
Please remember that you should consult your physician to determine if you have any medical or physical conditions that could risk your health and safety or prevent you from using the equipment properly. In addition, your physician's advice is essential if you are taking medication that affects your heart rate, blood pressure, or cholesterol level.