Improve, Promote, and Build with the Sunny ASUNA Sabre 7100 Indoor Cycling Bike. In particular, the ASUNA 7100 will give you the durability and convenience of working out in your own home and offers the same commercial-grade build used in cycling studios. So start your journey toward an even better, fitter you with the Sunny ASUNA 7100.
The heavier the flywheel, the smoother the ride! The ASUNA 7100 flywheel is for speed and stability and will create more momentum for extended periods keeping your workout going the distance. Switch up the intensity of your training on your ASUNA 7100 with the convenient tension knob. With a simple adjustment, you can increase or decrease resistance so your Asuna 7100 workout can remain challenging and effective throughout your fitness journey.
Lock in and feel the momentum of your machine with foot cage pedals. Proper foot placement is essential to any biking workout! Ensure your feet are secured correctly with Sunny Health and Fitness's added foot cage feature.
The comfortable seat is adjustable for height and proximity to handlebars. Easily adjust back and forth and up / down for convenience and stability so your workout can remain comfortable when riding for long periods. Adjustable seating allows for multiple people in your household to use the equipment comfortably and efficiently.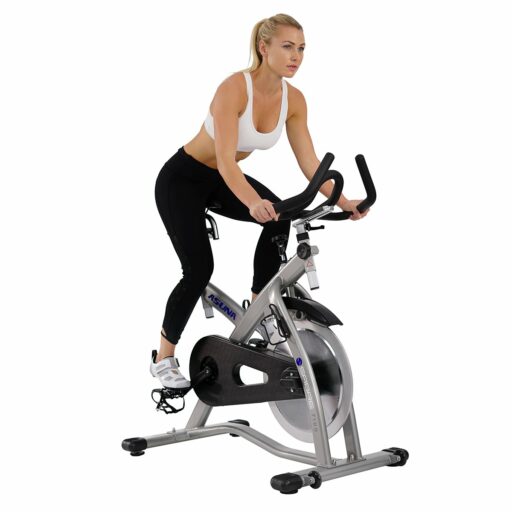 Learn more in my complete review below!
Product: Sunny ASUNA Sabre 7100 Indoor Cycling Bike
Price: For a great deal on this bike, merely go here to Sunny Health & Fitness.com
Warranty: Frame 5 years / Parts & Components 180 days
My rating: 8.75/10
Affiliate Disclosure: As a Sunny Health & Fitness Affiliate Program participant, I earn commissions on purchases made through links in this post. Full disclosure
Details and Specifications
Assembled dimensions: 41L x 25.5W x 44.5H inches (104L x 65W x 113H cm)
Assembled weight: 101.7 lbs (46kg)
Flywheel weight: 33 lbs (15 kg)
Supported weight: 285 lbs (129 kg)
Handlebars: 4-way adjustable
Seat: 4-way adjustable
Pedals: Dual-action (SPD clips + toe cages)
Drive mechanism: Belt
Resistance: Manual magnetic
Fitness monitor: Not included
Bottle holder: Included
Warranty: Frame 5 years / Parts & Components 180 days
7100 Frame construction
The all-steel frame construction of the ASUNA Sabre 7100 indoor cycling trainer comes double-coated with a silver industrial-grade corrosion-resistant and scratch-resistant powder finish.
The only plastic parts in the bike's construction are the belt, brake, and several other small covers, which don't affect its overall sturdiness.
The Sunny 7100 bike has a maximum user weight capacity of 285 lbs (129 kg). However, it's not extremely large, similar in size to the Spinner S7, with an assembled footprint of 41″L x 25.5″W (104 x 65 cm). Differently put, it doesn't take much space, but it is advisable to assign a usage area for it of at least two feet all around it.
The bike is relatively stable, to begin with; both its bases come with adjustable stabilizers with large rubber caps. These not only allow you to level the bike on any surface perfectly, but they also provide an excellent grip on the floor.
Plus, the bike isn't precisely feather-light; its assembled weight is more than 100 lbs, and this weight also plays a vital role in its stability.
The frame doesn't have a folding design. But moving the assembled bike isn't too tricky. The front base tube has large silicone wheels, allowing you to relocate after you've completed your workout.
Seat and handlebars
The ASUNA Sabre comes equipped with a spin bike saddle, featuring a long and slim shape with a longitudinal groove. Unfortunately, although it integrates a relatively decent padding layer, it's not for comfort like any other spin bike seat.
Therefore, if you're new to spinning, you may find it uncomfortable, at least for the first workout sessions. But since this is a bike made for spinning workouts, at least 1/3 of the time spent on it, you should pedal while standing up.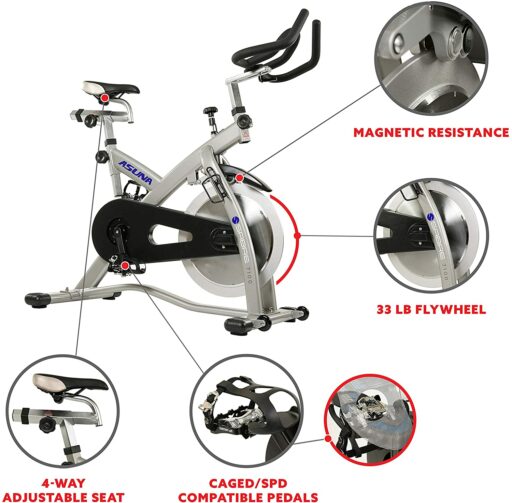 Moreover, this is a standard seat. Therefore, it should be easy to find a compatible replacement for it that provides more comfort. Also, its support is adjustable by a gel cover.
The seat is 4-way adjustable, up, down, and front to back. It offers a good adjustment span of 9.5″ (24 cm) and several inches horizontal adjustment span. The minimum distance from the lower pedal is 28″ (71 cm) while the maximum length is 37.5″ (95 cm).
Therefore, the bike comfortably accommodates users between 5'0″ and 6'5″ (153 – 196 cm) with no problem, promoting a complete leg extension.
Just like the seat, the handlebar of the ASUNA 7100 exercise bike is 4-way adjustable. It features a multi-grip design with an integrated loop aero bar. A layer of high-density synthetic foam fully covers it to provide a secure and comfortable grip.
7100 Resistance system
The ASUNA Sabre 7100 features a manual magnetic resistance system that consists of a magnetic brake attached to the bike's main frame bar on top of the flywheel. The brake connects to the tension knob on top of the frame.
As you turn the knob clockwise, the brake pad will come closer to the flywheel and generate more resistance. Therefore, the bike doesn't require a connection to a power source, and you don't need a console to control its resistance.
The tension knob comes equipped with a spring and can act as an emergency brake, as well. Therefore, by pressing it down, the brake pad will immediately stop the flywheel from spinning.
Unlike other exercise bikes with a manual magnetic brake, this bike doesn't have any "clicks" or settings marked on the tension knob. Instead, tighten the brake until you obtain the amount of resistance you feel comfortable with or want for your workout.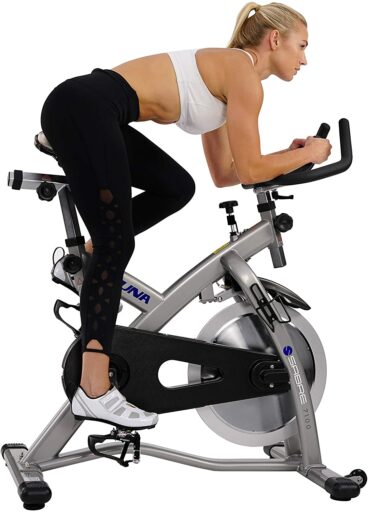 Drive system
The Sunny ASUNA Sabre features a belt drive, similar to the ASUNA 5100. There are two main benefits related to a belt drive. First, the belt transmission doesn't require lubrication, and second, it generates very little noise. Therefore, the bike's operation is almost silent.
The bike's flywheel is not the heaviest that you can find in a spin bike. However, it weighs 33 lbs (15 kg); thus, it's a mid-range flywheel. There are other exercise bikes equipped with more substantial wheels.
Also, the flywheel is bi-directional. Thus, you can pedal backward, and the bike will retain the resistance selected. In particular, this way, you can diversify your workouts. However, coasting is not possible.
Since it's an exercise bike designed to support most spin workouts, the ASUNA Sabre comes equipped with a highly durable crankset featuring solid steel crank arms. Therefore, as long as you don't exceed the 285 lbs (129 kg) maximum weight capacity of the bike, you should be able to pedal while standing up with no problem or engage in just about any spin workout.
The pedals supplied with the bike are dual-sided. Thus, they have toe cages and straps on one side, regular athletic shoes, and SPD elements for spin shoes on the other side. They're a metallic alloy material, and they're highly durable as well. Also, they feature standard threads, so you can easily find replacements for them if necessary.
7100 Assembly and Maintenance
The bike's frame, including the flywheel, the crank, the belt, and the brake, comes pre-assembled. The assembly adds the bike's bases, the pedals, the seat, and the handlebars.
This shouldn't take more than 20 minutes. Furthermore, all the assembly tools come with the bike, and the manual provides clear step-by-step assembly instructions.
Since it's a bike with a magnetic brake and a belt drive, maintenance is almost inexistent. You have to keep the cycle clean and periodically check the integrity of its parts.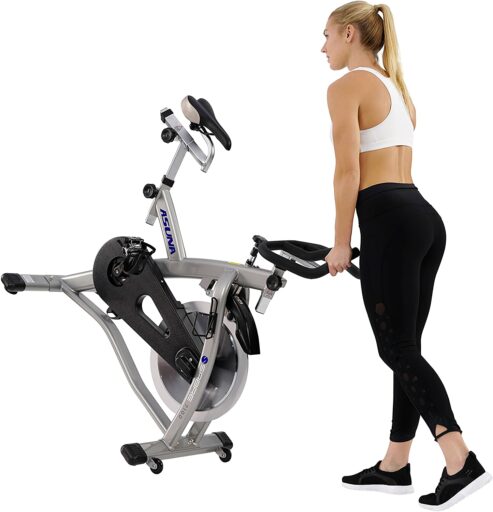 Pros
Sturdy steel frame, able to support users up to 285 lbs;
Bases have adjustable, rubberized levelers;
Transport wheels on the rear base;
4-way adjustable handlebar, with a multi-grip design;
4-way adjustable seat;
Frictionless, wear-free, magnetic resistance;
Balanced flywheel for a smooth pedaling motion and solid momentum;
Heavy-duty crank made for spin workouts;
Dual-sided pedals, with toe cages and SPD clips;
Narrow (152 mm) Q-Factor, minimizing the lateral stress on the joints;
Smooth and quiet belt drive, great for apartment use;
The bottle holder included;
Easy to assemble;
Little maintenance is required;
Excellent warranty.
Cons
Sunny ASUNA 7100 Sabre Summary
The Sunny ASUNA 7100 Sabre is a commercial-grade indoor cycling bike. To illustrate, it features a manual magnetic resistance system, dual-sided pedals, and a 33 lbs bi-directional flywheel. In addition, it offers excellent micro-adjustability, as both its seat and handlebars adjust up, down, back, and forth (4-way).
Moreover, it's a heavy-duty bike, made to support all spin workouts, perfect for light to intense cardio training, intervals, weight loss, stamina development, and muscle toning. It's not exactly a cheap bike but does offer excellent quality and versatility for the price.
I hope you found this article helpful and informative. If you have anything you'd like to share or opinions about the content on my website, please speak up. I look forward to your comments, questions, and the sharing of ideas.