BodyCraft is known for its top exercise equipment, and the BodyCraft X4 Home Gym is no exception. Whether you're looking to lose fat or gain muscle, the BodyCraft X4 strength training system can help with four different workout stations, meaning you could have four people exercising at once.
The BodyCraft X4 allows for a full-body workout, with an entire spectrum of upper and lower body exercises available. With high, mid, and low pulley systems, you can perform rows, pulldowns, and more.  There's also plenty of pressing exercises available and equipment for abdominal workouts. If you can't do training on the BodyCraft X4, it probably doesn't even exist.
This machine has four separate weight stacks of 200 lbs of resistance, so beginners and advanced workout enthusiasts will be covered.  You can even double up the strength for a maximum of 400 pounds on the leg press. It can accommodate multiple users or quicker transitions for a single user.
The X4 Strength Training System is a highly versatile home gym. Every possible traditional dumbbell or barbell exercise is reasonable with the multi-purpose X4 home gym. The X4 is a commercial-rated gym, making it an ideal choice for clubhouses, fire stations, hotels, corporate gyms, or fitness enthusiasts who want only the best for their home gym.
Learn more in my complete review below
Product: BodyCraft X4 Home Gym
Price: For a great deal on this gym, merely go here on Amazon
Warranty: In-home lifetime on frame and parts
My rating: 9.9/10
Affiliate Disclosure: As an Amazon Affiliate Program participant, I earn commissions on purchases made through links in this post. Full disclosure
Details and Specifications
Frame: 2″ X 3″, and 2″ X 2″, Heavy gauge steel tubing.
Finish: Platinum Gray multi-stage electrostatic powder coat paint.
Pulleys: 4-1/2″ diameter, fiberglass reinforced nylon and rotate on sealed ball bearing hub.
Cables: Internally lubricated, 7 X 19 strand construction, rated at 2000 pound tensile strength.
Upholstery: Double-stitched heavy gauge vinyl covering.
Weight Plates: 1-1/4″ thick precision milled with EZ Glide nylon bushings.
Pivot Points: Rotate around sealed roller bearings.
Accessories: Includes Lat Bar, Curl Bar, (2) Single Handles, Ab Crunch Strap.
Dimensions: 87.2″ W x 110.24″ L x 83.28″ H
Warranty: In-home lifetime on frame and parts
Commercial Warranty: Frame ten years / Parts two years
X4 Overview:
The Bodycraft X4 Strength Training System gym combines every feature found in traditional machines with the free exercises provided by fully adjustable cable training stations. Hundreds of available activities!
It's not every home gym that I can confidently call one of the best home gyms, but I have one here. The BodyCraft X4 is among the top home gyms available, with commercial-quality features that will make you wonder why you ever bothered leaving your home for a workout in the first place.
The Bodycraft X4 4 Stack Gym is a robust piece of equipment, ideal for Commercial or Home use. The X4 uses an ingenious quadruple weight stack design, which lets four different people work out simultaneously. This versatility puts the X4 in a class of its own.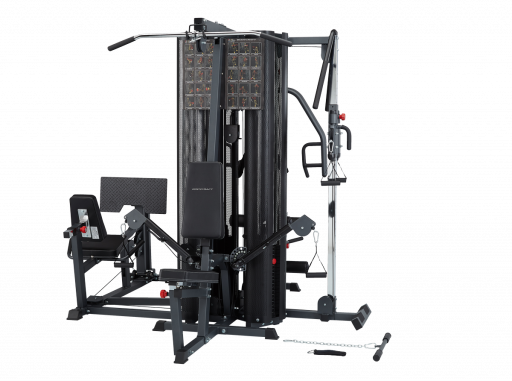 The cable columns are also adjustable in two stations, which provide ideal height and resistance at different angles. Even though the machine does not have a bench, one station enables bench presses in machine style.
The X4 4 Stack Gym allows the user to perform over 100 different exercises on four different stations. Each station has a 200lb weight stack independent of the other station. These stacks feature precision milled cast iron plates with nylon bushings for smooth action.
KEY FEATURES
All Stations Have a 200lb Weight Stack independent of the other Stations.
The Bench Press Station has an adjustable starting point.
The seat and seat back are adjustable.
The back pad tilts to ensure full support when performing incline and shoulder presses.
Cable Station with adjustable arms allows for various exercises, including Sports Specific, Core Training, and practices that mimic Dumbbell Training.
Ab Crunch Station.
The Low Pulley Station comes with a folding footplate.
High Pulley Station for Lat pulls Downs and Triceps Push Downs.
Leg Extension and Curl Station provides Seated Leg Extension and Standing Leg Curl.
The Leg Press Station is (included) for full leg development. 2:1 weight ratio provides up to 400 pounds of resistance.
Weight Stack Enclosures for safety and beauty.
Weight range from 5 pounds to 400 pounds (400 pounds on Leg Press)
Workout posters are mounted right on the machine.
Includes lat bar, curl bar, two single handles
X4 Stations
Station 1: Fully adjustable Functional Training / Cable Arms provide over 100 exercises! Every exercise you have ever performed with dumbbells can is possible here! Also, a great station for Sports Specific exercises and Functional Training activities! This station also includes a High Pulley for Lat Pull Downs, Triceps Push Down, etc.!
Station 2: Adjustable Dual Cable Column for Functional Training! Duplicate Every Day or Sports Specific movements! This station provides resistance at any angle, at any desired height! Either standing or on a Stability Ball! Static Handles are mounted to the frame to help keep your balance when performing leg exercises.
Station 3: Row/Press Arm for safe machine style Bench Press, Incline Press, Shoulder Press, and Seated Rows. Self-aligning Leg Extension / Leg Curl provides seated Leg Extension and Standing Leg Curls. Mid Pulley for Ab Crunches, Triceps Extensions.
Station 4: Leg Press / Calf Raise for full leg development! The creative cabling of this station provides a 1:2 ratio for up to 400 pounds of resistance!
The Bodycraft X4 construction uses the highest caliber materials. It benefits from heavy-gauge steel tubing, 4.5" diameter fiberglass-reinforced nylon pulleys with sealed ball-bearing hubs, internally lubricated cables rated at more than 2,000lbs of tensile strength.
Its upholstery is dense foam upholstery with a double-stitched heavy-gauge vinyl covering 1.25" thick, precision-milled weight plates with EZ Glide nylon bushings platinum gray powder-coated finish.
The finish of the Bodycraft Fitness X4 is electro-magnetically applied in powder form to coat all surfaces evenly, then baked on at high temperatures for a robust, long-lasting finish.
Furthermore, the Bodycraft Fitness X4 Home Gym Exercise Machine's guide rods feature chrome-plated 1-inch diameter tubular steel for rugged durability and smooth action.
Pros
The machine uses high-quality steel;
Pulleys, cables, and arms are adjustable;
The machine comes with four different workout stations that can be used by four users simultaneously;
It is a versatile machine;
Each workstation has a weight stack of 200 lbs independent of the others;
The leg press station has a weight ratio of 1:2 and weight resistance of 400 lbs;
It offers the user more than 100 exercises;
The machine comes with exercise charts to guide the user;
The upholstery is dense foam;
The manufacturer offers a good warranty- both commercial and residential.
Cons
The Assembly process is not very easy;
The machine is not budget-friendly;
The home gym requires a large workspace.
BodyCraft X4 Home Gym Summary
Shape your body, get healthy, and lose weight while working out with several people at once with the BodyCraft X4 home gym. The BodyCraft X4 home gym features a quadruple weight stack design (200 pounds each), which lets four different people work out simultaneously on other weight stations at the same time.
It's ideal for families who want to make their workouts more efficient or for friends who wish to keep their pulse rate high while circuit training. Moreover, the BodyCraft X4 is an excellent value and long-term investment in your wellbeing.
Above all, an extremely versatile home gym built for commercial use or the discriminating homeowner!
I hope you found this article helpful and informative. If you have anything you'd like to share or opinions about the content on my website, please speak up. I look forward to your comments, questions, and the sharing of ideas.