The Body-Solid Endurance E300 Elliptical Trainer has commercial-grade parts and frames. In addition, this mid-priced elliptical comes with unparalleled durability that you can't find on many other machines in this price range. The Body-Solid E300 has a high-grade, durable, balanced steel frame and heavy-duty parts that will last a generation.
However, it lacks some valuable functionalities, fancy frills, and thrills such as incline, large LCD, and Bluetooth connection of other brands such as Life Fitness, Precor, and Sole. Although considering the price and the compact size, it's understandable. But on the other hand, it offers quite a unique center-drive design, which provides a very natural riding feel.
The Endurance E300 has 20 resistance levels, 21 inches fixed stride, oversized comfortable pedals, and static and moving handlebars to provide a full-body workout. However, what sets Body-Solid E300 apart is the quality vs. the price.
I don't think there is another machine with the features and durability of Endurance E300 in the same price range. Although Body-Solid E300 is not for everyone, and that's why I suggest you read the paragraphs below to see if this compact elliptical suits your needs.
Learn more in my complete review below!
Product: Body-Solid Endurance E300 Elliptical Trainer 
Price: For a great deal on this elliptical, merely go here on Amazon
Warranty: Frame Lifetime / 5 years parts / Electronics 2 years / Labor 1 year/wear parts six months
My Rating: 9.6/10
Affiliate Disclosure: As an Amazon Affiliate Program participant, I earn commissions on purchases made through links in this post. Full disclosure
Details and Specifications
Assembled dimensions: 50L x 31W x 66H inches (127L x 79W x 168H cm)
Assembled weight: 232 lbs (105.2 kg)
Max. weight capacity: 300 lbs (136 kg)
Stride: 21 inches (53.3 cm)
Incline: No
Handlebars: Both mobile and fixed (with pulse sensors)
Resistance system: Magnetic (motorized), 20 levels
Console: 1 manual program, six preset workouts, two user profiles
Amenities: Bottle holder
Warranty: Frame lifetime / Parts 5 years / Electronics 2 years / Labor 1 year / Wear parts six months
E300 Frame Construction
The Body-Solid E300 elliptical trainer features quite a heavy construction; its assembled weight is approx. 232 lbs (105.2 kg), which means that it's thick steel tubing. Due to this fact, two people should build the machine. However, on the other hand, all this weight adds a lot of stability to the elliptical. You can be sure it won't wobble or rock even if you engage in the most demanding workouts.
Once it's assembled, the machine's transport and relocation are not tricky. Its front base integrates a set of wheels, while the rear has two handles. Therefore, these handles can easily lift and lean forward onto their wheels to change their location.
Unlike other elliptical machines, the E300 Endurance elliptical from Body-Solid doesn't have a large footprint due to its specific, dual-drive construction. When not in use, its footprint is approx. 50″L x 31″W (127 x 79 cm).
However, remember that the machine's arms will extend forward when you exercise, while the pedals exceed the rear base by a few inches. Therefore, it's best to allocate at least 75″ x 50″ (190 x 127 cm) of workout space for this machine to avoid any hindrance.
As mentioned earlier, most parts of the machine's frame construction are steel-made. All the steel parts have silver, corrosion-resistant paint, and the machine's few plastic parts are the pulleys' lateral and arm's joint covers. These have a protective and cosmetic role and do not reduce the machine's overall sturdiness.
Drive system
The Body-Solid E300 Endurance elliptical trainer features a unique design that revolves around its drive system. Unlike other elliptical trainers with a rear drive or a front drive, the E300 has a center drive.
This type of drive comes with a series of benefits. In particular, its elliptical path is anatomically correct, and due to this fact, the pedaling motion generates a very natural running/walking feel. On the other hand, an elliptical with a rear or front drive may have too much vertical movement, which results in a downhill or uphill feeling.
A heavy-duty belt does the transmission between the primary pulley of the machine and the magnetic flywheel. Therefore, the apparatus's use generates very little noise; the belt doesn't require lubrication.
E300 Pedals and handlebars
The Body-Solid E300 Endurance elliptical trainer comes with oversized pedals, accommodating feet of all sizes. They are highly durable PVC material, and their sustaining steel elements can support users up to 300 lbs (136 kg). In addition, their surface features small lugs to provide superior adherence.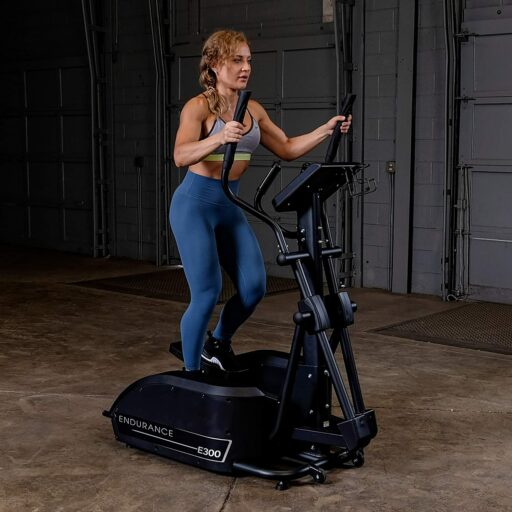 The machine offers a stride of 21″ (53.3 cm), which is non-adjustable. Thus, it can accommodate users comfortably up to 6'3″ (190 cm). Taller users may not benefit from a complete range of motion, but they should still use the machine with no problem. Also, the highest point that the pedals can reach is approx. 16″ (40.6 cm) above floor level.
The pedals glide on large roller wheels, which add smoothness to the ride. In addition, they feature a narrow Q-Factor, which leads to the correct positioning of the feet; thus, a ride on this machine doesn't result in any lateral stress on the knees or hips.
Finally, the E300 Endurance elliptical trainer comes with two handlebars, mobile and fixed. In addition, the joints of the movable arms integrate heavy-duty ball bearings for smooth motion and a prolonged lifespan.
The fixed handlebars incorporate EKG sensors so the console can monitor your heart rate if you hold onto them. In addition, both sets of handlebars feature high-density foam grips for maximum comfort.
Resistance system
The Body-Solid E300 Endurance elliptical trainer has a motorized magnetic resistance system consisting of a magnetic flywheel and a small servo motor. The machine requires being connected to a power circuit to deliver any resistance.
The machine's flywheel has most of its weight built into its perimeter, generating a steady and continuous motion. As a result, it's not extremely heavy but can deliver consistent momentum.
The resistance mechanism is relatively simple. As you select a specific level from the console, the servo motor will adjust the magnets' pull, and the flywheel will generate more or less drag.
The machine offers 20 resistance settings. The first three parameters deliver a light pedaling motion, while the 18-20 settings can perform high-intensity workouts.
The resistance can also be adjusted "manually" from the console via the +/- digits; however, if you use one of the preset workout programs, the machine will auto-adjust its resistance depending on the workout segment.
E300 Console
The console supplied with the Body-Solid E300 Endurance elliptical trainer is an LED-based one. It features two displays. The top, smaller one indicates time, distance, speed, strides/min, calories, calories/hour, pulse, and the selected resistance level.
The large display (or the "Profile Window") shows the program profile, the resistance bar, the heart rate bar, the lap progress, and the lap counter.
The console can measure distance in miles and kilometers and calculate speed in MPH and km/h. However, it can only track your pulse via the EKG sensors incorporated into the fixed handlebars; it does not work with wireless HR chest strap transmitters.
PROGRAM MODES
The E300 offers various program modes, including a Quick-Start Mode, 6 Preset Program Modes, and two User Profile Modes.
MOUNTAIN
This program gradually takes the user up to a high resistance level, bringing the resistance level back to the starting point. Also, this program simulates what one might encounter on an actual mountain course. Thus, it is challenging since higher tension levels are (extended) for long periods.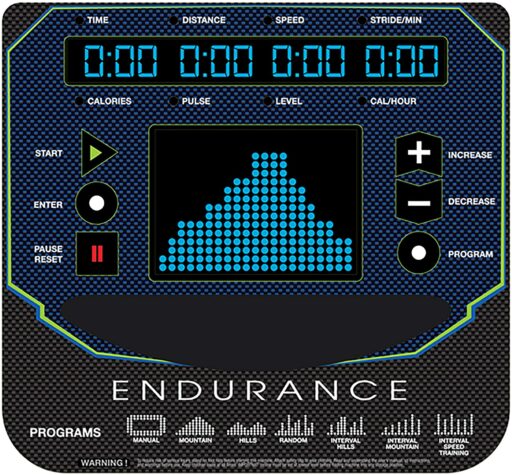 HILL
This program takes the user through two hill profiles. Resistance changes are small during this program. Moreover, it is an excellent program to get started with or for someone looking for a lower-stress workout.
RANDOM
This program randomly generates a new program profile every time it's in use, which allows you to keep the workouts fresh and motivating. You see the program profile when you scroll through the programs to reach the RANDOM program.
If this profile is not to your liking, scroll through the agenda again, and a new RANDOM application starts. Therefore, the RANDOM program will be different every time you use it.
INTERVAL
This program simulates interval training through a series of two hill profiles.
INTERVAL MOUNTAIN
This program simulates interval training through a problematic mountain profile.
INTERVAL SPEED TRAINING
This program simulates interval training with more extreme high and low-intensity levels.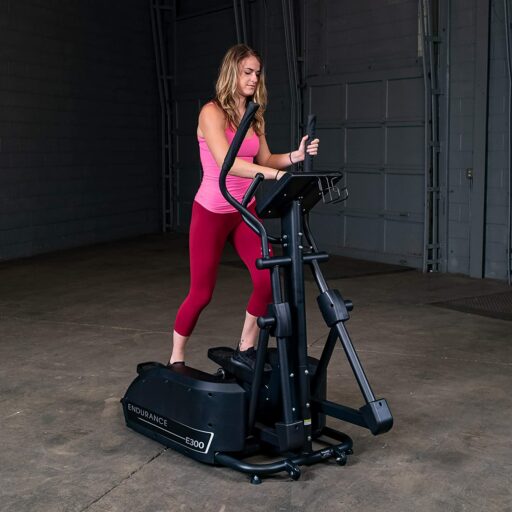 TWO USER PROFILES:
User Profiles U1 and U2 allow you to customize and save an exercise session.
Heart Rate Monitor
The E300 comes equipped with Heart Rate Contacts. The Heart Rate Contacts send your heart rate information to the console for processing. Your hands need to firmly grasp the entire area of the Heart Rate Contact Sensors on both sides of the handlebar to measure your HR accurately.
The most common method for calculating your target heart rate is finding your maximum.
The standard formula for this is:
220 – your age = Maximum Heart Rate
You DO NOT want to work out at your maximum heart rate.
You want to work out in your target heart rate zone.
Your target heart rate zone is a percentage of your maximum heart rate.
The American Heart Association recommends working out at a target heart rate zone of 60% – 75% of your maximum heart rate.
E300 Assembly and Maintenance
The machine's assembly is not the easiest, but the included manual does provide clear and concise step-by-step instructions. Therefore, you will have to connect the console port and the rear part with the pulleys and pedals to the front part of the frame, add the arm joints and the arms, the fixed handlebars, the console, and the bottle holder. Consequently, the whole task may take up to two hours.
It is advisable to check for loose parts periodically and retighten them for maintenance. Also, the moving parts and joints may require lubrication if they develop squeaks; for that, a multi-purpose lubricant will work.
Pros
Sturdy construction, integrating highly durable steel tubing;
Adjustable levelers;
Transport wheels and rear handles;
300 lbs weight limit;
Center drive design, with a low center of gravity providing high stability;
Anatomically correct elliptical path, promoting a natural stride;
Small footprint;
EKG pulse sensors;
Quiet operation, ideal for apartment use;
Easy-to-use console with straightforward controls;
20 levels of eddy current resistance;
Six preset workouts;
Two user profiles;
The bottle holder included;
Little maintenance is required;
Great warranty plan.
Cons
There is no incline system;
The fitness console doesn't have a sound system;
The fitness console does not have online connectivity.
Body-Solid Endurance E300 Elliptical Summary
The Body-Solid Endurance E300 Elliptical is a center-drive elliptical trainer with an exceptionally durable and stable construction. Furthermore, it offers 20 levels of motorized magnetic resistance and six preset workouts on the console and a manual program.
Although it doesn't have many amenities, such as a sound system, cooling fan, or online connectivity, it's still a decent elliptical machine due to its anatomically correct elliptical path.
It's excellent for light cardio workouts or recovery training and offers the possibility of high-intensity interval workouts for a high cardio output and weight loss.
The price, durability, and compact footprint make Body-Solid E300 one of my favorite machines and one of the best small elliptical cross trainers in the center drive design category and this price range. In addition, the whisper-quiet bio-mechanically engineered motion and space-saving compact size is unique for this price range.
I hope you found this article helpful and informative. Please speak up if you have anything you'd like to share on the topic or opinions about my website.? I look forward to your comments, questions, and the sharing of ideas.
Please remember that you should consult your physician to determine if you have any medical or physical conditions that could risk your health and safety or prevent you from using the equipment properly. In addition, your physician's advice is essential if you are taking medication that affects your heart rate, blood pressure, or cholesterol level.