Combine an upper and lower body workout with the Marcy NS-1000 Fan Bike. The Marcy NS-1000 features dual moving handlebars to work your upper body and your lower body's cycling action for a more effective workout than cycling alone.
The Marcy NS-1000 utilizes a unique, customizable air resistance system with a new tension adjustment that allows you to adjust your workout's intensity level. In addition, the resistance is natural to change with a simple turn-dial knob.
The Marcy NS-1000 fan bike has an easy-to-use fitness monitor that helps keep you motivated by displaying your workout stats as you exercise, including time, distance, speed, calories burned, scan, and odometer.
The Marcy NS-1000 is an entry-level fan bike with a beautiful compact design to easily fit into a small corner of your home. It comes with front-mounted transportation wheels for easy portability. This exercise bike is well-built and allows a weight limit of up to 250 lbs.
Learn more in my complete review below!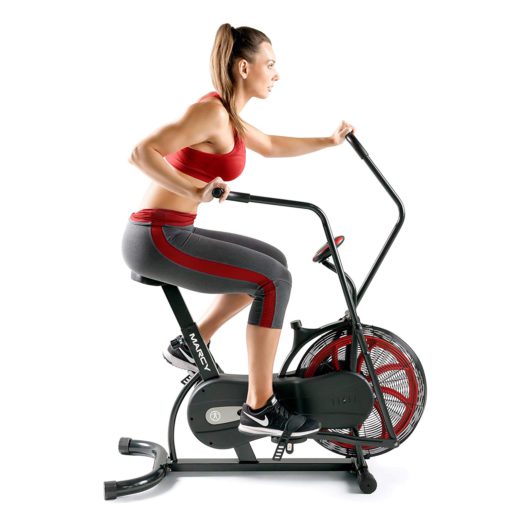 Product: Marcy NS-1000 Fan Bike
Price: For a great deal on this bike, merely go here on Amazon
Warranty: 2 years limited
My rating: is 8/10
Affiliate Disclosure: As an Amazon Affiliate Program participant, I earn commissions on purchases made through links in this post. Full disclosure
Details and Specifications
Assembled dimensions: 45L x 26.75W x 48.75H inches (114L x 68W x 123H cm)
Assembled weight: 58 lbs (26.3 kg)
Supported weight: 250 lbs (113.3 kg)
Drive: Chain
Resistance: Air
Fitness Monitor: Distance, total distance, speed, time, calories
Warranty: 2 years limited
NS-1000 Frame Construction
This Marcy exercise bike is somewhat smaller than other similar bikes. It's approx. 45″ (114 cm) long and 20″ (51 cm) wide, but its overall width is the distance between the outer ends of the handlebars, which is 26.75″ (68 cm).
Differently put, this fitness machine is far from being a large one. It doesn't require a large usage area, but it is advisable to maintain at least two clearance feet all around it to exercise without any hindrance.
The Marcy NS-1000 features a frame made of steel tubing. Although it's a basic bike, its construction is relatively sturdy; it supports users up to 250 lbs (113.3 kg). In addition, it's surprisingly stable for a small bike, as its center of gravity is close to the ground.
The rear base tube is also curved and equipped with rotating polygonal caps, which serve as levelers, enhancing the bike's stability.
The bike is far from being heavy. It weighs approximately 58 lbs (26.3 kg) when fully assembled, so its assembly shouldn't be a problem for one person. But its front stabilizer bar is equipped with two transport wheels, which facilitate the bike's relocation.
Last but not least, this Marcy upright exercise bike features a black, corrosion-resistance finish. However, keep in mind that this is a bike for use indoors. If exposed to moisture, the bolts or some internal parts may eventually catch rust.
Seat and handlebars
The Marcy NS-1000 fan bike has a standard seat, which features a slightly contoured surface and integrates a padding layer.
Although it's not the most comfortable bike seat, it's still more extensive than the seats found in most spin bikes and delivers more comfort than those. But, of course, you can always increase this seat's support by adding a gel cover or a sheepskin cover.
The seat on this Marcy bike is only two-way adjustable, up and down. Its upright bar has seven adjustment holes, offering an adjustment span of 8″ (20.3 cm). At its lowest setting, the seat will be 26″ (66 cm) above floor level, while at its top setting, it stands at 34″ (86.3 cm).
Thus, the bike can accommodate users between 5'0″ and 6'0″ (152 – 183 cm). Taller users should also use it but may not benefit from a full leg stretch.
The bike's handlebars are simple, curved bars with high-density foam grips. They're non-adjustable and don't lock in place; they will continue to move for as long as you pedal.
In addition, I must mention the lack of foot-resting pegs at the front. Several other (more expensive) bikes have this feature, which offers extra convenience if you only want to exercise only your arms or rest your legs.
NS-1000 Drive
If you're wondering, this Marcy exercise bike features a chain drive. In other words, the transmission between the bike's pulley and flywheel fan is via a standard bike chain. The main pluses of a chain drive are high durability and availability (you can get a replacement from just about any bike shop).
On the other hand, the main drawback is that you will have to lubricate it after six months of use to prevent it from rusting. The chain is pre-lubricated, though, and guarded by its plastic cover and shouldn't require maintenance that often.
Another essential element of the drive system is the flywheel fan. The one equipped on this bike is slightly smaller than some other models. However, it still generates a pretty decent resistance. A metallic fan guard encases the fan.
When in motion, it creates a soft air current that is (directed) toward the user. Also, just like any massive fan, it does generate some noise when in use. However, the bike is far from being unbearably noisy.
The crankset is a pretty durable piece featuring solid steel arms. However, remember that this is an upright bike, not a spin bike, and standing-up pedaling routines should not be performed on it, as they may lead to pedal or crank damage.
The pedals are heavy-duty plastic; they feature a weighted design, an adherent surface, and adjustable straps. In addition, they have standard threads; thus, replacements for them are widely available.
Resistance
Since this is a fan bike, it generates resistance whenever the fan is in motion. But as opposed to an upright magnetic cycle, this one produces a dynamic response. For instance, the faster you pedal or move the bike's arms, the fan will create more resistance.
The overall resistance is also adjustable. The tension knob connects to a belt, which allows you to tighten or loosen the fan. Thus, producing a more or less consistent workout.
One last aspect to mention here regards the bike's Q-Factor. Although it's not specified precisely, it is relatively narrow. Thus, it is a plus, as your feet are positioned on the pedals naturally, resulting in less lateral stress on the knees and ankles.
Fitness monitor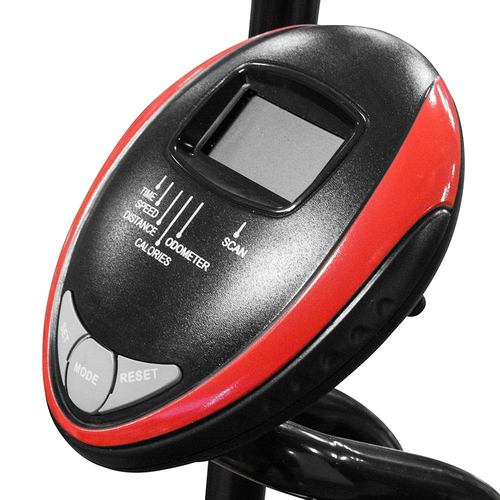 The Marcy NS-1000 upright bike has a simple fitness monitor. It reads time, distance, total distance, speed, and calories. It has a SCAN function that rotates these values, showing each for 4 seconds. The distance is calculated only in miles, while speed is only in MPH; there is no metric setting.
Also, since you cannot correlate the calorie tracking with the current resistance setting, the calorie reading may not be 100% accurate.
Unfortunately, the bike does not have HR pulse sensors, and the monitor is not telemetric. So, if you need to monitor your heart rate, use a separate device.
The monitor features target settings for time, distance, and calories. For instance, you can select a target value for any of these and enable the monitor to countdown from zero.
The monitor uses two 1.5V (AAA) batteries, which do not come with the bike. Nevertheless, it's relatively straightforward to operate. It has three buttons: SET, MODE, and RESET. The MODE button toggles On and Off the SCAN function, allowing you to select one of the workout metrics to display all the time.
The SET button allows you to choose a target goal for time, calories, or distance. So naturally, the RESET button resets all the monitor's values to zero. The unit also has a sleep mode function; it will turn off automatically after 4 minutes of inactivity on the bike to save battery life.
NS-1000 Assembly and Maintenance
The core of the bike comes fully assembled. In other words, the flywheel and the internal elements are (connected) to the mainframe. So you will only have to add the base bars, the arms, the pedal bars, the pedals, the seat post, the seat, the monitor bar assembly, and finally, the fitness monitor.
Consequently, it shouldn't take more than an hour—the manual offers pretty comprehensive assembly instructions, and all the necessary tools are included.
In terms of maintenance, the internal chain may require lubrication. However, it's pre-lubricated from the factory lube, which should last quite a long while. Other than this, periodically checking the bike for loose bolts and parts is advisable.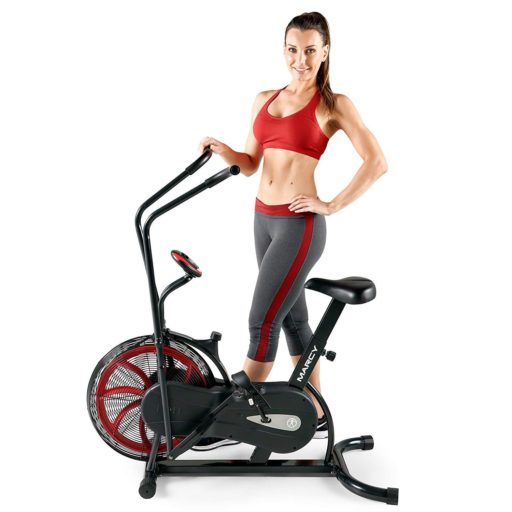 Pros
Sturdy and stable frame for a small bike, able to hold riders up to 250 lbs'
Aesthetic design is an aspect that can serve as a good motivation factor;
Adjustable levelers on the rear base;
Transport wheels on the front base;
Mobile handlebars for arms workouts;
Ergonomic, padded seat;
Air resistance system, great for interval workouts;
Resistance adjustability (which other fan bikes don't have);
The fitness monitor – can track time, speed, distance, total distance, and calories;
Target settings for time, distance, and calories;
Little maintenance is required;
Fairly quiet operation;
Easy to assemble.
Cons
The fitness monitor does not have a pulse reading function;
The fitness monitor LCD does not have a backlight;
There are no footrest pegs at the front of the bike.
Marcy NS-1000 Fan Bike Summary
The Marcy NS-1000 is a basic upright air resistance exercise bike for light to medium workouts. As opposed to other fan bikes, its resistance is adjustable. It also has a fitness monitor to track your main workout statistics. Thus, it's an excellent bike for muscle toning, recovery training, stamina development, and weight loss.
Moreover, it also offers the possibility to exercise your arm muscles. And finally, it's one of the most inexpensive fan bikes you can find now, offering excellent value for the price.
I hope you found this article helpful and informative. Please speak up if you have anything you'd like to share on the topic or opinions about my website.? I look forward to your comments, questions, and the sharing of ideas.
Please remember that you should consult your physician to determine if you have any medical or physical conditions that could risk your health and safety or prevent you from using the equipment properly. In addition, your physician's advice is essential if you are taking medication that affects your heart rate, blood pressure, or cholesterol level.