The frame on the Bodycraft Galena Pro Home Gym Strength Training System is heavy gauge steel tubing, making it both durable and sturdy. The single stack gym also has two adjustable seats for users of different heights so that you can achieve a more comfortable seating position.
The dual-function pec deck lets you perform both traditional flys and dumbbell-style flys. In addition, using this patented station, you can also perform rear deltoid flys, making it a varied weights-based workout machine for your home fitness space.
The Galena Pro Strength Training System incorporates press/pull and low-pulley stations. With these, you can accomplish a decent range of strength-based exercises such as bench, incline, and shoulder presses, plus rows, arm curls, and leg kicks. Altogether, this makes Bodycraft's Galena Pro a very accomplished gym to build muscle at home and increase your strength.
Although it doesn't come as standard, it is undoubtedly a must if you want a complete home gym. The leg press gives the ability to use a lower-body compound exercise and train your calf muscles. This option is comfortable, space-saving, and provides 300 lbs of resistance. In addition, the footplate is adjustable for the convenience of any size user.
Learn more in my complete review below!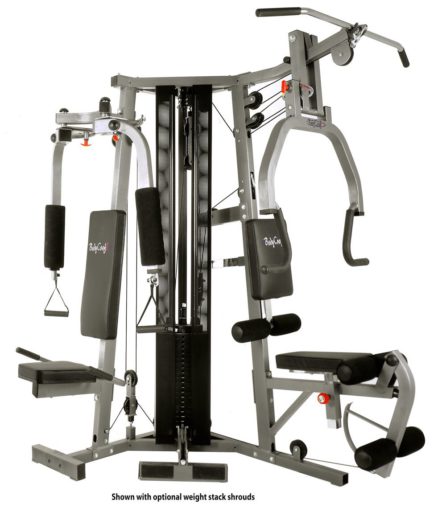 Product: BodyCraft Galena Pro Home Gym
Price: For a great deal on this gym, merely go here on Amazon
Warranty: Residential Lifetime (see the commercial warranty below)
My Rating: 9/10
Affiliate Disclosure: As an Amazon Affiliate Program participant, I earn commissions on purchases made through links in this post. Full disclosure
Details and Specifications
Assembled dimensions: 58D x 72W x 81.75H inches (147L x 183W x 208H cm)
Assembled weight: 413 lbs (187 kg)
Weight stack: Cast iron plates, 150 lbs (90.7 kg)
Weight resistance: 300 lbs (136 kg)
Possible exercises: 30+
Warranty:
– Residential: Lifetime
– Commercial: Frame 10 years / Parts 2 years
Galena Pro Frame construction
Like most weight stack machines, the BodyCraft Galena Pro features a steel frame construction, integrating 2″ x 3″ and 2″ x 2″ heavy gauge steel tubing. All the steel parts are multi-stage powder coated with corrosion-resistant and scratch-resistant paint. The color used is Platinum Gray, this being the only color available for this home gym.
The total gym is quite heavy; with the frame and weight stack fully assembled, it weighs over 400 lbs. Therefore, even though it comes in three boxes, it's recommended to be carried, unboxed, and made by at least two people.
Given its weight, stability shouldn't be a problem. Unfortunately, the bases don't have adjustable stabilizers, nor do they have holes pre-drilled for anchoring them to the floor. However, they do have large rubberized pads.
Also, the BodyCraft Galena Pro is a reasonably large home gym system. It takes 58″ x 72″ (147 x 183 cm) floor space, and to perform all the exercises correctly, without any hindrance, it's advisable to assign a workout area of at least 7′ x 9′. The assembled height of the unit is 81.75″ (208 cm). Therefore, it will be pretty tight in a room with a 7′ ceiling.
Parts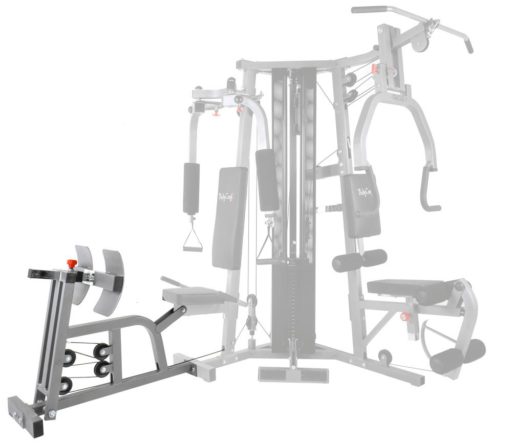 The machine incorporates several sets of pulleys, 3.5″ in diameter. They're all heavy-duty, fiberglass reinforced nylon pulleys designed to last a lifetime. They also integrate industrial-grade, sealed ball bearings for smooth operation. In particular, some of the pulleys have pivoting housings to adapt better to your exercises. Additionally, the cables are internally lubricated, have a 7 x 19 strand construction rated at 2,000 lbs tensile strength.
The Galena Pro home gym has two seats, one for the pec fly station and the optional leg press, and one for the lat station, press station, and leg developer. Furthermore, the second seat and its backrest are adjustable, offering several adjustment positions.
Thus, users up to 6'5″ (196 cm) have reported that they could perform all the exercises in terms of user height.
Both seats feature durable vinyl, double-stitched upholstery, and have a generous layer of high-density foam padding to provide maximum comfort. Also, the pec fly station's seat is equipped with a set of side handlebars to help with the leg press exercises if you opt for the additional leg press station.
The pec fly station's arms, leg developer's support, and knee-stoppers placed under the backrest at the lat pulldown station come equipped with 4″ foam rollers.
An important aspect to mention here is that the weight stack guards (are not included) with the home gym. However, you can install them later if you decide to purchase them. They're unnecessary, but they provide extra safety and improve the home gym's overall aspect.
Galena Pro Accessories
There are several accessories included with this BodyCraft home gym system. Among them, I can count a standard, 48″ lat bar with curved grips, a short bar with revolving handles for seated rows or curls, a 12-link extension chain. Additionally, a velcro ankle cuff for hip abductions or other similar exercises, the Foam-Core ab harness, and single nylon handle various dumbbell-type uses. The pec fly arms are also (equipped), each with a nylon handle. Plus, the set included a workout poster and a DVD that instructs you on performing each exercise correctly.
Weight Resistance
The BodyCraft Galena Pro home gym has a 150 lbs (90.7 kg) weight stack composed of 14 weight plates, plus the top, stopper plate. Each plate weighs 10 lbs (4.5 kg). The plates are a metallic alloy; the machine is a bit more expensive than other models with vinyl plates. They're 1″ thick, precision-milled plates with EZ Glide nylon bushings.
For most workout stations, the weight ratio is a bit above 1:1. However, for the optional leg press station, the weight ratio is 1.5:1. The range is 20 – 225lbs (300lbs w/ 50lb add-on).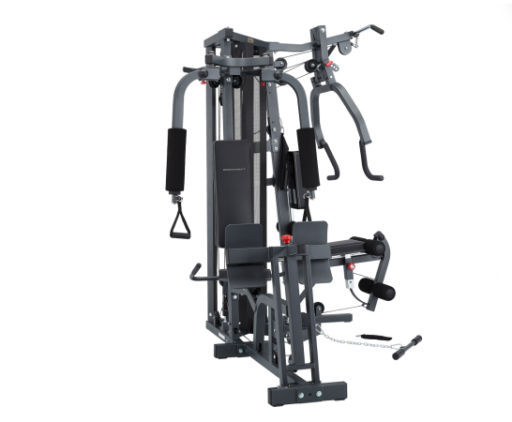 The weight stack's weight upgrade is a 50 lb (2.26 kg) add-on to increase the weight stack to 200 lbs. Additionally, a 5 lb weight adapter is available, which allows you to adjust your weight in increments of 5 lbs.
Galena Pro Workout stations
The BodyCraft Galena Pro home gym offers six distinctive workout stations. These are:
Pec fly station – this workout station is separated from the other workout stations, having its seat. As we've mentioned above, its seat is non-adjustable. Its arms feature thick foam pads and hand-grips, offering the possibility to perform several fly exercises.
Press station – this workout station has an adjustable seat. The press bar allows parallel and horizontal grips. However, if you're wondering, you cannot perform laying bench presses on this machine, only seated presses.
Intermediate pulley station – not all home gyms offer a mid-pulley; the BodyCraft Galena Pro does. In particular, this mid pulley allows ab crunches, trunk rotations, and other exercises — an ab harness accessory (is included) with the machine.
Low pulley station – This particular model's low pulley station is situated between the two seats, not under the leg developer. This way, you can save some space when performing seated rows or other low pulley exercises: a 12-link extension chain and a short bar (are included) attached to this workout station.
Lat pulldown station – the high pulley for the lat pulldown section is above the press station. Specifically, it promotes exercises for the back and shoulders, indispensable for a home gym. Furthermore, the lat bar required is (included).
Leg developer – this workout station is under the press arm station, and its pulleys can't be (used) as low pulleys, such as for other machines. As its name suggests, it promotes exercises to the leg muscles.
Possible Exercises
Ab Crunch
Bench Press
Biceps Curl (standing)
Bent-Over Row
Close Grip Front Lat Pulldown
Core Twist
Deltoid Raise
Glute Kick
Inner Thigh Adduction
Leg Curl
Leg Raise & Extensions
Oblique Bend
Outer Thigh Abduction
Pec Fly
Leg Extension
Leg Adduction & Abduction
Pull Over
Reverse Fly
Shoulder Press
Seated Row
Shoulder Shrug
Tricep Press Down
Tricep Extension & kickback
Upright Row
Wide Grip Front Lat Pulldown
and more
Of course, if you opt for the leg press accessory, you can also perform leg presses. Also, you can attach a triceps rope to the high pulley to focus on the tricep muscles. Furthermore, one-leg curls are possible using the leg developer station or the low pulley station with the ankle strap.
Galena Pro Assembly and Maintenance
The BodyCraft Galena Pro is a large fitness machine, and therefore, it's advisable to be transported and assembled by at least a few people. In addition, the boxes contain many parts and fittings, so that the assembly will take at least 5-6 hours.
However, the manual provides excellent assembly instructions. Furthermore, the tools needed for the construction (are not included); therefore, you will need adjustable wrenches, Allen wrenches, a Philips screwdriver, and a rubber mallet.
For maintenance, you may need to lubricate the pulleys after a while. Also, the gliding beams of the weight stack should be lubricated periodically to provide smooth operation. Other than these, it's advisable to check the machine's integrity regularly. For example, to make sure that there aren't any damaged or loose parts.
Pros
Sturdy and heavy all-steel frame;
Durable vinyl upholstery on seat and back support., with 2″ thick padding for optimal comfort;
Highly durable pulleys, with sealed bearings;
4″ roll-pads and stoppers for leg exercises and lat pulldowns;
Adjustable seat and backrest on the press station;
Cast iron weight plates, with a total weight of 150 lbs, great for beginner to intermediate users (upgradeable to 200 lbs);
Six workout stations, including press station, lat pulldown station, leg attachment, fly station, low pulley station, mid pulley station;
Over 30+ exercises available;
The relatively small footprint for a home gym system;
Quiet operation;
Reasonably easy to set up;
Excellent warranty.
Cons
Massive fitness machine, somewhat difficult to move;
The tools for assembly are not (included) with the machine;
Weight ratios for each workout station are not specified.
Bodycraft Galena Pro Summary
All in all, the Bodycraft Galena Pro is a great gym that should last a lifetime, at least according to the warranty. Furthermore, it is well made and durable with many accessories and comfortable seats. One of the better home gyms with a 150 lb weight stack (upgradeable to 200 lbs) is a lot of weight to lift for all except competitive weightlifters.
And while a little expensive, it is worth it over the long term. And if you have someone who also wants to use the product, it should not cause too much difficulty, as it has two seats so that both people can simultaneously use the Bodycraft Galena Pro.
I hope you found this article helpful and informative. Would you please speak up if you have anything you'd like to share on the topic or any opinions about my website? I look forward to your comments, questions, and the sharing of ideas.