The Marcy Smith Cage Workout Machine MD-9010G home gym features a 14 gauge steel tubing frame with highly sturdy construction. Some bars are chrome coated with a "diamond" finish, while others have an anti-corrosion enamel.
This particular Smith cage system offers a mid-range weight capacity. In addition, it includes an adjustable bench with leg development attachment, a low pulley station, a crossover station, a pec fly station, and of course, the chest press bar featuring linear ball bearings.
It works for all major muscle groups safely and efficiently, including adjustable bar catches, safety stoppers, and "Ultra-Glide" linear bearings. In addition, unlike your average smith machine, the Marcy Diamond Smith Cage system offers pulley functions with an independent motion system accentuating each precision exercise executed.
The Marcy Diamond Elite Smith Cage System will serve you very well if you are serious about weightlifting. Aside from buying free weights, this item is affordable, considering a high-end model. In addition, it comes with quite a few accessories and workout options, making for an excellent weightlifting tool.
Learn more in my complete review below!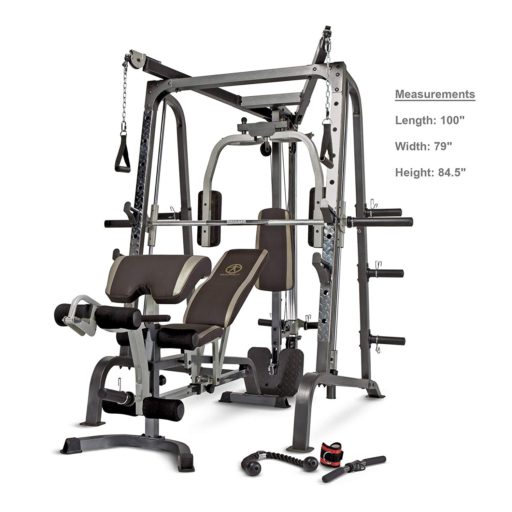 Product: Marcy Smith Cage Workout Machine MD-9010G
Price: For a great deal on this gym, merely go here on Amazon
Warranty: Parts 2 years
My rating: is 8/10
Affiliate Disclosure: As an Amazon Affiliate Program participant, I earn commissions on purchases made through links in this post. Full disclosure
Details and Specifications
Assembled dimensions: 95L x 79W x 86H inches (241L x 201W x 219H cm)
Total assembled weight: 237 lbs (107.5 kg)
Weight capacity:

Press bar: 300 lbs (136 kg)
Bench: 300 lbs (136 kg)
Rack: 600 lbs (272 kg)
Leg Developer: 100 lbs (45 kg)
Crossover, Lat Pull: 200 lbs (90.7 kg)

Required weight plates: Olympic (2″ holes)
Possible exercises: 100+
Warranty: Parts 2 years
MD-9010G Frame
Even though it's a machine designed for home use, it's similar to club Smith machines. The frame is sturdy enough to support up to 600 lbs (272 kg) of total weight. The cage doesn't require bolting to the floor. Its stabilizers are small steel plates welded to the base bars and don't have holes. But in case you want to bolt it down, it's possible.
The gym system is heavy enough to be stable, even during exercises that involve higher weights. But to ensure it won't slide when heavy lifting, you can place it on a rubberized mat. It will also protect your floor.
Its overall dimensions are a few aspects of the Marcy Smith Cage Workout Machine MD-9010G that need to be covered here. First of all, with the bench and frame fully assembled, the whole gym system is approx — 95″ (241 cm) long and 79″ (201 cm) wide.
However, to load plates on it, use it safely, and move freely around it, you'll need at least 2-3 feet of clearance on each side. In addition, the cage frame is approx. 86″ (219 cm) tall, which means it won't fit in a room (or basement) with a seven-foot ceiling.
Thus, the machine is for users between 5′ and 6'5″ (152 – 195.5 cm), but even taller users should perform most exercises without hindrance.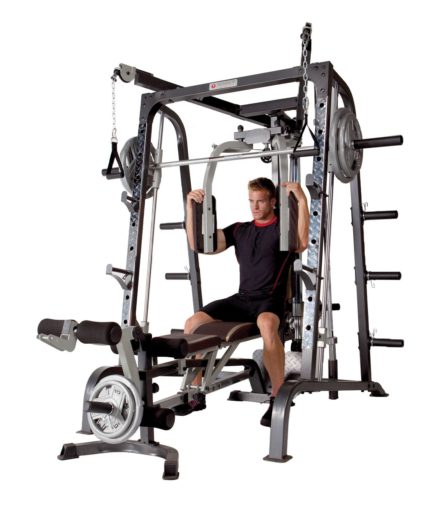 Bench
The frame of the included bench is the same square steel tubing as the cage. It does not connect to the cage, so you can move it freely, placing it at the distance or position that feels most comfortable. Its backrest features several adjustment positions.
As a general idea, the bench offers incline, horizontal, and decline positions. The decline is not extreme, though, only a few degrees below 180°.
The preacher pad and bench are padded with high-density foam, providing excellent comfort. The upholstery is two-toned, brown vinyl, which can last a lifetime if treated properly. The leg developer station attached to the bench integrates six oversized roller pads to provide maximum comfort during leg extensions and curls when padding.
MD-9010G Pulleys and Cables
Since it's a multifunctional home gym and not a primary Smith machine, the Marcy Diamond Elite integrates several lifts for its workout stations. The pulleys are 3.75″ in diameter and made of heavy-duty nylon material, sealed ball bearings for prolonged use. The top pulleys can pivot; therefore, you can use them for various lateral pull exercises.
The cables used for this machine are 2000 lbs tensile strength steel ropes covered by a PVC sheet for smoother performance. They're incredibly durable and withstand much more weight than the machine's maximum capacity.
Press Bar
The press bar features sealed linear bearings, offering a smooth glide and maximum press exercise stability. In addition, this bar features its safety system, attaching to the inside of the frame's 1″ guide rods.
However, since this Marcy gym system integrates a Smith cage, you can also use an independent bar for squats or presses. The gym system has two safety stoppers, and the frame's frontal bars feature nine attachment positions.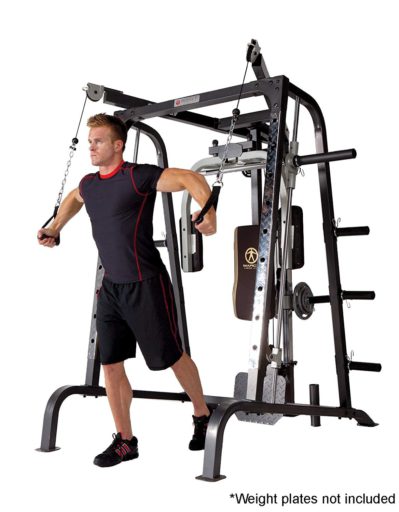 And lastly, the rear bars of the cage frame features three weight storage pegs (each). Like the included press bar, the pegs are for 2″ Olympic weights.
MD-9010G Accessories
There are several clarifications regarding the accessories included with this Marcy Smith machine. First, weight plates do not come with the gym; you'll have to use those or purchase a set. As I've mentioned above, all its weight pegs are for 2″ Olympic plates.
The gym set has a press bar that attaches to the frame's sliding bars with linear bearings. However, the gym does not include an independent Olympic bar. So, if you don't want to use the sliding bar for presses or squats and want a separate bar for exercises of the sort, you'll have to purchase one.
The main accessories included with the set are:
Triceps rope;
Ankle strap;
Lat bar;
2x Handle grip;
Shiver bar.
MD-9010G Workout stations
Chest press station – including a gliding press bar with linear bearings, sleeved for Olympic weight plates. You can use this bar for chest press exercises, stand-up rows, or squats.
Pec fly station – involving two simple arms with elbow pads, using the rear weight bar. This station is for workouts focusing on the development of pectoral muscles.
High crossover station – involving a set of two high pulleys for various crossover exercises or lat pulldowns. The lat bar is also (included). You can attach it to both lifts or only to one pulley if you want to perform pulldowns while standing up.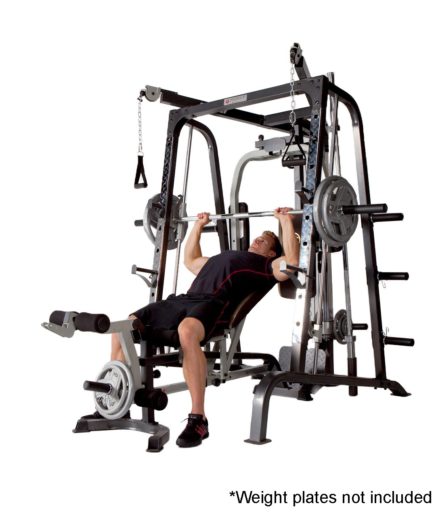 Leg development station – offering the possibility to perform leg extensions and leg curls;
The preacher curl station uses the leg development attachment with the preacher pad to execute preacher curls. It also includes a simple, easily detachable bar with padded handles.
A low pulley station – is for various exercises, such as one-legged curls, abductions, or seated rows. An ankle strap and a small (shiver) bar are for the different tasks (performed) on this pulley.
On the other hand, this home gym set does not include a dip station. Also, it does not have a pull-up bar.
Weight ratios and limits
Since this Marcy weight machine features a pulley system, it's evident that the weight ratios vary from one to another. So, a few weight ratios to mention are:
Lat pulldown station – 10 lbs of weight plates creates 5 pounds of resistance;
Pec fly station – 10 lbs of weight plates produces 10 lbs of resistance;
Low pulley station – 10 lbs of weight plates creates 20 lbs of resistance;
Left crossover – 10 pounds of weight plates makes 5 lbs of resistance;
Right crossover – 10 lbs of weight plates produce 5 lbs of resistance.
The weight you will be loading on the press bar and the curl bar will be the weight to lift.
A few clarifications to be made here are regarding the gliding press bar. First, this bar does not have the 45 lbs (20.4 kg) standard weight of an Olympic 7′ bar. Instead, it weighs only 25 lbs (11.3 kg).
It can also support much more than 300 lbs (136 kg), but the bench may not support the user's weight plus 300 pounds of plate weight on the bar; thus, it's rated 300 lbs. However, users have reported loading it with more than 400 pounds for squats without issues.
Regarding the weight limits of other stations, as mentioned above, the curl station has a limit of 100 lbs (45.3 kg), while the crossover station's ceiling is 200 lbs (90.7 kg).
MD-9010G Possible Exercises
The Marcy Diamond Elite MD-9010G makes available a wide array of exercises. Some of them are: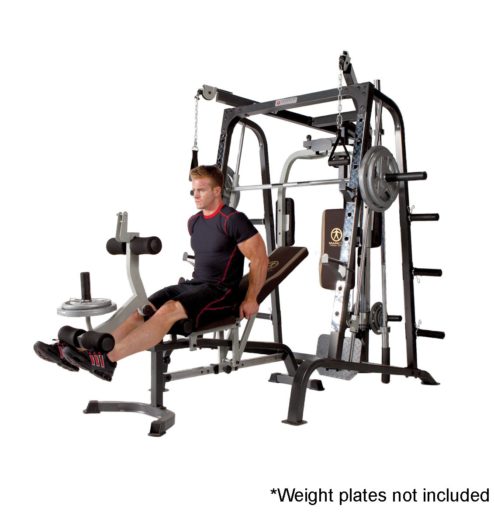 Arm exercises
Biceps curls
Lateral single-arm biceps curls
Lying biceps curls
Close-grip pulldowns
Triceps extensions
Triceps pressdowns
Kneeling triceps extensions
Lateral single-arm triceps extensions
Prone triceps extensions
Abdominal Exercises
Cable crunches
Cable twist crunches
Seated trunk rotations
Standing trunk rotations
Back Exercises
Back flies and presses
Prone back flies
Prone reverse flies
Lat pulldowns
Aerobic rowing
Crossover rowing
Kneeling rowing
Chest Exercises
Chest presses
Single-arm chest presses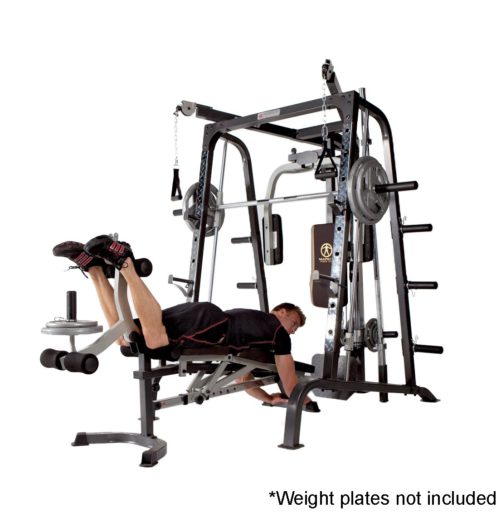 Wide grip chest presses
Close grip chest presses
Chest Flies
Incline chest flies
Lateral chest flies
Single-arm chest flies
Pullovers
Pullovers with crunches and twisting crunches
Leg Exercises
Stand-up leg curls
Calf raises
Squats
Single-leg squats
Kneeling single-leg squats
Wide squats
Twisting squats
Jumping squats
Lunges
Reverse Lunges
Hip extensions
Hip adductions and abductions
Shoulder Exercises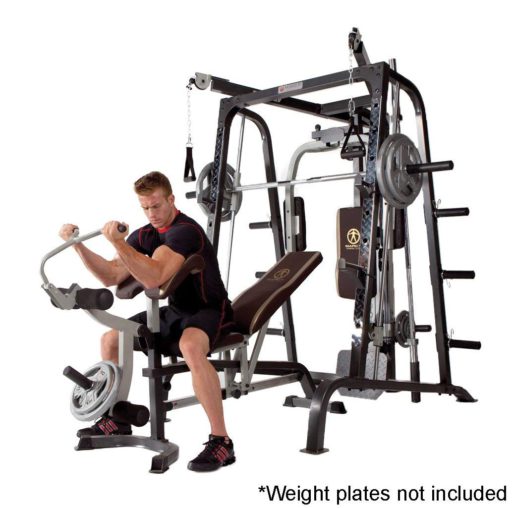 Shoulder Presses
Upright rows
Lateral deltoid raises
Front deltoid raises
Lying front deltoid raises
Front deltoid raises with leg curls
Shoulder extensions
Lateral arm pulls
and many more.
As I've mentioned, this gym set does not have a dip station. But you can easily replace dips with triceps pushdowns or similar exercises using the high pulleys with the attached two-hand grips.
Also, you can add most activities involving dumbbells to the list of exercises that can be (performed) on this machine. The bench and preacher pad can offer excellent support for these exercises.
MD-9010G Assembly and Maintenance
The Marcy fitness machine's assembly is straightforward, and the supplied manual provides comprehensive assembly instructions. However, it will take 4-5 hours since it's a complex machine.
Since it's not exactly light fitness equipment, you'll need at least two people to transport the boxes into your home. Also, due to its weight, it isn't easy to move once it's assembled.
The necessary tools for assembly are not (supplied). You will need two adjustable wrenches and a Phillips screwdriver.
The only aspect to consider when it comes to maintenance is greasing the linear ball bearings, which attach the press bar to its gliding beams. A light oil or WD-40 is advisable for it.
Pros
Sturdy, all-steel frame;
Several workout stations, including chest press station, pec fly station, low pulley station, high pulley crossover station, leg development station, preacher station;
Five-position bench included;
Smooth pulley and cable movement;
Press bar integrating linear ball bearings for smooth and stable operation;
Two sets of catch bars included, and nine attachment positions for them on the front bars of the cage;
Ankle strap included;
Lat pulldown bar had;
The short bar included;
Triceps rope included;
Handle grips included;
It uses Olympic weight plates;
Over 100+ possible exercises;
Quiet operation;
Reasonably easy to assemble.
Cons
Weight plates do not come included with the machine;
The bar for free squats or presses does not come included with the machine;
The gym requires at least 10 x 10 feet of space for proper and safe operation.
Marcy Smith Cage Workout Machine MD-9010G Summary
The Marcy Smith Cage Workout Machine MD-9010G is a multifunctional fitness system offering training versatility. It features a compact, sturdy and stable construction, with a total weight capacity of 600 lbs. The whole set includes a Smith cage with several workout stations, and a workout bench makes more than 100+ exercises available.
Even though it's not a machine made for professional lifters, it's safe to say that it can offer a beginner or intermediate user everything required in weight lifting. And in conclusion, given all it can provide and the fact that it is affordable, this Smith machine's price/value ratio is excellent.
I hope you found this article helpful and informative. Would you please speak up if you have anything you'd like to share on the topic or any opinions about my website? I look forward to your comments, questions, and the sharing of ideas.
Please remember that you should consult your physician to determine if you have any medical or physical conditions that could risk your health and safety or prevent you from using the equipment properly. In addition, your physician's advice is essential if you are taking medication that affects your heart rate, blood pressure, or cholesterol level.