Cycling is a healthy, low-impact exercise that people of all sizes can enjoy. The Sunny ASUNA 6100 Sprinter Cycle is a commercial spin bike, and accordingly, it provides a high-quality indoor cycling exercise for all users, including elite cyclists. In addition, this premium bike comes with a rear drive mechanism, magnetic resistance, a 4-way adjustable seat and handlebars, SPD pedals, and a fitness monitor.
The primary function of magnetic resistance is to provide quick, easy, and reliable changes to the resistance level. Single or multiple metal disks generate magnetic resistance through a magnetic field, providing infinite resistance levels. The closer the magnet is to the flywheel, the greater the pedal resistance.
Place your tablet on the tablet holder and stream your favorite cycling videos, all while keeping track of your fitness with the fitness monitor that displays time, distance, speed, RPM, calories burned, and pulse. Start your fitness journey now and unlock 500+ workouts, challenges, fitness community, and more with the free SunnyFit app.
The Sunny ASUNA 6100 Sprinter Cycle allows you to improve your muscular endurance, do controlled cardiovascular training, and get stronger leg and back muscles. With this in mind, the ASUNA 6100 has an all-new frame and multi-position handlebars for all training positions and user sizes.
Learn more in my complete review below!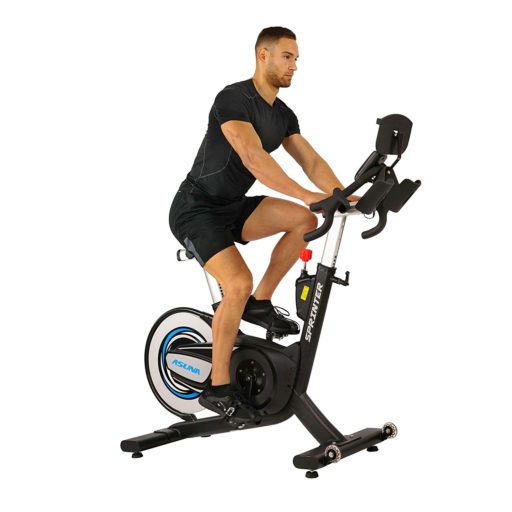 Product: Sunny ASUNA 6100 Sprinter Cycle
Price: For a great deal on this bike, merely go here on Amazon
Warranty: Frame 5 years / Parts 180 days
My rating 8/10
Affiliate Disclosure: As an Amazon Affiliate Program participant, I earn commissions on purchases made through links in this post. Full disclosure
Details and Specifications
Assembled dimensions: 59L x 22W x 48.4H inches (150L x 56W x 123H cm)
Assembled weight: 126.7 lbs (57.5 kg)
Flywheel weight: 37 lbs (16.7 kg)
Supported weight: 350 lbs (158.7 kg)
Handlebars: 4-way adjustable
Seat: 4-way adjustable
Pedals: Toe cages & SPD clips
Drive system: Belt
Resistance: Manual magnetic
Fitness Monitor: Time, distance, speed, RPM, calories, pulse, recovery, goals, SCAN
Accessories: Bottle holder, tablet holder
Warranty: Frame 5 years, Parts 180 days
ASUNA 6100 Frame construction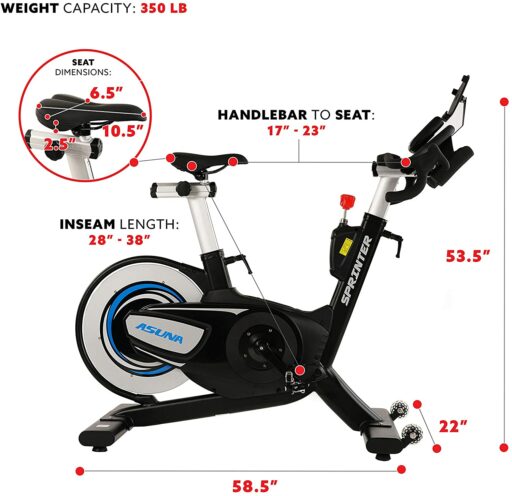 The Sunny ASUNA 6100 Sprinter Cycle is a commercial-grade indoor cycling trainer featuring heavy-duty construction; it's a bike that supports any spin workout and has an impressive weight capacity of 350 lbs (~159 kg).
Most parts within the bike's frame construction are steel tubing, the only plastic parts being the belt and crank covers. Also, the seat post and the handlebar post with their horizontal sliders are durable, high-grade aluminum.
The rear flywheel placement, the U-frame construction, and the impressive 126.7 (57.5 kg) weight deliver exceptional stability. Plus, its balance is adjustable using rubberized stabilizers on both its base bars.
Thus, you can be sure that the bike won't wobble or rock, even if you're close to its maximum supported weight or engage in a highly intense sprinting workout.
The ASUNA 6100 is a reasonably large exercise bike compared to other spin bikes. With the frame fully assembled, its length is 59″ (150 cm), and its width is 22″ (56 cm). The tablet holder gives the bike's highest point; its top part reaches approximately 48″ (123 cm) above floor level.
It's advisable to leave at least two feet of clearance all around the unit to perform any spin workout without any hindrance safely.
Although this indoor cycling trainer is heavy, its transport isn't tricky. Its front base integrates two large silicone wheels, which facilitate its relocation.
Last but not least, the frame features a durable, rust-resistant, and chip-resistant double-coating finish. The color is black for the base frame; however, the seat and handlebar posts have natural aluminum polish.
Seat and handlebars
The saddle included with the Sunny ASUNA 6100 Sprinter Cycle is a standard spin bike seat. It's 6.5″ (16.5 cm) wide and 10.5″ (26.6 cm) long. Its rear part integrates approx. 2.5″ (6.3 cm) of foam padding to improve comfort. In addition, it has a longitudinal groove for improved airflow under the user.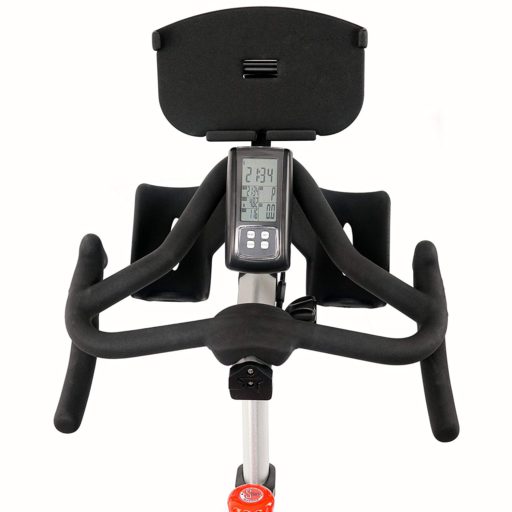 In all, it has all the essential ergonomic factors. But as a general idea, it is not made for comfort. So especially if you're new to spinning, it will take some time to get used to it.
The seat offers 4-way adjustability. Its vertical post offers 22 adjustment positions, the distance between them being approx — 1/2 ″ (1 cm). The horizontal slider also provides several inches of front-to-back adjustment. Therefore, the bike can accommodate users with an inseam between 28″ and 42″ (71 – 106 cm).
The bike's handlebar also offers 4-way adjustability. Its vertical post has 15 adjustment positions, while the horizontal slider also provides several inches of adjustment.
The handlebar assembly also offers multiple grips, including bull-horn, drop-down, aero, cross, etc. A rubber foam layer covers the main grip section for a secure grip, perspiration absorption, and superior comfort.
The handlebar assembly integrates a dual bottle holder and a tablet holder. The bottle holder compartments are large enough to accommodate most hydration bottles. The tablet holder is placed behind and above the fitness monitor to block your workout statistics view.
Both handlebars and seats are very easy to adjust. They're equipped with large knobs, easy to grip and turn. Therefore, even if multiple persons use the bike, it will take less than a minute to adjust it to your size.
ASUNA 6100 Drive system
The Sunny ASUNA 6100 Sprinter Cycle features a rear drive, similar to the BodyCraft SPR. It integrates a 37 lbs (16.7 kg) precision flywheel, which delivers consistent momentum and a smooth pedaling motion. Although it doesn't have the complete perimeter-weighted design as other spin bikes, it still provides aggressive inertia, which is great for high-intensity training.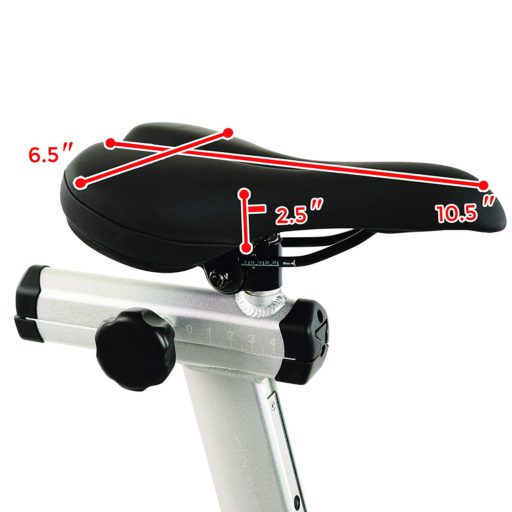 The flywheel is bi-directional. It allows reverse pedaling, and when pedaling in reverse, the fitness meter will continue to count the calories burned, RPMs, etc. However, coasting is impossible due to the simple drive system. The pedals continue to spin for as long as the flywheel is spinning.
The bike features a smooth and silent belt drive. It is equipped with a heavy-duty belt, resistant to stretching, and designed to maintain the same performance for many years. A belt drive doesn't require lubrication; it also generates less vibration.
As I've mentioned, this Sunny exercise bike has a maximum weight capacity of 350 lbs (~159 kg). Thus, it also stands for its crank system and pedals. It has a heavy-duty crankset featuring solid steel crank arms and metallic alloy pedals.
The pedals are dual-sided. They come with toe cages and adjustable straps on one side, and SPD clips for spin shoes. They also have a standard 9/16″ configuration, so compatible replacements (if needed) are widely available.
One last aspect is the bike's Q-Factor (spacing between the pedals). The ASUNA 6100 features a comfortable, narrow Q-Factor of 152.4 mm (6 inches), similar to road speed bikes.
Therefore, it is quite a plus, as the positioning of your feet on the pedals is natural, and the pedaling motion doesn't generate any extra lateral stress on the knees. Thus, you can perform longer workouts with less impact on the joints.
Resistance system
The Sunny ASUNA 6100 Sprinter Cycle features a manual magnetic resistance system. It consists of a magnetic brake connected to the tension dial on the bike's main tube. As you turn the knob, the magnets rotate, increasing or decreasing the intensity of the magnetic field around the flywheel, and this way, generating more or less resistance.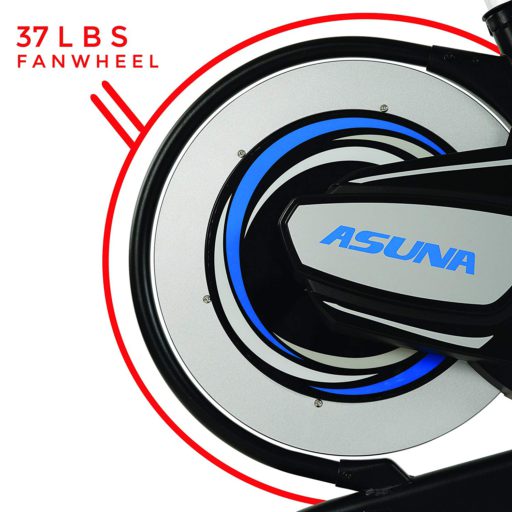 Since the bike's resistance system is exclusively manual, it doesn't require a connection to a power source. Also, the console doesn't play any role in the resistance adjustment.
The tension knob has 8 "clicks," or differently put; the bike offers eight distinct resistance levels. However, the flywheel is relatively heavy, so the lowest resistance level isn't too light. So, this isn't exactly a bike for recovery training.
On the other hand, the top resistance settings deliver a pretty high difficulty simulating a steep climb. Thus, the bike offers strength development possibilities for leg muscles.
Last but not least, the tension knob also fulfills the function of an emergency brake. As mentioned above, the pedals continue to spin for as long as the flywheel is spinning.
So, to avoid injuries, before dismounting or changing the way you pedal (to reverse pedaling), it's advisable to press the knob down to stop the flywheel instantly.
ASUNA 6100 Fitness monitor
The Sunny ASUNA 6100 Sprinter Cycle includes a fitness monitor that is relatively more than a basic one. It features an LCD divided into six main sections. It indicates time, distance, speed, RPM, calories, and pulse, and a SCAN function applies to the top panel of the display.
The high screen readings will appear in this order: Time-Distance-Calories-Pulse-RPM-Speed, each displayed for 6 seconds.
The monitor has a goal-setting function for time, distance, calories, and pulse. If you select a target goal for each metric, the monitor will countdown from the specified value until it reaches zero.
The distance and speed are in either metric or standard units. The fitness monitor is telemetric; it can read pulse via the wireless HR chest strap. The handlebars do not integrate grip sensors, though.
The fitness monitor also has a Recovery function to run at the end of the workout. It monitor's the time your heart rate returns to normal after the training. At the end of the test, the console will provide a fitness rating between F1 and F6, F1 being "excellent," while F6 being "very poor."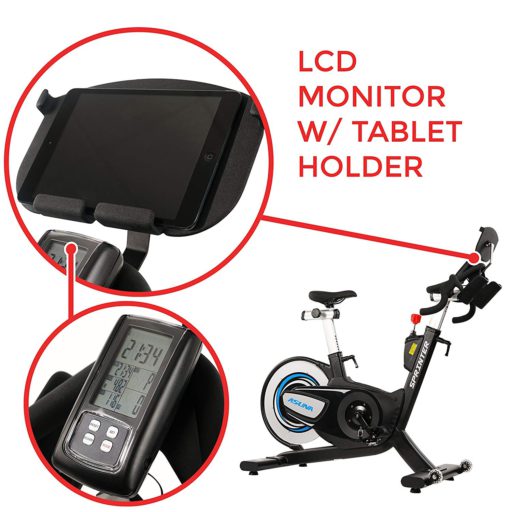 The monitor features four buttons: SET, MODE, RESET, and RECOVERY. The MODE button covers the selection function, and the SET button allows you to increase or decrease the target values for the monitor's metrics; the RESET key clears all the data to zero.
Lastly, the RECOVERY button initiates the Recovery test function. Again, the monitor does not have pre-set workout programs.
The fitness monitor is battery-operated and requires two 1.5V AAA-type batteries with the bike. You can push one of the buttons or begin pedaling to start it up. It also has a sleep mode to automatically enter after four minutes of inactivity on the bike.
ASUNA 6100 Assembly and Maintenance
The main body of the bike with the drive and resistance elements and the seat come pre-assembled. Next, you'll need to attach the base bars, the handlebar post, the handlebar, the fitness monitor, the tablet holder, and the pedals for assembly.
Therefore, it shouldn't take more than 30 minutes of your time. All the necessary tools come with the bike, and the manual provides clear assembly instructions and schematics.
Maintenance doesn't require much. You'll need to wipe the sweat from the frame at the end of the workout, periodically check for loose bolts and parts, and the flywheel's proper alignment. The internal components do not require lubrication.
Pros
Commercial-grade, sturdy construction – can support users up to 350 lbs;
Bases with adjustable, rubberized levelers;
Transport wheels on the front base;
4-way adjustable seat;
4-way adjustable handlebar with a multi-grip design;
37 lbs precision flywheel for a smooth pedaling motion and solid momentum;
Heavy-duty crank made for standing-up spin workouts;
Dual-sided pedals with SPD elements and toe cages;
Narrow (152.4 mm) Q-Factor, minimizing the lateral stress on the joints;
Frictionless, wear-free, magnetic resistance with 8-level settings;
Smooth and quiet belt drive, great for apartment use;
A fitness monitor that tracks time, speed, distance, RPM, calories, and pulse;
Goal settings for time and distance;
Recovery function;
Wireless HR chest strap included;
Dual bottle holder included;
Tablet holder included;
Minor assembly is required;
Little maintenance is needed;
Excellent warranty.
Cons
The fitness monitor LCD doesn't have a backlight.
Sunny ASUNA 6100 Sprinter Summary
The Sunny Health & Fitness ASUNA 6100 Sprinter is an indoor cycling bike built for spin workouts. It features a manual magnetic resistance system, a belt drive system, and a telemetric fitness monitor to track time, distance, speed, RPM, calories, and pulse. It offers superior micro-adjustability.
It's an excellent cycle for interval training, strength and stamina development, muscle toning, and weight loss. Finally, it's quite an affordable trainer considering its quality and versatility, offering outstanding value for the price.
Overall, it's the best spin bike under $1000, and no other spin bike can beat these features in this price range. Therefore, I wouldn't hesitate to recommend this Sunny spin bike for any level of cyclist.
I hope you found this article helpful and informative. Would you please speak up if you have anything you'd like to share on the topic or any opinions about my website? I look forward to your comments, questions, and the sharing of ideas.
Please remember that you should consult your physician to determine if you have any medical or physical conditions that could risk your health and safety or prevent you from using the equipment properly. In addition, your physician's advice is essential if you are taking medication that affects your heart rate, blood pressure, or cholesterol level.