Excellent build quality doesn't always imply good performance. Fortunately for us, Marcy NS-40501E Elliptical Trainer brings both. The flywheel they have used in this model is precision machine dwell balanced. That translates to a smooth ride and inherent inertia.
Offering eight preset resistance levels, the Marcy NS-40501E helps to keep your workouts challenging as you progress with your fitness goals.  The resistance levels are adjustable via the simple-to-use and easily accessible tension control turn-dial knob, located below the workout console.
The simple-to-use and easy-to-read LCD workout computer is nothing too impressive; it does give you real-time access to all your stats. You can track your distance and calories burned, speed, time, and more.
The NS-40501E may not be the very best out there, but it is among the top few in this particular price range. Not only do you get excellent performance, but they have also included some features that aren't as common as you would expect them to be. If you're looking for an elliptical, which is efficient, stable, and affordable, Marcy NS-40501E should be among the first on your list.
Learn more in my complete review below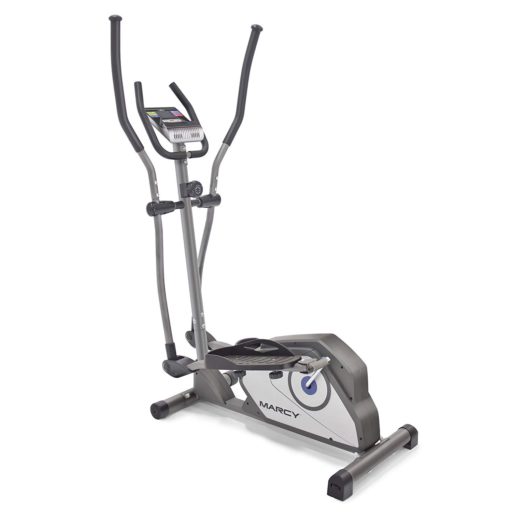 Product: Marcy NS-40501E Elliptical Trainer
Price: For a great deal on this elliptical, merely go here on Amazon
Warranty: 2 years
My rating: 7.5/10
Amazon Affiliate Disclosure: I may earn commissions from purchases made through links in this post.
Details and Specifications
Assembled dimensions: 49L x 24W x 64H inches (125L x 61W x 163H cm)
Assembled weight: 73 lbs (33 kg)
Supported weight: 300 lbs (136 kg)
Stride: 12 inches (31 cm)
Incline: No
Footplates: Standard, ribbed
Resistance: Manual magnetic, eight levels
Exercise meter: Time, distance, total distance, speed, calories, goals, SCAN
Extras: Tablet holder
Warranty: 2 years
NS-40501E Frame
The Marcy NS-40501E features a frame made of steel tubing. Its construction is pretty durable; according to the manual, it should be able to support users up to 300 lbs (136 kg). Of course, there are several ABS parts in the machine's construction, as well. The pedals and the covers of the flywheel and resistance system are some of them.
Compared to other ellipticals, this model is relatively small. With the frame fully set up, the NS-40501E is only 49″ (125 cm) long and 24″ (61 cm) wide. Thus, it should fit even into a small room or apartment. However, it is recommended to leave at least two feet of clearance all around the unit for safe access and operation.
The unit is not extremely heavy. Fully set up, it weighs approximately 73 lbs (33 kg). This weight offers plenty of stability. Also, its rear base is equipped with adjustable levelers, while the front base features transport wheels to facilitate its relocation.
One last aspect to mention here regards the unit's paint finish. The NS-40501E features a non-corrosive powder coating. The color used is gray, this being the only color available for this trainer.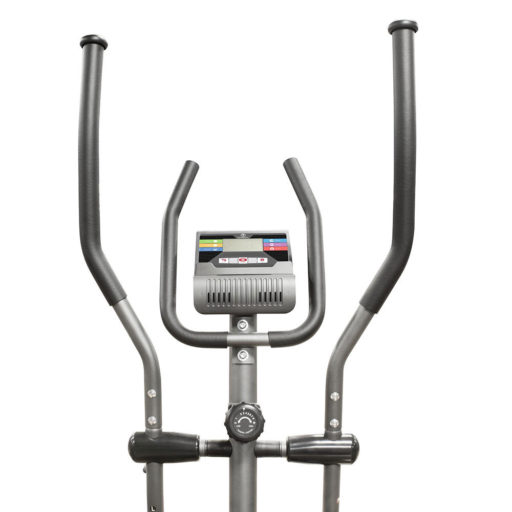 Handlebars
This Marcy elliptical trainer has two sets of handlebars, one fixed and one mobile. The fixed handlebars do not have pulse sensors like other machines, and the unit's console is not telemetric. Therefore, if you want to keep track of your pulse during your workouts, you will have to use a separate device.
The mobile handlebars are reasonably long; their top is approximately 64″ (163 cm) above floor level. They also have top, ovalized grips. Both sets of handlebars feature rubberized grips to prevent hands from slipping during exercises.
NS-40501E Pedals
As we've mentioned above, the unit's pedals have durable, thick ABS material. Their sustaining bars are steel-made, though. Thus, they should be able to support users up to 300 lbs (136 kg) with no problem. The pedals are pretty significant; they can accommodate athletic shoes of all sizes.
They have front and side borders, and a ribbed surface for superior foot stability. However, they do not have any articulation or extra shock absorption elements as the pedals on gym-grade machines. But still, the unit delivers a shallow impact ride.
The position of the pedals is adjustable. There are three connection holes on each side of a metallic pedal arm. Therefore, you can connect each pedal closer to the front or closer to the rear.
Elliptical path, stride & step-up height 
Since it's an elliptical machine with a rear-drive system, its elliptical path is slightly inclined forward. Therefore, it may generate the feeling of marching down a soft ramp. This doesn't necessarily have a negative effect. On the contrary, it should provide a more consistent workout for the glutes.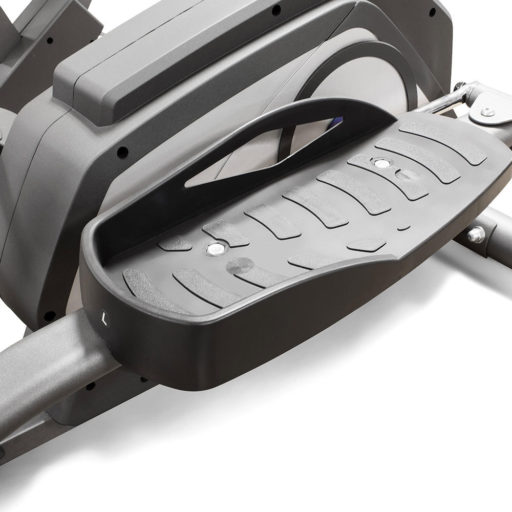 The machine's stride isn't extremely long. It's only 12″ (31 cm). Therefore, a ride on this machine may not be too satisfying for a tall person, over 6'0″ (183 cm), as they won't benefit from a full range of motion. But anyone can achieve a high cardio workout on this machine, depending on how fast they pedal.
The step-up pedal height is approx — 10″ (25.4 cm). Also, the pedal highest point is approximately 16″ (40.6 cm). Therefore, it's advisable to use in a room with a ceiling at least 20″ higher than your height.
The elliptical's Q-Factor is not specified. However, the spacing between the pedals isn't extremely wide, measuring only a few inches. Thus, the machine doesn't generate any extra lateral stress on the knees and ankles during exercising
NS-40501E Resistance
The Marcy NS-40501E has a manual magnetic resistance system. This means you don't have to connect it to a power source to benefit from the adjustable resistance. Also, the console doesn't play any role in the unit's resistance adjustment.
The resistance system consists of a small magnetic brake attached to the tension knob on the console mast through a steel wire. By turning the knob, the brake changes its position to the metallic flywheel, which results in more or less resistance on the pedals.
There are eight distinct tension levels available. The first level generates almost no resistance. Therefore, exercising by using this tension level is excellent for users with specific disabilities. The 8th level of resistance, on the other hand, does provide quite a bit of pedal tension.
Although the unit's top resistance isn't comparable to a commercial-grade elliptical, it still offers the possibility to burn more calories and achieve a higher cardio activity.
The weight of the flywheel is not specified. But considering that this isn't an extremely heavy elliptical trainer, its internal wheel isn't weighty either. It should be somewhere between 12 and 20 lbs (5.4 – 9.0 kg).
The flywheel is perimeter-weighted. This means it delivers a pretty consistent momentum and a steady motion. It's also bi-directional. In other words, you can pedal in reverse if you want, and when pedaling in reverse, the console will continue to track your calories burned or distance traveled.
Drive System
The Marcy NS-40501E elliptical has a belt drive system. Since it uses a belt, the pedaling motion is almost entirely silent. Also, the belt doesn't require lubrication.
The machine's crank system is quite durable. Its crank arms are steel. They're tough enough to sustain users up to 300 lbs (136 kg). Their connection points to the pedal arms, as well as the connection of the moving handlebars to the pedal arms and the console mast, integrated stainless steel ball bearings for a smooth operation.
Console
This Marcy elliptical trainer has the same console as the Marcy NS-40504U upright bike. It has an LCD that tracks time, distance, speed, and calories. It also has an odometer function, which indicates how many miles you have traveled on the bike so far.
The unit doesn't have a pulse reading function. As we've mentioned above, the meter unit is not telemetric, and there are no pulse sensors integrated into the handlebars. Therefore, in case you need to monitor your pulse, you will have to use a separate device.
The speed and distance are in imperial units (mph and miles). There is no metric setting available.
Since it's a basic unit, the console doesn't have any built-in preset programs. However, it does offer goal settings for time, distance, and calories. You can select a value for any of these metrics, and it will begin to countdown from the selected value until it reaches zero.
The unit is quite easy to operate. There are three main buttons: MODE, SET, and RESET. The MODE button allows you to toggle the unit's SCAN function ON/OFF. When the SCAN function is ON, the display shows each workout metric for 4 seconds.
The SET button allows you to set up goals for time, distance, and calories. And the RESET button clears all the values to zero.
The unit uses two 1.5V (AA) batteries (not included). It starts up when you begin to pedal or press a button. It also has a sleep mode to which will enter if there is no activity on the bike for 4 minutes.
Finally, the console integrates a tablet holder. This accessory is large enough to accommodate any tablet. However, there is no USB or connection port for the tablet on the console.
NS-40501E Assembly & Maintenance
This Marcy elliptical machine isn't complicated to put together. Its frame with the drive and resistance elements comes pre-assembled. Therefore, all you need to do is attach the stabilizer bars, the pedal bars, the pedals, the console mast, the moving arms, the stationary handlebars, and the console. This may take more than an hour. The manual provides pretty clear assembly instructions and schematics, and some of the tools required for the assembly.
For maintenance, the machine's joints may require lubrication from time to time. The internal parts shouldn't need any lube, though. It's also recommended to inspect the unit for loose bolts and parts periodically.
Pros
Solid construction for a light elliptical – can support users up to 300 lbs (136 kg);
Small footprint;
Adjustable stabilizers on the rear base;
Transport wheels on the front base;
Fixed and mobile handlebars;
Bi-directional flywheel providing a smooth and steady pedaling motion with a consistent momentum;
Three attachment positions for each pedal;
Eight levels of magnetic resistance;
Exercise meter that can track time, distance, total distance, speed, and calories burned;
Countdown functions for time, distance, and calories;
Tablet holder included;
Quiet operation;
Easy to assemble;
Little maintenance required.
Cons
A tablet placed on the media holder will cover the console display;
No pulse reading function.
Marcy NS-40501E Summary
The Marcy NS-40501E is a home-use elliptical trainer offering eight levels of manual magnetic resistance. It comes with a console that can track time, distance, total distance, speed, and calories burned. It's durable enough to support users up to 300 lbs.
In all, it's an excellent machine for light cardio training, recovery training, muscle toning, stamina development, and losing weight. And finally, it's one of the most affordable ellipticals of this type.
I hope you found this article helpful and informative. If you have anything that you'd like to share or opinions about the content on my website, please do speak up. I look forward to your comments, questions, and the sharing of ideas.
Recommended articles:
Please follow and like us: