The best-selling Octane Fitness Q37xi standing elliptical machine offers CROSS CiRCUIT, the ability to interact with your tablet via the Octane Fitness app – and thereby become your virtual personal trainer with a ton of exercise routines – and customized Workout Boosters.
Plus, with smooth motion, close pedal spacing, MultiGrip, Converging Path handlebars, and wireless heart rate monitoring, the Q37xi leads the way in comfortable, effective workouts. And this heavy-duty machine is built to perform as long as you use it over your lifetime!
The console is simple to navigate, whether you're choosing Quick Start or an advanced workout – or whether you're connecting to SmartLink. First, you select the level of technology you want to fuel your workout. Then, the large display screen simultaneously displays all your workout data, and Octane offers SmartLight technology.
SmartLight signals how hard you're exercising, if you're in your target heart rate zone, and when to prepare for the next interval in a Workout Booster or CROSS CiRCUIT. Now that's more innovative training.
Learn more in my complete review below!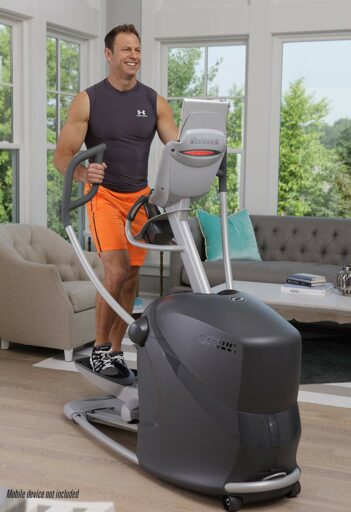 Product: Octane Fitness Q37xi Elliptical
Price: For a great deal on this elliptical, merely go here on Amazon
Warranty: Frame lifetime / Parts 5 years / Labor 1 year
My rating: is 9/10
Affiliate Disclosure: As an Amazon Affiliate Program participant, I earn commissions on purchases made through links in this post. Full disclosure
Details and Specifications
Assembled dimensions: 65.5L x 30W x 64H inches (166L x 76W x 163H cm)
Assembled weight: 220 lbs (100 kg)
Weight capacity: 300 lbs (136 kg)
Stride: 20.5″ (52 cm)
Incline: No
Resistance system: Eddy current, 20 levels
Console: 8 programs on the Q37x and 72 on the Q37xi
Extras: Tablet holder, accessory tray
Warranty: Frame lifetime / Parts 5 years / Labor 1 year
Q37xi Frame Construction
The Octane Fitness Q37xi elliptical machine features a commercial structure similar to other gym-grade ellipticals. Its frame steel tubing, the only plastic parts, covers the flywheel and resistance elements, affecting the machine's overall sturdiness.
The Octane Q37xi elliptical is a fairly large fitness machine. When fully assembled, its footprint is approx. 65.5″L x 30″W (166 x 76 cm). On top of that, with the extended pedals and other accessories, its dimensions expand to approx. 76.5″ x 34″ (194 x 86 cm). So, the machine would require a workout area of at least 7′ x 4′ for safe operation. Or even more if you also get some of the optional accessories.
Since it's a pretty large, steel-made machine, the Octane Q37xi elliptical is considerably massive. When fully assembled, it weighs over 220 lbs (100 kg). Therefore, two people should build the machine. The front base of the frame is equipped with two transport wheels, though. Using the wheels to move it from one place to another, you will only handle app lbs of its total weight.
All the steel parts of this elliptical trainer have a double-coated corrosion-resistant and scratch-resistant paint, silver in color, this being the only color available for this model. The drive and resistance elements cover dark gray and the pedals, grips, and bottle holder. Overall, the machine has quite an appealing, professional aspect that can motivate.
Pedals, mobile arms, and fixed handlebars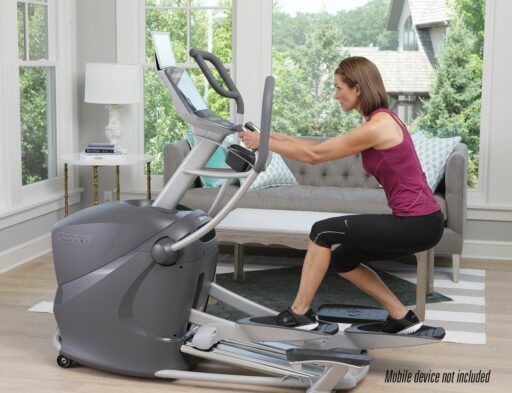 An important aspect that I have to mention here is the pedal construction. The pedal arms and the pedals are one piece each, which results in more sturdiness and a superior "sure-foot" feel during your stride. In addition, they can support users up to 300 lbs (136 kg). The P.V.C. top covers of the pedals connect by bolts and are removable. They're pretty significant and can accommodate athletic shoes of all sizes. They also have a ribbed surface to provide more traction.
The pedal arms have large wheels, incorporating sealed ball bearings for smooth operation and a prolonged lifespan. In addition, the wheels are hidden, which increases the safety of this machine. Also, the rails on which the wheels slide are concave. Thus, eliminating the possibility of a wheel sliding off the track due to the machine's improper usage.
The mobile arms of the machine feature a multi-grip design. The grips are high-density foam to provide optimal comfort, regardless of your grasp. The fixed handlebars feature similar high-density foam grips, integrating EKG sensors. In addition, the console can display and keep track of your heart rate by holding on to them.
Q37xi Stride, elliptical path, Q-factor & step-up height
The Q37xi elliptical trainer from Octane Fitness does not have an incline system, which can be considered a minus for a machine in this price range. Therefore, its stride is also fixed, with a length of 20.5″ (52 cm).
Due to this, users up to 6'5″ (196 cm) should feel quite at home on it. However, short users under 5'0″ (152 cm) may consider the stride a bit long for their pace.
However, the machine's pedals are relatively large and highly durable, allowing you to position your feet closer or farther to the front to obtain a more comfortable stride.
The machine's elliptical path is horizontal, with a design based on precise human biomechanics. Therefore, it delivers a supremely comfortable natural movement and flows, both forward and backward, ideal for all users' levels without stress on the joints.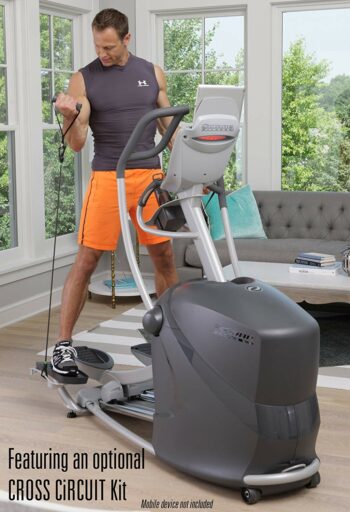 The Q-Factor (or the spacing between the pedals) is relatively narrow compared to other machines, being 1.8″ (4.5 cm). Therefore, your feet positioning on the pedals is natural, while the pedaling motion won't generate extra lateral stress on the knees and ankles.
Finally, the step-up pedal height (distance between the top of the lowest pedal and the floor) is 4″ (10.1 cm). Also, the maximum pedal elevation is approx — 8″ (20.3 cm). Therefore, to avoid any issues, assemble and use the machine in a room with a ceiling height of at least 10″ (25 cm) higher than your size.
Resistance and drive
The Octane Q37xi elliptical has a motorized magnetic resistance system. Unfortunately, this requires a connection to a power circuit to make the resistance settings available, and the resistance is only adjustable from the console. Also, some of the programs on the console automatically adjust the resistance on the pedals.
The console makes available 20 unique resistance settings. The first five levels offer light workouts, perfect for warm-ups or recovery training. Conversely, the top 17-20 resistance settings provide quite a challenge, making them ideal for interval workouts, endurance, and weight loss.
Since the machine has a magnetic resistance system, it uses a belt drive, integrating a heavy-duty belt. The internal flywheel weight isn't specified, but it appears to be a mid-range flywheel considering the driver's feel. It minimizes start-up resistance and maintains smooth movement throughout the elliptical motion.
Unlike other ellipticals with magnetic resistance, this Octane model allows reverse pedaling. Therefore, you can put quite a bit of diversity into your workouts by focusing on different groups of muscles.
Q37xi Console
The Q37 comes with two consoles: the Q37x and the Q37xi. These consoles are most different regarding workout programming and heart rate monitoring.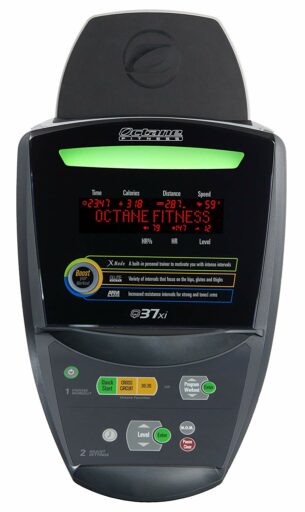 The Q37x console is the simpler of the two. It has eight workout programs and can monitor heart rate data from touch sensors. The one-color SmartLight feature displays where your heart rate is. This console provides two placement options for a tablet computer or smartphone.
The Q37xi is more advanced. It gives access to 72 workout programs and extras with a wireless app called SmartLink. The 72 programs include 12 for weight loss, 18 called "Feel Better" (for balance, strength, and flexibility, 12 for toning up, and 30 for athletic performance.
The Q37xi also has a multicolored SmartLight and a wireless heart rate receiver. The Q37xi console ships with resistance bands that you can attach to the trainer and use for cross-training.
A particular option with SmartLink is setting up a customized training for 30, 60, or 90 days. In addition, you can choose from four broad goals: Lose Weight, Feel Better, improve Athletic Performance, and Get Stronger.
Another option specifies which muscle groups you'd like to target, then receives customized workouts incorporating relevant exercises. In addition, SmartLink's Cross Circuit workout programming includes more than 35 videos and 225 activities and updates with new options.
Both consoles feature a Movement Management Mode function. This safety function disables the buttons and adds maximum resistance to the pedals, rendering the machine almost impossible to use. In addition, it discourages small children from experimenting on the elliptical.
Workout Boosters
Also, both consoles offer three "Boosters" to add motivation and variety to your workouts. The Boost button provides three types of challenges:
1. X-Mode – The X-Mode is a workout mode that chooses 1 of 8 challenges every minute. The challenges are Fast, Squat, Reverse, Lean Back, Lower Body Only, Push Arms, Pull Arms, and Slow.
2. ArmBlaster – This program boosts cardiovascular endurance while building strength and muscle tone. ArmBlaster adds upper-body strength sessions to the cardio program profile that you have selected. Every minute, resistance increases for a muscle-building, 10-repetition set as you transfer the workload from your lower body to your upper body.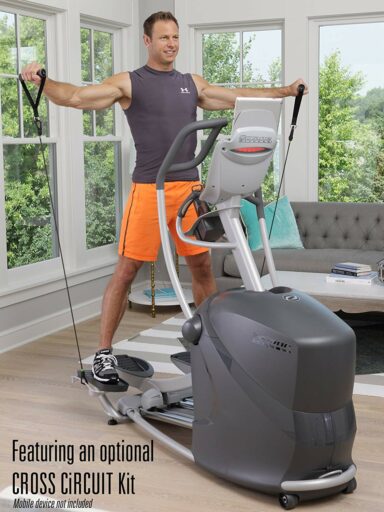 3. GluteKicker – It uses three X-Mode programs that focus on your glutes: Reverse, Squat, and Fast.
Q37xi Assembly and Maintenance
Most of the machine comes pre-assembled. In other words, the drive and resistance elements and the pedals are assembled and attached to the mainframe. So, you will only have to add the console mast, the moving arms, the console, and the drive system's top covers in assembly.
However, the manual offers pretty concise assembly instructions — the tools required for it (are omitted). You will need an adjustable wrench and a Phillips screwdriver.
You'll need to keep the rails clear of debris or textile fibers for maintenance, as they can induce damage to the tracks or rollers. In addition, the machine's joints may require lubrication if they begin to emit noises during usage. Other than this, it's advisable to periodically check for loose parts and re-tighten them if it's the case.
Pros
Sturdy construction, similar to commercial machines;
Decent weight limit – 300 lbs;
Adjustable levelers;
Transport wheels;
Perimeter-weighted flywheel for consistent momentum and smooth pedaling;
Multi-grip handlebars;
EKG pulse sensors integrated into the fixed handlebars;
Quiet operation, ideal for apartment use;
20 levels of eddy current resistance;
8 or 72 workout programs depending on consoles;
3 Booster programs;
Pedal and console locking function;
Goal tracking functions for time, distance and calories;
Different optional accessories are available, including stationary footrests and elastic bands for arms workouts;
Tablet holder and accessory tray included;
Little maintenance is required;
Great warranty plan.
Cons
It doesn't have an incline;
No online connectivity;
No sound system.
Octane Fitness Q37xi Elliptical Summary
The Octane Q37xi is a winner for total body training at all ability levels. It has moving armbars with adjustable resistance for complete body training, plus the oval frame has attachments for resistance bands. These bands are for various exercises and Cross Circuit workout programs, which prompt the user to alternate elliptical training with other activities.
The Octane Fitness app is a free workout app that helps link your fitness goals to actual results! You can access many programs that make workouts more efficient, helpful, and motivating! The app wirelessly connects to and controls your Octane machine from your mobile device.
The machine's resistance levels and programs make it an excellent choice for light to intense cardio workouts, interval workouts, endurance development, muscle toning, and weight loss. And finally, it's not exactly an affordable machine. Still, it offers excellent quality and several features other ellipticals don't have, so I can safely say it stands up to the price.
I hope you found this article helpful and informative. Would you please speak up if you have anything you'd like to share on the topic or any opinions about my website? I look forward to your comments, questions, and the sharing of ideas.
Please remember that you should consult your physician to determine if you have any medical or physical conditions that could risk your health and safety or prevent you from using the equipment properly. In addition, your physician's advice is essential if you are taking medication that affects your heart rate, blood pressure, or cholesterol level.