The Sunny SF-B1002C Indoor Cycling Bike is undoubtedly a sound investment with a whisper-quiet and exceptionally smooth drive mechanism. Best of all, thanks to professional-grade features such as a 49 pounds flywheel, fluid chain drive, and heavy-duty crank- among others- this machine supports up to 275 pounds of user weight, hence making it perfect for the vast majority of athletes.
The saddle and handlebars are adjustable to prevent discomfort and motivate athletes to train for more extended periods. In addition, the Sunny SF-B1002C comes with even textured handlebars to provide a better grip and prevent your fingers from getting sore and blistered. This also eliminates the need for athletic gloves that are pretty uncomfortable during more extended training periods.
Since the Sunny SF-B1002C Indoor Cycling Bike also boasts a heavy-duty crank and sturdy steel frame, it remains completely steady, no matter how energetically you cycle. In addition, the steel frame is nearly completely resistant to rust, which mainly improves the bike's longevity.
Learn more in my complete review below!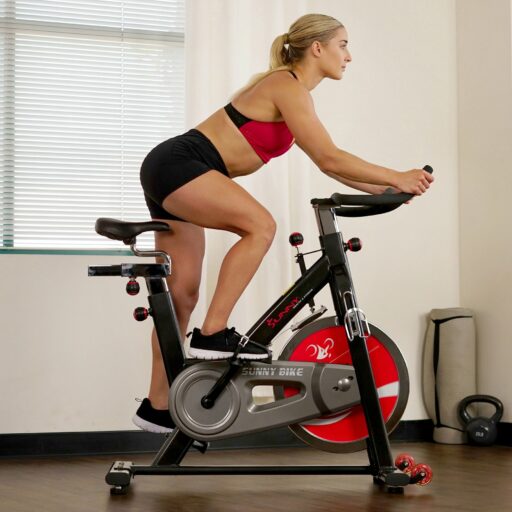 Product: Sunny SF-B1002C Indoor Cycling Bike
Price: For a great deal on this bike, merely go here to Sunny Health & Fitness.com
Warranty: Frame 3 years / Parts 90 days
My rating: 8.5/10
Affiliate Disclosure: As a Sunny Health & Fitness Affiliate Program participant, I earn commissions on purchases made through links in this post. Full disclosure
Details and Specifications
Assembled dimensions: 44L x 20W x 44H inches (112L x 51W x 112H cm)
Assembled weight: 109 lbs (49.4 kg)
Flywheel weight 49 lbs (22.2 kg)
Supported weight: 275 lbs (125 kg)
Handlebars: Vertically adjustable
Seat: 4-way adjustable
Pedals: With toe-cages
Drive mechanism: Chain
Resistance: Friction, leather pad
Bottle holder: Yes
Fitness Monitor: Not included
Warranty: Frame 3 years / Parts 90 days
SF-B1002C Frame construction
Although the Sunny Health & Fitness SF-B1002C indoor cycling bike isn't a commercial-grade bike, its frame construction is pretty close to a light-commercial model. Its frame is quite sturdy, made of heavy-duty, precision-welded steel bars. Most bike parts are steel-made, except for the chain guard, the seat, and small covers.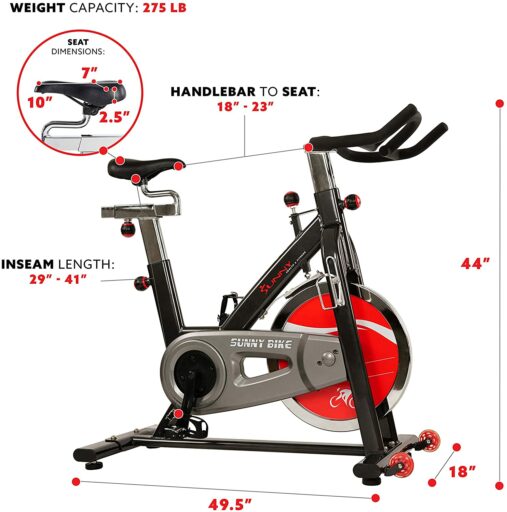 The mainframe of the bike features a rust-resistant and scratch-resistant paint finish. The color used is black, with the Sunny logo painted red. However, the upright seat bar, slider, and vertical handlebar post feature a chrome finish (rust-resistant).
This Sunny bike will support most spin workouts. It also has a metallic step-up pad welded directly on the frame, right above the crank.
This element not only can help you mount the bike, but it's also useful for specific spin workouts that require you to dismount and step up/down from the frame. Not all indoor cycling bikes have this element, so it's a plus.
Like most spin bikes, the Sunny SF-B1002C Indoor Cycling Bike isn't extremely large. However, its fully assembled dimensions are approx. 44″L x 20″W (112 x 51 cm), while its tallest point also reaches approx. 44″ (112 cm).
Therefore, it can fit rather well even into a small room or apartment. However, it is advisable to leave at least two feet of clearance all around it for safe operation.
This trainer isn't extremely heavy but does weigh over 100 lbs, which is more than twice the weight of the average steel mountain bike. This weight reflects the bike's overall stability.
Its stability is also enhanced by the large, adjustable, and rubberized levelers, allowing you to stabilize any floor correctly. And when it comes to relocation, this shouldn't be too difficult either as the front base features two large transport wheels.
Seat and handlebars
Like all spin bikes, the Sunny SF-B1002C Indoor Cycling Bike is not a trainer designed for comfort. So for at least 1/3 of your cycling training, you should be pedaling while standing up on the pedals.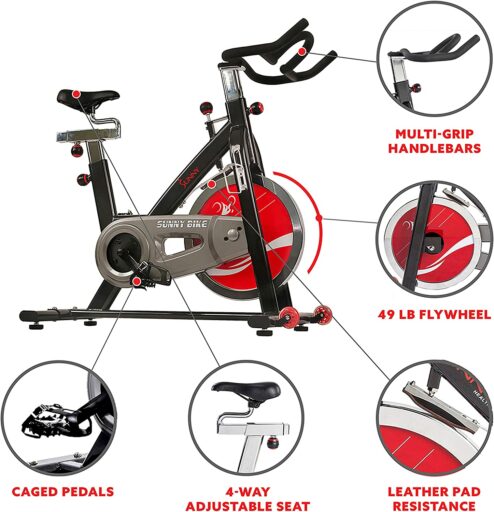 Therefore, the bike comes with a spin seat, with a slim design, only 6.5″ (16.5 cm) wide and 10″ (25.4 cm) long. The seat does integrate, though, a thin layer of padding to provide optimal comfort.
But on the other hand, it has a standard attachment system to the slider, so you can easily find a compatible seat with more cushioning, if its the case. Also, a gel cover will improve its overall comfort.
The seat is 4-way adjustable (up, down, front, back). Its upright post offers nine adjustment positions, while its horizontal slider has five adjustment settings.
Thus, the seat is adjustable to accommodate users with an inseam between 29″ and 40″ (73.6 – 101.6 cm); or, differently put, it can accommodate users between 5'0″ and 6'5″ (153 – 196 cm).
The bike's user weight capacity is 275 lbs (125 kg), so the seat should support you with no problem if you weigh this much.
The bike's handlebar is slightly different from the Sunny SF-B1002 (the belt drive version). The aero bar unifies the two sidebars and only has a slight curvature in the middle. But this handlebar offers the possibility to exercise by using multiple grips.
The bike's handlebar is only 2-way adjustable. Instead, it's fully rubberized to deliver a secure and comfortable grip. Also, its mid bar can accommodate just about any fitness meter if you opt for one.
SF-B1002C Drive system
The Sunny SF-B1002C Indoor Cycling Bike features a chain drive system, and it comes with a standard bike chain of 1/2 1/8 106. A chain drive system comes with several advantages. One of them is durability; with proper care, it can last a lifetime.
The second one is availability. In case you need a new one, you can get it from any bike shop. But on the other hand, it requires periodic lubrication for rust prevention.
One of the most critical drive elements of an exercise bike is its flywheel. This Sunny bike comes with an extra-heavy, inertia-enhanced, 49 lbs (22.2 kg). This flywheel delivers a very consistent momentum and smooth, steady motion.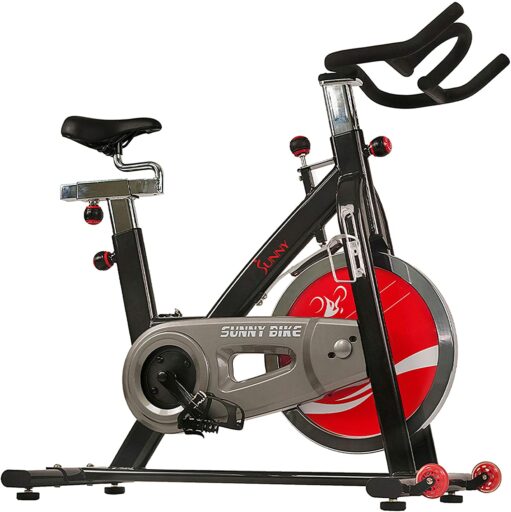 The flywheel is also bi-directional. This means you can pedal in reverse if you want while retaining the same resistance (coasting is not possible). However, the pedals continue to spin for as long as the flywheel is spinning.
Therefore, to prevent any injuries, it is advisable to use the bike's emergency brake to stop it from turning before changing the way you pedal.
This Sunny exercise bike has a very solid, 3-piece crankset. In addition, it has solid steel crank arms that can support users up to 275 lbs (125 kg) while standing up on the pedals. The pedals are also very sturdy, made of a metallic alloy.
They don't have SPD clips for spin shoes, but they're equipped with toe cages if you need extra foot stability. They have standard 9/16 threads, so if you want to replace them, compatible options are widely available.
The bike's Q-Factor (spacing between the pedals) is 7.5″ (190 mm). It's not extremely wide, but it's wider than some other models. A wider Q-Factor will put a bit of extra lateral stress on your knees. So, if you have knee problems, this bike may not be the best choice for you.
Resistance system
The Sunny SF-B1002C Indoor Cycling Bike features a friction resistance system. It uses a leather brake pad attached to the frame's main tube connected to the resistance dial. The brake pad comes in contact with the flywheel in a top-to-down manner.
There aren't any resistance levels specified on the resistance dial. Instead, you turn it until you find the adequate resistance level for your desired training.
Furthermore, you may tighten the resistance up to the point where you can barely pedal. Also, you can adjust the resistance during pedaling.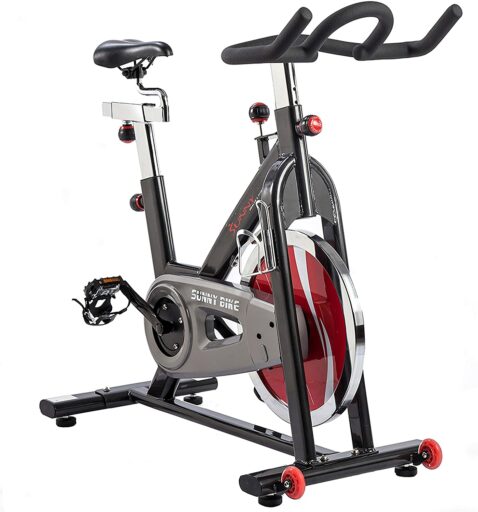 The resistance knob also acts as an emergency brake. However, since the bike has a rather heavy flywheel, it will build up quite a momentum. Therefore, it is necessary to always manually stop the wheel from spinning whenever you need to stop pedaling or change the way of pedaling from reverse to front, or vice-versa.
SF-B1002C Assembly and Maintenance
The bike's mainframe, with its drive and resistance elements, comes pre-assembled. All you have to do is attach the bike's bases, the seat post, the handlebar post, the handlebar, and the pedals. This shouldn't take more than 30 min. The manual provides clear assembly instructions and schematics, and all the tools you'll need come with the bike.
Maintenance requires lubricating the chain periodically. Standard bike chain oil should be the best choice for it. The resistance pad may also require some lubrication if it generates a squeaking noise when in contact with the flywheel.
A few drops of silicone lubricant applied on the edge of the wheel should be enough for this. Other than that, it's advisable to periodically inspect the bike for loose or damaged parts and keep it clean.
Pros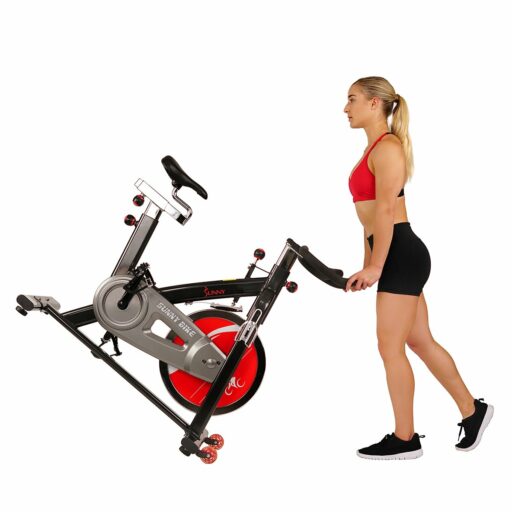 Sturdy construction – can support users up to 275 lbs;
Elegant design with a durable paint finish;
Small footprint in comparison to other fitness equipment;
Large, rubberized foot stabilizers
Transport wheels;
4-way adjustable seat;
Multi-grip handlebar;
Durable chain drive;
Friction resistance system which allows you to tighten the resistance up to the point you can barely pedal;
Extra-heavy, perimeter weighted flywheel for aggressive inertia;
Standard-threaded, metallic alloy pedals, with adjustable toe cages;
Bottle holder;
Little maintenance required;
Excellent price/quality ratio.
Cons
It doesn't include a fitness monitor;
Pedals don't have SPD clips;
The seat is not very comfortable.
Sunny SF-B1002C Indoor Cycling Bike Summary
The Sunny SF-B1002C is an indoor cycling bike designed for spin workouts. It features a massive 49 lbs flywheel, a chain drive system, and friction resistance. In addition, it has a durable construction and can support users up to 275 lbs.
Moreover, it's perfect for medium to high-intensity cardio workouts, interval training, muscle toning, weight loss, and stamina development. In all, it's an affordable trainer, and even though it doesn't include a fitness monitor, it still offers excellent value for the price.
I hope you found this article helpful and informative. If you have anything you'd like to share or opinions about the content on my website, please speak up. I look forward to your comments, questions, and the sharing of ideas.