The pooboo D525 Indoor Cycling Bike offers all the necessities for a fantastic cycling workout and everything at-home fitness enthusiasts could want. In addition, its fully adjustable seat and handlebars provide a completely customizable experience for an ultimate workout.
The D525 is a belt-driven bike with built-in resistance and a 35-lbs bidirectional flywheel. Thanks to the belt-driven system, the bike is quiet. The resistance adjustment system is continuously adjustable according to your needs. The continuously adjustable resistance system does the job and is flexible during the workout.
This pooboo D525 indoor cycling bike also includes a multi-functional LCD digital fitness monitor. So you can quickly glance down during a workout to check your time, speed, distance, and calories burned. The digital display also shows your heart rate as it gets picked up from the integrated hand pulse sensors on the handlebars.
The pooboo D525 features an oversized saddle with a big cushion that gives you a comfortable riding experience during a long-time workout. The fully adjustable padded seat quickly moves up/down and forward/back. In addition, the durable handlebar is adjustable up and down to adapt to any biking condition adding extra comfort.
Learn more in my complete review below!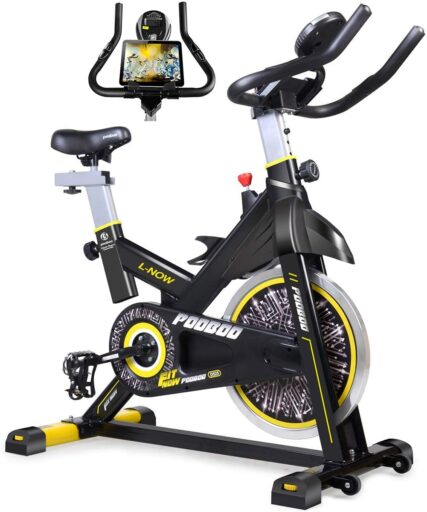 Product: pooboo D525 Indoor Cycling Bike by L-NOW Sport
Price: For a great deal on this bike, merely go here on L NOW Sport.com
Warranty: 1 year limited
My rating: is 9/10
Affiliate Disclosure: As a participant of the L NOW Sport Affiliate Program, I earn commissions on purchases made through links in the post. Full disclosure
Please note that the tablet contained in some of the images sells separately.
Details and Specifications
Assembled dimensions: 43.8L x 21.6W x 48.1H inches (111L x 55W x 122H cm)
Assembled weight: 75 lbs (34 kg)
Flywheel weight: 30 lbs (13.6 kg)
Supported weight: 220 lbs (99.8 kg)
Seat: 4-way adjustable
Drive: Belt
Resistance: Friction
Fitness Monitor: Time, distance, speed, calories, pulse, odometer, SCAN
Extras: Bottle holder, phone holder
Warranty: 1 year limited
D525 Frame Construction
The pooboo D525 features a triangular frame made of thick steel tubing. Its construction combines ovalized and rectangular tubes for improved aesthetics and sturdiness. It's an indoor cycling bike made for spin workouts and offers a weight capacity of 220 lbs (99.8 kg), which is not bad for a non-commercial unit.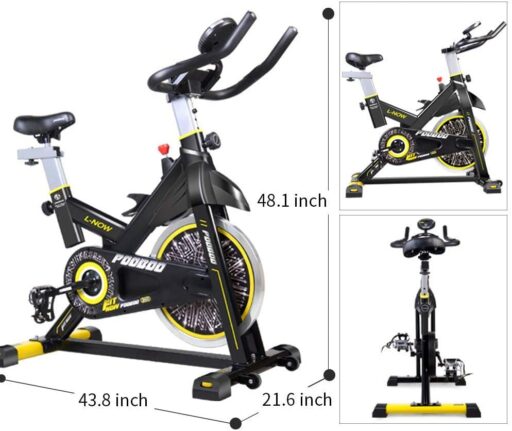 The bike's construction also integrates several ABS parts. However, these only have a protective or cosmetic role; they don't reduce the unit's sturdiness. Among them, we can count the drive belt cover, the end caps of the base bars, and the brake pad cover.
The bike's mainframe features a black powder coating resistant to corrosion, with the yellow L-NOW logo and the "pooboo" series name painted white. The rear base of the bike also has a yellow paint finish. The seat post and the handlebar post feature a gray paint finish, and these are the only colors available for the D525 model.
This pooboo exercise bike is not extremely large. With the frame fully set up, it is approx. 44″ (111 cm) and 21.6″ (55 cm) wide. It is advisable to leave at least two feet of clearance all around it for safe usage and ease of access. Also, if you're wondering, this exercise bike does not fold.
It only has a flywheel of 30 lbs (13.6 kg), lighter than other models. It weighs approx—75 lbs (34 kg). Nonetheless, 75 lbs are twice the average road bike's weight; therefore, this exercise bike provides excellent stability. In addition, its bases come equipped with adjustable levelers.
Once assembled, its relocation is quick and easy. Its front base features a set of transport wheels, so by leaning the frame forward and using these wheels, you will only handle approx—1/3 of its total weight.
Seat and handlebars
The pooboo D525 indoor bike includes a standard saddle. It does not have air cushioning cells like other bike seats but does integrate a layer of foam padding and has a contoured surface.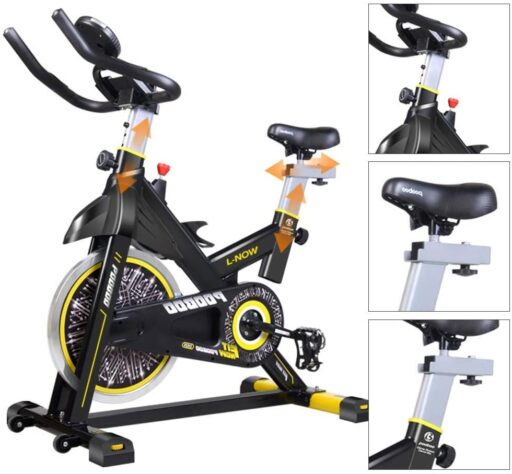 On the other hand, it's a medium-sized seat, not a slim one like other spin bikes. In other words, it's a seat for optimal comfort.
The saddle has a standard collar-type attachment system. Therefore, compatible options should be available in any bike shop if you want to replace them. You can also improve its comfort by attaching a gel cover on top of it if needed.
The seat is 4-way adjustable. Its horizontal slider offers several inches of front-to-back adjustment, and its vertical post also has a few adjustment notches. Thus, the bike can accommodate users between 4'10" and 6'2″ (147 – 188 cm), promoting a full range of motion and a complete leg extension.
The bike's handlebar only offers 2-way adjustability (up, down) instead of the seat. Its post has several adjustment positions. The handlebar itself features a multi-grip design.
It allows adopting an aero grip, a racing grip, or a standard grip. In addition, it has a center loop bar that you can use for a close parallel grip if you remove the phone holder. This loop bar also serves as a support for the bike's fitness console.
A layer of high-density foam covers the side handgrips of the handlebar. They provide a comfortable and secure grip. They also integrate metallic pulse sensors.
D525 Resistance system
The pooboo D525 comes equipped with a lighter flywheel than other bikes. As a result, it only weighs 30 lbs (13.6 kg). However, it has a perimeter-weighted design to provide consistent inertia, so it's an excellent bike for spin workouts.
The flywheel is chrome-plated and has ABS side covers that are black/yellow like the rest of the bike. It is also bi-directional, which means you can pedal in reverse if you want, but since it's an indoor cycling bike without a derailleur or a standard bike drive system, you cannot coast on it.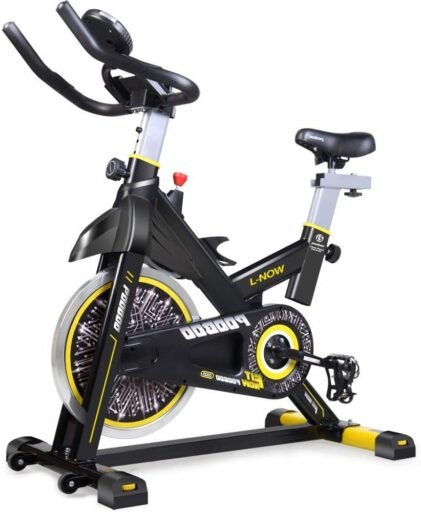 When pedaling in reverse, you benefit from the same resistance as when pedaling forward. Thus, it can be a plus as you can diversify your workouts.
This indoor cycling trainer comes equipped with a friction resistance system. It has a felt brake pad above the flywheel and is attached to the tension knob on the oblique frame tube. Unfortunately, by turning the knob clockwise, the brake pad applies more friction to the flywheel, which results in more incredible pedaling difficulty.
There are no tension levels specified on the knob. You tighten it until the bike delivers a satisfying resistance. You can tighten it up to the point you can barely pedal.
The tension knob also functions as an emergency brake. You can press it down to stop the flywheel from spinning if needed, which may be necessary, as the pedals continue to turn for as long as the wheel is spinning.
Drive system
The pooboo D525 is belt-driven. It uses a poly-v belt resistant to stretching. Therefore, you don't have to worry about lubricating the bike's transmission. It also delivers a very smooth and quiet pedaling motion.
Finally, this pooboo indoor cycling bike comes equipped with a heavy-duty crank with solid steel crank arms. The pedals are also metallic and made of aluminum alloy.
They don't have SPD clips for spin shoes but do have adjustable toe cages if you need to secure your feet in place during pedaling. They are durable enough to support users up to 220 lbs (99.8 kg) even if they exercise while standing up on the pedals.
Fitness monitor
The included fitness monitor is a basic model. It features an LCD that tracks the main workout metrics, including time, distance, speed, calories, and pulse. It also has an odometer function, which shows the total distance traveled.
The fitness monitor has a pulse reading function but does not have an internal HR receiver. Therefore, it cannot read your pulse via an HR chest strap from Polar or ANT. To benefit from a pulse reading, you will need integrated sensors.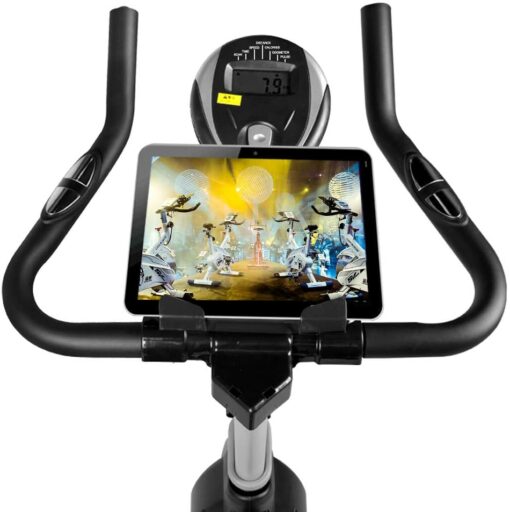 The monitor is straightforward to use. It is battery-powered, so you don't need to connect it to a wall socket. Unfortunately, it only has one button, which toggles ON/OFF the unit's SCAN function. With the SCAN function set ON, the workout metrics show in a sequence, each appearing on display for a few seconds.
By pressing the button, you can toggle the SCAN mode OFF and select one of the values that interest you the most to display at all times. Also, pressing and holding the button for a few seconds will reset zero values.
The monitor starts up when you begin pedaling or press the button. It also has a battery save mode, which will enter if it doesn't detect any bike activity for more than 4 minutes.
D525 Assembly and Maintenance
The bike's flywheel, crankset, belt, belt cover, and resistance pad are pre-assembled. Therefore, you only need to attach the base bars, the seat post, the handlebar post, the seat, the handlebar, the pedals, and the fitness monitor.
Therefore, it shouldn't take more than 30 minutes of your time. In addition, several tools necessary for the assembly come with the bike.
It is advisable to periodically lubricate the brake pad for maintenance, especially if it makes a noise when in contact with the flywheel. For this, a few drops of silicone lubricants should do the trick. Also, periodically checking the bike for loose or broken parts is advisable.
Pros
Sturdy frame – can support users up to 220 lbs;
Adjustable stabilizers on both bases;
Transport wheels on the front base;
4-way adjustable seat;
Perimeter-weighted flywheel for a consistent momentum;
Heavy-duty crank;
Aluminum alloy pedals with toe cages for foot stability;
Multi-grip handlebar;
Pulse sensors integrated into the side grips of the handlebar;
Friction resistance system;
Fitness monitor included – it can track time, distance, total distance, speed, calories, and pulse;
Quiet operation, great for apartment use;
The bottle holder comes included;
Phone holder included;
Easy to assemble;
Little maintenance is required.
Cons
The fitness monitor does not have a backlight.
Please note that the tablet contained in some of the images sells separately.
pooboo D525 Indoor Cycling Bike Summary
The pooboo D525 by L-NOW is an indoor cycling bike designed for home use. It has a friction resistance system, a belt drive, a multi-grip handlebar, and a fitness monitor that tracks time, distance, speed, calories, and pulse.
It offers 4-way adjustability for the seat and pretty sturdy construction, having a user weight capacity of 330 lbs. It's an excellent bike for spin workouts, muscle toning, stamina and leg strength development, and weight loss.
I hope you found this article helpful and informative. Would you please speak up if you have anything you'd like to share or any opinions about my website? I look forward to your comments, questions, and the sharing of ideas.
Please remember that you should consult your physician to determine if you have any medical or physical conditions that could risk your health and safety or prevent you from using the equipment properly. In addition, your physician's advice is essential if you are taking medication that affects your heart rate, blood pressure, or cholesterol level.