The Powerline PLM180X Lat Machine by Body-Solid is a free weight lat machine explicitly designed to perform upper body exercises such as triceps press down, upright rows, lat pulldowns, seated rows, and others. The design of the machine allows you to perform a broad range of motions through full extension and contraction.
It has a heavy-gauge steel construction, which gives it robust and sturdy support as you exercise. The wide-grip bar features super-comfortable hand grips on the ends, though it can still be gripped comfortably anywhere along the bar without issue. It's perfect for both those with long arms and those for shorter arms, and it has a patented nylon bushing in the pulleys, which allows smooth operation.
The PowerLine PLM180X is not too heavy, weighing 69 lbs (324 kg). The seat supplied with the machine measures 14 x 2.5 inches and is a durable vinyl material. Also, the seat is not adjustable; however, you can easily remove it for more room.
The PLM180X Lat machine has three main accessories including the lat pulldown bar, low row bar, as well as the cable extension for a low pulley. There are two pulleys at the top as well. The machine includes 8-inch (dual position) foam rollers to help you maintain a secure and firm grip.
Learn more in my complete review below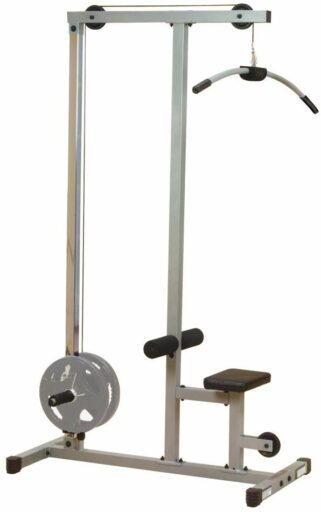 Product: PowerLine PLM180X Lat Machine
Price: For a great deal on this gym, merely go here on Amazon
Warranty: Frame 10 years / Parts 1 year
My rating: 8/10
Amazon Affiliate Disclosure: I may earn commissions on purchases made through links in this post.
Details and Specifications
Assembled dimensions: 48L x 25W x 80H inches (122L x 64W x 205H cm)
Assembled weight: 69 lbs (32.4 kg)
Weight capacity: 250 lbs (113.3 kg)
Possible exercises: 20+
Warranty: Frame 10 years / Parts 1 year
PLM180X Frame construction
The frame of the PowerLine PLM180X lat machine is 3″ x 2″, 11-ga steel, coated with corrosion-resistant silver paint. However, the upright post of the gliding weight carriage element features a chrome finish. The frame has a rather small footprint, taking only 48″L x 25″W (122 x 64 cm) of floor space.
Therefore, if you already have a home gym setup, finding the space for this machine shouldn't be too much of a problem. The maximum width of the machine is given by the lat bar which is a few inches wider than the bases.
The machine's bases feature rubber caps for stability, but these integrated stabilizers are not adjustable. Therefore, in case the floor is uneven, it may be a good idea to place it on a rubber mat.
When it comes to height, the highest point of the fully assembled lat machine is 80″ (205 cm) above the floor level. Thus, it should fit in a room with a 7′ ceiling. However, the machine may not be tall enough for users above 6'3″, and they may have to improvise to benefit from the full range of motion.
This PowerLine lat machine is not extremely heavy. When fully assembled, it weighs approx. 69 lbs (32.4 kg). Thus, it can be constructed and transported by one person with no problem.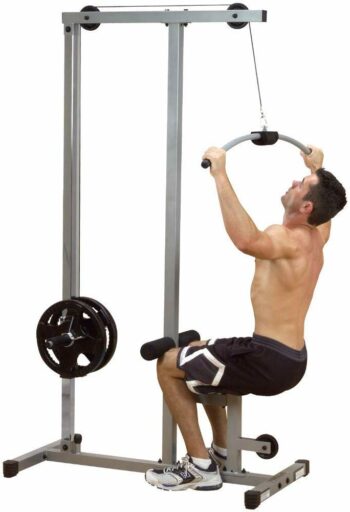 Seat and Foam Rollers
The seat supplied is pretty basic, approx — 14″ (35 cm) wide, with 2.5″ (6.3 cm) of padding. Upholstery on the seat is a durable vinyl material. The seat is not adjustable, but it can quickly be taken off in case-specific exercises require it. Also, in case you're wondering, the top of the seat stands 18 ¾" above floor level.
The main post of the frame integrates a set of two foam rollers, to offer support for your knees if you're pulling a heavyweight load. Each roller is 8″ (20.3 cm) long, and 3″ (7.6 cm) thick.
Pulleys and Weight Carriage Element
This lat machine features three pulleys, two on the top bar of the frame, and a low one, on the seat frame bar. The pulleys are made of heavy-duty nylon material, integrate nylon bushings for smooth operation, and sealed ball bearings for a long life span.
The machine's weight carriage element is equipped with 1″ (2.5 cm) sleeves, for standard weight plates, each sleeve being 8.5″ (21.5 cm) long. Springs for weight plates and sleeve adapters for Olympic weight plates are not (included), but they are readily available.
This lat machine is rated for weight loads up to 250 lbs (113.3 kg). However, users have reported that it can hold up to 400 lbs (181 kg). The cables are after all steel ropes, rated for more than 1,000 lbs weight. The sleeves of the weight carriage element are excellent as well and should be able to support heavier loads than 250 lbs without issues.
PLM180X Accessories
There are three main accessories included with this PowerLine Body-Solid lat machine. These are the lat pull-down bar, the low row bar, and the cable extension for the low pulley. The lat pull-down bar is a standard 44″ (112 cm) curved bar. The low row bar is shorter, approx. 22″ (56 cm).
Both bars feature foam grips for extra comfort. The cable extension is 80″ (203 cm) long, and it's (required) for the use of the low pulley for biceps curls, seated rows, etc.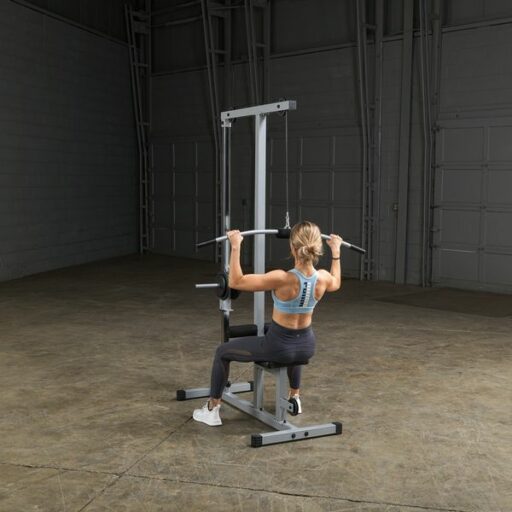 An essential aspect of being mentioned here is that the machine does not come with a weight plate set. You'll have to use the ones that you already own, or purchase a set separately. As I've mentioned above, the machine as it is requires standard plates.
There are various other accessories available for this machine, including Olympic weight plate adapters, ankle straps for stand-up curls, ropes for ab exercises, etc.
Possible Exercises
Lat pull-downs
Behind neck lat pull-downs
Close grip lat pull-downs
Reverse grip lat pull-downs
One-arm lat pull-downs
Straight arm pull-downs
Triceps press downs
Seated rows
Stand-up rows
Biceps curls
One-arm deltoid raises
One-arm shoulder presses
Cable crunches
Cable forward/reverse/lateral lunges
Stand-up leg curls
Hip adductions

PowerLine PLM180X Lat Machine (weight plates sold separately)

Hip abductions
… and more.
Evidently, for some of these exercises, you'll need various accessories. For example, for ab crunches, you'll need an ab rope, or for hip abductions, you'll need an ankle strap. But these are relatively cheap accessories, and widely available.
PLM180X Assembly and Maintenance
First of all, this lat pull-down machine ships in two boxes: 77.56″L x 6.7″W x 4.3″H (40.4 lbs), and 48″L x 10.6″W x 7.5″H (34.3 lbs). Differently put, a single person can do transport and unboxing. Assembly is far from being complicated as well. It shouldn't take more than one hour.
You'll have to set-up the base of the frame first, then add the upright posts, with the carriage, the seat frame, and low pulley, and finally set up the top bar with the pulleys and primary cable. The supplied manual offers all the information needed for assembly. Tools are not (included), but two adjustable wrenches will suffice.
For maintenance, all you have to do is periodically check the machine's joints to make sure they still hold tight in their places and re-tighten them if it's the case. Also, if the pulleys develop squeaking noises, some lubricants should solve the problem.
Pros
Sturdy steel frame;
250 lbs recommended weight load, but can support more;
Small footprint;
8″ foam roller for knee support included;
Easily removable seat;
Low pulley station included;
Heavy-duty nylon pulleys, with sealed ball bearings;
The short bar for low pulley exercises included;
Supports more than 20 exercises;
Easy to assemble;
Excellent warranty.
Cons
Taller users, over 6'3″ may have to improvise for specific exercises.
Olympic sleeve adapters not included.
PowerLine PLM180X Summary
The PowerLine PLM180X is a lat machine that offers a bit more than a basic model. That's because it also integrates a low pulley station, and comes with a low row bar accessory, which other models don't include. It has a 250 lbs weight load capacity.
Its weight sleeves are for 1″ plates; however, Olympic adapters can be added. It offers the possibility to perform more than 20 exercises including lat pull-downs, biceps curls, triceps press downs, seated rows, upright rows and more.
Even though this lat machine model has been around for quite a few years, it still benefits a vast number of 5-star reviews from most users. Also, it's quite an affordable machine and does make a great addition to any home gym.
I hope you found this article helpful and informative. If you have anything that you'd like to share or any opinions about my website, please do speak up. I look forward to your comments, questions, and the sharing of ideas.
Recommended articles:
Please follow and like us: