The Sole B94 Upright Bike is the lowest-priced upright exercise bike from Sole Fitness. While it has some high-end features, this compact unit is for home gyms and not commercial settings. The B94's vertical frame weighs about 100 pounds and has a 300-pound weight limit.
The B94 Stationary Upright Bike has a 20-pound flywheel. It provides a relatively smooth ride and a good range of resistance for many home cyclists. In addition, an eddy current resistance system on the B94 helps ensure a smooth transition between 20 challenging levels.
This model allows ten preset programs to bring organization to your workouts and make it easy to get working. Two heart rate-controlled workouts and six standard applications, such as Hill and Interval, and the two user-designed programs are saveable. The 9″ LCD shows speed, time, distance, resistance, pulse, watts, and RPM.
A complete wireless telemetry system on the B94 bike (HR chest strap included) helps users do most workouts and assess fitness progress. Additionally, for a non-wireless option, grip heart rate sensors integrate on the handlebars.
Learn more in my complete review below!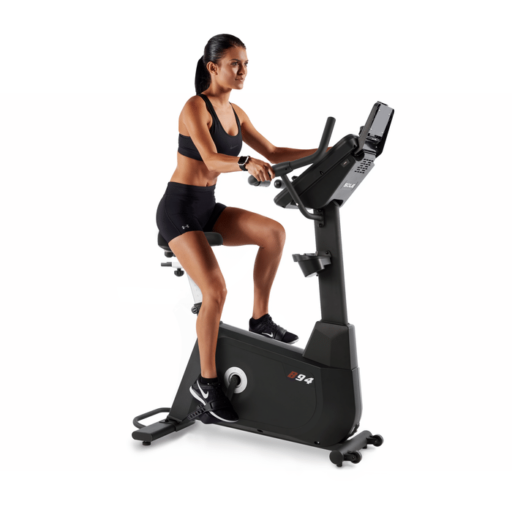 Product: Sole B94 Upright Bike
Price: For a great deal on this bike, merely go here on Sole Fitness.com
Warranty: Frame lifetime / Parts & Electronics 3 years / Labor 1 year
My rating: 8.25/10
Affiliate Disclosure: As a Sole Fitness Affiliate Program participant, I earn commissions on purchases made through links in the post. Full disclosure
Details and Specifications
Assembled dimensions: 46L x 18W x 55H inches (117L x 46W x 140H cm)
Product weight: 123 lbs (55.7 kg)
Flywheel weight 20 lb. (9.07 kg)
Supported weight: 300 lbs (136.08 kg)
Handlebars: Non-adjustable, with EKG grip pulse sensors
Seat: Adjustable horizontally and vertically
Pedals: With straps
Drive mechanism: Belt
Brakes: Eddy current
Resistance: Adjustable, 20 levels
Performance monitor: Yes, ten workout apps
USB Device Charging: Yes
Bluetooth Compatible: Yes
Amenities: Cooling fan, bottle holder, tablet holder, sound system
Warranty: Frame lifetime / Parts & Electronics 3 years / Labor 1 year
B94 Frame
The frame on this upright Sole bike is solid steel tubing. The shrouds that cover the drive and brake system are hard plastic. They are chemically resistant for maximum protection and add less dead weight to the machine, rendering it more comfortable to transport and handle when fully assembled.
The frame bases also have decorative plastic shrouds, but the bases are also steel-made, using similar tubing as the mainframe. In addition, both bases have leveling feed with rubber caps, enhancing the bike's stability, even if you don't use a mat underneath it or if the flooring is uneven.
The front base features small wheels to ease the bike's relocation when it's the case. The rear base is also furnished with a metallic handle, rendering the bike easier to tilt to be wheeled for storage.
The overall footprint of this bike doesn't take too much space. At 18″W x 46″L (46 x 117 cm), I can safely say that it's low profile, great fit for anyone, but don't have the luxury of too much space. In terms of height, the console's top reaches a maximum of 55″H (140 cm).
Seat and handlebars
The Sole B94 comes with a gel seat with a contoured, ergonomic design. For new users to exercise bikes, the seat may seem a little bit hard during their first sessions. The seat is adjustable both vertically and fore to aft.
Height-wise, the seat post offers 12 adjustment settings, one inch each. At its highest stage, the seat reaches about 44″ (112 cm) from the floor. In other words, this bike offers enough seat height for users up to 6'6″ – 6'7″ (198 – 201 cm).
The handlebars are non-adjustable and feature a simple but ergonomic design, supplying several grips for different workout postures. They're covered with rubber foam padding to ensure a comfortable grip, also preventing hands from blistering. In addition, the lower part of the handlebars incorporates EKG grip sensors for a reading pulse.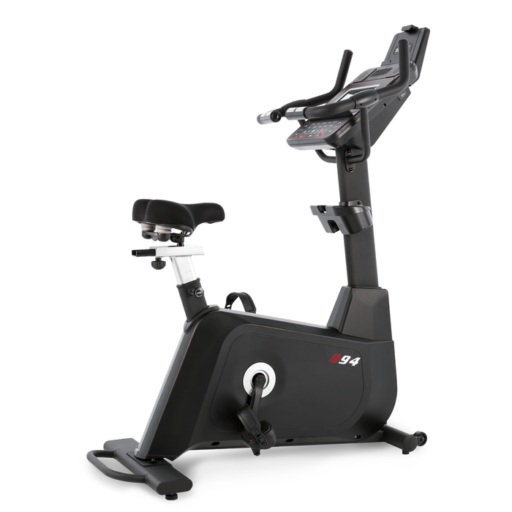 B94 Drive and brake system
It's a common misconception that upright bikes have no flywheel. Instead, most of them have a belt-drive system involving a belt, pulley, and wheel, much smaller than in spin bikes. The Sole B94 is also belt-driven, equipped with a solid, no-stretch belt, made to last many years of use.
Its flywheel is relatively small in diameter but pretty hefty for an upright bike, weighing 20 lbs (9.07 kg). The steel pulley of the cycle is slightly bigger in diameter than the flywheel. It comes with two crank arms, also made of steel.
The pedals are hard plastic and feature straps for securing feet in place. The treads on the pedals are standard; therefore, if one breaks or wants a different pedal, you should easily find replacements.
The brake system of the bike is eddy current brake-based. The resistance is (generated) via an electric current, which adjusts the pull of a magnet onto the flywheel. Since the brake involves magnets, it means there's no contact between the brake mechanism and the wheel, resulting in 0 wear and tear.
Now, since the bike has an eddy current brake and features a belt-drive system, the conclusion is that it's quiet, rendering a smooth, pedaling motion. It also requires to be connected to a 115VAC power circuit, featuring a power cord with a standard, American-type plug. The cable connects to the machine on the left side, near the front base. There's also an ON / OFF switch near the connection point of the cable to the bike.
The resistance adjustment is made exclusively via the console unit equipped on the bike. It offers 20 levels of resistance, with the highest levels supplying quite a challenge.
Console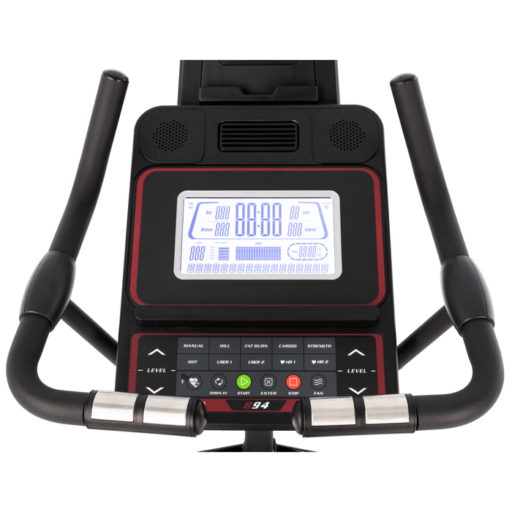 The Sole B94 Upright features a full console with a 9-inch display backlit with blue LED light for maximum readability. This console can display various values, such as time, speed, distance, resistance level, RPM, pulse, pace, and calories burned.
The bike also offers ten workout programs, including one manual, one hill, one strength, one interval, one cardio, one weight loss, two custom user programs, and two heart rate programs. Some of these programs require you to insert your weight and age for better processing of your workout.
The console features quick keys for resistance adjustment but also has arrow keys for gradual resistance adjustment. Each program has its digit, and there are also Pause and Reset/Start buttons.
Along with these fitness-oriented functions, the console incorporates several other amenities. For example, the upper part features an integrated fan, a 2-speaker sound system, and a tablet/phone tray.
The sound rendered through the console's speakers is pretty straightforward and sharp. In addition, there are inputs for headphones and your MP3 player, smartphone, or tablet.
The console is also telemetry enabled, which means it can track pulse via an HR chest strap. The box includes this accessory, as well.
B94 Assembly and Maintenance
The assembly of this bike isn't complicated and shouldn't take you more than 45 minutes. First, there aren't many parts to put together, as the machine is pre-assembled and covered by the lateral, plastic shrouds. Next, you must add the front and rear base, handlebar post, seat, handlebars, and console.
Of course, you will have to pull the console's wires through the handlebar's main post and connect them to the console. All tools necessary for the assembly come with the box and the user's manual, which gives you step-by-step directions for the construction.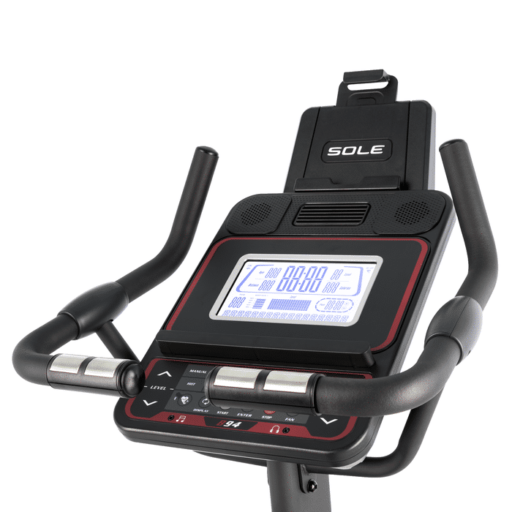 Maintenance doesn't require much at all. You should periodically check to see if all the bolts are tight and re-tighten them if necessary. Also, keep the machine clean and wipe the sweat from the frame and console. That's pretty much it.
Pros
Sturdy and durable steel-made frame.
Compact, sleek design.
The eddy current brake comes with 20 levels of resistance.
Small footprint.
Seat 4-way adjustable.
EKG pulse sensors integrated into the handlebars.
Advanced console, ten workout programs.
Quick and gradual resistance adjustment.
Integrated speakers.
MP3 player, smartphone, or tablet input.
Headphones input.
Tablet holder.
Bottle/accessory holder.
Built-in cooling fan.
Quiet bike.
Maintenance-Free.
Excellent warranty pack.
Cons
The seat does not offer super comfort.
Sole B94 Upright Bike Summary
The Sole B94 Upright Bike is an excellent quality/price ratio, offering a decent array of amenities and workout programs. It provides the optimal workout setting for a consistent cardio workout for muscle toning, stamina building, and weight loss.
Even though it's not a spin bike, you can still burn at least 500 calories per session. Therefore, if you're looking for a durable, gym-quality upright bike that won't break the bank, this Sole B94 Upright Bike is it.
I hope you found this article helpful and informative. Would you please speak up if you have anything you'd like to share on the topic or any opinions about my website? I look forward to your comments, questions, and the sharing of ideas.