The Schwinn 470 Elliptical Trainer is a top contender in its mid-price range. This Schwinn elliptical is perfect for your home gym and fitness enthusiasts of any skill level who want a low-impact workout. It is a medium-duty machine, handling user weights up to 300 pounds.
The Schwinn 470 provides an effective cardiovascular workout by combining upper and lower body flexibility and coordination into one impact-free motion and is easier on your joints. In addition, regular use of elliptical trainers will increase heart and lung capacity while improving your health and burning calories.
The Schwinn 470 Elliptical Trainer uses 25 magnetic brake resistance levels utilizing an eddy current brake (the best type). Magnetic resistance has the advantage of no friction, reliability, little to no maintenance costs, and quiet operation.
This 470 model has a powered incline with a 10° degree motorized adjustable ramp. The weighted flywheel provides smoother strides, and the rubberized footpads make workouts more comfortable — static & moving handlebars for a full cross-training workout.
Learn more in my complete review below!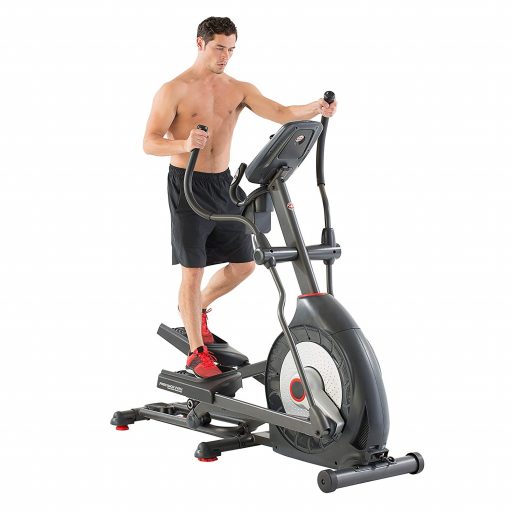 Product: Schwinn 470 Elliptical Trainer
Price: For a great deal on this elliptical, merely go here to Schwinn Fitness.com
Warranty: Frame 10 years / Mechanical 2 years / Electronics 1 year / Labor 90 days.
My rating: is 9/10
Affiliate Disclosure: As a Nautilus and Schwinn Partner Program participant, I earn commissions on purchases made through links in the post. Full disclosure
Details and Specifications
Assembled dimensions: 70.1L x 28.2W x 63.2H inches (178.1L x 71.5W x 160.5H cm)
Assembled weight: 168.7 lbs (76.5 kg)
Max. user weight: 300 lbs (136 kg)
Stride: 20 inches (51 cm)
Incline: 0° – 10°, motorized
Footplates: Articulating, with cushioning
Handlebars: Both mobile and fixed (with pulse sensors)
Resistance system: Eddy current, 25 levels
Console: 29 workout programs, Bluetooth connectivity, USB port
Explore the World™ App and other popular apps like UA, MyFitnessPal, GoogleFit, Apple Health, and MapMyRun/Ride.
Amenities: Sound system, cooling fan, media tray, bottle holder
Warranty: Frame 10 years / Mechanical 2 years / Electronics 1 year / Labor 90 days.
470 Frame Construction
The Schwinn 470 elliptical trainer features a highly sturdy frame of steel tubing. The only non-metallic parts in its development are the covers of the drive system and several other covers which do not play any role in the machine's overall sturdiness. In addition, the frame comes with a dark gray corrosion-resistant paint finish for most elements, which is the only color available.
The frame has two main parts, the front section, the drive system, and the rear part with the rail assembly. The connection point between the two parts integrates a middle base tube. This intermediate base tube and the rear one come with adjustable levelers, which can stabilize the machine on any flooring.
The machine has a relatively large footprint, especially lengthwise, which is vital in its stability and sturdiness. When fully assembled, it is 70.1″ (178.1 cm) long and 28.2″ (71.5 cm) wide.
Schwinn also recommends a clearance of at least two feet around the machine for safe and unhindered operation. Thus, the Schwinn 470 elliptical trainer is not precisely a fitness machine for small rooms or apartments.
Another aspect that enhances the machine's stability and sturdiness is its weight. The fully assembled frame weighs 168.7 lbs (76.5 kg). However, when lifting it by its rear base and using the transport wheels, you will handle less than 50% of its total weight. Thus, it is not difficult to relocate the machine once you have finished your training.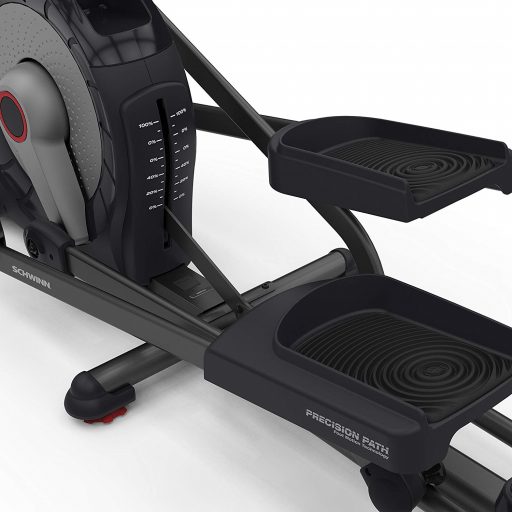 Incline, stride, and elevation
The 470 elliptical comes with a motorized incline system. The incline system has a small motor attached to the lift, raising the machine's rail assembly. Therefore, it requires a connection to a power source.
It features ten incline levels, from 0° to 10°. The incline is only adjustable from the controls on the console unit. The unit offers controls for gradual incline adjustment and quick adjustment keys for 0%, 20%, 40%, 70%, and 100% incline.
Some of the console's preset workout programs involve incline as well. So, when using one of these programs, the machine will automatically adjust the ramp.
The elevation is one of the essential aspects of the Schwinn 470 elliptical trainer and just about any other elliptical out there. Therefore, before purchasing the machine, you need to consider the maximum height of the pedals to avoid ceiling height issues.
In this case, the machine's pedals rise to 26″ (66.1 cm) above floor level. Therefore, ensure that the ceiling height in the room where you will be using the machine is at least 30″ (76.2 cm) higher than your size.
This Schwinn 470 elliptical trainer doesn't offer an adjustable stride. Instead, it has a mid-range, fixed stride with a length of 20″ (51 cm). As a result, the stride's shape will change without increasing stride length when adjusting the incline.
Given the 20″ stride, the elliptical comfortably accommodates users up to 6'3″ (190 cm). Of course, taller users could also use this machine, but their stride may feel a bit too short for them.
470 Resistance system
The Schwinn 470 comes with an (eddy current motorized) resistance system. Therefore, the machine requires a power circuit connection to make the resistance settings available. Its required operating voltage is 120V AC and 2 amp operating current. The 120v necessary ac, 60 Hz, 2 amp adapter comes with the elliptical; the connector is at the machine's front base.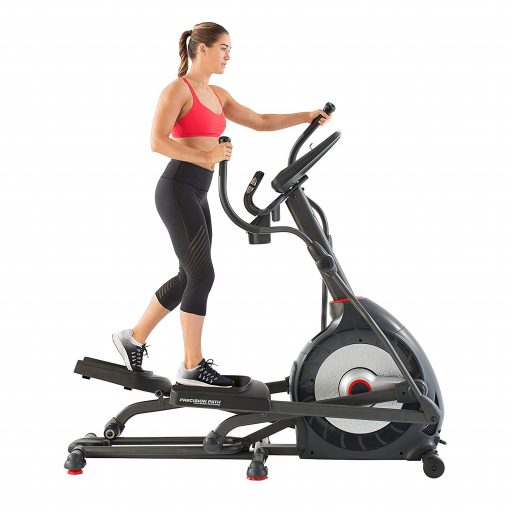 The main resistance elements are a small servo motor and a magnetic pad. As you select a specific resistance level from the console, the servo motor will shift the magnetic pad's position to the flywheel, increasing or decreasing the overall resistance.
The resistance will adjust automatically if you exercise using one of the onboard programs.
This Schwinn elliptical trainer offers 25 exceptional resistance levels. The first levels are for recovery training or warmups, delivering a light intensity, while the top resistance levels, along with the incline, can simulate a more challenging climb. You can achieve an intense burn by exercising on the highest resistance settings.
Drive system
When it comes to the drive, like most other fitness machines with a magnetic resistance system, the Schwinn 470 features a belt drive system, it uses an industrial quality v-belt, resistant to stretching. This belt delivers a very smooth and quiet pedaling motion.
The machine comes equipped with oversized, articulating, heavy-duty PVC pedals. They incorporate a layer of cushioning on their surface and slightly adjust their position as you pedal, to provide a natural stride.
They're attached to durable steel bars and can support users up to 300 lbs (136 kg). The "legs" come with high-grade rollers, which integrate stainless steel, sealed ball bearings for a long lifespan, and smooth gliding over the rails.
The 470 elliptical trainer has two sets of handlebars, mobile and fixed. The mobile handlebars feature a multi-grip design, and the fixed ones integrate HR pulse sensors. Both handlebar sets provide rubberized grips for maximum comfort.
Another essential element of the machine's drive is the flywheel. Its weight is not specified. It's a medium-weight flywheel, perimeter weighted, designed to supply a consistent and steady momentum.
Pedaling in reverse is possible, and the resistance is maintained when you drive in reverse. This feature dramatically diversifies the workout array, allowing you to focus on various muscles differently. Also, when pedaling in reverse, the console will continue tracking your workout metrics.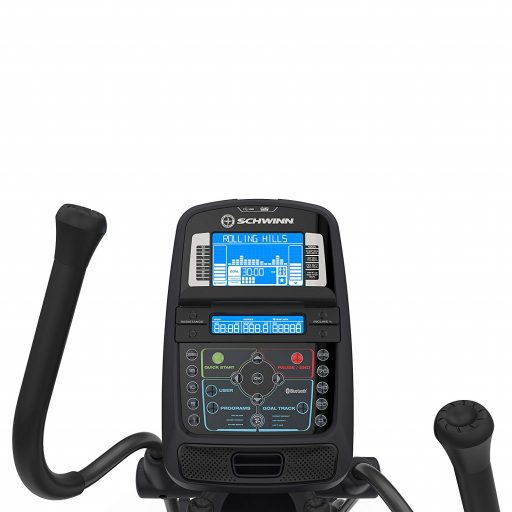 470 Console
The fitness console of the Schwinn 470 elliptical trainer features a user-friendly interface. It also has Bluetooth connectivity, which allows you to sync it with your smartphone or tablet.
Thus, you can sync it with the Explore the World™ App and other popular apps like UA, MyFitnessPal, GoogleFit, Apple Health, and MapMyRun/Ride.
In addition, the console also has a USB port, so if you don't use the Bluetooth connection, you can still import/export your data online. The USB port also acts as a charging port for your tablet or phone.
The console features two LCDs with an LED backlight and significant digits for easy reading. The top larger display shows the workout program profiles, the selected goal, your progress towards it, the current workout program's name, the incline and resistance levels, and the heart rate interval.
The lower display indicates distance, time, speed, RPM, resistance level, calories burned, and heart rate. The distance is tracked in either miles or kilometers, while speed is MPH and km/h. Heart rate is via the integrated pulse sensors in the fixed handlebars of the machine.
However, the console is also telemetry enabled; it's compatible with wireless chest strap HR transmitters. Unfortunately, the HR chest strap does not come with the elliptical.
Workout Programs
You can, however, exercise without using any of the online applications. Instead, the console has 29 built-in workout programs. First, you can choose from 12 preset workouts, including Rolling Hills, Ride in the Park, Easy Tour, Stream Crossing, Pike's Peak, Mount Hood, Pyramids, Summit Pass, Uphill Finish, Cross-Training, Intervals, and Stairs.
Additionally, you can choose fitness goals for distance, time, and calories. There's an HR control program with four difficulty levels, and finally, a Recovery program and a Fitness Test Program.
The console makes available 4 User Profiles. Each user profile allows you to input personal data, such as height, weight, gender, age, name, and preferred workout values. Therefore, the console can calculate your calorie consumption much better. This is useful if several people use the machine to save and select their preferred settings quickly.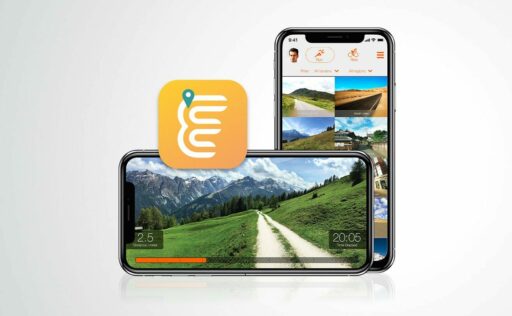 Amenities
Last but not least, the console includes several amenities. First, it has a tablet holder under the larger display. This tablet holder (or phone holder) accommodates just about any sized tablet or smartphone. In addition, the lower section of the console integrates two speakers and a cooling fan.
You can connect just about any MP3 player, smartphone, or tablet to the console and play music through the incorporated speakers. They provide superior sound quality to the average phone or tablet speakers. The fan isn't mighty but does offer some cooling if needed.
470 Assembly and Maintenance
The machine's assembly isn't too complicated. The drive and resistance systems' elements are pre-assembled and attached to the front part of the frame.
Therefore, the assembly requires you to connect the two frame pieces, mount the frame on its bases, and add the console mast, the pedal bars, the mobile arms and handlebars, and the console. Also, it is necessary to lubricate the machine's joints before assembly.
Therefore, it may take up to two hours of your time. However, the tools required for assembly come with the elliptical, and the included instructions are precise.
One of the most critical aspects of maintenance is keeping the rails clear of debris or textile fibers, as they can induce damage to the tracks or the rollers. It will also help if you lubricate the rails and the arm and pedal joints from time to time, especially if they begin to squeak. Besides this, ensure you don't spill any liquids on the console and the flywheel casing.
Pros
Sturdy construction, similar to commercial machines;
300 lbs weight limit;
Adjustable levelers;
Precision Path articulating, cushioned pedals;
Perimeter-weighted flywheel for consistent momentum and smooth pedaling;
Multi-grip handlebars;
Integrated EKG pulse sensors;
Motorized incline, with a range between 0° and 10°;
Quiet operation, ideal for apartment use;
25 levels of eddy current resistance;
29 workout programs;
Bluetooth connectivity;
Compatible with the Explore the World™ App and other popular apps like UA, MyFitnessPal, GoogleFit, Apple Health, and MapMyRun/Ride;
Goal tracking functions for time, distance and calories;
Four user profiles;
DualTrack monitor system that allows you to see your workout data even if you have a tablet on the device holder;
LED backlight for each monitor for better readability;
Cooling fan, sound system, and device holder included;
A USB port for workout data transfer to Schwinn Connect and MyFitness Pal, which also doubles as a charging port for your device;
Bottle/accessory holders included;
Little maintenance is required;
Great warranty plan.
Cons
The cooling fan isn't too powerful;
A tablet placed on the device holder will cover the console's larger LCD;
An HR chest strap does not come with the elliptical.
Schwinn 470 Elliptical Trainer Summary
The Schwinn 470 is an elliptical trainer featuring sturdy construction, motorized resistance and incline, and a multi-function console. In addition, it offers an impressive array of fitness features, including 29 workout applications and Bluetooth connectivity, allowing you to sync it with the Explore the World™ App and other popular apps like UA, MyFitnessPal, GoogleFit, Apple Health, and MapMyRun/Ride.
It has 25 levels of resistance, from light to intense, being an excellent machine for all sorts of workouts. It's perfect for interval training, recovery training, light to intense cardio, weight loss, etc. And finally, although it has a construction similar to the gym-grade models, it costs considerably less than a commercial-grade machine.
I hope you found this article helpful and informative. Would you please speak up if you have anything you'd like to share on the topic or any opinions about my website? I look forward to your comments, questions, and the sharing of ideas.
Please remember that you should consult your physician to determine if you have any medical or physical conditions that could risk your health and safety or prevent you from using the equipment properly. In addition, your physician's advice is essential if you are taking medication that affects your heart rate, blood pressure, or cholesterol level.