One of the Sunny ASUNA Lancer 7130 indoor bike's main benefits is that it has a rear machine-balanced 33-pound flywheel that guarantees an entirely solid workout experience, no matter how hard you pedal. In addition, the bike is virtually silent in operation because it has a tranquil pedal system and a belt drive system that makes no noise.
Another positive benefit of this ASUNA 7130 bike is that it is suitable for all fitness levels because there are 16 magnetic resistance levels. In addition, as with all good spin bikes, there is a lever right in front of you that can move upwards or downwards during your workouts to increase or decrease the intensity.
The seat connects to a high-grade aluminum post that is light and easy to move whenever you need to adjust the height or move the seat closer to or further away from the handlebars and has a little extra padding to provide more comfort. The handlebars are just as comfortable to adjust and benefit from having multiple hand grip positions to accommodate different riding styles in both seated and standing positions.
Learn more in my complete review below!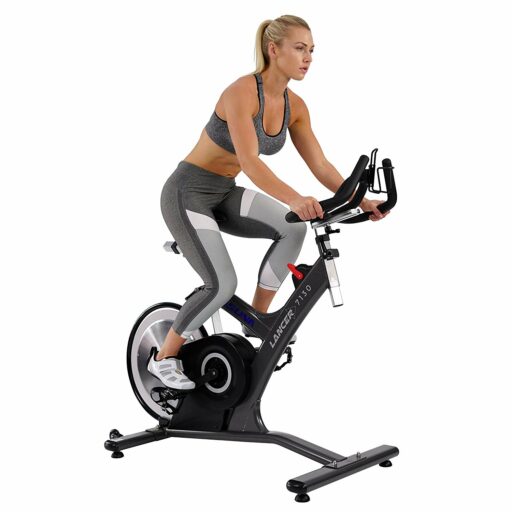 Product: Sunny ASUNA Lancer 7130 Indoor Bike
Price: For a great deal on this bike, merely go here to Sunny Health & Fitness.com
Warranty: Frame 5 years / Parts 90 days
My rating: 8.5/10
Affiliate Disclosure: As a Sunny Health & Fitness Affiliate Program participant, I earn commissions on purchases made through links in this post. Full disclosure
Details and Specifications
Assembled dimensions: 57.5L x 25.2W x 53H inches (146L x 64W x 137H cm)
Assembled weight: 107.8 lbs (49 kg)
Flywheel weight: 33 lbs (15 kg)
Supported weight: 285 lbs (129 kg)
Handlebars: 4-way adjustable
Seat: 4-way adjustable
Pedals: Dual-action (SPD clips + toe cages)
Drive mechanism: Belt
Resistance: Magnetic
Fitness Monitor: Not included
Bottle holders: Included
Warranty: Frame 5 years / Parts 90 days
7130 Frame construction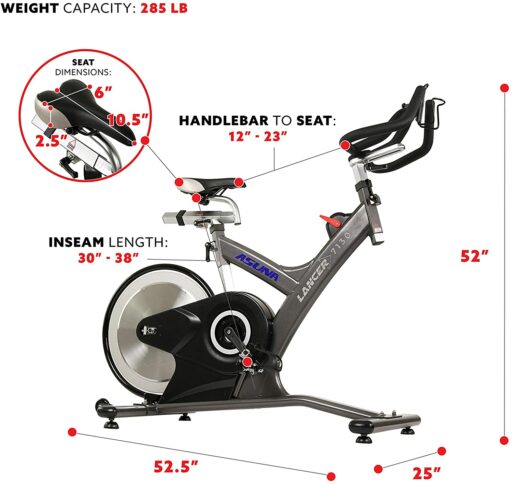 Although the Sunny ASUNA Lancer 7130 indoor bike is a commercial bike, one aspect is lower than other commercial-grade spin bikes. It only has a weight capacity of 285 lbs (129 kg); for most other gym-grade bikes, the maximum weight load capacity is 300 lbs (136 kg) and above.
However, this exercise bike still features a sturdy frame designed to support a wide array of spin workouts. The bike's frame is different than other bikes. It has a "Y" shaped structure with a low center of gravity.
The mainframe features a corrosion-resistant and scratch-resistant grey powder coating. Unfortunately, at least for now, grey is the only color available for the ASUNA 7130 Lancer.
The flywheel, the seat post, the handlebar post, and the sliders have a chrome polish, corrosion-resistant. The only major plastic parts in its construction are the belt guard and the flywheel guard. However, these don't diminish the bike's overall sturdiness.
Unlike other spin bikes, the ASUNA Lancer 7130 features a slightly wider footprint. With the frame fully assembled, it takes 57.5″L x 25.2″W (146 x 64 cm) of floor space. Thus, the larger footprint improves its stability.
Plus, its base bars come with adjustable levelers with large rubber caps, which provide a good grip on any flooring, preventing the bike from sliding or moving.
The bike also has a reasonably heavy construction. It weighs 107.8 lbs (49 kg), more than two times the average road bike's weight. This weight also adds to the bike's overall stability. But relocating it isn't tricky as its rear base has a set of transport wheels.
Seat and handlebars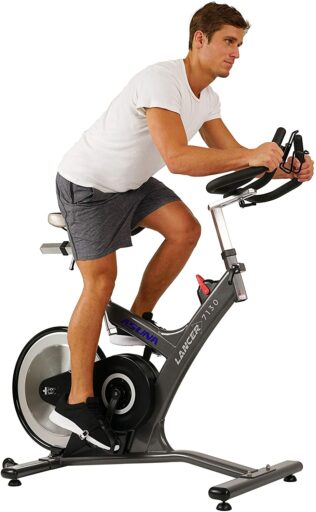 The Sunny ASUNA Lancer 7130 indoor bike features a construction similar to the Keiser M3. However, its handlebar is simpler. It features a standard handlebar with a multi-grip design and a loop aero bar in the middle, which hosts the bike's bottle holder.
This bike doesn't include a fitness monitor, but if you purchase one separately, you should be able to attach it either to the loop bar or to the front part of the handlebar's horizontal slider.
A high-density foam fully coats the handlebar to provide a secure and comfortable grip. It's 4-way adjustable (up, down, forward, backward). Both its upright bar and horizontal slider offer several inches of adjustment.
The bike's seat is also 4-way adjustable. And along with the 4-way adjustability of the seat, the bike can accommodate users between 5'0″ and 6'5″ (153 – 196 cm). The saddle is contoured and padded to provide optimal comfort; however, considering this is a spin seat, it doesn't offer extreme support.
Users new to spinning may find it uncomfortable, at least for the first few sessions. However, its comfort improves with a gel seat cover. Also, it has a standard attachment system to the bike's slider, so compatible options are widely available.
Both seat and handlebars are easy to adjust. They come equipped with large levers, easy to grip and turn. Thus, adjusting the bike to your size shouldn't take more than a minute.
7130 Drive system
As you can see in the attached photos, its flywheel is in the rear. It's a mid-range, steel alloy flywheel weighing 33 lbs (15 kg). But the 33 lbs (15 kg) offers quite a consistent momentum, and a steady pedaling feels like most of its weight is in the perimeter.
Most magnetic exercise bikes come with a belt drive system, and the ASUNA Lancer does not make an exception. It integrates a heavy-duty poly V belt, which renders the bike's usage almost entirely silent. Also, as opposed to a chain drive, it doesn't require lubrication or maintenance.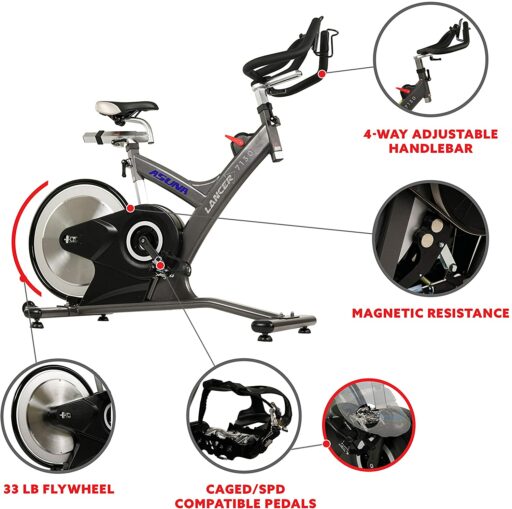 Another essential drive component is the crankset. This Sunny ASUNA Lancer 7130 indoor bike features an extremely solid, 3-piece crank with steel crank arms to support standing-up workouts.
As long as the user exceeds the specified 285 lbs (129 kg) weight capacity, there shouldn't be any problem pedaling while standing up or engaging in any other spin workout.
The crank arms come with metallic, dual-sided pedals. In particular, they have toe cages for extra thrust and maximum foot stability on one side and SPD clips on the other. They also have standard threads, so you should easily find replacements if they completely wear out.
One last aspect to note here regards the bike's Q-Factor. The Sunny ASUNA 7130 offers a narrow 127 mm Q-Factor (spacing between the pedals), eliminating the joints' lateral stress when pedaling. This is quite a plus, as you'll have to deal with less or no post-workout joint pain.
Resistance system
This Sunny ASUNA Lancer 7130 indoor bike features a magnetic resistance system. It's not motorized, though, so it doesn't require a connection to a power circuit. Instead, the resistance system consists of a magnetic brake placed close to the flywheel and attached to the tension dial on the frame's top tube.
The magnets will apply more drag onto the wheel by moving the dial-up and generate more resistance; conversely, the resistance will decrease by moving the dial down.
There are several resistance settings on the dial. The lower settings generate a light resistance level, perfect for warm-ups and recovery training. On the other hand, the top resistance levels deliver extreme pedal tension, simulating a steep climb.
7130 Assembly and Maintenance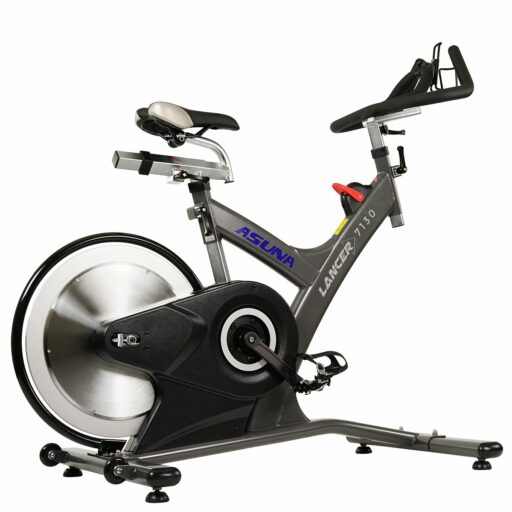 The bike's mainframe, flywheel, belt, brake, and crank come pre-assembled. Moreover, you'll need to connect the base bars, the seat post, the handlebar post, the seat, the handlebar, and the pedals.
Consequently, this shouldn't take more than 20-30 min — furthermore, all the tools required for the assembly come with the bike. Also, the manual provides pretty clear assembly instructions.
The bike doesn't have a chain drive; thus, its transmission doesn't require any maintenance. For maintenance, you only have to check for loose bolts and parts from time to time and retighten them as needed.
Pros
Sturdy steel frame, able to support users up to 285 lbs;
Bases with adjustable, rubberized levelers;
Transport wheels on the rear base;
4-way adjustable handlebar with a multi-grip design;
4-way adjustable seat;
Frictionless, wear-free, magnetic resistance with multiple resistance settings;
Balanced flywheel for a smooth pedaling motion and solid momentum;
Heavy-duty crank made for spin workouts;
Dual-sided pedals with toe cages and SPD clips;
Narrow (127 mm) Q-Factor, minimizing the lateral stress on the joints;
Smooth and quiet belt drive, great for apartment use;
The bottle holder included;
Easy to assemble;
Little maintenance is required;
Excellent warranty.
Cons
It does not have a fitness monitor.
Sunny ASUNA Lancer 7130 Indoor Bike Summary
The ASUNA Lancer 7130 is a commercial-grade indoor cycling bike featuring a manual magnetic resistance system, rear belt drive with a 33-pound flywheel, and sturdy, balanced construction. In addition, it offers excellent micro-adjustability, as both its seat and handlebars are 4-way adjustable.
Moreover, it's a bike designed to support most spin workouts, perfect for light to intense cardio training, weight loss, intervals, stamina, and leg muscle strength development. It's not exactly an inexpensive bike, but it does offer excellent value for the price.
I hope you found this article helpful and informative. Please speak up if you have anything you'd like to share on the topic or opinions about my website.? I look forward to your comments, questions, and the sharing of ideas.
Please remember that you should consult your physician to determine if you have any medical or physical conditions that could risk your health and safety or prevent you from using the equipment properly. In addition, your physician's advice is essential if you are taking medication that affects your heart rate, blood pressure, or cholesterol level.