The Precor EFX 245 Elliptical trainer is part of Precor's Energy Series and is a top-of-the-line home elliptical trainer with commercial quality. Just like Precor's health club trainers, it fits virtually every trainee's body size and workout goals. Among its many highlights are a 7″ touch screen, 25 preloaded workout programs, personalized workout technology, a motorized incline, and on-screen controls for your iPod or iPhone.
The EFX 245 preset workouts divide into five groups: Be Fit, Lose Weight, Push Performance, Get Toned, and Go the Distance. Additional programming on this EFX console includes a fitness test, manual mode, and room to save 16 customized routines.
Workout info displays on a 7″ color touch screen. There are now 14 additional types of feedback available while you train. This is in addition to the usual time, calories, heart rate, and distance-based metrics. (See the complete list below.) Several of these categories are also displayed more prominently as graphs while you train.
To help you stay motivated during workouts, this trainer holds your tablet computer securely. It also has the most advanced iPod integration of any elliptical in this series; the EFX 245 has complete on-screen music controls. A port for charging an Android or iOS phone. The console also has an accessory tray and water bottle holder.
Learn more in my complete review below!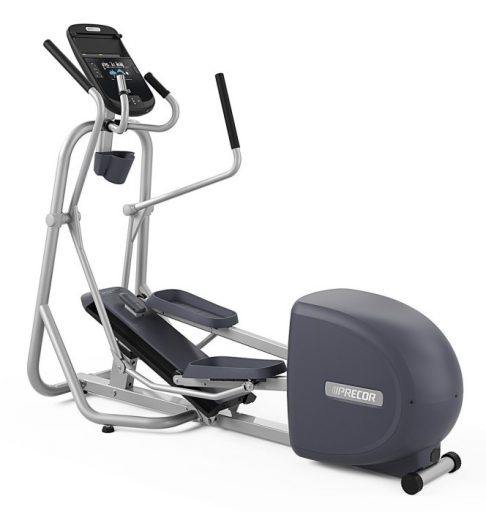 Product: Precor EFX 245 Elliptical Trainer
Price: For a great deal on this elliptical, merely go here on Amazon
Warranty: Frame and welds lifetime / Parts and wear items five years / Console 3 years / Labor 1 year
My rating: 9.6/10
Affiliate Disclosure: As an Amazon Affiliate Program participant, I earn commissions on purchases made through links in this post. Full disclosure
Details and Specifications
Precor Cross Ramp technology adjusts the shape of the elliptical path your feet travel so you can target specific muscles.
The patented elliptical path perfectly mimics a natural running stride, allowing exercisers to keep their heels down and maintain proper biometrics.
Built-in Work Out Accelerators suggest ways to get more out of your workout.
Workout data can automatically upload to the Preva mobile app to track your goals and achievements.
CrossRamp Movement: Motorized variable
CrossRamp Elevation Range: 15° – 25°
Heart Rate Monitoring: Touch sensor and wireless with any Polar compatible chest strap transmitter
Number of Workout Metrics: 27
Preset Workouts: 24
User IDs: 4
Resistance System: Magnetic
Resistance Levels: 16
Console Display: 7-inch color LCD graphics display
CrossRamp & Resistance Controls: Lever style Motion Controls
Maximum user weight: 350 lbs
Product weight: 214 lbs (80 kg)
Length: 76 inches / 193 cm
Width: 29 inches / 74 cm
Height: 65 inches / 165 cm
Power requirements: U.S. & CANADA 120V, 50/60 Hz
Warranty: Frame and welds lifetime / Parts and wear items five years / Console 3 years / Labor 1 year
EFX 245 Overview
You can't talk about elliptical machines without mentioning Precor. Precor introduced the first rowing machine in 1980, the first treadmill in 1990 and 1995, the first elliptical machine, the Precor Elliptical Fitness Crosstrainer (EFX). They still use the EFX designation to this day.
You've probably used a Precor machine if you've ever worked out at a gym or a hotel or spa. These machines are everywhere and for a good reason. They are incredibly high quality, well-engineered, constructed, designed, and built with different users in mind, loaded with great features and capabilities.
Thus, their ellipticals are no exception. And the great thing is that the residential versions are just as good as the commercial versions, so you're genuinely getting a gym-quality machine for home use.
If there's anything negative to be said about Precor ellipticals, which is not a negative but more drawback, the machines are costly. The cheapest home elliptical they make is around $2,000 (the EFX 221), and they work their way up to over $5000 for the EFX 447.
So these are by no means entry-level machines and are out of reach for many of us. Are they worth the price? Yes. Do you need to spend $2,000 and up to get a perfect elliptical? No, you don't, but it's one of the best elliptical machines you can buy if you have the budget for it.
Precor CrossRamp Technology
The EFX 245 elliptical is one of the two machines in the Energy Series to offer a motorized incline instead of a manual. The CrossRamp feature allows you to train with all the benefits of a front-driven elliptical. While at the same time keeping the flywheel out of the way at the back.
This has given Precor the ability to shift the pedals forwards and create a more natural upright running posture that lets you increase your workout intensity without any unnecessary strain on your knee or ankle joints.
In terms of the elevation range, this is kept the same throughout the series. The only difference is in the increments' size, with the Precor 245 offering eight compared to the three provided by the ellipticals with a manual incline.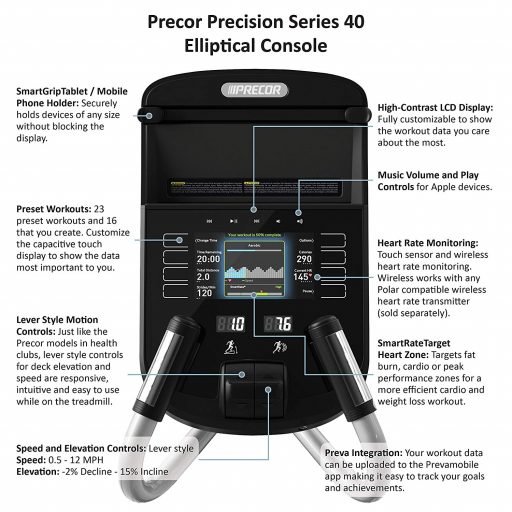 However, due to the change in display console software and design, you can't adjust the maximum CrossRamp setting and pause time the same way you could with the earlier 221 and 225 models.
With the 245 models, Precor has chosen to remove these options that allowed you to override this maximum and set your value, providing you kept it below the 25-degree limit. However, you can still adjust the default workout duration and units of measurement.
EFX 245 Console design
If you were to compare the Precor 245 with the earlier 225 models, you'd notice one of the most significant differences in the display console design. Instead of relying on button presses to adjust the CrossRamp incline and resistance level, you have a set of responsive motion controls, which are much easier to use.
The 245 is also the only elliptical in the Energy Series range to incorporate a touch screen. Furthermore, a series of buttons can directly control the music playing from your MP3 player.
Note: The playback controls above the display screen will only work in conjunction with an Apple device.
Multimedia connectivity
The Precor 245 also includes a reading tray at the top of the console, supporting your iPad, iPhone, or iPod. Any of these devices can then be held securely in place using the SmartGrip holder and connected to the console via the USB port concealed at the console's back.
This USB connection is different from the input jack you would find on earlier Energy Series ellipticals and allows for software upgrades and connecting multimedia devices.
Button functions
The buttons on either side of the main display allow you to enter personal information (weight, age, etc.) in much the same way as the standard buttons on the 221, 222, and 225 models.
However, rather than labeling these buttons with any set names, each button's face remains blank. This is because their functions will change depending on which screen you're currently using.
Which function each button performs will instead be shown on the actual display screen. As with the 225, you also have a set of small displays that act as level indicators, keeping you informed of the current incline level and resistance setting.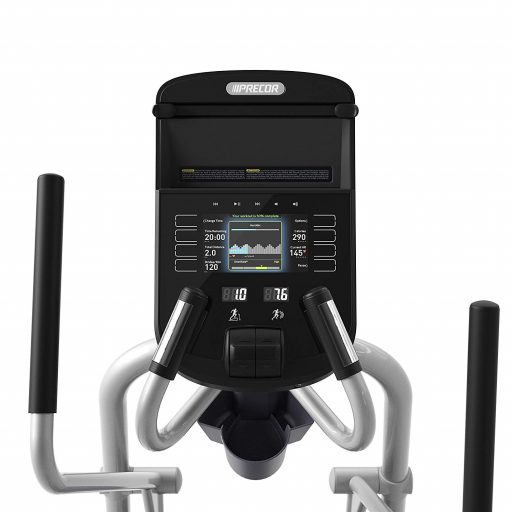 Workout feedback metrics
One of the main benefits of switching between different interactive screens is displaying additional workout information. Whereas the earlier Energy Series ellipticals were limited to mostly time, calories, heart rate, and distance-based metrics, you now have 14 other types of feedback.
The complete list includes Time Elapsed, Time Remaining, Segment Time, Finish Time, Total Distance, Total Strides, Elevation Gain, Distance Remaining, Strides/Min, Avg Strides/Min, Calories, Calories/Min, Calories/Hr, METs, Watts, Current Heart Rate, Current Heart Rate Zone, Average Heart Rate, Max Heart Rate, Target Heart Rate and Time in Heart Rate Zone.
While most of these are relatively self-explanatory, I was surprised to find Precor had included METs (metabolic equivalents). If it's not something you've come across before, METs is essentially a concept that expresses the actual cost of activities as a multiple of your resting metabolic rate.
This makes it a valuable way to measure your workout's intensity, particularly as running in place is one of the highest-ranking activities on the MET scale.
User profiles and SmartRate Heart Rate Tracking
If you're going to be the only one using this machine for your workouts, then you probably won't notice much of a difference. However, having four user profiles available does make it an ideal option for small groups and families.
This is because storing your weight and age against your user will result in workout feedback that's much more accurate. Thus, even if you are the only person using this elliptical, you can still benefit from multiple user profiles.
If you want to take advantage of the preset Heart Rate Controlled (HRC) workouts, you can choose between touch (heart rate hand sensors) and telemetry (chest belt) transmission.
This will also provide feedback on which heart rate zone you are currently in via the SmartRate Zone Bar. Which of the four zones your heart rate falls into is determined by your current heart rate range.
Having such a clear visual indication on the screen makes it much easier to adjust your workout intensity to a level that keeps you within your target range.
EFX 245 Preset workout programs
Whether you're just starting your first fitness routine or are looking for a high-quality elliptical that will withstand years of workouts, one of the most important things you can do to ensure you achieve your goals is keeping your training varied.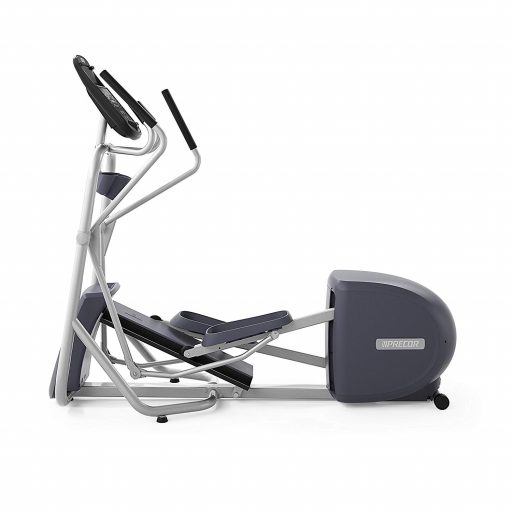 Fortunately, the number and variety of workout programs are another of the areas that Precor has improved. As the highest spec machine in their EFX Energy Series, you can choose from 24 preset workouts instead of 10.
Fitness test
Also, for the first time, a fitness test has been included. Specifically, this has a multi-stage test for measuring your current fitness level, which gradually increases in intensity to determine your maximum aerobic capacity.
Once the test is complete, a score will be displayed, which relates to each age group's specific fitness level. This is a way of measuring future improvements in your fitness.
EFX 245 Workout categories
In terms of the core workout programs, Precor has divided these up into five categories.
Be Fit (8 programs) –
This is the category that contains most of the workouts you may recognize. These include various intervals, Rolling Hills, Hill Climb, and Mountain Peaks. The ranges in this category are your best option for improving aerobic and anaerobic fitness, with the hill and mountain programs designed to simulate running over uneven terrain outdoors.
Lose Weight (4 programs) –
As the name suggests, these are workouts based almost entirely on optimizing fat loss. They include an interval (4 minutes of rest followed by 3 minutes of work), Fat Burner, and Precor's Aerobic program. These maintain a steady-state, lower-intensity exercise level to keep your heart rate in the most efficient range for burning calories.
Push Performance (3 programs) –
It contains the main Heart Rate Zone workout that takes advantage of the SmartRate feature and two reverse interval programs (more extended work periods than rest periods). These three programs improve lower body muscle groups' strength, including your calves, hamstrings, and quads.
Get Toned (4 programs) –
These are glute toning and leg sculpting programs to improve muscle tone and endurance.
Go the Distance (3 programs) –
Three programs are ideally suited to anyone that likes to train to specific distances. In this case, the ranges you have to choose from are 1 mile, 5K, and 10K. The display screen's segment bars represent 200 meters of distance for these controlled distance workouts instead of the usual 1 minute.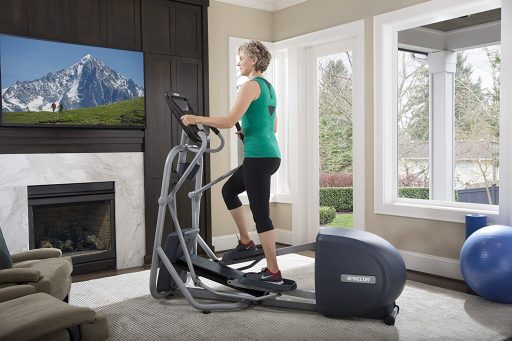 Preva workout tracking integration
The Precor 245 is the first time I've experienced a performance track missing from the earlier three models. This not only allows you to track your performance but also set daily and weekly goals, monitor lifetime totals and earn badges for specific achievements.
"Preva Workout Tracking Software"  is an app available from both the App Store and on Google Play. In particular, it's for logging fitness activities that could count towards your goals.
EFX 245 Ease of assembly
Being one of the larger pieces of fitness equipment for home gyms, it can often take several hours to get the machine set up the first time. However, Precor has pre-assembled as much as possible for you without impacting the cost of shipping.
Therefore, most of the assembly is (done) at the actual factory. The remaining setup is in the accompanying user manual. It provides complete instructions and exploded diagrams to walk you through the remaining steps.
Once you have all the parts unpacked, you'll need to attach the left and right stabilizers, console bracket, console, and handles. Thus, resulting in a necessary assembly time of fewer than 60 minutes.
Note: The tablet in the image does not come with the machine.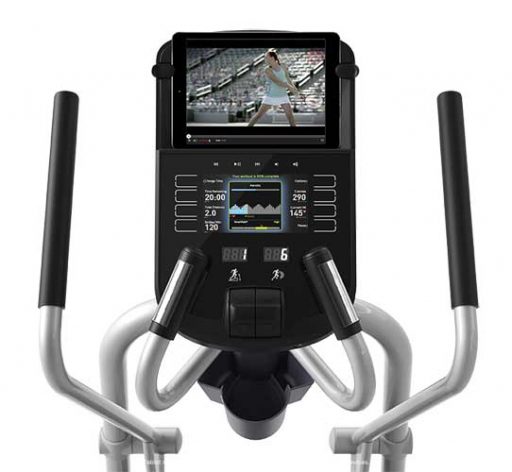 Pros
Touch screen with a three-year warranty
Four user profiles
Motorized incline (Eight levels from 15 to 25 degrees)
Moving armbars
Reversible motion
25 preset workout programs
16 user-designed programs
Personalized workout suggestions
Weekly fitness summaries
16 resistance levels (10 watts to 550 watts)
Quiet performance (Magnetic resistance)
iPod/iPhone compatible (On-screen controls)
Headphone jack
Smartphone charger (Android/iOS)
Tablet computer holder
Wireless heart rate monitoring
Contact heart rate monitoring
13 data points
Metric and standard data choices
Water bottle holder
Accessory holder
Good warranty
Great customer service from Precor
Cons
No workout fan
Luxury price
Delivery costs extra
Not foldable to save space
Precor EFX 245 Elliptical Trainer Summary
When you consider the number of workout programs – both custom and preset, the full range of incline settings, the syncing of workout data to the Preva mobile app, and the many other innovative technologies, I feel it is amongst the best in its class.
Suppose you are looking for an elliptical that supports multiple users' workouts where necessary, with a wide variety of exercises, and promotes a natural running position thanks to its variable stride geometry. In that case, you won't be disappointed with this machine.
I hope you found this article helpful and informative. If you have anything you'd like to share or opinions about the content on my site, please speak up. I look forward to your comments, questions, and the sharing of ideas.