The Total Gym XLS Home Gym Plus AbCrunch Bench is a conventional body workout system. It recreates and strengthens how your body executes daily physical activities and stores those functions in your muscle memory. It's a small home gym and bodyweight training system. It has 80+ exercises for a complete training experience.
The XLS home gym is set up quickly right out of the box and has a durable and stable construction. It can support up to 400 lbs, including body weight and any weight you might hold for extra resistance.
The XLS AbCrunch attachment provides ten additional exercises to strengthen your core muscles. It targets every inch of your abdominals without the discomfort of sit-ups or crunches. The machine also comes with the Total Gym AbCrunch Workout DVD to guide you to a tighter, stronger midline.
Discover how easy it is to get fit and stay in shape with the Total Gym XLS home gym! Endorsed by Chuck Norris & Christie Brinkley, the Total Gym XLS comes complete with a fitness program of workouts and workout tools to take all the guesswork out of getting into shape.
Learn more in my complete review below!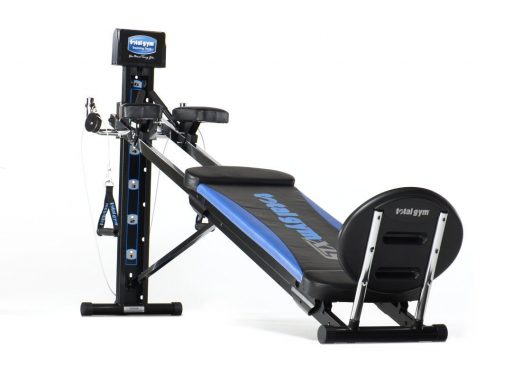 Product: Total Gym XLS Home Gym Plus AbCrunch Bench
Price: For incredible deals on this gym, merely go here on Amazon
Warranty: Frame lifetime/Parts 6 months
My rating: is 9/10
Affiliate Disclosure: As an Amazon Affiliate Program participant, I earn commissions on purchases made through links in this post. Full disclosure
Details and Specifications
Length: 90 inches
Height: 43 inches
Width: 19 inches
Product Materials: Steel and plastic
Product Weight: About 85 pounds
Weight Limit: Supports up to 400 pounds
Folded Dimensions: 19″ width x 51″ length x 9″ height
XLS Plus Overview
With Total Gym's top-of-the-line model, you'll receive the highest quality home gym with unbeatable savings. In addition, the XLS features a 400 lb weight capacity for total strength and stability.
The Total Gym XLS includes five workout DVDs, an exercise wall chart, a training deck, and a nutritional program/meal planning guide. Exercise capability: over 80+ exercises target all muscle groups for cardio, strength training, and stretching, all on one exercise machine.
The Total Gym XLS recreates and strengthens how your body executes daily physical activities and stores those functions in your muscle memory. The Total Gym universal home gym works for multiple muscle groups and allows you to train more productively, delivering the optimum functional training experience.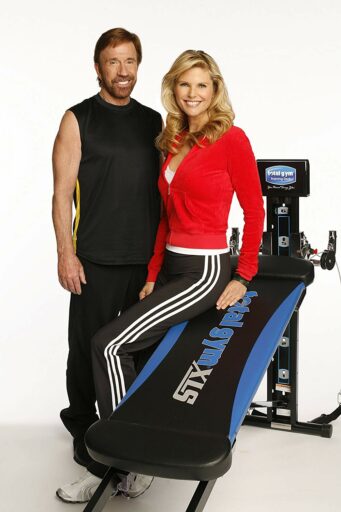 The result is full-body conditioning and extraordinary results at every level – from the beginning exerciser to the elite athlete. In addition, more than 4 million consumers trust the Total Gym brand to provide excellence in product design and functionality.
Exercise Options:
The Total Gym XLS with AbCrunch home gym can give 80+ exercises. It includes the AbCrunch Bench Attachment, Leg Pull Accessory, Ribbed Squat Stand, Wing Attachment, 5 Workout DVDs, Exercise Chart, Training Deck, and Nutritional/Meal Planning Guide.
The Total Gym XLS promises to provide you with all you need to achieve any exercise routine you might have in mind. In addition, the machine offers over 80+ different exercises that can target various body parts. So you can work out your muscle groups (or just the ones important to you) with the system's superb versatility.
In my opinion, one of the machine's best features is its intuitive resistance adjustment settings. The XLS home gym allows users to set the resistance to meet a specific percentage of their body weight. This way, you won't do more than your body can manage. Plus, this prevents a lot of potential injuries from occurring.
XLS Plus Features:
Innovative design features with 80+ exercises with included AbCrunch
1 1/4″ X 2″ steel tubing construction (with chrome-plated upper rails and black powder-coated lower rails)
Six resistance levels (6 to 26 degrees and 6% to 54% of body weight)
Easy storage (rails fold into ladder and rollers onto the base)
1,000 lb vinyl coated cables and soft synthetic rubber padded handles with ABS swivel and nylon webbing for hammer grip action
Upgraded pulley system with the chrome-plated case with plastic pulley wheels and sealed precision ball bearings
1.5″high-density foam padding on glide-board
Weight capacity: 400 lbs
XLS Plus shipping and assembly:
Shipping costs will vary depending on where you purchase and what type of delivery you request. However, some retailers, such as amazon.com, may provide free shipping.
The Total Gym XLS has another advantage over its competitors regarding assembly. This fitness system is ready to go straight out of the box. All you need to do is fold it down and set it up where you want to place it. Thus, it is a particular benefit that improves user-friendliness even more.
There are some easy-to-follow instructions on folding and unfolding the machine, but no assembly is required. Instead, this home gym quickly folds up for secure storage under the bed or in a closet.
Pros
Extremely versatile, allowing anyone and everyone in your family to start their fitness journey.
It allows up to 80+ different exercises that target all muscle groups.
Capable of cardio, weight training, circuit training, and stretching.
No-assembly design lets you start your workout as soon as you unpack.
It has various additional workout materials to help you discover the proper routine for your needs.
It has a weight capacity of up to 400 pounds, significantly higher than other similar machines on the market.
Cons
The warranty on parts is pretty short at just six months.
Total Gym XLS Home Gym Summary
If you're looking for a bodyweight home gym that can provide a full-body workout, the Total Gym XLS Home Gym with AbCrunch Bench is the ultimate choice. The design provides you with over 80+ different exercises and a plethora of DVDs to walk you through workout programs.
The Total Gym XLS home gym is an excellent, solidly constructed machine, and you're never going to wear this home gym out. It has quality components that provide smooth movement and comfort — highly Recommended!
I hope you found this article helpful and informative. Would you please speak up if you have anything you'd like to share on the topic or any opinions about my website? I look forward to your comments, questions, and the sharing of ideas.
Please remember that you should consult your physician to determine if you have any medical or physical conditions that could risk your health and safety or prevent you from using the equipment properly. In addition, your physician's advice is essential if you are taking medication that affects your heart rate, blood pressure, or cholesterol level.