Are you looking for a total body workout, but you're on a budget? The Bowflex Xtreme 2 SE home gym includes a two-position adjustable lat tower, a four-position lower pulley squat station, and a no-change cable pulley system. These components will develop strong legs, flat abs, toned glutes, and sculpted chest and arms.
It's a versatile trainer with 70+ exercises and numerous enhancements, including 310 lb and 410 lb Power Rod upgrades. Perfect for users looking to get tough or buffed. The workouts concentrate on problem areas such as the triceps, biceps, wrists, hips, calves, and lower back muscles.
There is also an ab crunch shoulder harness to give a more exceptional workout to your abdominal muscles. If that's not enough, stay motivated, thanks to the lat tower with an angled lat bar and a 4-position lower pulley/squat station. Whew! It truly is an entire gym crammed into a single home machine.
Bowflex's Power Rod technology also provides all the benefits of free weights without the risk of joint injuries. And because the Power Rods are the highest quality composite material, the rods will never wear out (or at least you will wear out long before the rods do).
Learn more in my complete review below!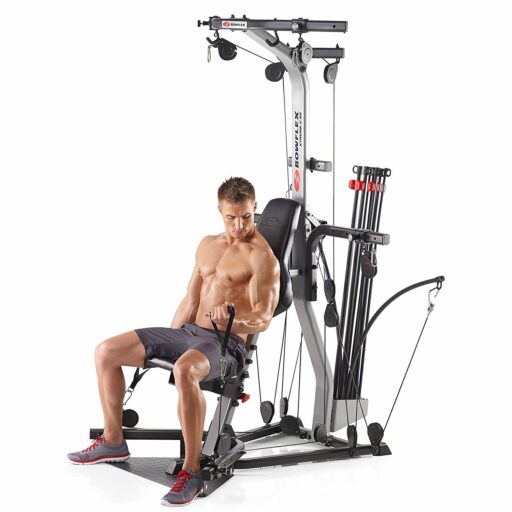 Product: Bowflex Xtreme 2 SE Home Gym
Price: For a great deal on this gym, merely go here on Bowflex
Warranty: Power Rods Lifetime/Machine 7 Years (excluding ordinary wear and tear)
My Rating: 9.25/10
Affiliate Disclosure: As a Bowflex Affiliate Program participant, I earn commissions on purchases made through links in this post. Full disclosure
Details and Specifications
70+ exercises for your total body workout;

a no-change cable pulley system;

5-way hand grips/ankle cuffs;
Resistance Power Rods;
210 lbs. (up-gradable to 310 pounds. and 410 lbs.);
Seat: Bench (Adjustable);
Maximum User Weight: 300 lbs;
Dimensions: Length: 4′ 10″ / Width: 4′ 1″ / Height: 6′ 11″;
Gym weight: 185 lbs;
Warranty: Power Rods: Lifetime (excluding normal wear and tear) / Machine: 7 Years.
2 SE Frame Construction
As with everything that comes out of the Bowflex factory, the Xtreme 2 SE is a high-quality product. Heavy-duty steel framing will ensure that you always work from a stable, secure base. In addition, the power rods themselves are substantial, so you will not have to worry about them splitting or breaking.
The Bowflex Xtreme 2 SE utilizes seven cable pulley positions supporting over 70+ other upper and lower body exercises. In addition, starting at the top of the frame, you have the lat pulldown bar, which can be used for various back and triceps exercises.
Further down the machine is a feature unique to the Xtreme 2 SE. The mid-range pivot point lets you clip on a set of cable pulleys and attachments to perform various exercises that aren't possible with other Bowflex home gyms. But the foremost collection of pivot points for the cable pulleys is positioned just above the back support, ideally placed for chest press and shoulder press exercises.
The unique 5-way hand grip/ankle cuffs of the Bowflex Xtreme 2 SE add flexibility and performance to any workout. The functions include a Regular Grip, Non-Grip Cuff, Ankle Cuff, Foot Cuff, and Shoulder Cuff.
Dictate your angle of resistance with multiple cable and pulley positions for added effectiveness to many exercises. The possibilities of what you can do with this machine are almost endless!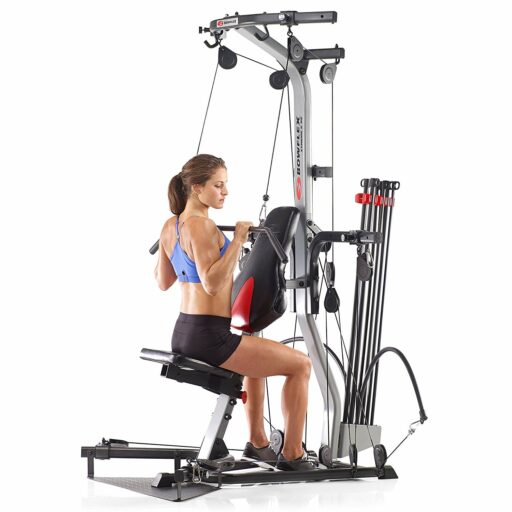 The Bowflex Xtreme 2 SE is an amazingly compact home gym equipment, given the vast range of exercises you can do. You will need a workout area of just 8′ x 6.5′ to do everything this machine offers.
Seat
The seat on the Xtreme 2 SE is well-padded, comfortable, and stylish. It is the familiar red and black, which is indicative of the Bowflex brand. Dense-duty polyurethane foam ensures you are correctly positioned ergonomically and as comfortably as possible.
In terms of the adjustability of the seat, you can quickly switch between different height positions. It's even removable from the frame if you want more space to perform standing-up exercises.
With the seat attached, you have the apparent benefit of the leg developer for extra leg exercises and the contoured padding for comfort.
2 SE Power Rods
The Xtreme 2 SE provides 210 pounds of Bowflex power rod resistance. This is the standard resistance provision on most Bowflex home gyms. You can increase this resistance to 310 or 410 pounds, but you will have to pay for the extra power rods.
The 210 lb of total resistance comes in the form of the following:
2 x 50 lb rods
2 x 30 lb rods
4 x 10 lb rods
2 x 5 lb rods
The power rod system's significant benefit is that it provides comparable resistance to a free workout without the actual weight. That makes for a gym that is much lighter and much safer to use.
The power rods are locked in place at the rear of the gym and do not move. They provide resistance for every exercise you perform on the Xtreme 2 SE. You'll have to attach one or more rods to the appropriate cable for that exercise.
The power rods allow you to go up in resistance by increments of five pounds. This is a significant advantage as it will enable incremental progressive resistance. In addition, the power rod resistance system works similarly to a bow and arrow. That means the opposition is not static, as when you lift a barbell.
When you exercise with the power rods, the task gets more challenging as you progress through the repetition. So, if you are doing a chest press with 100 pounds set on the power rods, the first third of the movement will see you pushing around 30 pounds.
In the second third, you will drive approximately 80 pounds, and in the final third, you will be pushing around 100 pounds.
I want to point out that the resistance changes as the rod is bent farther down. So if you are a stickler for knowing EXACTLY how much weight you are lifting, you may be disappointed with the uncertainty.
Exercise Range
Bowflex gyms have a reputation for offering a lot of exercise options. They advertise this gym offers over 70+ exercises, and they back it up by giving you 73 workout examples in the owner's manual.
And what I find most impressive is that they don't just list the exercises; they provide a detailed explanation of each. Furthermore, a comprehensive picture of the task is (provided).
The Xtreme 2 SE provides you with a revolutionary no-change cable pulley system. This is a big deal as it allows you to move from one move to the next without downtime.
So, you can go directly from squats to bench presses to biceps curls without interrupting your workout. Therefore, it allows you to maintain your pump and stay within your training heart rate zone.
The Xtreme 2 SE provides a lat tower and an angled lat bar with ergonomically ideal positioning to work your back muscles. In addition, you can do all of the extensive gym exercises on this machine, including squats, deadlifts, and bench presses.
You can do several vertical bench exercises revolving around the Bowflex Xtreme 2SE. These include the vertical bench press, the rear delt press, and the pec dec fly. This is one of the complete exercise ranges I have come across.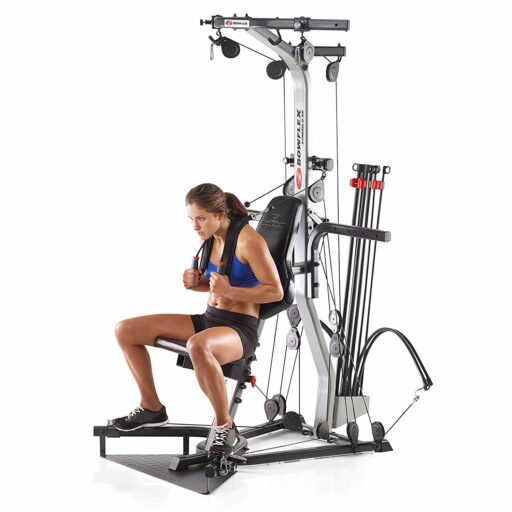 A four-position low cable station allows you to perform various cable exercises to work your muscles from multiple angles. You can also perform leg extensions and curls on the Xtreme 2 SE.
Included attachments
The Xtreme 2 SE comes with the following accessories:
Multi-use hand grip/ankle cuffs
Angled lat bar
Squat bar
Ab harness
Leg developer
All the attachments necessary to perform these 70+ exercises come with the purchase. This gym offers a ton of exercise variety, an excellent way to keep your workouts fresh and entertaining. You can get a great full-body workout with this machine, no question about it.
Accessories
You can also purchase additional equipment to extend the exercise range even further. This includes a biceps preacher curl attachment and an ab curl attachment.
2 SE Assembly and Maintenance
Most users agree that assembly is pretty straightforward. There are many pieces involved in this gym, but Bowflex has some of the best assembly instructions I've ever encountered. Each page is a separate step with a large illustration.
I also love that the directions specifically tell you which pieces, hardware, and tools you'll need for every step. They also include additional notes with tips to make assembly run smoothly throughout the instructions.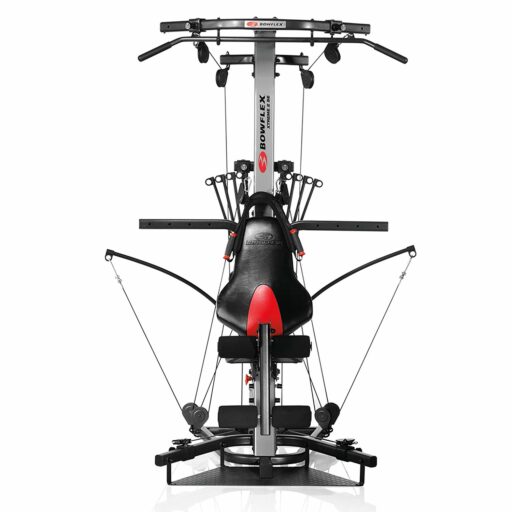 All of the required tools for assembly do not come with the machine. The Allen wrenches do, but you will need screwdrivers, socket wrenches, and cutting tools to get this job done.
Overall, most users can assemble the Xtreme 2 SE in 2-4 hrs, depending on your handiness and the availability of assistance. This is a complicated gym, but Bowflex's instructions are excellent.
To keep your Bowflex Xtreme 2 SE Home Gym in tip-top shape, use a non-abrasive cleaner to wipe off the sweat from the bench after every use. It would help if you also kept an eye on worn-out components before starting to work out.
Tighten loose screws and check the cables and harnesses to ensure they'll not give in once you start your sets.
Pros
Patented Power Rod resistance;
70+ exercises with more variations supported;
210 lbs. of resistance (upgradable to 310 lb. or 410 lb.);
Seat bench adjusts to individual preference;
Lifetime coverage on Power Rods (Excluding normal wear and tear); 7 years on the machine;
Bowflex Body Plan included;
It includes an Owner's Manuel and Fitness Guide.
Cons
Assembly will take 2 to 4 hours;
Some customers complained about the noisy operation.
Bowflex Xtreme 2 SE Summary
The Bowflex Xtreme 2 SE is the most impressive home gym to yet come out of Bowflex. It provides the most exercises, the fastest change between uses, and the most durable, comfortable machine.
The Bowflex Xtreme 2 SE is an excellent addition to any home gym. Its most prominent feature is the revolutionary no-change system, which allows you to rush from one use to the next to maintain your workout pace. Moreover, this is one of the most versatile and challenging resistance training machines on the market.
I hope you found this article helpful and informative. Please speak up if you have anything you'd like to share on the topic or opinions about my website.? I look forward to your comments, questions, and the sharing of ideas.
Please remember that you should consult your physician to determine if you have any medical or physical conditions that could risk your health and safety or prevent you from using the equipment properly. In addition, your physician's advice is essential if you are taking medication that affects your heart rate, blood pressure, or cholesterol level.