The solid construction of the Stamina Body Trac Glider 1050 will give you a comfortable and stable workout. This rower has oar-like handles that give you a full range of motion to mimic the action of rowing on a boat. The unique design allows for a full-body, effective workout for every major muscle group – including the back, legs, arms, abs, and glutes.
The thing I like about hydraulic piston rowers is that they are usually quiet when in use. The adjustable gas shock that this rower uses for resistance is conveniently located just under the rower's seat so that you can adjust the resistance level when working out. There are 12 different levels to choose from, so people at all different fitness levels will have a challenging workout.
The Stamina Body Trac 10 features an easy-to-read LCD monitor and displays your workout time, stroke count, calories burned, and total strokes accumulated. When you want to increase or decrease the intensity of your stroke, adjust the hydraulic cylinder.
For extra support and stability, the BodyTrac Glider moves along a smooth ball-bearing roller system. It includes features to enhance your comfort, including textured footplates with straps, a molded seat, and padded hand grips. Fold the arms after you've completed your workout for an easy way to save space.
Learn more in my complete review below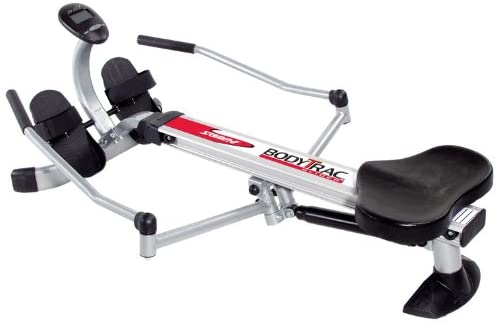 Product: Stamina Body Trac Glider 1050
Price: For a great deal on this rower, merely go here on Amazon
Warranty: Frame 1 year / Parts 90 days
My rating: 8/10
Amazon Affiliate Disclosure: I may earn commissions on purchases made through links in this post.
Details and Specifications
Assembled dimensions: 58.25L x 42.5W x 18.12H inches (148L x 108W x 46H cm)
Assembled weight: 39 lbs (17.7kg)
Supported weight: 250 lbs (113 kg)
Frame: Steel and aluminum
Footrests: Pivoting, with straps
Resistance type: Hydraulic, adjustable, 12 levels
Fitness console: Yes
Warranty: Frame 1 year / Parts 90 days
1050 Frame
To begin with, the Stamina Body Track 1050 rower combines steel with aluminum parts within its construction. The bases, arms, pivot connector, and console tube are made of steel, while the gliding rail is aluminum made.
The frame also incorporates several plastic parts, such as the rear stabilizer, the securing caps of the machine's arm joints, seat stoppers, and footrests. The steel parts are painted with silver, anti-corrosive paint, while the aluminum seat rail is corrosive resistant itself.
Overall, the machine doesn't have a large footprint than a long air or magnetic rower. It only takes 58.2″L x 42.5″W (148 x 108 cm) of floor space, which makes it ideal for use in a small room. On top of that, the frame is foldable. The machine's arms fold under the rail, which cuts a lot from its width and height.
When folded, the height given by the console is 10″ (25.4 cm) while its width is around 23″ (58.4 cm). The length remains the same; however, you can store it under a bed if there is more than 10″ clearance under it. The folded machine is storable vertically, resting on the meter bar and the front base.
The gliding rail length can accommodate users between 4'11" and 6'2 ″ (150 – 188 cm). Taller users than 6'2 ″ may not benefit from a full leg extension, depending on their inseam length. In comparison, shorter users than 4'11" may not have a leg span sufficient to complete the rowing motion correctly. In other words, this is a relatively small rower, with a limited range of motion.
Seat
The seat supplied with this rowing machine is quite spacious, 14.5″ (36.8 cm) wide, and 9.5″ (24.1 cm) long. It's a contoured seat, padded with synthetic leather, but it does not feature any cushioning. In other words, it's a rather hard seat. The seat glides on ball-bearing rollers, offering quite a smooth glide for users up to 220 lbs (100 kg).
While the machine has a 250 lb maximum user weight, a user heavier than 220-225 lbs (100-102 kg) will experience a slightly less smooth glide of the seat, and the wear and tear of the rollers will be higher.
1050 Arms
The rower's arms consist of two parts each, attached to the rail and resistance cylinder in a manner to simulate the rowing of a real boat. The more delicate parts of the arms are pivoting and rotate independently. This adds a bit of flexibility to the rowing motion, rather than the full, rigid motion offered by rowers with a pulling cord or chain.
The grips on the handlebars come equipped with rubber foam covering. Thus, eliminating stress on the palms and the formation of blisters.
Footrests
Finally, the rower's footrests are made of durable PVC, featuring a pivoting design, allowing you to adopt the foot angle that feels best for you during a workout. They feature heel guards and adjustable straps to secure feet in place.
1050 Resistance system
The resistance system of the Body Trac Stamina Glider 1050 is pretty simple. It involves one hydraulic cylinder, attached under the gliding rail and connected to the arms. As you pull the handlebars and extend your legs, the cylinder extends, generating resistance.
The machine's resistance is constant. In other words, it doesn't vary with how much strength you put behind each rowing motion, as in air or water rowing machines. But on the other hand, this rower offers 12 levels of resistance. There is an adjustment knob on the cylinder, which facilitates the adjustment.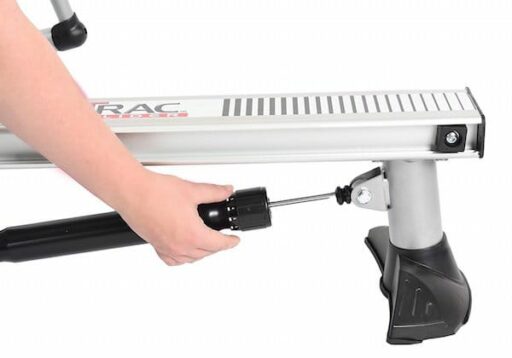 The first three levels provide a light tension, great for users who must undergo a recovery training regimen. The top resistance levels, on the other hand, aren't too extreme. Overall, this rower can offer light to medium workouts.
One important aspect to cover here refers to the heating of the tension cylinder. As it heats up, the resistance will decrease slightly, and you might feel the need to re-adjust. Therefore, it's a good idea to start on a low setting, then after 5 minutes of rowing, to add more levels.
Console
The performance monitor, or the meter, is far from being a sophisticated unit. It's one of the most basic models that you can find for this type of fitness equipment. It tracks time, calories, count, and total count. However, it does not track distance, speed, and pulse.
It's relatively easy to operate, featuring only one button. By pressing the button, you can select what value to display on the screen at all times. Or, you can choose the SCAN function, which will cycle throughout all the values, showing each one for 6 seconds, then moving to the next.
It features only one button. To reset all the values to 0, except the Total Count, you need to press and hold down the button for 2 seconds. The total count resets after the removable of the batteries.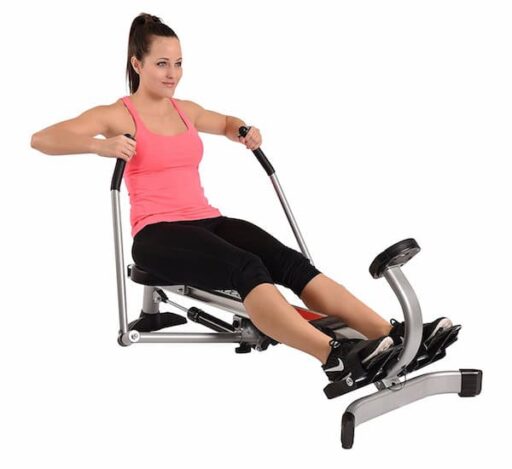 The fitness console starts when it detects seat movement and automatically shuts off after 4 minutes of inactivity. The console is battery operating, requiring two AA-type batteries. However, they do not come with the rower.
1050 Assembly and Maintenance
The machine is easy to assemble. The tensioning cylinder and the arms are pre-assembled to the mainframe. You only need to attach the front and rear bases, footrests, seat, console arm, and console, and of course, connect the movement sensor wire.
A copy of the owner's manual is included in the box, offering pretty clear assembly instructions. Also, the tools required for assembly come with the machine.
Maintenance doesn't require much. Like any rowing machine, the seat rail needs periodic cleaning, as dirt fragments can cause nicks into it, leading to roller damage. Also, in case the joints of the machine become squeaky, lubrication can solve the problem.
As you receive the product, you need to register it online (or via mail) to enact your warranty.
Pros
Natural rowing action, simulating the use of oars;
Sturdy construction, well-built frame for a low capacity rower;
Foldable design;
Lightweight, easy to transport;
Low profile rower, small footprint;
Full gliding rail, enhancing seat stability;
Adjustable resistance;
Pivoting footrests, with straps;
The fitness console comes included;
Quiet machine;
Easy to assemble;
Little maintenance required;
Affordable.
Cons
Limited range of motion, not for users taller than 6'2″;
The seat doesn't have any cushioning;
Feet may slip off the footrests if not appropriately secured with the straps.
Body Trac Glider 1050 Summary
The Stamina Body Track Glider 1050 is a rowing machine designed for light to medium training. It's not a machine for professional rowers. Still, on the other hand, it's a machine that can supply an excellent aerobic workout, being great for muscle toning, stamina building, recovery training, and losing some weight.
Like most rowing machines, it's an excellent choice for elderly users as it eliminates an integral part of the joints' impact. It is a rowing machine made for home use, and for its price, it offers excellent value.
I hope you found this article helpful and informative. If you have anything you'd like to share or any opinions about my website, please speak up. I look forward to your comments, questions, and the sharing of ideas.