The Schwinn IC4 Indoor Cycling Bike comes equipped with Schwinn's best performance components for indoor home cycles. Furthermore, the IC4 has excellent ergonomics, from the SPD pedals to ergonomically designed 4-way adjustable handlebars and seats.
The adjustable resistance allows you to choose between high-cadence cycling sessions, bump up the resistance, and work up your strength. The IC4 bike combines a quiet belt drive system with micro-adjustable magnetic resistance technology to help you reach your training goals and shed weight without disturbing your family.
The Schwinn IC4 Indoor Cycling Bike has a backlit fitness monitor to track your progress. The IC4's LCD monitor displays your current resistance level, time, speed, calories, and pulse and measures your cadence using the monitor's RPM function. In addition, you can set up the monitor for specific calorie, distance, and time goals. It also includes a recovery program.
Support your long-term fitness goals with personalized, real-time coached workouts that automatically adjust as your fitness improves. JRNY Membership is required. Round out your fitness with world-class trainers who inspire you mentally and physically with whole-body strength, cardio, and more.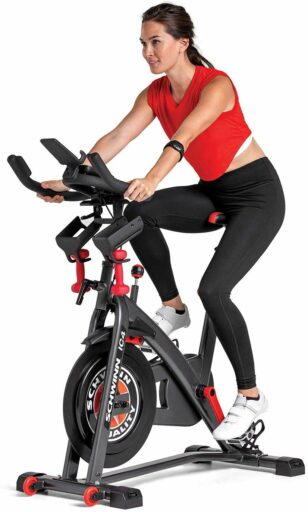 Learn more in my complete review below!
Product: Schwinn IC4 Indoor Cycling Bike
Price: For a great deal on this bike, merely go here to Schwinn Fitness.com
Warranty: Frame 10 years / Electronics 3 years / Parts 3 years / Labor 1 year
My rating: is 9/10
Affiliate Disclosure: As a Nautilus and Schwinn Partner Program participant, I earn commissions on purchases made through links in the post. Full disclosure
Please note the tablet pictured in some images does not come with the bike.
Details and Specifications
Assembled dimensions: 48.7″L x 21.2″W x 51.8″H (124L x 54W x 132H cm)
Assembled weight: 106 lbs (48.1 kg)
Flywheel weight: 40 lbs (18.1 kg)
Supported weight: 330 lbs (150 kg)
Handlebars: 4-way adjustable
Seat: 4-way adjustable
Drive mechanism: Belt
Resistance: Magnetic, 100 levels
Fitness Monitor: RPM, time, calories, speed, distance, level, pulse, goals, Bluetooth
JRNY membership: 1-year free membership included with your purchase (a $149.00 value)
Extras: Bottle holders, tablet holder, pulse band, dumbbell set
Warranty: Frame 10 years / Electronics 3 years / Parts 3 years / Labor 1 year
IC4 Frame Construction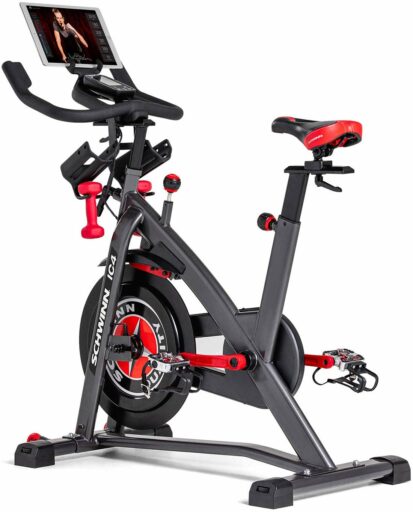 The Schwinn IC4 Indoor Cycling Bike features a heavy-duty steel frame designed for spin workouts. Most of the tubes in its construction come ovalized for a smooth aspect, except for the handlebar tube, which is polygonal. The bike's frame has a standard triangular shape. However, the primary and longitudinal base tubes curve slightly for added sturdiness.
Of course, the bike also has several ABS parts in its construction. For example, the brake pad cover, the drive belt cover, and the flywheel's side covers are made of solid ABS material.
All the steel parts within the frame come double-coated with a corrosion-resistant and chip-resistant paint finish. The color used is dark gray, except for the seat post, handlebar post, and flywheel black.
The bike has a fairly heavy construction. The frame, fully set up, weighs approximately 106 lbs (48.1 kg). Thus, it is more than twice the average road bike's weight, which is quite a plus as it provides superior stability. Plus, both base bars of the bike has adjustable stabilizers, so you can perfectly level the unit on any floor.
Despite its weight, the bike is relatively easy to move. Its front base integrates a set of wheels that facilitate its relocation.
The Schwinn IC4 is not a large fitness machine. Its footprint is approx. 48.7″ x 21.2″ (124 x 54 cm). However, leaving at least two ′ (0.6 m) of clearance around it is advisable for easy access and unhindered usage.
Seat and handlebars
The Schwinn IC4 indoor cycling bike includes a race-style saddle featuring a durable vinyl top with a mixed foam padding layer. In addition, the padding is thicker in its rear section. As a result, the saddle is somewhat flexible; it adapts well to the user's movement during a seated workout. It also has a large central cutout for extra breathability.
The bike's saddle features a standard, collar-based connection system. Therefore, you can slightly change its angle. Furthermore, it's easy to replace, with compatible options available in any bike shop.
The seat offers four-way adjustability (up, down, front, back). Furthermore, its vertical post has multiple adjustment positions, while the horizontal slider also offers several inches for front-to-back adjustment. Thus, the bike can comfortably accommodate users between 5'0″ (153 cm) and 6'5″ (196 cm) with no problem, promoting a complete leg extension. In addition, it supports users up to 330 lbs (150 kg).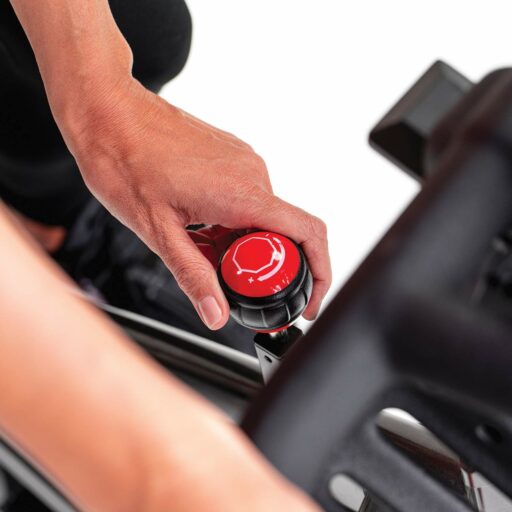 Like any other spin bike, the Schwinn IC4 features a multi-grip handlebar. The whole handlebar assembly comes coated with a layer of urethane material to provide an improved and comfortable grip. It doesn't have drop-down grips like some other spin bikes but has extended side grips and a small loop aero bar in the center, which can be used for a close grip.
Just like the seat, the bike's handlebar is four-way adjustable. Its post offers approximately 7″ (18 cm) vertical adjustment, while its horizontal slider adds a few extra inches of front-to-back adjustment. Unfortunately, the handlebar does not integrate pulse sensors, but the fitness monitor is telemetric and can read your pulse via Bluetooth.
IC4 Resistance system
The Schwinn IC4 Indoor Cycling Bike features a magnetic resistance system with manual action, which means its fitness monitor does not control the resistance. However, you can adjust the resistance without connecting the bike to a power source.
The bike's resistance system consists of a magnetic brake pad connected to the tension knob above the frame's top tube. When turning the knob clockwise, the magnetic brake moves closer to the flywheel, increasing the magnetic field's intensity and pedaling difficulty.
The tension knob doesn't have pre-determined tension levels, but it offers an adjustment resistance range between 0% and 100% (100 levels) with increments of 1%. Therefore, it is quite an impressive range of micro-adjustability, which allows you to find the perfect pedaling difficulty for your fitness level.
Of course, the bike's brake also has an emergency stop function. You can press it down if necessary to quickly stop the flywheel from spinning.
Drive system
The Schwinn IC4 Indoor Cycling Bike comes with a 40 lbs (18.1 kg) flywheel. However, since the bike has a magnetic resistance system, it has a different structure than the flywheel of the Schwinn IC3. Its edges are thin for a better brake cover, but it also has an inner perimeter weighting for improved inertia.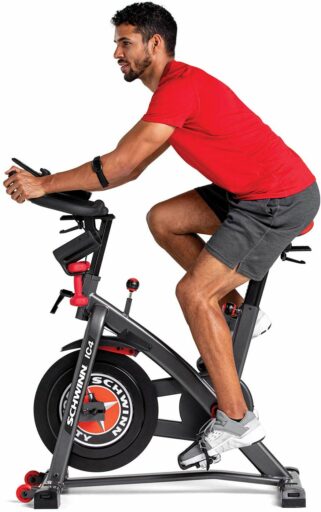 The bike's flywheel is bi-directional. Therefore, you can pedal in reverse if you want. However, coasting is not possible, as is the case for most road bikes; the pedals continue to spin for as long as the flywheel is spinning.
The bike integrates a heavy-duty belt drive system. Thus, it comes with several advantages. First, you don't have to go through the hassle of periodic lubrication. Second, it provides smooth motion with less vibration than a chain drive. And third of all, the pedaling action is whisper-quiet.
Another essential element of the bike's drive system is the crankset. The Schwinn IC4 features a durable crankset with solid steel arms to support 330 lbs (150 kg) users. The pedals are also highly durable and made of aluminum alloy. Furthermore, they are dual-sided, with toe cages on one side and SPD clips for spin shoes on the other. In addition, they also have standard 9/16″ threads, so compatible options are widely available if you ever need to replace them.
IC4 Fitness monitor
First, it features a 7-panel LCD, which indicates (top to bottom) RPM, time, calories, speed, distance, level, and pulse. The monitor does not control the bike's resistance adjustment but can indicate the selected tension level (in the 6th panel). Finally, the monitor does not have preset workout programs. However, you can choose workout goals for time, distance, and calories.
The fitness monitor is straightforward to use, and it has five buttons. The top-left button covers the Bluetooth function. The bottom-left button is for the Start/Enter functions, the middle button has the Reset function, and the buttons on the right are for increasing or decreasing values when selecting goals for your workouts.
The speed and distance can be Imperial units (mph, miles) or Metric units (kmh, kilometers). The pulse reading function requires wearing the included armband or Bluetooth chest strap. In addition, the included armband comes with a rechargeable lithium battery via USB cable. When recharging, you can connect it to the monitor or a powered device with a USB port.
The fitness monitor requires an external power source. So, a 9V DC, 1.5 Amp adapter also comes with the bike. The magnetic brake of the cycle is manual. So, you can use the bike and adjust the resistance as you like, even if you don't power up the fitness monitor.
JRNY app (1-year free included with your purchase)
Improve yourself with daily adaptive workouts. Experience tailored workout programming with real-time coaching that automatically adapts as you get stronger.
Stream entertainment during your workouts. Stream Netflix, Hulu, Prime Video, Disney+, HBO Max, and JRNY Radio during your adaptive workouts.
Explore virtual destinations around the world. Travel through 200+ stunning virtual courses at your speed, or experience them alongside your adaptive workout programming.
Fuel your motivation with on-demand classes. Then, sweat it out with world-class trainers who inspire you—experience various time ranges and class types like HIIT, Recovery, and Endurance.
Expand your capabilities with whole-body workouts. Round your routine with various full-body exercises like yoga, pilates, and strength.
Reach your goals with real-time virtual coaching. Hit every workout target with the guidance of a friendly virtual coach.
Celebrate your successes with all-in-one tracking. Review your milestones, achievements, and personal bests in one easy place.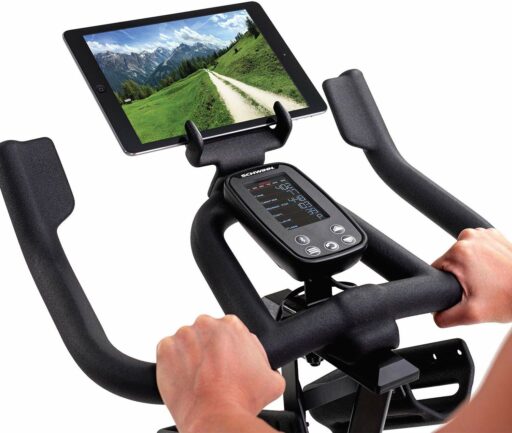 Amenities
The LCD has Bluetooth connectivity and is compatible with various fitness apps like JRNY, Explore the World, Zwift, and more. Thus, you can sync it with your tablet or smartphone to track your progress online or train following a virtual trail. However, the bike does not include subscriptions for compatible apps. For example, JRNY membership is free for one year with your purchase (a $149.00 value).
The Schwinn IC4 includes a tablet holder, two bottle holders, and a dumbbell set in other accessories. The tablet holder attaches to the top of the loop aero bar, and the bottle holders attach under the handlebar. And finally, the two included dumbbells weigh 3 lbs (1.36 kg) each. They have a urethane coating, and the two bottle holders also support them.
IC4 Assembly and Maintenance
The Schwinn IC4 Indoor Cycling Bike requires some assembly. Therefore, you must add the two base tubes, the seat post, the saddle, the handlebar post, the handlebar, the fitness monitor, the bottle holders, the tablet holder, and the pedals.
Consequently, it shouldn't take longer than 30-40 minutes of your time. The included manual provides step-by-step assembly instructions, and all the tools you'll need come with the bike.
Once assembled, you don't have to worry too much about maintenance. Therefore, you must keep the bike clean, check for loose bolts and parts, and retighten them as required.
Pros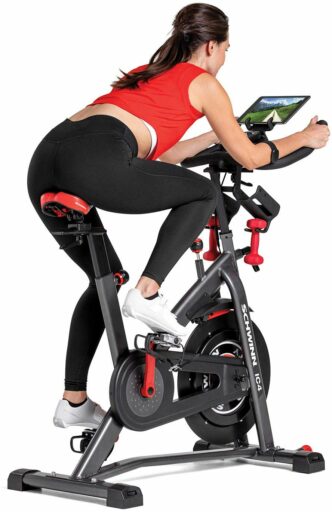 Sturdy steel frame – can support users up to 330 lbs;
Aesthetic design;
Bases with adjustable, rubberized levelers;
Transport wheels on the front base;
4-way adjustable handlebar with a multi-grip design;
4-way adjustable seat;
Race-style saddle with a central cutout and internal cushioning;
Magnetic resistance with 100 levels of adjustment;
Inertia-enhanced, 40 lbs flywheel for a smooth pedaling motion and solid momentum;
Heavy-duty crank made for spin workouts;
Dual-sided pedals with toe cages and SPD clips;
Smooth and quiet belt drive, great for apartment use;
LCD fitness monitor with an LED backlight;
Goal setting functions for time, distance, and calories;
The fitness monitor is compatible with the JRNY app and other fitness apps;
A USB port for recharging your phone or Bluetooth pulse armband;
The adapter for the console comes with the bike;
Bluetooth pulse armband included;

Bottle holders included;
3-pound dumbbell set included;
Tablet holder included;
Easy to assemble;
Little maintenance is required;
Excellent warranty.
Cons
The fitness monitor requires an external power source.
Schwinn IC4 Indoor Cycling Bike Summary
The Schwinn IC4 is a heavy-duty indoor cycling bike for all spin workouts. It features a manual magnetic resistance system with 100 difficulty levels, excelling in micro-adjustability. It also has an impressive 330 lbs weight capacity and a Bluetooth fitness monitor compatible with the JRNY app and multiple other fitness apps.
In addition, it's a complete indoor cycling bike, great for users of all levels for interval training, light to intense cardio workouts, weight loss, muscle toning, and stamina development. It's not an affordable model, but it offers excellent price value.
I hope you found this article helpful and informative. Would you please speak up if you have anything you'd like to share on the topic or any opinions about my website? I look forward to your comments, questions, and the sharing of ideas.
Please remember that you should consult your physician to determine if you have any medical or physical conditions that could risk your health and safety or prevent you from using the equipment properly. In addition, your physician's advice is essential if you are taking medication that affects your heart rate, blood pressure, or cholesterol level.