The Fitness Reality 4000MR Magnetic Rower is well worth a look. The oars' full-motion action replicates sculling and works more muscles in the upper body than the more common single-handle rowing machines. In addition, it has some valuable features and is a well-made, sturdy machine that should keep you coming back for more.
The FR 4000MR is a heavy machine weighing in at 116 lbs and won't budge an inch when you're giving it your all. Its magnetic, chain-driven resistance mechanism and smooth ball-bearing seat rollers are tranquil. The 16 levels of magnetic resistance provide an excellent range. It doesn't have to be cranked up to the top level to give you a good workout.
The Fitness Reality 4000MR Magnetic Rower features a  5″ backlit fitness monitor that is straightforward to read. It displays distance, time, count, calories burned (estimated), RPM, and watts – significant if you are into Tabata workouts.
It has ten preset programs, including goal-setting for distance, time, and calories. Therefore, you set your goal, for example, to row hard for 20 minutes, then watch the clock count down and hope you can last to zero. Goal-setting is a great way to get fit and stay motivated.
Learn more in my complete review below!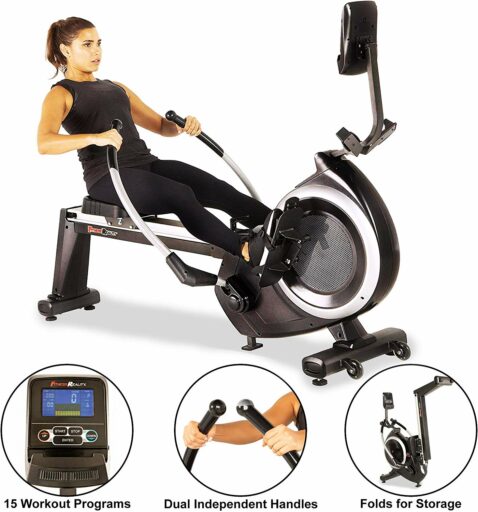 Product: Fitness Reality 4000MR Magnetic Rower
Price: For a great deal on this rower, merely go here on Amazon
Warranty: Frame 5 years / Parts 3 years / Electronics 2 years
My rating: is 8/10
Affiliate Disclosure: As an Amazon Affiliate Program participant, I earn commissions on purchases made through links in this post. Full disclosure
Details and Specifications
Assembled dimensions: 72L x 25W x 51H inches (183L x 63.5W x 130H cm)
Rail length: 38 inches (96.5 cm)
Weight capacity: 300 lbs (136 kg)
Resistance type: Eddy current, 14 levels
Fitness Monitor: 15 programs, 3 goal settings
Extras: Tablet holder
Warranty: Frame 5 years / Parts 3 years / Electronics 2 years
4000MR Frame Construction
The Fitness Reality 4000MR Magnetic Rower features a more compact construction than similar rowers. With the frame fully set up, it is only 72″ (183 cm) long and 25″ (63.5 cm) wide.
Nonetheless, due to the placement of the footrests and the 38″ (96.5 cm) rail, it can comfortably accommodate users between 5'0 ″ (153 cm) and 6'5 ″ (196 cm) with no problem, allowing a complete leg extension and a full arm range of motion. The rail and the seat assembly are also durable enough to support users up to 300 lbs (136 kg), which is not bad considering that the rower is not commercial.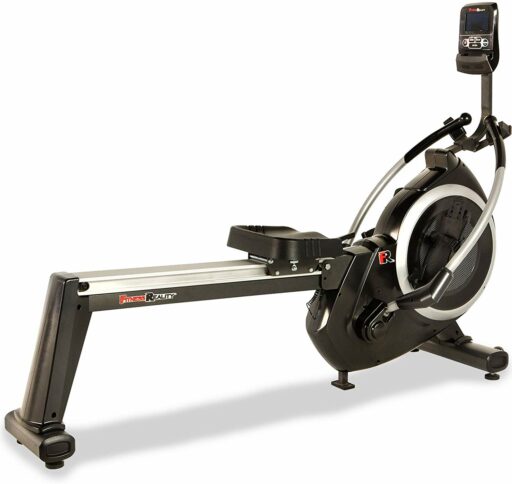 The 4000MR rower combines steel, aluminum, and ABS parts in its construction. The sliding rail of the seat is made of durable aluminum and reinforced by another steel bar underneath. It's also slightly more extensive than other rowers, providing extra stability for the seat.
The front part of the frame sustains the base bars' resistance mechanism, and the oars are steel-made. The covers of the drive and resistance elements and several other trim surfaces are ABS polymers.
All the steel frame parts come coated with a corrosion-resistant paint finish. The colors used are black for the base bars and monitor arm and light gray for the oars. The aluminum rail does not have a paint finish, but aluminum is highly resistant to corrosion.
The fully assembled machine is relatively heavy; it weighs more than 100 lbs (45.3 kg). Thus, its transport and assembly may require two people. However, once completed, relocation to its storage location is smooth via the front transport wheels.
All this weight plays an essential role in the unit's overall stability. Plus, both main base bars have adjustable and rubberized stabilizers.
Last but not least, this Fitness Reality rower features a folding frame. As a result, the sliding rail with the seat folds up. Thus, it reduces the length of the rower to approx. 45″ (114.3 cm) while its overall height becomes 59″ (150 cm).
Seat
The Fitness Reality 4000MR magnetic rower includes a full seat. Its top measures approx 13.5″L x 10″W (34.2 x 25.4 cm), offering plenty of contact surface. It is contoured, with slightly raised edges on each side and at the rear to prevent you from sliding off during your workouts. In addition, the top section is a layer of high-density foam to provide optimal comfort.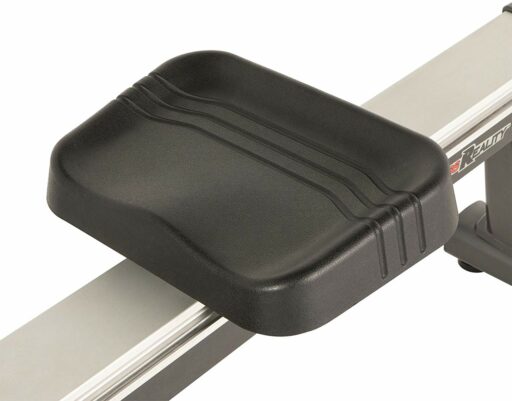 The seat and the rail assembly support users up to 300 lbs (136 kg). Its base is steel-made and integrates three sets of wheels. All the wheels slide on the side gaps of the rail. Furthermore, the side panels of the seat conceal the wheels to maximize safety.
The wheels integrate industrial-grade sealed ball bearings for a smooth seat motion. In addition, they also have a rubberized coating outside to minimize noise and vibration.
It's important to note that the seat rail is not horizontal; it is slightly oblique, with extra elevation at the rear. Thus, the seat stands at approx. 22″ (56 cm) above floor level when extended to the back, while at the front of the rail, it is at approx. 21″ (53.3 cm) above the floor.
This particular aspect comes with two main advantages. First, since the seat is pretty high above the floor, it eliminates any positioning difficulties users with specific disabilities may have. Second, the recovery motion is slightly faster, while the leg push phase is more complex.
4000MR Footrests and oars
The Fitness Reality 4000MR magnetic rower features a set of durable footrests. Their base is steel-made, while the adjustment elements are made of flexible and durable nylon. In addition, they are large enough to accommodate athletic shoes of all sizes, and they also have adjustable straps for extra foot stability.
It's important to note that the footrests attach to the front section of the rower's frame quite a few inches below the seat's stoppers. That's why the machine is shorter than others. However, it still provides plenty of stretch room and can comfortably accommodate users up to 6'5 ″ (196 cm). Unfortunately, the footrests are stationary; they do not pivot. However, they have an angle of approx. 65° and deliver firm support for every drive phase during the rowing motion.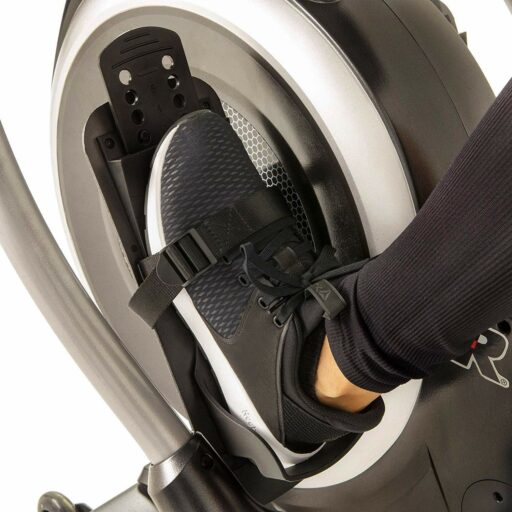 The machine (or the oars) curves slightly inward for a more natural hand positioning. Furthermore, they feature rubberized and ball grips at the top if you want to add variety to your hand positioning. In addition, the lower joints of the oars allow an outer rotation motion, allowing you to simulate actual rowing or sculling.
Resistance and drive
The Fitness Reality 4000MR comes equipped with an eddy current resistance system. Unfortunately, this requires an external power source, and a power adapter comes with the machine.
The resistance is only adjustable from the fitness monitor while the machine connects to an electrical source. In addition, the monitor can automatically adjust the resistance depending on the user program.
The rower's resistance system consists of a small internal servo motor and a magnetic brake. As you select a certain resistance level from the fitness monitor, the motor will adjust the brake's magnetic pull, which results in more or less rowing difficulty.
The machine makes available 14 levels of resistance. The first one delivers a relatively light difficulty, great for warming up or beginners. Conversely, the 13-14 levels provide considerably more resistance, allowing for a consistent, full-body cardio workout.
The dual-chain drive system improves the resistance and smoothness of the ride. In addition, this adds stability to the rowing motion and adds a bit of extra difficulty for each pull.
The machine's resistance system does not respond dynamically during rowing like the air or water resistance rowers. Consequently, the resistance remains constant, depending on the selected tension level, no matter how hard you pull the oars.
For instance, the resistance increases when you pull the handle or oars harder on a fluid or air rower. Consequently, this eliminates a little authenticity from the rowing feel, but on the other hand, many rowers don't have independent oars.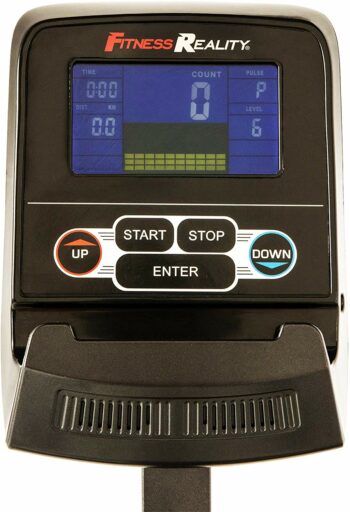 Finally, since the rower features a full-magnetic resistance system, the rowing motion is tranquil without fans or water elements. Even the seat movement generates very little noise as its rollers have a rubber coating.
4000MR Fitness monitor
The Fitness Reality 4000MR magnetic rower features a fitness monitor similar to magnetic exercise bikes. To begin with, it has a 5″ LCD with an LED backlight for improved readability. It tracks time, distance, count, RPM, watts, and calories burned. The display divides into six subsections to show multiple metrics simultaneously.
The time and distance are on the left panels. The top center panel alternates between count, RPM, and watts; the bottom center window shows the selected program's profiles. In contrast, the right side panels indicate the pulse and the current resistance level.
Concerning the pulse reading function, unfortunately, the monitor is not telemetric. Therefore, it cannot read your pulse via a wireless transmitter. So, the top right pulse reading is not available. It is only there because the monitor is probably from a magnetic exercise bike with pulse sensors on its handlebars.
The fitness monitor is straightforward to use. The side buttons (Up, Down) allow you to increase/decrease the resistance level, scroll through the programs, or add/subtract value from a selected goal. The Start/Stop buttons pretty much speak for themselves. Start initiating your workout, and Stop pausing it. And finally, Enter allows you to enter setup mode to select a program or an exercise goal.
The monitor does not have a sound system or a cooling fan, but it does have a tablet holder. This accessory consists of a small shelf above the monitor's controls, which can accommodate your tablet or smartphone if you need to keep them close during your workouts.
Workout Programs
The fitness monitor does not have online connectivity or Bluetooth. It is also not compatible with any online fitness apps. But on the other hand, it has ten preset programs, five user profiles, and goal settings for time, distance, and calories burned. The ten preset programs have pre-determined profile settings; they cover a variety of workouts.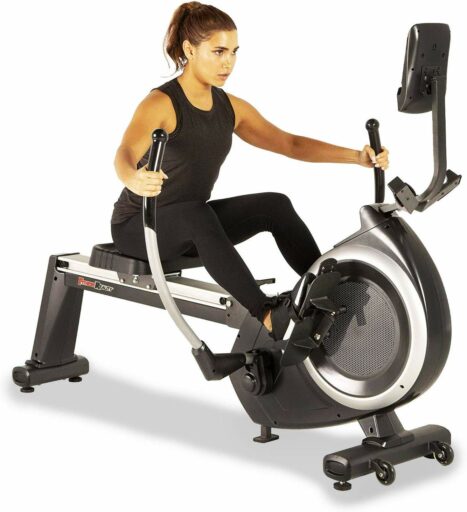 For example, some are interval-based; others target a higher calorie burning, while others aim to provide a prolonged and constant workout. In addition, the five user-based programs allow you to create custom workout profiles, save them, and reuse them anytime you want.
And finally, if you select a goal for time, distance or calories, the monitor will show the remaining value up until you reach your goal chosen.
4000MR Assembly and Maintenance
Like most other rowing machines, the FR 4000MR rower requires some assembly. However, the front section of the rower with all the drive and resistance elements comes pre-assembled.
You only need to attach the main rail, seat, base stabilizers, oars, console, and several small covers. All the necessary tools are (included), and the manual provides precise assembly instructions. Consequently, the task shouldn't take more than 30-40 minutes.
For maintenance, you must keep the machine's rail clean to prevent small debris particles from causing nicks or damaging the seat's wheels.
The oars' joints may need periodic lubrication, but this shouldn't be necessary for a long time if lubricated during assembly. Other than this, it is advisable to check for loose bolts from time to time and re-tighten any parts if it's the case.
Pros
Solid frame – can support users up to 300 lbs (136 kg);
Full aluminum rail for improved seat stability;
Folding design;
Transport wheels integrated into the front base;
Adjustable stabilizers on the front and rear bases;
Padded and contoured seat for optimal comfort;
38″ of travel for the seat – the machine can accommodate users up to 6'5 ″ (196 cm);
Independent oar action, which simulates the rowing of a real boat;
Large, adjustable footrests with straps for maximum foot stability;
Dual chain drive system for extra rowing motion stability;
Quiet and smooth magnetic resistance system;
14 levels of resistance for light to intense workouts;
Automatic resistance adjustment;
5″ LCD fitness monitor with LED backlight;
The monitor tracks time, distance, count, RPM, watts, and calories;
Goal-setting functions for time, distance, calories, and pulse;
Ten preset programs;
Five custom user programs;
Tilt mount with a long arm for the monitor;
Easy to assemble;
Little maintenance is required;
Decent warranty.
Cons
The fitness monitor does not have a pulse reading function.
Fitness Reality 4000MR Magnetic Rower Summary
The Fitness Reality 4000MR is a full-magnetic rower made for home use. It offers 14 levels of automatic resistance and a fitness monitor with ten preset programs, five custom programs, and three-goal settings. In addition, it comes equipped with two independent oars rather than the classic pulling handle, which delivers a more authentic rowing motion.
Moreover, it's an excellent machine for a full-body cardio workout, stamina development, interval training, and weight loss. And finally, it's not exactly one of the most affordable rowers, but it offers excellent value.
I hope you found this article helpful and informative. Would you please speak up if you have anything you'd like to share on the topic or any opinions about my website? I look forward to your comments, questions, and the sharing of ideas.
Please remember that you should consult your physician to determine if you have any medical or physical conditions that could risk your health and safety or prevent you from using the equipment properly. In addition, your physician's advice is essential if you are taking medication that affects your heart rate, blood pressure, or cholesterol level.