The Concept2 Model, D Indoor Rowing Machine with the PM5 fitness monitor, is the best-known and biggest-selling quality rowing machine around – and for a good reason. It's a solid, reliable rower and will last you for years, even with regular use.
Concept2 is an air resistance rower, which means its action is smooth and closely replicates rowing on the water; it will also adjust to your effort involving the faster you row, the higher the resistance. In other words, it doesn't matter how hard you pull; it will match your strength with no problem.
The construction is substantial and will put up years of a punishment without complaint. Furthermore, this Concept2 Model D indoor rowing machine is used in gymnasiums worldwide and is built to last. In addition, they're also the first choice for most rowing clubs and serious rowers – which says it all!
The rowing position is excellent, and the seat is very comfortable, even for long sessions. If you've used a rower at a gym, it was most likely a Concept2. Unfortunately, many gym users buy a budget rower for home use and are disappointed – because it doesn't feel like a Concept2.
Learn more in my complete review below!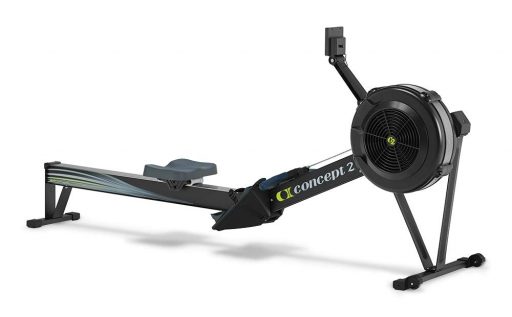 Product: Concept2 Model D Indoor Rowing Machine with PM5
Price: For a great deal on this rower, merely go here on Amazon
Warranty: Frame 5 years/parts two years
My Rating: 9.8/10
Affiliate Disclosure: As an Amazon Affiliate Program participant, I earn commissions on purchases made through links in this post. Full disclosure
Details and Specifications
Assembled dimensions: 96L x 24W x 14H inches (244L x 61W x 36H cm)
Stored dimensions: 25″L x 33″W x 54″H
Seat height: 14 inches
Product weight: 57 lbs (26 kg)
Supported weight: 500 lbs (227 kg)
Frame: Steel/aluminum, foldable
Footrests: Adjustable, with straps
Resistance type: Air
Fitness Monitor: PM5
Warranty: Frame five years/parts two years
Model D Frame Construction
The frame of this rower is a combination of aluminum and steel parts. The front and legs are aluminum-made, while the monorail and back legs are steel-made to support the user's weight better. All metallic components come with a corrosion-resistant powder coating.
The machine features a 2-piece frame, which can easily be "broken" in two, allowing it to offer better storage possibilities. It can store vertically. When folded, it requires 25 x 33 x 54 inches (W x L x H). Thus, it should fit in your average closet. The frame is easy to fold. You pull it up by the junction in the middle, between the footplates, and it will fold in half.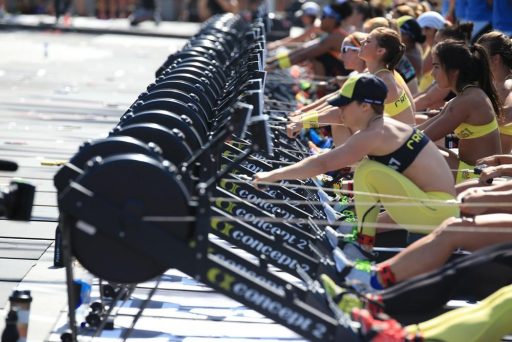 This Concept2 Model D indoor rowing machine is not extremely heavy when fully assembled. The front base also has transportation wheels to facilitate secure handling and move off the rower when fully assembled and non-folded.
The rower's bases are finished with levelers, ensuring maximum stability, even for heavier users undergoing intensive training sessions. The frame is also substantial, supporting a maximum user weight limit of up to 500 lbs (227 kg).
Like any rowing machine, the Concept2 Model D is eight feet (244 cm) long, requiring a space of 9′ (274 cm). However, since the majority of rowers are pretty tall people, the monorail is long enough to accommodate users up to 6'8″ (203 cm) or users with an inseam of 38″ (96.5 cm).
If you're taller and require a more extended monorail, you can opt for an extra-long one. However, width-wise, the rower requires about four feet (122 cm) for proper use.
Seat, Footrests, and Rowing Handle
This air-based rower comes with a pretty basic, standard seat. However, the seat is not entirely flat; it features a bit of contouring to ensure the user's better positioning.
It's not a consistently padded seat, as too much padding for rowing may result in numbness or cramping due to the generalized pressure distribution. Additional padding is available optionally, though.
The footrests of this rower are angle-adjustable. They're long and wide enough to accommodate any foot size. In addition, footrests have straps for securing your feet in place. Thus, it is an essential feature for beginners who may encounter difficulties keeping their legs at full stretch and in the correct rowing position. Also, users who have sustained an injury or suffer from specific disabilities may require feet secured in place when rowing.
One last aspect regarding the resistance mechanism is the handle attached to the chain. This rowing machine comes equipped with a hard plastic handle with an ergonomic design featuring a 10° curve, which results in a more natural grip. Thus, it reduces some stress on your wrists and forearms when rowing.
Model D Air-Resistance Rower
Concept2 Model D indoor rowing machine is an air-resistance rower—air resistance functions by pulling a handle and spinning a fan flywheel. As the wheel turns, it must displace the air in front of it, which causes resistance. The faster you rotate the flywheel, the more air the fan must replace, and therefore, the more resistance you will feel.
For instance, your resistance level is determined by how hard you row! Therefore, the faster and harder you row, the more resistance you will feel. It's like how water resistance operates. And it's different from magnetic and hydraulic-piston rowers. Air resistance rowers provide a quiet overall strength and are the preferred resistance type among all athletes.
Olympic rowing teams use the Concept2 Model D or E for off-water training. Due to the accurate data recording and close mimicking of the resistance felt while rowing on water.
Resistance Benefits
The Model D air resistance provides a rowing motion similar to rowing on water, and there isn't any lag throughout the rowing stroke. Instead, you will feel a smooth, even resistance from the start of the stroke to the finish.
Your rowing intensity determines your resistance level. As a result, the faster you row, the more energy you feel. This automatically adjusting resistance is known as 'variable' resistance. The Concept2 Model D resistance allows you to row at your own intensity/pace. The opposition will adapt accordingly.
This 'variable' resistance is perfect for HIIT (high-intensity interval training) exercises. You can row fast or slow, and the resistance adjusts to your speed without having to stop and change any settings. It's why you see Concept2 rowing machines in every CrossFit-style gym.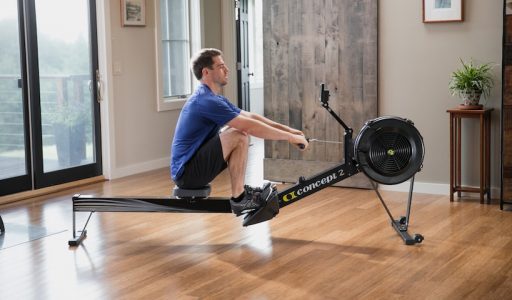 Another great benefit of the Model D resistance is it is virtually maintenance-free and straightforward to fix if there is a problem.
The resistance on the Concept2 Model D indoor rowing machine is one of the best on the market. It provides smooth, stable variable resistance and adjusts with a different damper setting.
It is the chosen rowing machine by Olympic athletes, so who can say anything wrong with it? You'll love the resistance provided by the Model D Rower.
Model D Damper Settings
Although the Concept2 Model D indoor rowing machine provides 'variable' resistance, users can still adjust the "feel" by adjusting the damper setting. Rowers can change the damper settings from levels 1 to 10. These aren't resistance levels; they account for the air going into the flywheel, affecting the "feel" of the rowing stroke.
Like gears on a bicycle, the different "gears" will give you a different feel when rowing. For example, the higher settings (6-10) give you the feeling of a slower, more large boat, whereas the lower settings (1-5) give you the impression of a sleeker, faster boat.
Rowing Stroke
The rowing motion is smooth and provides an experience similar to rowing on water. That's one of the main reasons professional rowers use the Concept D Rower. The seat glides smoothly on the monorail, and the chain that pulls the flywheel doesn't snag. Instead, it leads to a smooth catch, drive, finish, and recovery motion.
The only maintenance to ensure your machine maintains its fluid functionality is to keep the chain lubricated and periodically clean the monorail. These actions are straightforward, and there are instructions in the Model D manual to walk you through the process.
Model D PM5 Fitness Monitor
The Concept2 Model D indoor rowing machine comes standard with a PM5 (Performance Monitor 5) fitness monitor, the poster child for rowing machine controls. It's simple to use and comes with plenty of functions.
The Concept2 Model D PM5 fitness monitor is your "training partner." It can track distance, 500m split (speed), time, strokes per minute, calories, watts, etc. It also can calculate the averages of all these metrics.
Start rowing without pressing any buttons on the monitor. And when the flywheel starts spinning, it will power up and provide data.
5 Preset Workouts
Use one of five preset workouts or customize your workout routine. The display is plenty big, and the data is easy to read. It is also backlit, so you'll be able to see the monitor in low-light settings.
The Concept2 PM5 monitor has everything you need to know while rowing. The screen's top section provides total time, strokes per minute, distance achieved, and 500m split time.
The bottom section of the screen allows you to choose from five different graphic displays.
The PM5 fitness monitor looks and feels very durable. The buttons feel like tough rubber that can take a lot of abuse. On the other hand, the lettering on the controls will last a long time without fading away.
The monitor is attached to an adjustable arm, so you can move it up or down. It automatically starts when you begin to row and is powered by 2 D cell batteries.
Another bonus is that the Concept2 Model D Rowing Machine comes with a power-generation feature that provides power to the fitness monitor while rowing. Therefore, it helps preserve battery life.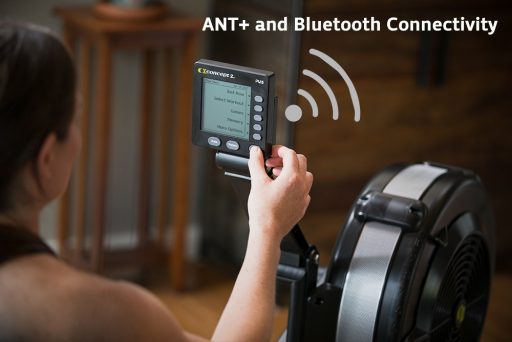 Additional Data
Force Curve
It's a graph showing how force varies between your legs, back, and arms during your row's driving motion. It tells you if your rowing motion is smooth or not.
Pace boat
It shows a graphic display of your ship against a pre-programmed vessel; you can also set your previous workout as the speedboat so you can race against yourself.
Bar Chart
It's a graphic display in a bar graph format of the total watts of power generated during each workout phase.
Heart Rate Monitoring
You'll need a compatible chest strap and a heart rate attachment (around $50); your heart rate will display on the monitor.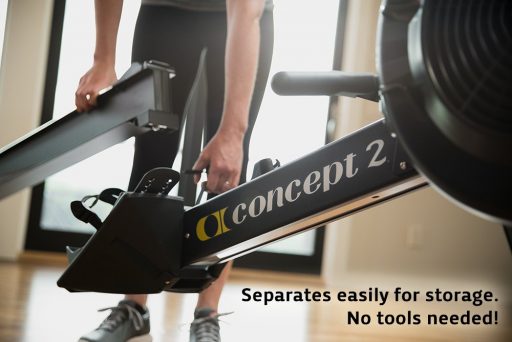 The PM5 supports ANT+ and Bluetooth Smart for wireless heart rate monitoring. Be advised that "Bluetooth Smart" is different from "Bluetooth." Make sure your heart monitor is Bluetooth Smart compatible.
Tracking your heart rate allows you to stay in target heart rate zones while exercising — the PM5 store's heart rate data before and after workouts.
USB Drive & PC Connection
The PM5 comes equipped with a USB Drive. You can save and store workout data records using a USB drive.
'Concept2 Utility' is an online logbook where you can transfer the data for management and further analysis.
There are third-party programs available that do even more while your Concept2 Model D Rowing Machine connects to your PC. There are many different 3rd party features for the Concept2 PM5 monitor. You'll find a ton of information on the Concept2 website.
Storage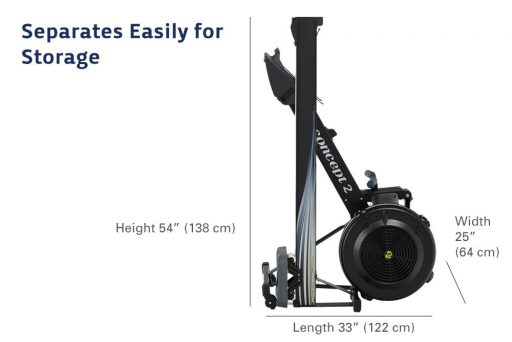 The rowing machine is large when used, but the size is cut in half when it's taken apart for storage. So all you should do is separate the monorail and the flywheel portion of the rower to save floor space.
Then rest the wheel side of the rower on its "head" and make the monorail section "stand up." It's effortless to do, and I'm honestly surprised it only takes seconds.
Model D Assembly and Maintenance
The assembly process of this rowing machine is far from confusing. The seat, flywheel, footrests, and handlebar are already attached to the frame's central pieces. Next, connect the machine's support legs and bases and secure the fitness monitor. The box includes the assembly manual and tools required for this task.
The maintenance of this indoor rower is not demanding. The chain needs lubricating around 50 hours with 20W motor oil, 3-in-1 oil, or purified mineral oil.
The seat rail should be free of any dirt or particles that might impair the seat's smooth movement. Also, ensure you keep the fitness monitor free from moisture, so wipe the sweat or water droplets that might fall on it.
The machine is stable enough as it is. It doesn't require placement on a mat. But, if you place it directly on a hardwood floor, it's best to use a mat to prevent the floor from sustaining any damage.
Pros
The Concept2 Model D is one of the most respected brands in the rowing industry;
It's built solidly for commercial use and requires minimal maintenance;
It holds its resale value very well;
The rowing motion is very smooth and fits almost any user size;
The PM5 fitness monitor is one of the best monitors on the market;
Easy to assemble and store away in seconds;
Concept2 has a dedicated online community and easy-to-find workout tutorials and instructions;
Spare parts and service companies are easy to find;
The manufacturer provides an excellent warranty;
30-Day Money-Back Guarantee;
It's the best rowing machine on the market.
Cons
It's 8 feet long, so you'll need a lot of space to use this rower;
The fan may be too noisy for some people.
Concept2 Model D Rowing Machine Summary
After reviewing the Concept2 Model D, I believe it's perfect for people of all ages, sizes, and fitness levels. Many people have used this machine for over a decade, and it's still strong.
Bottom line – I highly recommend this rowing machine. I promise you will not be disappointed with this rower.
The Concept2 Model D Rowing Machine will last you a lifetime. Furthermore, it has the best fitness monitor, a high resale value, and gives you an excellent full-body workout! Lastly, it comes with a perfect price-quality ratio and unmatched durability.
I hope you found this article helpful and informative. Would you please speak up if you have anything you'd like to share on the topic or any opinions about my website? I look forward to your comments, questions, and the sharing of ideas.
Please remember that you should consult your physician to determine if you have any medical or physical conditions that could risk your health and safety or prevent you from using the equipment properly. In addition, your physician's advice is essential if you are taking medication that affects your heart rate, blood pressure, or cholesterol level.