The pinnacle of convenient, high-performance, home exercise bikes is the Sunny SF-B1970 Indoor Cycling Bike. The Pro-Lite utilizes a space-efficient design that maximizes your workout sessions while keeping the indoor exercise bike light and movable.
Whether climbing or sprinting during your riding sessions, the 18 lb (8.1 kg) flywheel produces superior inertia to keep the momentum going further. The high inertia flywheel uses a proprietary alloy blend material and process that reduces carbon emissions compared with traditional flywheels.
Magnetic resistance avoids any direct contact between moving parts. The benefits include an exceptionally smooth operation and little to no maintenance required. The seven levels of magnetic resistance are easily and quickly adjustable with the resistance lever. Each level of change will produce an audible click to keep you aware of your setting.
The Sunny SF-B1970 indoor cycling bike fitness monitor conveniently tracks your Time, Speed, Distance, Calories Burned, Odometer, RPM, and Pulse. You may also rotate through these metrics using the Scan feature. In addition, you'll monitor your cardiovascular performance using the integrated pulse-sensing grips to check your heart rate displayed on the LCD actively.
Learn more in my complete review below!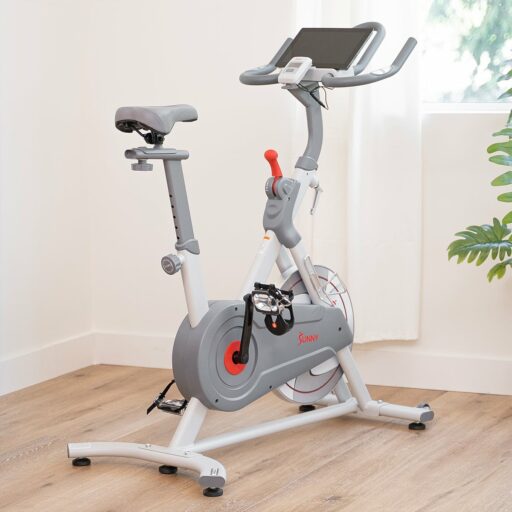 Product: Sunny SF-B1970 Indoor Cycling Bike
Price: For a great deal on this bike, merely go here to Sunny Health & Fitness.com
Warranty: Frame 3 years / Parts 180 days
My rating: is 8/10
Affiliate Disclosure: As a Sunny Health & Fitness Affiliate Program participant, I earn commissions on purchases made through links in the post. Full disclosure
Details and Specifications
Assembled dimensions: 47.4L x 23.8W x 51.2H inches (120L x 60W x 130H cm)
Assembled weight: 67.5 lbs (30.6 kg)
Flywheel weight: 18 lbs (8.1 kg)
Supported weight: 245 lbs (111 kg)
Seat: 4-way adjustable
Drive mechanism: Belt
Resistance: Manual magnetic, seven levels
Fitness Monitor: time, speed, RPM, distance, odometer, calories, pulse, scan
Warranty: Frame 3 years / Parts 180 days
SF-B1970 Frame Construction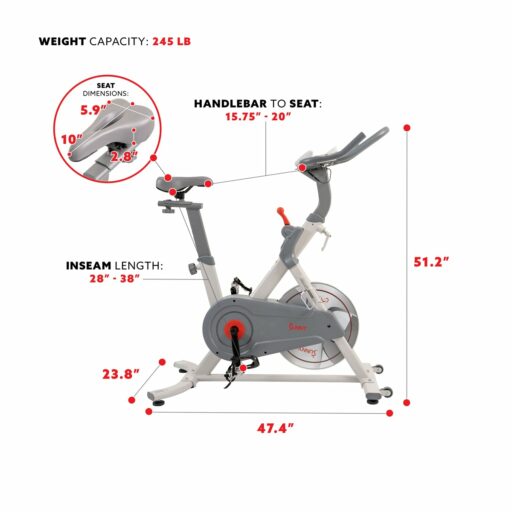 The Sunny SF-B1970 indoor cycling bike from the Pro-Lite series features a triangular frame but a new design; the front fork that holds the flywheel is lower on the main oblique bar than other spin bikes. Thus, it lowers the unit's center of gravity, improving its stability.
The bike features a curved rear base bar with three adjustable levelers. The front base bar also has two adjustable levelers. Thus, you'll be able to stabilize the bike on an uneven floor perfectly.
The bike's steel tubing frame is oval for improved aesthetics and sturdiness. In addition, the mainframe is white, while the seat and handlebar posts are gray. And the flywheel is chrome-plated with side ABS covers.
The fully assembled bike is not too large. It is approximately 47.4″ (120 cm) long and 23.8″ (60 cm) wide. Its highest point is approximately 51.2″ (130 cm), with the handlebar extended. Of course, allowing at least two feet of clearance all around the bike is advisable for easy access, and safe usage is also advisable.
The bike's net weight is 67.5 lbs (30.6 kg). One person can transport the packaged bike with a hand truck. Also, it has small wheels integrated into its front base stabilizer for easy relocation once assembled.
Seat and handlebars
The Sunny SF-B1970 indoor cycling bike includes a saddle designed for optimal comfort. It features a heavy-duty nylon shell with a thick foam padding layer and a durable vinyl cover. It's not a super large seat, though; it is only 10″ (25 cm) long and 5.9″ (15 cm) wide. In addition, it has a contoured surface and a median groove for improved breathability.
The seat is four-way adjustable (up, down, front, back). Its vertical post offers an adjustment span of 10″ (25.4 cm), from 28″ to 38″ (71 – 96 cm).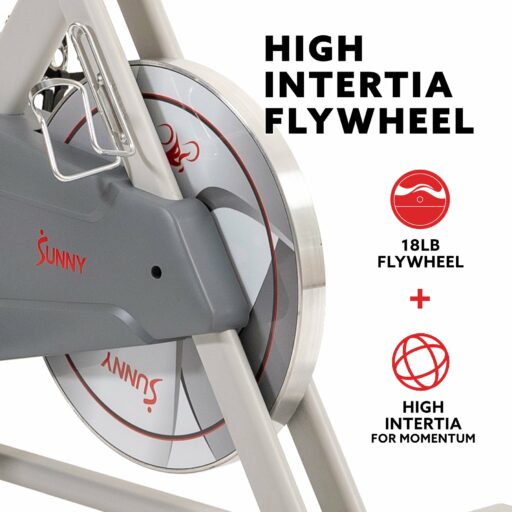 Its horizontal slider adds approx—4″ (10 cm) of front-to-back adjustment. Therefore, the bike comfortably accommodates users between 5'0″ and 6'3″ (153 – 190 cm). It also has a maximum user weight limit of 245 lbs (111 kg).
Unfortunately, the bike's handlebar is only two-way adjustable (up, down); it lacks a horizontal slider. Instead, its vertical post has several adjustment positions, allowing for a maximum height of approx—51″ (130 cm).
The handlebar features a multi-grip design. It offers the possibility to adopt an off-road grip, a climbing grip, and a standard grip. It also has a long loop grip in the middle, allowing an aero or close grip if you don't place a tablet on the plastic support cover.
The side grips feature integrated metallic HR pulse sensors, and the fitness monitor has a pulse reading function. And finally, the whole tube of the handlebar has a layer of PVC foam for a comfortable and secure grip.
SF-B1970 Drive system
The Sunny SF-B1970 indoor cycling bike has an 18-lb (8.1 kg) flywheel. The flywheel has a perimeter-weighted structure to provide superior inertia. Furthermore, it has a chrome-plating finish with ABS plastic side panels.
The bike's flywheel can spin both ways. However, coasting is impossible; the pedals continue to turn for as long as the flywheel is spinning. In addition, when pedaling in reverse, the resistance remains constant, given by the selected tension level.
The bike comes equipped with a belt drive system. It integrates a durable poly-v belt for superior traction and offers a few advantages over a chain drive. First of all, you don't have to lubricate it. And second of all, it generates slightly less vibration, which leads to a very smooth pedaling motion.
The bike features a durable 3-piece crankset with flattened arms similar to road bikes. The pedals are aluminum alloy and have a non-slip design and toe cages.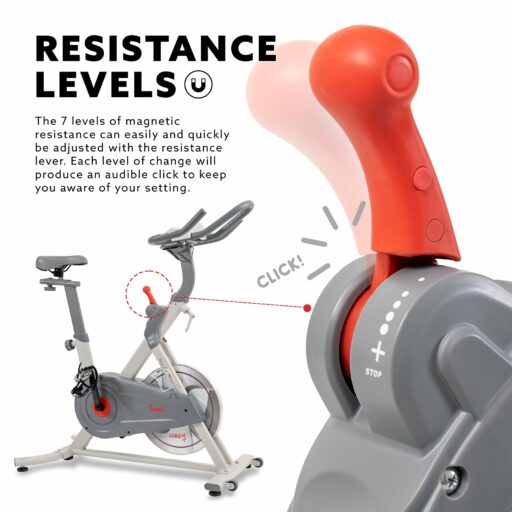 Unfortunately, they don't have SPD elements for spin shoes. However, their threads are standard 9/16″, so you can always find compatible replacements.
The bike has a reasonably narrow Q-Factor (spacing between the pedals). It is 190 mm, meaning your feet will comfortably rest on the pedals. Thus, riding this bike won't result in any extra lateral stress on your knees.
Resistance system
The Sunny SF-B1970 comes equipped with a manual magnetic resistance system. Therefore, you won't need a power cord or adapter for it. Unfortunately, the bike cannot adjust the resistance automatically and does not have pre-set programs.
The resistance system consists of a magnetic brake connected to the tension lever at the top of the mainframe tube. The brake is at the rear section of the flywheel and attaches to the lever through a steel cable.
Therefore, when you adjust the resistance, the magnets will cover a larger or smaller portion of the flywheel, which results in more incredible or lower pedaling difficulty.
The main advantage of the magnetic brake is that the magnets do not touch the flywheel. Thus, the pedaling motion is very smooth and quiet. Also, you don't have to worry about brake pad replacement or lubrication.
The bike's magnetic brake offers seven resistance levels. The lowest level delivers a light workout, great for recovery training or a warm-up. Conversely, the top level provides considerably more resistance simulating a hill climb.
SF-B1970 Fitness monitor
The Sunny SF-B1970 indoor cycling bike has a similar fitness monitor to the Sunny SF-B1918 and a pulse reading function. In addition, it features an LCD (without backlight) that tracks time, distance, total distance, speed, RPM, calories, and, of course, pulse.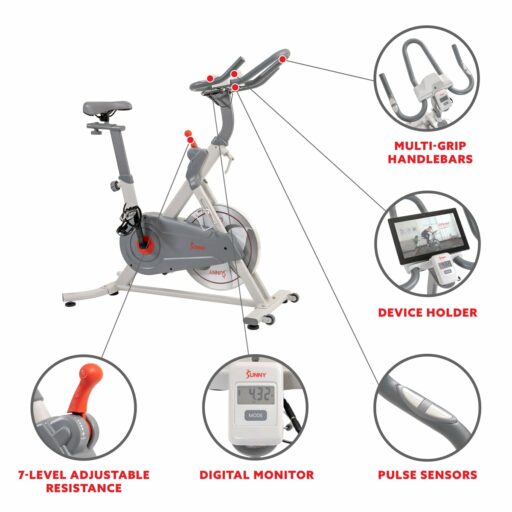 The speed and distance are only in Imperial units (MPH and miles); there is no option for setting them to metric units (kmh and kilometers or meters).
The pulse reading function is hand-grip only. Therefore, the monitor can only read your pulse using integrated sensors. Unfortunately, it is not telemetric and cannot read the pulse from a wireless HR transmitter.
Furthermore, the fitness monitor does not have pre-set programs or online connectivity. It only has one button, which covers all its functions. By pressing the button repeatedly, you can scroll through the workout metrics and select the one you want to view.
You can also select the monitor's Scan Mode, which automatically rotates all the metrics showing each one for 6 seconds. And finally, by pressing and holding the button for a few seconds, you can reset all the data to zero except the odometer.
The battery-operated fitness monitor requires two AAA batteries which come with the bike. It starts up when you begin pedaling or when you push the button. In addition, it also automatically turns off if it does not detect any activity on the bike for more than 4 minutes.
Assembly and Maintenance
The bike's body comes pre-assembled with the flywheel, belt, crankset, and resistance system. However, the rest of the parts require user assembly. You must attach the two base stabilizers, the seat, the pedals, the handlebar post, the handlebar, and the fitness monitor.
Therefore, it may take more than an hour of your time, but the process is pretty straightforward. The manual provides clear, step-by-step assembly instructions and all the necessary tools for the bike.
Once assembled, you only need to wipe off the sweat that may fall on the frame during and at the end of the workout, and in general, keep the bike clean. The bike's drive system does not require lubrication.
Pros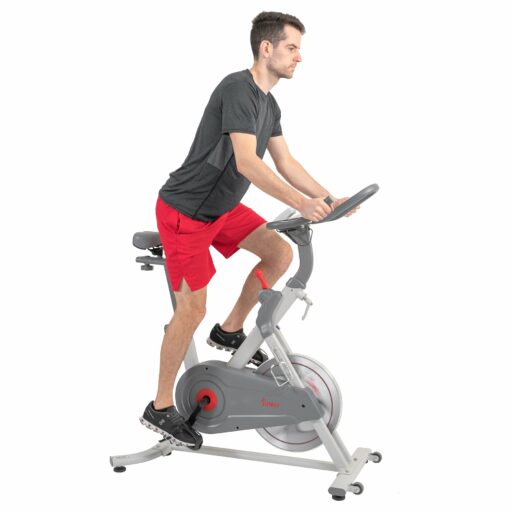 Fairly sturdy steel frame – can hold users up to 245 lbs;
Aesthetic design;
Transport wheels on the front base;
Adjustable levelers on both base bars;
Four-way adjustable seat;
Contoured, cushioned saddle with a middle cutout for improved breathability;
Smooth and quiet belt drive system;
Perimeter-weighted flywheel for improved inertia;
Frictionless magnetic resistance;
Durable metallic pedals with toe cages;
Fitness monitor included – it tracks time, distance, total distance, speed, RPM, calories, and pulse;
Device holder included;
Batteries for the monitor included;
Little maintenance is required;
Easy to assemble;
All the tools needed for the assembly included;
Excellent warranty.
Cons
The fitness monitor does not have a goal-setting function;
The fitness monitor LCD does not have a backlight.
Sunny SF-B1970 Indoor Cycling Bike Summary
The Sunny Health & Fitness Pro-Lite SF-B1970 is a home-use indoor cycling bike. It has an 18-lb flywheel, a 7-level manual magnetic resistance system, and a 4-way adjustable saddle. It also includes a fitness monitor that tracks the essential workout metrics.
The Sunny SF-B1970 is more than just a stationary exercise bike; each Pro-Lite feature augments or amplifies your at-home workouts to push you further and help you improve! Moreover, it's a bike for spin workouts, high-intensity cardio training, stamina development, and weight loss.
I hope you found this article helpful and informative. Would you please speak up if you have anything you'd like to share on the topic or any opinions about my website? I look forward to your comments, questions, and the sharing of ideas.
Please remember to consult your physician to determine if you have any medical or physical conditions that could risk your health and safety or prevent you from using the equipment properly. In addition, your physician's advice is essential if you are taking medication that affects your heart rate, blood pressure, or cholesterol level.