No two fitness journeys are the same; the Sunny SF-E320002 Elliptical Trainer allows you to progress and train at your own pace and how you like. Target your upper and lower body, or opt for a total body workout. For example, with a great cardio workout, backward strides focus on your calves and quads of your lower body.
The SF-E320002 changes pace by pushing a button away from the electromagnetic resistance. Moreover, cycle through 16 progressive resistance levels to test your full-body workouts to the limit! Get a complete and full-body workout combining magnetic resistance with the upper body swing arms.
The Sunny SF-E320002 Elliptical trainer has a fitness monitor that tracks speed, rpm, time, distance, odometer, calories burned, watt, pulse, target heart rate, and program resistance level to keep you informed and up to date on your fitness.
The SF-E320002 features extra-wide textured foot pedals with three adjustment positions that provide adequate grip for the most intense workouts. Stride forward or backward with confidence, and never lose your footing! The elliptical stride length is approximately 11.5 inches (29 cm) and is non-adjustable.
Learn more in my complete review below!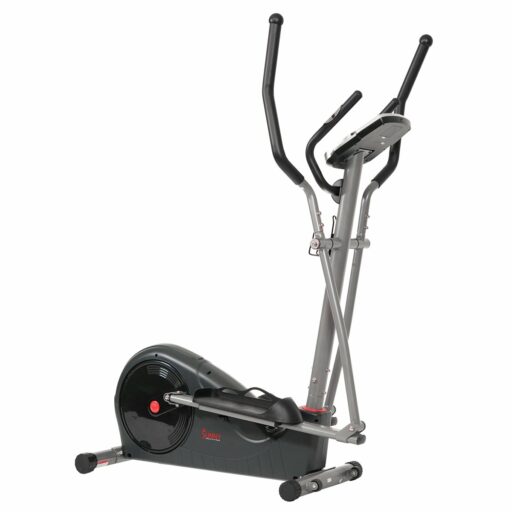 Product: Sunny SF-E320002 Elliptical Trainer
Price: For a great deal on this elliptical, merely go here on Sunny Health & Fitness
Warranty: Frame 3 years / Parts 180 days
My rating: is 8/10
Affiliate Disclosure: As a Sunny Health & Fitness Affiliate Program participant, I earn commissions on purchases made through links in the post. Full disclosure
Details and Specifications
Assembled dimensions: 49.4L x 23.4W x 63.4H inches (125L x 59W x 161H cm)
Assembled weight: 85.4 lbs (38.7 kg)
Flywheel weight: 11 lbs (5 kg)
Weight capacity: 285 lbs (129 kg)
Stride: 11.5 inches (29 cm)
Incline: N/A
Resistance: Eddy current, 16 levels
Fitness Monitor: 24 programs
Extras: Device holder, bottle holder
Warranty: Frame 3 years / Parts 180 days
SF-E320002 Frame Construction
The Sunny SF-E320002 elliptical trainer features a steel frame combining cylindrical and rectangular bars in its construction. However, it also integrates several non-metallic parts. The most notable are the pedal trays, the drive system's covers, and the monitor casing. In addition, all the steel bars come coated with a rust-resistant and chip-resistant gray paint finish.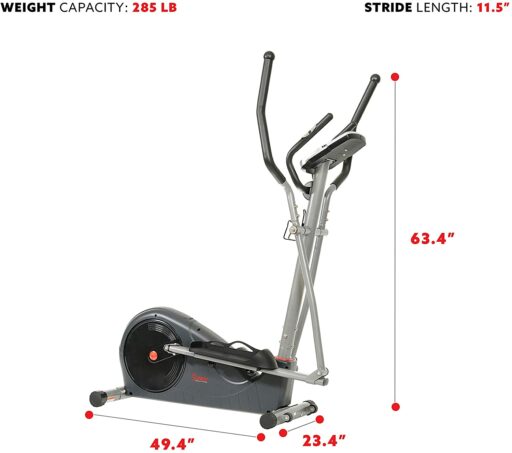 The fully assembled trainer is not too large. It is approximately 49.4″ (125 cm) long and 23.4″ (59 cm) wide. Thus, it fits pretty well, even in a small room. However, leaving a usage area with a clearance of at least two feet around the machine is advisable for safe use and easy access.
This Sunny elliptical trainer is not extremely heavy compared to most commercial-grade models. However, weighing approximately 85.4 lbs (38.7 kg) may require two people to carry and assemble the trainer.
Once completed, it is easy to move since its front base stabilizer features a transport wheelset. Also, its rear stabilizer has polygonal caps that can rotate, acting as floor levelers.
Handlebars and pedals
Like most other elliptical trainers in this price and feature range, the Sunny SF-E320002 model has two handlebars, one fixed and one mobile.
The fixed handlebars connect directly to the machine's front upright bar via bolts, so their angle or height is not adjustable. However, they come equipped with stainless steel integrated HR pulse sensors to track your pulse if you hold on to them.
The mobile handlebars feature extended grips with ball grips at the top for extra comfort. They don't have integrated HR pulse sensors or any controls. Instead, they connect to the front upright bar and the pedal bars, so they continue to move for as long as you pedal. Long, high-density foam sleeves cover both handlebars' grips for extra comfort.
The machine's pedals connect to two sturdy rectangular steel bars. They have a maximum user weight limit of 285 lbs (129 kg). The pedal trays are made of durable thermoplastic material. In addition, they don't have any extra cushioning, but they have front, rear, and inner guards for improved footing.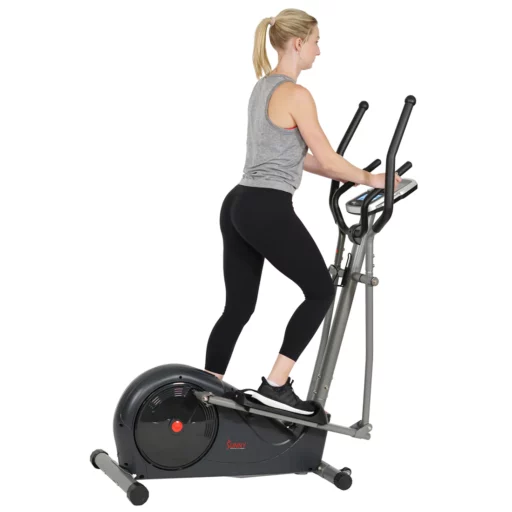 Also, each pedal bar has three attachment positions for its corresponding tray. Thus, you can attach the trays either slightly closer to the front of the machine or the rear. The pedal trays connect to their bars via two large knobs each, adjusted quickly.
Elliptical path, stride, and pedal height
The Sunny SF-E320002 elliptical trainer does not have an incline system. Therefore, the angle of its elliptical path is not adjustable. The machine's elliptical path is slightly inclined forward. Thus, a ride on this trainer resembles a descent on a smooth trail.
The machine's stride length is non-adjustable. This model has a relatively small stride compared to other Sunny ellipticals in this feature range. Its stride is approximate—11.5″ (29 cm). Therefore, the machine will not offer a complete range of motion for users taller than 6'1″ (185 cm).
However, anyone should use the machine and benefit from a consistent cardio workout if they don't exceed the specified 285 lbs (129 kg) weight limit.
The step-up pedal height is approx—8″ (20 cm). Conversely, the pedals are approximately 16″ (41 cm) above floor level at the highest point. Therefore, using this elliptical trainer in a room with a ceiling at least 20″ (51 cm) higher than the tallest user's height is advisable.
SF-E320002 Resistance system
The Sunny SF-E320002 elliptical trainer features a motorized magnetic resistance system. In addition, its fitness monitor has preset programs and automatically adjusts the pedaling difficulty.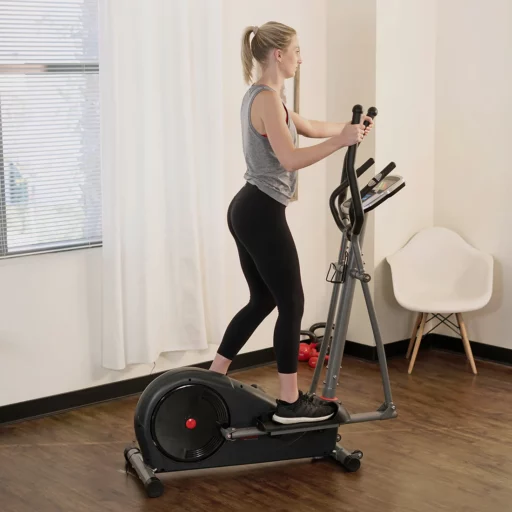 Unfortunately, it also means that the machine requires a connection to an electrical power outlet to allow resistance adjustments. A power adapter with cable comes with the trainer, and its specs are 9V/1.0A.
The machine's resistance system comprises a magnetic brake and an internal servo motor connected to the console. As you adjust the fitness monitor's resistance, or as the monitor automatically adjusts the resistance, the motor changes the magnets' pull on the flywheel, increasing or decreasing the pedaling difficulty.
This Sunny elliptical trainer offers 16 levels of resistance. The first few levels deliver light resistance, which is excellent for low-intensity cardio workouts or recovery training. Conversely, the 16th tension level provides considerably more resistance, allowing you to perform a more intense workout and burn more calories.
Drive system
The machine comes equipped with an 11-lb (5 kg) flywheel. Although this flywheel is not too heavy, it still provides a consistent pedaling motion. In addition, it is perimeter-weighted for improved inertia, and it is also bi-directional.
Thus, you can pedal in reverse if you want, with the same resistance as pedaling forward (depending on the selected level). However, coasting on the machine is not possible.
Last but not least, this Sunny elliptical trainer uses a belt drivetrain. It integrates a durable poly-v belt resistant to stretching. Since the machine uses a belt, not a chain, the drivetrain does not require periodic lubrication. It also generates less vibration than a chain, contributing to the ride's smoothness and quietness.
SF-E320002 Fitness monitor
The Sunny SF-E320002 elliptical trainer has a mid-range fitness monitor without online connectivity but offers a reasonably decent program range.
The machine's monitor features a multi-window LCD that tracks time, speed, distance, total distance, calories, watts, and pulse. Furthermore, speed and distance are in Imperial units (MPH and miles), and changing them to metric units is impossible.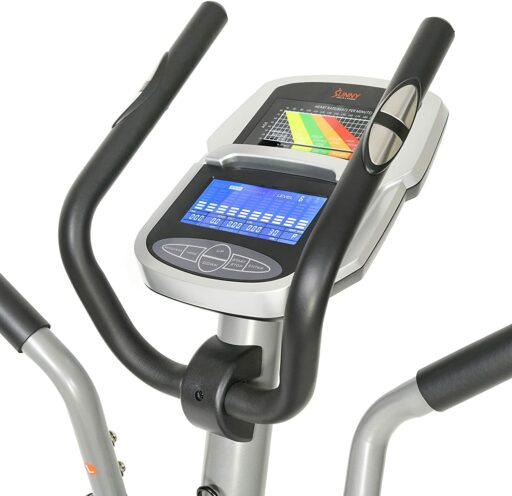 However, the fitness monitor is not telemetric. Therefore, if you hold on to the integrated HR pulse sensors, they can track your pulse. In addition, it does not communicate with a wireless heart rate chest strap.
The monitor does not have a sound system, a cooling fan, or a USB port. However, there still are two notable features to mention here. One is the device holder, and the other is the heart rate zone sticker above its display.
The device holder consists of a small shelf above the unit's LCD. It supports any smartphone or tablet but does not connect your device to the monitor. The HRC sticker indicates the heart rate zones you should aim for depending on your age to benefit from a better aerobic output, fat burn, etc.
Workout programs
Although the fitness monitor does not have online connectivity and is not compatible with any fitness apps, it has a decent program base. It offers 24 programs that cover various workouts.
First, the P1 program is the Manual mode, allowing you to adjust the resistance you like during pedaling. The P2 – P13 programs preset programs cover different types of workouts. For example, some have an interval layout; others have a peak layout, and others continuously increase the resistance up to the end of the training.
The other programs are P14 – Watt Control, P15 – Body Fat, P16 – Target Heart Rate, P17-P20 – Heart Rate Control, and P21-P24 – User Defined.
The Watt Control program adjusts the resistance automatically to help you maintain a constant watt value. In addition, the Body Fat program calculates your Body Mass Index depending on your height, weight, and age.
The Target HR program adjusts the resistance depending on the selected HRC, while the other programs have a preset HRC value of 55%, 65%, 75%, and 85%. And finally, the user Defined programs allow you to create and save up to 4 custom programs.
SF-E320002 Assembly and maintenance
The machine's base comes pre-assembled with all the drive and resistance elements. However, you will still have to attach the two base stabilizers, the pedals, the main upright bar, the moving arms, the fixed handlebars, and the fitness monitor.
Consequently, this may take more than an hour of your time, but the assembly process is relatively straightforward. The manual provides step-by-step assembly instructions, and all the necessary tools come included with the machine.
You only have to keep the machine clean for maintenance, wipe the sweat that may fall on the frame at the end of the workout, and periodically check for loose bolts and parts. The internal components do not require lubrication.
Pros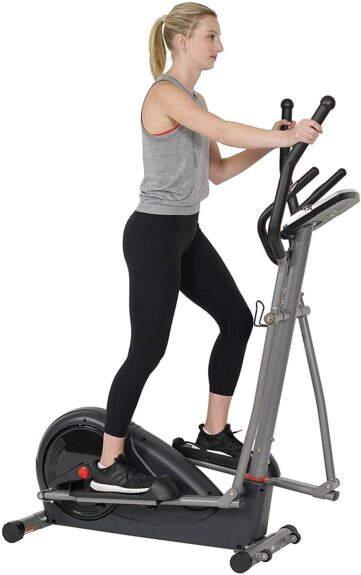 Sturdy frame – can support users up to 285 lbs;
Adjustable stabilizers on the rear base;
Transport wheels on the front base;
Fixed handlebars with pulse sensors;
Mobile arms with ball grips at the top;
Perimeter-weighted flywheel for improved inertia and motion stability;
Oversized pedals with a non-slip center and side/front guards for enhanced foot stability;
Three attachment positions for each pedal;
16 levels of eddy current, automatic resistance;
24 workout programs (1 manual, 12 preset, 1 watt, 5 HR, 1 BMI, four user-defined);
Goal setting functions for time, distance, and calories;
Recovery function;
LCD backlit fitness monitor;
Heart rate intervals sticker on the monitor;
Tablet holder included;
Bottle holder included;
Tranquil operation;
Easy to assemble;
Little maintenance is required;
Decent warranty.
Cons
The fitness monitor does not have online connectivity;
Relatively small stride – only 11.5″;
The fitness monitor's calorie reading is not too accurate.
Sunny SF-E320002 Elliptical Trainer Summary
The Sunny Health & Fitness SF-E320002 is an elliptical trainer for home use. It has a 16-level motorized magnetic resistance system and a fitness monitor with 24 workout programs. Additionally, its pedals have three adjustment positions, and the machine offers a reasonably decent weight capacity of 285 lbs.
Moreover, it's not an expensive elliptical; great for muscle toning, stamina development, weight loss, and in general, for light to medium-intensity cardio workouts.
I hope you found this article helpful and informative. Would you please speak up if you have anything you'd like to share on the topic or any opinions about my website? I look forward to your comments, questions, and the sharing of ideas.
Please remember to consult your physician to determine if you have any medical or physical conditions that could risk your health and safety or prevent you from using the equipment properly. In addition, your physician's advice is essential if you are taking medication that affects your heart rate, blood pressure, or cholesterol level.