The Sunny SF-RB4631 Recumbent Bike with Arm Exerciser helps burn unwanted calories and fat, bringing you back to a healthy life. This bike is an excellent package for your daily cardio workout. In addition, it aids people in maintaining their body shape, including different exercises for their arms.
The SF-RB4631 bike offers eight levels of magnetic resistance so you can change the intensity of your workout. In addition, you can adjust the leg resistance via the up/down knob at the stem's base for cycling.
There's a separate dial on the Sunny SF-RB4631 to adjust arm resistance. You can twist the dial at the digital console base for arm resistance – rotate it clockwise to increase arm resistance or anti-clockwise to decrease arm resistance.
The Sunny SF-RB4631 recumbent bike has an LCD digital fitness monitor that displays motivating workout stats as you exercise, including time, speed, distance, total distance, calories, pulse, and scan. For pulse monitoring, you hold your hands on the integrated pulse sensors located on the handlebars by the side of the seat.
Learn more in my complete review below!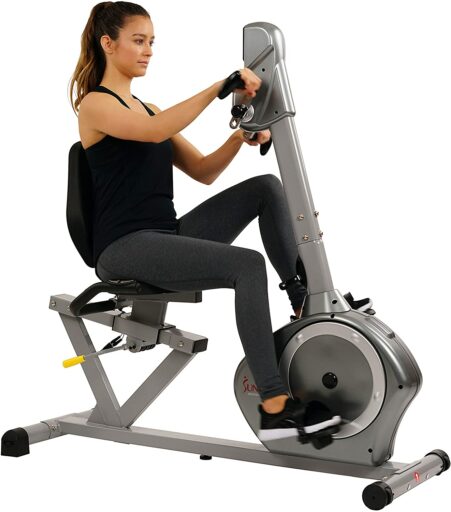 Product: Sunny SF-RB4631 Recumbent Bike
Price: For a great deal on this bike, merely go here to Sunny Health & Fitness.com
Warranty: Frame 3 years / Parts 90 days
My rating: 8.5/10
Affiliate Disclosure: As a Sunny Health & Fitness.com Affiliate Program participant, I earn commissions on purchases made through links in this post. Full disclosure
Details and Specifications
Assembled dimensions: 53L x 24W x 54H inches (135L x 61W x 137H cm)
Assembled weight: 89.5 lbs (40.5 kg)
Supported weight: 350 lbs (159 kg)
Handlebars: Recumbent and front arm exerciser
Seat: Adjustable
Drive: Belt
Resistance: Magnetic, eight levels
Fitness Monitor: Time, speed, distance, total distance, calories, pulse, SCAN
Warranty: Frame 3 years / Parts 90 days
SF-RB4631 Frame Construction
The Sunny SF-RB4631 recumbent bike features a durable steel frame that supports 350 lbs (159 kg) users. In addition, it has a one-piece chassis, a feature that considerably improves its overall sturdiness, while the welding points are precision-machined.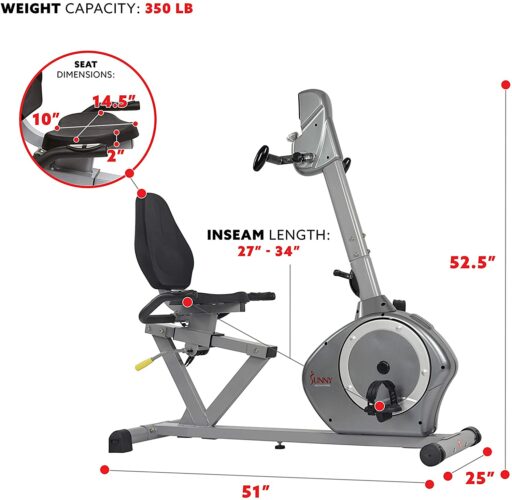 All the steel parts within the unit's frame come coated with corrosion-resistant light gray paint with the Sunny logo red.
Of course, the bike's construction also integrates several plastic parts. These are the covers of the flywheel, the arm exercise mechanism, and several other small covers. But, again, these don't diminish the unit's overall sturdiness, as they only have a protective and cosmetic role.
The Sunny SF-RB4631 is not an extremely heavy recumbent exercise bike. However, it does weigh approx 90 lbs (40.5 kg). This weight adds to its overall stability. In addition, its rear base bar has adjustable stabilizers, allowing you to level it on any floor perfectly.
On the other hand, transporting the assembled bike is not difficult as the front base has two small transport wheels, which facilitate its relocation. Using these wheels to relocate the machine, you will handle less than half its total weight.
The Sunny SF-RB4631 isn't enormous compared to other recumbent bikes. It takes 53″L x 24″W (135 x 61 cm) of floor space when fully assembled. However, it is advisable to leave at least two feet of clearance on each side, and at least one foot of room at the front and rear, for safe operation.
One last aspect to note here regards the unit's step-thru design. This type of frame construction makes access to the seat comfortable. Thus, entry and exit shouldn't be a problem, even for users with disabilities or elderly users.
Seat and handlebars
The Sunny SF-RB4631 recumbent bike has an ergonomic, relatively large seat. Its dimensions are 10.5″D x 15″W (26.6 x 38.1 cm).
The seat and backrest integrate a generous foam padding layer and durable vinyl upholstery. The backrest is contoured; it has a durable steel backbone, which results in excellent, healthy lumbar support.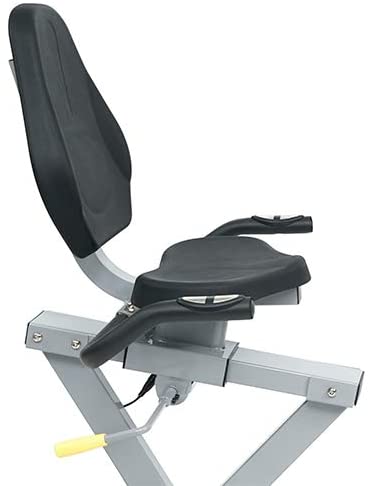 The seat is adjustable. Its adjustment track offers several inches of travel back and forth. The min/max inseam for this bike is 26″/33″ (66 – 83 cm), measuring from the furthest position of the pedal straight to the front edge of the seat. This bike can accommodate users between 4'10" and 6'4 ″ (148 – 193 cm).
The seat assembly and metallic base have a maximum user load of 350 lbs (159 kg). However, the backrest is not adjustable independently from the seat. Instead, it's directly attached to the seat's frame assembly and will move along on the adjustment rail.
The handlebars attach directly to the seat assembly. They feature ergonomic grips with integrated pulse sensors. If you're wondering, the distance between them is 22″ (56 cm). These recumbent handlebars do not adjust independently from the seat, just like the backrest.
Unlike many other recumbent bikes, the Sunny SF-RB4631 features an arm exerciser instead of the usual front handlebars. Its side arms are length adjustable. They have rotating, large grips as well as horizontal grips.
The monitor mast inclines slightly towards the seat, so the arm exerciser's position is not too far from the seat; thus, exercising your arms doesn't require an awkward position as for other trainers.
SF-RB4631 Resistance system
This Sunny recumbent bike features two unique resistance systems, one for the pedals and one for the arm exerciser. The cycle uses a manual magnetic resistance system for the pedals, while the arm exerciser integrates a friction resistance system.
The two elements are not interconnected and can move independently from one another. Therefore, if you only use the pedals, the arm exerciser does not move, and vice-versa.
The pedal resistance system comprises a small magnetic brake attached to the tension lever via a steel cable at the lower part of the monitor mast. As you move the lever up or down, the magnetic brake position to the internal flywheel changes, resulting in more or less resistance.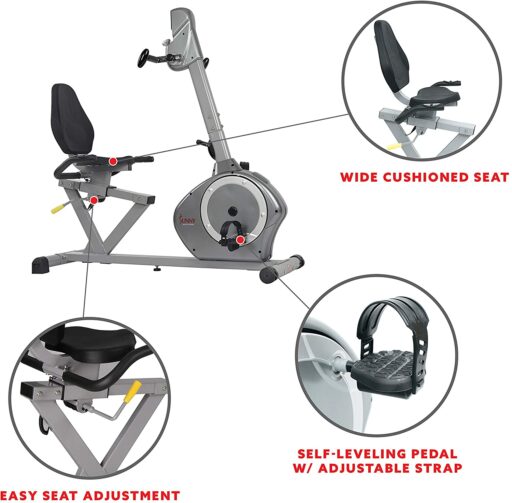 There are eight resistance settings marked on the adjustment lever. The 1-3 levels provide a light resistance, great for recovery training.
Conversely, the highest 7-8 settings can achieve a higher burn and execute superior-intensity training routines. Finally, the highest resistance setting isn't challenging; it's a mid-range resistance.
The arm exerciser's resistance system integrates a small wheel and a leather brake pad connected to the knob on top of the assembly. When turning the knob clockwise, the pad applies more friction to the wheel, generating more resistance.
You can tighten the knob up to the point you can barely rotate the arms. Also, since this is a friction resistance system, it's not whisper-quiet as the pedal resistance.
Drive system
The Sunny SF-RB4631 recumbent bike uses a belt drive system, so you won't have to worry about transmission lubrication. Also, a belt drive generates less vibration than a chain and delivers a smooth pedaling motion.
The bike integrates a weighted perimeter flywheel, resulting in more inertia and consistency during pedaling. It also delivers a very steady motion. The weight of the wheel is not specified.
But as a general idea, its weight should be between 12 – 18 lbs (5.4 – 8.1 kg). Therefore, the lowest resistance settings don't generate much resistance with minimal joint stress.
The bike comes equipped with a solid crankset with steel crank arms. The pedals are made of durable nylon, featuring a non-slip surface and adjustable straps. Also, they're weighted to always turn face-up for ease of foot placement. They also have standard threads, so replacements for them are widely available.
SF-RB4631 Fitness monitor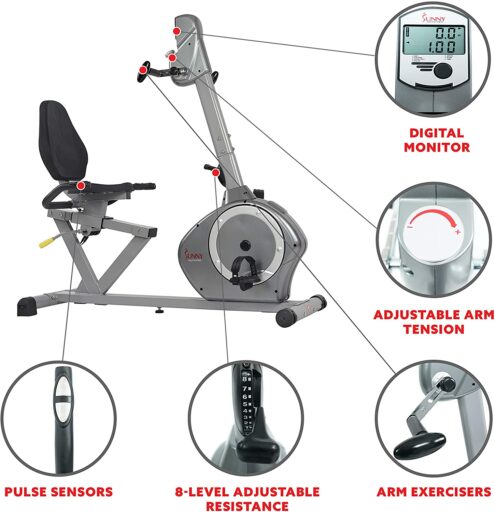 The bike's fitness monitor does not connect to the arm exerciser. Therefore, it doesn't track the calories burned or other metrics using the arm exerciser.
On the other hand, it tracks time, distance, total distance, speed, calories, and heart rate when using the pedals. In addition, it features an LCD with significant, easy-to-read digits.
The fitness monitor is straightforward to operate. It only has one (MODE) button, which toggles ON/OFF the SCAN function. All the workout metrics rotate when the SCAN function is ON; each displays for 6 seconds.
This button also fulfills the monitor's reset function; by pressing and holding it for 3 seconds, all the values return to zero, except the total distance. To reset the entire distance, you have to remove the batteries.
The monitor is battery-powered; thus, the bike doesn't require a connection to a power circuit. Also, it has a sleep mode that will enter after 4 minutes of inactivity on the bike. After that, it automatically starts when you pedal or press the button.
SF-RB4631 Assembly and Maintenance
The bike's base frame, primary drive, and resistance elements come pre-assembled. You only have to add the base stabilizers, the monitor mast, the arm exerciser, the fitness monitor, the seat with its backrest, and the pedals.
Consequently, it may take more than an hour of your time. However, the manual provides clear assembly instructions; all the assembly tools come with the bike.
Once completed, maintenance doesn't require much. However, the internal friction leather pad may require lubrication if the arm exerciser emits a loud noise. Therefore, remove one of the arms and side covers and apply a silicone lubricant on its flywheel. Also, it's advisable to check the bike for loose bolts and parts periodically and retighten them if necessary.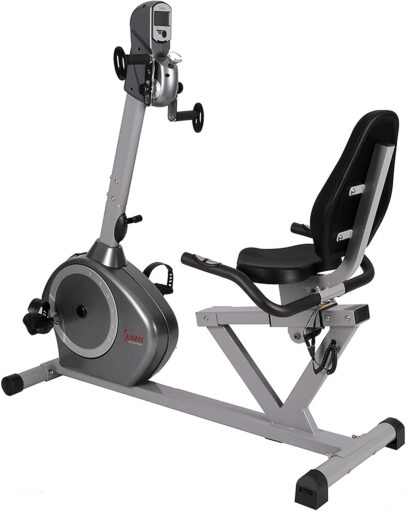 Pros
Sturdy frame – can support users up to 350 lbs;
Adjustable stabilizers on the rear base;
Transport wheels on the front base;
Padded seat and backrest with a contoured design for maximum comfort;
Adjustable seat – can accommodate users up to 6'4″;
Recumbent handlebars with pulse sensors;
Anti-slip, weighted pedals with adjustable straps;
Arm exerciser with friction resistance;
Eight levels of magnetic resistance for the pedals;
A fitness monitor that can track time, distance, total distance, speed, calories, and pulse;
Smooth and quiet operation, suitable for apartment use;
Easy to assemble;
Very little maintenance is required.
Cons
There is no bottle holder;
It doesn't have a tablet holder;
The fitness monitor LCD doesn't have a backlight.
Sunny SF-RB4631 Recumbent Bike Summary
The Sunny Health & Fitness SF-RB4631 is a magnetic resistance recumbent bike equipped with an arm exerciser and a fitness monitor. It has a very sturdy frame, supporting up to 350 lbs (159 kg).
Moreover, it's a bike for light to medium cardio and recovery workouts. It's great for anyone to tone legs and arms muscles and regain or maintain cardiovascular shape, stamina development, and weight loss. And finally, it's one of the most affordable bikes with a front-arm exerciser available.
I hope you found this article helpful and informative. Would you please speak up if you have anything you'd like to share or any opinions about my website? I look forward to your comments, questions, and the sharing of ideas.
Please remember that you should consult your physician to determine if you have any medical or physical conditions that could risk your health and safety or prevent you from using the equipment properly. In addition, your physician's advice is essential if you are taking medication that affects your heart rate, blood pressure, or cholesterol level.