The frame of the XTERRA ERG700 Folding Rower is both steel and aluminum. The rail system is made of aluminum for smooth glide motion, while the rest is heavy-duty steel. The ERG700 has a maximum user weight capacity of up to 350 pounds.
With the ERG700 dual air and electronic magnetic resistance, you control your output and resistance. The amount of work you do is determined by how hard you row—row harder to go faster and easier to go slower. In addition, the 16 magnetic resistance levels allow you to quickly adjust the flywheel's resistance from setting 1 to max setting 16.
The XTERRA ERG700 fitness monitor features a 5.5-inch LCD that displays time, distance, strokes/min, count, calories, heart rate, watts, level, and a program graphic of resistance over time. Access the ten built-in programs from the main menu: Quick Start, Competition Racing, Interval/Tabata, Target Time, Target Distance, Target Calories, Target Heart Rate, and Target Strokes.
The seat has a steel base that integrates three durable concealed rollers attached to the rail for smooth and quiet glide motion. The ERG700 seat's height at the top end of the frame is about 20 inches; therefore, users can quickly get on & off the rower without hassle.
Learn more in my complete review below!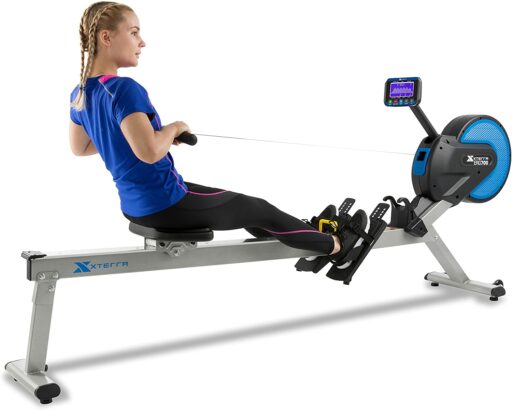 Product: XTERRA ERG700 Folding Rower
Price: For a great deal on this rower, merely go here to XTERRA Fitness.com
Warranty: Frame lifetime / Parts 5 years / Labor 1 year
My rating: 8.5/10
Affiliate Disclosure: As an XTERRA Fitness Affiliate Program participant, I earn commissions on purchases made through links in this post. Full disclosure
Details and Specifications
Assembled dimensions: 97L x 18W x 38H inches (246L x 46W x 97H cm)
Assembled weight: 80.9 lbs (37 kg)
Weight capacity: 350 lbs (159 kg)
Frame: Steel & aluminum
Footrests: Adjustable, with straps
Resistance: Air & magnetic, 16 levels
Fitness Monitor: 10 workout programs
Warranty: Frame lifetime / Parts 5 years / Labor 1 year
ERG700 Frame Construction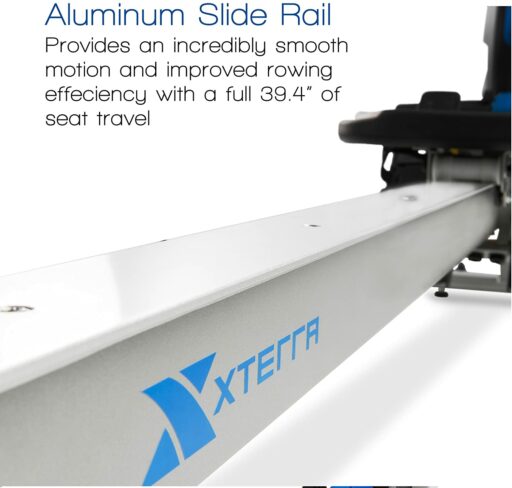 The XTERRA ERG700 combines steel, aluminum, and ABS parts in its frame construction. Its rail is aluminum, the front part that sustains the fan, and the rear stabilizer is steel, while the covers of the resistance elements are durable ABS material.
All metallic parts come coated with a corrosion-resistant, and chip-resistant light gray paint finish with the XTERRA logo painted blue. These are the only colors available for this unit.
This XTERRA rower is relatively large, especially lengthwise. With the frame fully set up, it measures 97″ (246 cm) in length and is approximately 18″ wide.
Along with these dimensions, you'll need a few extra feet of clearance (at least two feet at the rear and on the sides and at least one foot of clearance at the front) for safe operation. Therefore, this machine may not be the best choice for a small room or apartment.
On the other hand, the unit's frame is foldable. The rail folds up, and with it folded up, the machine's length is reduced to 52.5″ (133 cm), while its height becomes 62″ (157 cm). The rear stabilizers can also be folded along the rail if needed.
The fully assembled machine is not extremely heavy, despite its size. It only weighs approx. 81 lbs (~37 kg). Therefore, assembly by just one person is possible. Furthermore, it's effortless to relocate once fully assembled, as its front base integrates a set of wheels.
The machine offers excellent stability. Both its bases integrate adjustable levelers with a rubberized pad. Therefore, you can perfectly level the unit on any floor, but the rubber on the leveler also provides an excellent grip on the floor.
The rail of the XTERRA Fitness ERG700 is relatively long compared to the rails of other rowing machines. It provides approx. 50″ (127 cm) of travel for the seat. Thus, even users over 6'5 ″ (196 cm) should be able to get a full leg extension during rowing. It's also durable enough to hold users up to 350 lbs (159 kg).
Seat and rail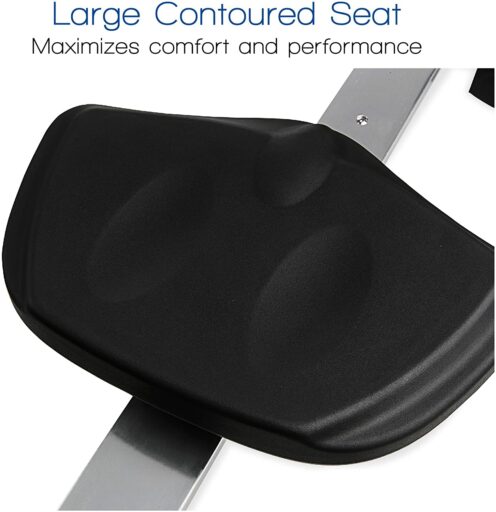 This XTERRA Fitness rower features a reasonably large seat (approx. 14″ full). The seat does not integrate cushioning but does feature a contoured, anti-slip surface, delivering superior performance during rowing.
The seat base is steel-made; along with the rail, the seat assembly can hold up to 350 lbs (159 kg). It integrates three sets of rollers, two placed on top of the rail, the other under its top, to provide maximum stability. All the rollers integrate heavy-duty ball bearings for the smooth motion of the seat.
When unfolded, the rail is entirely horizontal. Therefore, the top of the seat is approx. 20″ (51 cm) above floor level. Consequently, taking a position or standing up is easy, which can be a plus for users with specific disabilities or the elderly.
Footrests and pulling handle
The footrests combine steel and nylon elements. Their bases are steel-made to provide rigid support for each leg push. However, their top parts are made of nylon material to ensure ease of adjustment and a bit of flex with every stroke. They also have heel guards and velcro straps to keep your feet secure.
The machine has an ergonomic handle, slightly curved, to reduce stress on the wrists. In addition, its grips come rubberized for optimal comfort.
The handle is attached to a heavy-duty nylon strap. The material of the belt is highly resistant to abrasion. In addition, the strap can extend for up to 80.7″ (205 cm), so you can perform other exercises, not only rowing.
ERG700 Resistance system
The XTERRA Fitness ERG700 rowing machine features an air & magnetic resistance system. In addition, it comes equipped with a 7.7 lbs (3.5 kg) flywheel fan, which delivers a dynamic response during rowing.
Therefore, if you pull the handle faster, the air resistance it generates will be higher. Thus, the rowing feel generated resembles the rowing of a real boat through the water, which is why pro athletes can successfully use the machine.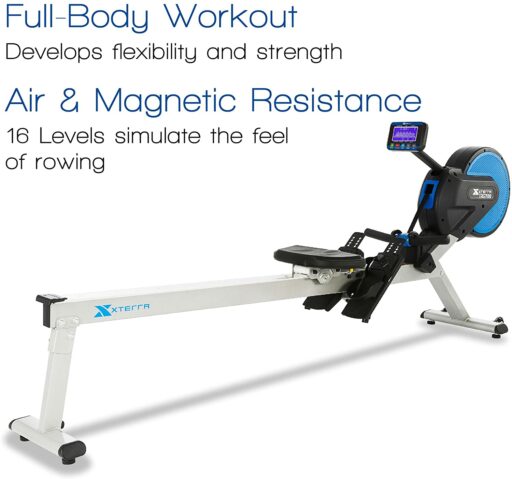 The internal magnetic resistance system consists of a small magnetic brake and a servo motor. Thus, the magnetic resistance is automatic and only adjustable from the fitness monitor. In addition, the machine will auto-adjust the magnetic resistance according to each program segment if specific programs are in use.
The fitness monitor also needs a connection to a power source to become operational and active for the magnetic brake.
The unit's magnetic brake provides 16 levels of resistance. The first few levels are very light, and the fan provides the primary resistance. However, the top resistance levels deliver difficulty, offering challenges close to the professional athlete level.
One last aspect to note here regards the unit's level of noise. Since it comes equipped with a flywheel fan, which generates air resistance, it does create a bit of noise.
However, since the unit combines air with magnetic resistance, the sound level is considerably lower than for a full-air rower. As a general idea, the noise generated is similar to a small electric fan.
Fitness monitor
The XTERRA ERG700 comes equipped with an advanced, programmable fitness monitor. First, it has a 5.5″ diagonal LCD, which integrates a blue LED backlight for superior visibility.
Its display divides into eight distinct sections; therefore, you can view all the workout metrics at once, so you won't have to use a scan mode to rotate them.
The four bottom panels show your pulse, calories burned, watts generated, and resistance level. The top panels show your strokes per minute, time, and distance traveled. And finally, the larger mid-section shows the program profiles in use.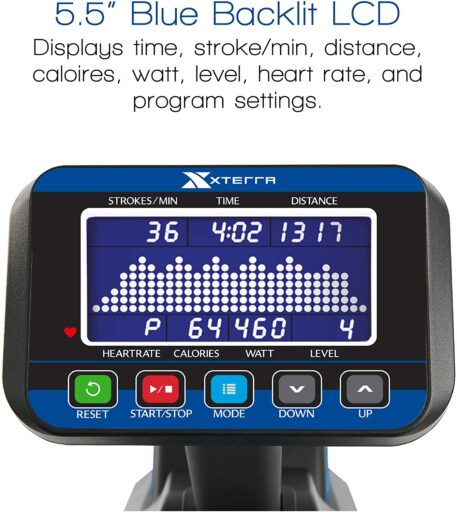 The rower does not have any pulse sensors. However, the monitor has an internal HR receiver to read your pulse through an HR transmitter. An HR chest strap is available for this rower but not included.
The fitness monitor does not have Bluetooth connectivity, nor is it compatible with any online fitness apps. However, it has ten built-in programs, plus the Manual Mode, which allows you to adjust the resistance as you exercise freely.
Workout programs
The ten workout programs are Target Distance, Target Time, Target Calories, 20/10 Interval, 10/20 Interval, Custom Interval, Far Burn, Cardio Workout, Strength Workout, and Game Workout.
The monitor allows you to select a goal value for time, distance, and calories for the first three Target programs. Then, if a target is assigned, the monitor will show each stroke's remaining amount until you reach that particular target.
For the Interval programs, the first two are preset 20/10 and 10/20; in other words, these preset values require you to exercise for 20 sec and rest for 10 sec or exercise for 10 sec and rest for 20 sec. The third interval program is Custom so that you can select the exercise and rest duration.
The Fat Burn, Cardio, and Strength programs have a preset grid and allow you to train to achieve a higher calorie burn, improve your cardiovascular health, or improve your muscle strength.
The last program is a Game that provides an obstacle course setting. A three-dot line on the left represents your position, and "obstacles" come from the right, moving one row every second. Based on how fast you pull, the three-dot line can go up or down, the goal being to avoid as many obstacles as possible.
ERG700 Assembly and Maintenance
The front part of the rower that integrates the flywheel and the magnetic resistance elements comes fully assembled, with the console already attached. Therefore, you only have to connect the front stabilizer, the rail, the seat, the rear stabilizer, and the footrests. Consequently, it shouldn't take more than an hour. All the necessary tools come with the machine. Also, the manual provides excellent step-by-step assembly instructions.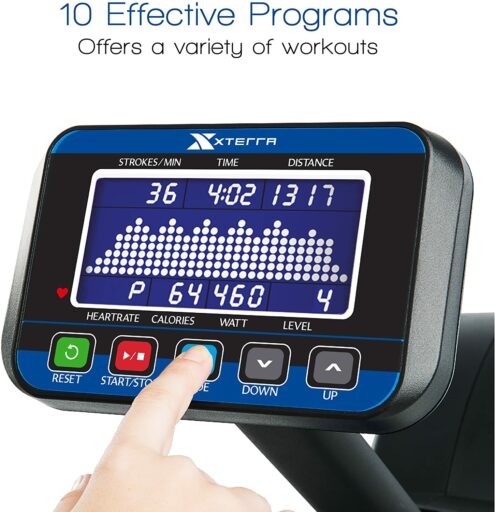 Internal maintenance for the machine is not necessary. Therefore, you only need to wipe the sweat from the frame after each workout session, periodically check for loose bolts or parts, and re-tighten them.
Pros
Durable frame – can hold users up to 350 lbs;
Folding frame, space-saving design;
Long rail – can accommodate tall users;
Transport wheels at the front and middle;
Adjustable stabilizers on both bases;
Adjustable footrests with heel guards and straps;
Contoured seat;
20″ seat height for easy entry and exit;
Air resistance for a natural, dynamic response during rowing;
16 levels of automatic magnetic resistance for overall tension adjustment;
Multi-window fitness monitor, which indicates the essential workout metrics;
Ten workout programs;
Reasonably quiet for a rower with air resistance;
Easy to assemble;
Little maintenance is required;
Excellent warranty.
Cons
There is no Bluetooth or online connectivity;
An HR chest strap does not come with the machine.
XTERRA ERG700 Folding Rower Summary
Start making waves with your workouts on the XTERRA ERG700 Folding Rower and exceed your expectations. The full-body rhythmic nature of rowing makes it wonderfully efficient at burning calories while also developing flexibility and strength.
The XTERRA Fitness ERG700 is an air & magnetic rowing machine offering 16 levels of magnetic resistance. It features durable construction, an extra-long rail, and an impressive weight capacity of 350 lbs. Also, its fitness monitor offers ten workout programs to keep you motivated.
Moreover, it's an excellent machine for users of all levels, perfect for a full-body cardio workout, interval workouts, weight loss, strength, and stamina development. It offers superb value for the price.
I hope you found this article helpful and informative. Would you please speak up if you have anything you'd like to share on the topic or any opinions about my website? I look forward to your comments, questions, and the sharing of ideas.
Please remember that you should consult your physician to determine if you have any medical or physical conditions that could risk your health and safety or prevent you from using the equipment properly. In addition, your physician's advice is essential if you are taking medication that affects your heart rate, blood pressure, or cholesterol level.