The Sunny SF-RB4708 Recumbent Bike is one of the newest exercise bikes from Sunny Health & Fitness. It has movable handlebars that connect to a frame at the front base, which allows for an upper-body workout. The handlebars move at the same time that the pedals spin because they are interconnected.
The handlebars and the pedals are crucial for any indoor exercise bike because they are responsible for comfort and suitability. The recumbent bike is one of the most comfortable indoor exercise bikes because of its design and seat.
The SF-RB4708 has a magnetic resistance system. There are eight levels of resistance, which is excellent for beginners and medium fitness level individuals. In addition, it is perfect for seniors and folks recovering from an injury or other forms of medical condition that require physical therapy.  Also, it is a belt-driven bike that has the characteristics of smoothness and quietness.
The Sunny SF-RB4708 comes with a primary console. The monitor displays workout data such as the time, distance, speed, odometer, and calories burned. It also shows heart rate data due to the EKG sensors that integrate onto the handlebars.
Learn more in my complete review below!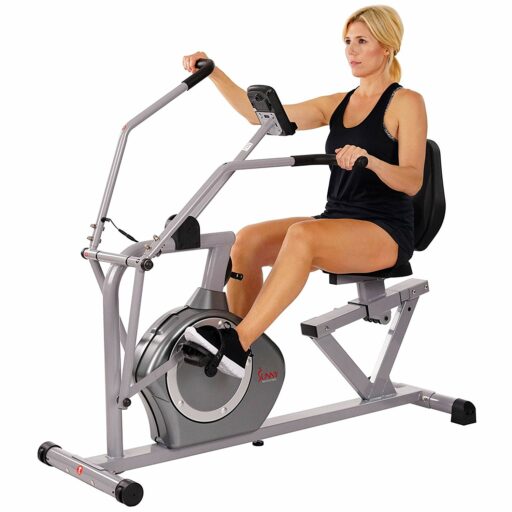 Product: Sunny SF-RB4708 Recumbent Bike
Price: For a great deal on this bike, merely go here on Amazon
Warranty: Frame 3 years / Parts 90 days
My rating: 8.75/10
Affiliate Disclosure: As an Amazon Affiliate Program participant, I earn commissions on purchases made through links in this post. Full disclosure
Details and Specifications
Assembled dimensions: 60L x 25.5W x 52H inches (153L x 65W x 132H cm)
Assembled weight: 91 lbs (41 kg)
Weight capacity: 350 lbs (159 kg)
Seat: Adjustable
Pedals: With adjustable straps
Resistance: Magnetic, eight levels
Console: Time, distance, speed, calories, odometer, pulse, SCAN
Warranty: Frame 3 years / Parts 90 days
SF-RB4708 Frame construction
The Sunny SF-RB4708 recumbent bike features a frame made of steel tubing, and the base longitudinal bar is a single piece. This results in a superior overall sturdiness. The front and rear base bars attach to the mainframe, though, via bolts.
The front base integrates transport wheels, while the rear base features adjustable stabilizers. The middle of the bottom frame bar also has a small stabilizer, which improves the bike's overall stability. Also, the assembled machine weighs approx. 91 lbs (41 kg), so its balance shouldn't be an issue.
Although the Sunny SF-RB4708 recumbent bike isn't a large fitness machine such as a commercial elliptical or a treadmill, it still takes quite a bit of floor space. With the frame fully assembled, it is 60″ (153 cm) long and 25.5″ (65 cm) wide.
It requires at least two feet of clearance all around on the sides and at least one foot of room at the front and rear for unhindered operation. Therefore, it may not fit well in a small space.
All the steel parts in the frame construction are coated with corrosion-resistant paint, grey in color, this being the only color available for this exercise bike. But even though its frame coating is corrosion-resistant, the cycle is for indoor use only. If storing or using it outside, moisture can eventually damage its internal parts, or the screws and bolts may catch rust.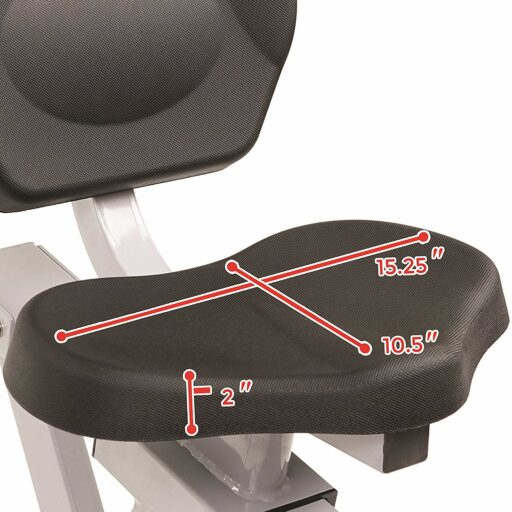 Finally, the bike's frame is well-constructed; it can withstand users up to 350 lbs (159 kg). In addition, the seat base bars are square, not cylindrical as the handlebars and the other front frame bars, an aspect that increases its overall sturdiness.
Seat and handlebars
The Sunny Health & Fitness SF-RB4708 comes equipped with a comfortable, contoured seat featuring durable synthetic upholstery. Both the seat and the backrest integrate a relatively thick layer of padding. The whole seat assembly is adjustable, connecting to an oblique rail, which offers an adjustment span between 26.5″ and 34″ (67 – 86 cm).
Also, the distance between the seat and the closest hand-grip varies between 12″ and 36″ (30.5 – 91.5 cm). Thus, the bike can accommodate users between 5'0″ and 6'5″ (153 – 195 cm) with no problem.
The backrest does not recline, nor does it adjust in any way, independently from the seat. Instead, it is attached directly to the same seat bar and will move along with the adjustment rail seat.
As I've mentioned above, this exercise bike features moving handlebars only. Therefore, they cannot be locked in place and will continue to run for as long as the pedals move. However, if you want to exercise using only the arms, you can place your feet on the floor.
SF-RB4708 Drive and resistance
The Sunny SF-RB4708 features a manual magnetic resistance system. It consists of a magnetic pad connected via a steel wire to the lever on the front frame bar. By moving the lever up and down, you increase or decrease resistance.
There are eight resistance settings available. The highest resistance levels (7-8) are not too hard, though. Differently put, this exercise bike delivers a light to medium workout, being a good choice for users who require recovery training or elderly users.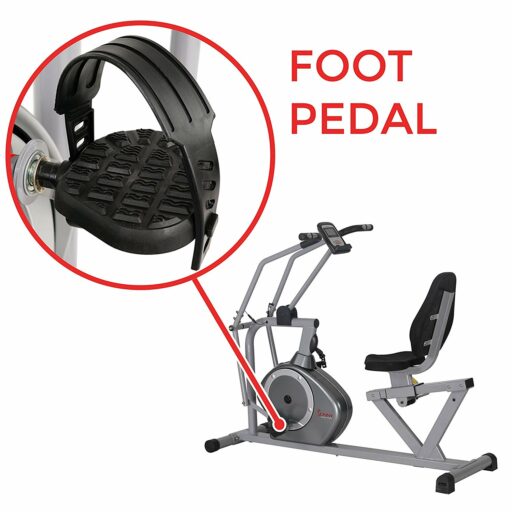 When it comes to the bike's drive system, like most other models with a manual magnetic resistance system, this particular feature features a belt drive. It uses a stretch-resistant, heavy-duty belt designed to last for many years of use. Since it's a belt drive, it doesn't require any lubrication. The bike's operation is also very smooth and quiet.
The integrated flywheel is not extremely heavy. Its weight is not specified, but it usually weighs between 8 and 12 lbs for bikes in this range. It's perimeter-weighted, though, which means it delivers a smooth motion.
Since it's a recumbent bike, the crankset is not for spin workouts. Differently put, you will probably break it if you try to pedal while standing up on the pedals. However, it comes equipped with a sturdy crankset featuring solid steel crank arms.
The pedals supplied with the bike are a durable nylon material; they feature a weighted design and integrate adjustable straps for maximum foot stability. They also have standard threads, so it's easy to find replacements for them if needed.
This recumbent bike features a narrow Q-Factor, which means the foot positioning onto the pedals is comfortable, without any lateral stress on your knees.
Console
The Sunny Health and Fitness SF-RB4708 recumbent bike has a pretty basic console that tracks your pulse along with time, distance, speed, and calories. In addition, it has an odometer function, and it allows you to set up targets for time, distance, calories, and pulse.
It can only track your pulse via the EKG sensors integrated into the handlebars. However, it is not telemetric; therefore, it does not work with Polar or other wireless HR chest strap transmitters.
The meter is easy to operate. First, it has a SCAN function that rotates the workout metrics showing each display for 6 seconds.
You can toggle the SCAN function OFF by pressing the MODE button to keep only the parameter that interests you to view at all times. The SET button allows you to set a value for time, calories, distance, and pulse, while RESET clears all the metrics to zero.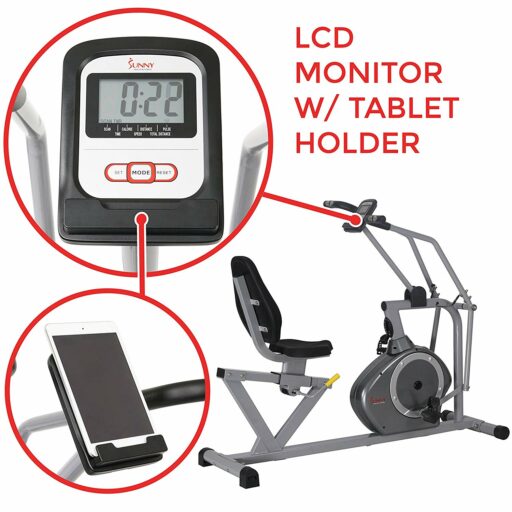 The unit has a sleep mode function to which will enter after 4 minutes of inactivity. It will turn back on when you begin pedaling or press any of the buttons. It's battery-powered and requires 2 AA batteries, which (are included).
The console unit is attached to a bar that allows angle adjustment. It also integrates a tablet holder, which can accommodate any tablet.
SF-RB4708 Assembly and Maintenance
The core of the bike is pre-assembled and attached to the mainframe. Therefore, you only have to connect the front and rear base bars, the seat's adjustment rail, the seat, the pedals, the moving arms, and the console. This may take up to an hour.
However, the included manual provides the necessary assembly instructions — also, all the tools required for the assembly come included with the bike.
Since the bike features a magnetic resistance system, there isn't any maintenance required for the internal parts. So, the only thing to do for this is to check for loose bolts and parts periodically and retighten as needed.
Note: The tablet contained in the image does not come included with the bike.
Pros
Solid frame for a light recumbent bike, with a maximum user capacity of 350 lbs;
It comes with adjustable stabilizers on the rear base;
Transport wheels on the front base;
Step-thru frame design;
Mobile handlebars;
EKG sensors in each hand-grip;
Adjustable seat – can accommodate users between 5'0″ – 6'5″;
Cushioned seat and backrest, for maximum comfort;
Quiet magnetic resistance system;
Adjustable resistance (8 levels);
Weighted pedals with adjustable straps and standard threads;
A console that can track time, distance, total distance, speed, calories, and pulse;
Target settings for time, distance, calories, and pulse;
Tablet holder included;
Console mast is angle-adjustable;
Easy to assemble and operate;
Transport wheels and rear stabilizers;
Little to no maintenance is required.
Cons
No bottle holder;
No recumbent handlebars (or armrests) at the seat;
The console isn't backlit.
Sunny SF-RB4708 Summary
The Sunny SF-RB4708 is a heavy-duty recumbent bike for home use. It features a solid steel frame that can support users up to 350 lbs, with moving handlebars, a comfortable seat, and a console with target settings for pulse, calories, distance, and time.
It's an exercise bike for users of all levels, great for light to medium intensity workouts, stamina development, recovery training, and weight loss. You can burn up to 5-600 calories per hour on it, depending on the resistance levels used. And finally, it's not an expensive exercise bike, offering excellent value for the price.
I hope you found this article helpful and informative. If you have anything you'd like to share or any opinions about my website, please speak up. I look forward to your comments, questions, and the sharing of ideas.