The Sunny SF-RBD4703 Recumbent Bike with Workstation allows a great low-impact cardio workout while multitasking. The bike is sturdily built and supports an extended user weight capacity of up to 350 lbs. In addition, it also features a safer step-through design for less strain on your back and legs when mounting or dismounting.
The large and removable workstation on the SF-RBD4703 provides a great place to set your laptop, documents, book, and tablet. Get work done with this spacious connectable desktop while you get in a great, low-impact cardio exercise. There is no need to limit your cycling before or after work. You can do both comfortably with this recumbent bike.
The Sunny SF-RBD4703 Recumbent Bike with Workstation has an easy-to-use LCD fitness monitor that displays motivating workout stats as you exercise, including time, speed, distance, odometer, calories, and scan. The monitor also features a built-in media shelf to place a tablet or mobile phone.
To make your longer sessions as comfortable as possible, the SF-RBD4703 comes outfitted with an extra padded seat and backrest to ensure proper blood flow in the glutes for prolonged and vigorous workouts. In addition, this extra padding helps relieve the pressure points of sitting and reduces the falling asleep feeling.
Learn more in my complete review below!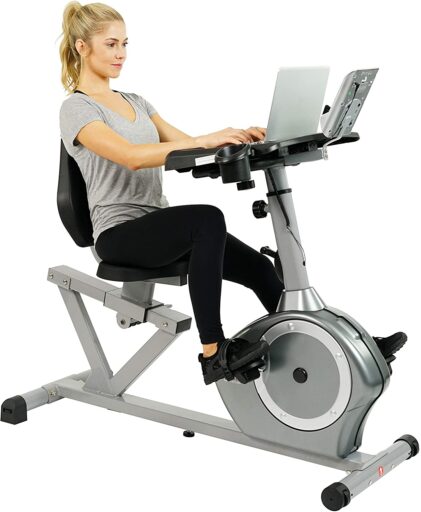 Product: Sunny SF-RBD4703 Recumbent Bike with Workstation
Price: For a great deal on this bike, merely go here to Sunny Health & Fitness.com
Warranty: Frame 3 years / Parts 90 days
My rating: 8.5/10
Affiliate Disclosure: As a Sunny Health & Fitness Affiliate Program participant, I earn commissions on purchases made through links in this post. Full disclosure
Details and Specifications
Assembled dimensions: 52.8L x 23.6W x 53.5H inches (134L x 60W x 136H cm)
Desk dimensions: 15D x 22W inches (38L x 56W cm)
Assembled weight: 94.8 lbs (43 kg)
Supported weight: 350 lbs (159 kg)
Seat: Adjustable, with backrest
Pedals: With straps
Resistance: Magnetic, eight levels
Fitness Monitor: Included
Other accessories: Tablet holder, bottle holder
Warranty: Frame 3 years / Parts 90 days
SF-RBD4703 Frame Construction
The Sunny SF-RBD4703 recumbent desk exercise bike features a steel tubing frame for a very sturdy construction. The cycle can support users up to 350 lbs (159 kg), which is impressive for a non-commercial model. The only plastic parts in its construction are the flywheel covers, the desk, and the base bars' covers.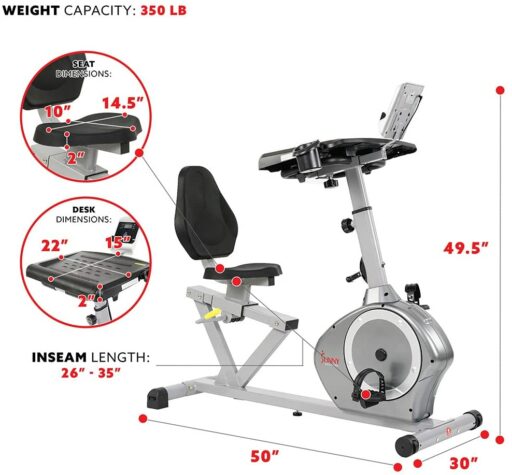 This exercise bike offers a slightly larger footprint and weight than other recumbent bikes, improving its stability. Its assembled measurements are 52.8″L x 23.6″W (134 x 60 cm), while the assembled weight is approx—99 lbs (43 kg). In addition, the rear base comes equipped with adjustable stabilizers, so you can perfectly level it on any surface.
Although this bike is considerably more massive than the average road bike, its transport or relocation shouldn't be difficult once assembled. Its front base bar integrates two transport wheels, which facilitate its relocation.
Like many other Sunny Health & Fitness bikes, the Sunny SF-RBD4703 features a gray finish. This type of coating is resistant to corrosion and scratching. However, the paint is corrosion-resistant, but the bike is intended for indoor use only.
By storing it and using it outside, moisture may eventually damage its internal components, or the screws and other parts may start to rust.
Workstation
One of the best parts of the Sunny SF-RBD4703 recumbent desk exercise bike is its desk offers plenty of adjustabilities. It's 4-way adjustable (up, down, front, back).
Its vertical adjustment span is 3.75″ (9.5 cm), with a distance from the floor between 37.5″ – 41.25″ (95.2 – 104.7 cm). Its front-to-back adjustment span is 12″ (30.4 cm), with a length from the seat's backrest between 12″ – 24″ (30.4 – 60.9 cm)
The bike's desk is made of durable PVC material. Its surface integrates several rubberized anti-slippage areas so your laptop or tablet won't slide over.
Also, the desk's user side is padded with a sheet of rubber foam to provide more comfort for your wrist while you work on your laptop. In addition, a cup holder accessory is attached to the side of the desk platform.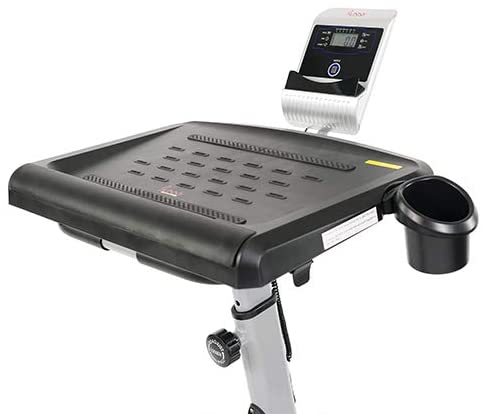 The whole desk platform is detachable from the handlebar. It doesn't connect to the bike's handlebar by any screws or bolts, so you can easily remove it if you want to use its multi-grip handlebar.
SF-RBD4703 Seat
The bike's seat is also adjustable. It's attached to a metallic frame, supporting users up to 350 lbs (159 kg). Its sliding rail is oblique, offering an adjustment span between 26″ – 33″ (66 – 84 cm) from the pedals. Thus, the bike can accommodate users between 5'0″ – 6'3″ (153 – 190 cm).
The seat and backrest feature durable nylon upholstery and integrate a reasonably thick foam padding layer to deliver optimal comfort. In addition, the backrest has a contoured surface to provide excellent lumbar support.
Unfortunately, the backrest does not adjust independently from the seat. Instead, it is attached directly to the same metallic bar as the seat and will move back and forth on its slider, along with the seat. Furthermore, it also doesn't recline.
Resistance and drive
The Sunny SF-RBD4703 comes equipped with a manual magnetic resistance system. It consists of a magnetic pad connected via a steel wire to the lever on the front frame bar. By moving the lever up and down, the magnetic pad changes its position to the bike's flywheel, which results in a pedal resistance adjustment.
There are eight resistance settings available. The first 1-3 settings offer a light workout, while the top 7-8 settings can undergo a more intense workout. However, this is not a bike for very fierce cardio training. For instance, it provides a light to medium activity, being a good choice for users who want to exercise while still getting some work done.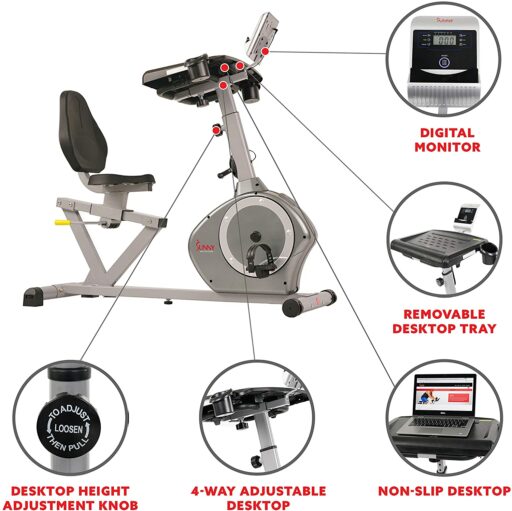 This recumbent desk exercise bike comes with a belt drive. It uses a stretch-resistant, heavy-duty belt designed to last for many years of use. Since it's a belt-drive, it doesn't require any lubrication. Also, the amount of noise generated during pedaling is almost nonexistent. Therefore, you can use it in an office, for example, without bothering your colleagues.
The integrated flywheel is not extremely heavy. Its weight is not specified, but it usually weighs between 8 and 12 lbs for most bikes in this range. In addition, it's perimeter-weighted, which means it delivers a smooth motion.
The bike's crankset is durable but not made for spin workouts since it is a recumbent bike. Thus, it would help if you didn't pedal while standing up.
The pedals equipped with the bike are made of durable nylon material. In addition, they have adjustable straps to prevent slippage, and they're also weighted. They also have standard threads, so it's easy to find replacements if needed.
Last but not least, this Sunny exercise bike features a narrow Q-Factor. This means that your feet are positioned correctly and naturally on the pedals, which results in no lateral stress on the ankles and knees.
SF-RBD4703 Fitness monitor
The Sunny SF-RBD4703 comes equipped with a simple fitness monitor. Unfortunately, it's not programmable and doesn't have online connectivity or other features. Instead, it has an LCD that tracks time, speed, calories, distance, and total distance.
It has a SCAN function that rotates all these values showing each one for four seconds, and it has a MODE button, which allows you to toggle the SCAN function ON and OFF. Therefore, you can select any values to show on the screen.
The MODE button also covers the monitor's reset function by pressing and holding the MODE button for 3 seconds.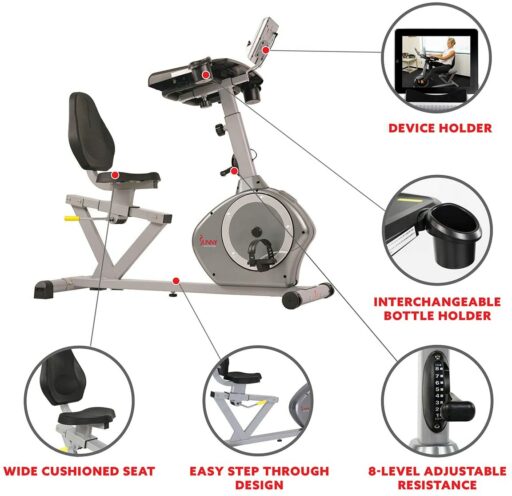 The battery-operated fitness monitor includes the required batteries. It starts when you begin pedaling or when you push the MODE button. In addition, it also has a sleep function that will enter after four minutes of inactivity on the pedals.
Finally, although the bike has a whole desk accessory that can hold your laptop, the monitor also has a tablet shelf. So, if you don't use the desk, you'll still have a place to store your tablet or smartphone to keep yourself entertained while exercising.
SF-RBD4703 Assembly and Maintenance
The bike's base frame with the resistance and drive elements comes pre-assembled. So you will only have to add the bike's front and rear base bars, seat rail, seat, backrest, handlebar upright adjustment bar, handlebars, fitness monitor, desk, and pedals.
The assembly task is pretty easy; the manual provides all the instructions to do this yourself without professional help. Also, the bike comes with all the tools required for assembly. Consequently, the whole task shouldn't take 30-40 minutes of your time.
Maintenance is nonexistent. It would be best to keep the bike free of dust and moisture and periodically check for loose bolts and parts. However, the internal components of the cycle shouldn't require any greasing for an extended time.
Pros
Solid frame for a light recumbent bike, with a max. user capacity of 350 lbs;
Adjustable stabilizers on the rear base;
Transport wheels on the front base;
Step-thru frame design;
4-way adjustable desk;
Large removable desk with an anti-slippage surface and padding;
Adjustable seat – can accommodate users between 5'0″ – 6'3″;
Cushioned seat and backrest for maximum comfort;
Quiet magnetic resistance system;
Adjustable resistance (8 levels);
Weighted pedals with adjustable straps and standard threads;
Fitness monitor that can track time, distance, total distance, speed, and calories;
Tablet holder integrated into the workstation;
Cup holder included;
Easy to assemble and operate;
Transport wheels and rear stabilizers;
Little maintenance is required.
Cons
There are no seat handlebars (or armrests);
A laptop will block the view of the bike's fitness monitor LCD;
The fitness monitor LCD doesn't have a backlight.
Sunny SF-RBD4703 Recumbent Bike Summary
The Sunny SF-RBD4703 is a recumbent bike featuring a durable and removable workstation, a comfortable seat, manual magnetic resistance, and a simple fitness monitor. In addition, it's quite a sturdy fitness machine as it can support users up to 350 lbs.
Furthermore, it's not a bike for intense cardio training but can help you bolster your heart rate while working on your laptop. Moreover, this can lead to a healthier cardiovascular system, toned muscles, improved stamina, and even weight loss. And finally, it's not an expensive exercise bike, offering excellent value.
I hope you found this article helpful and informative. Would you please speak up if you have anything you'd like to share on the topic or any opinions about my website? I look forward to your comments, questions, and the sharing of ideas.
Please remember to consult your physician to determine if you have any medical or physical conditions that could risk your health and safety or prevent you from using the equipment properly. In addition, your physician's advice is essential if you are taking medication that affects your heart rate, blood pressure, or cholesterol level.