The Teeter LT-1 FreeStep Recumbent Cross-Trainer, unlike regular recumbent bikes, provides a full-body workout. While we usually get bored after 20 minutes of passive exercise, with the FreeStep by Teeter, you will hardly want to leave the machine.
The Teeter LT-1 has a soft and comfortable adjustable seat accommodating users of all heights. As far as the backrest goes, its well-cushioned and adjustable 3-position reclining feature is adaptable to all users' sizes. So, you can lean back and do a relaxed cardio workout or lean a bit forward and do a more intense home exercise.
The Teeter exercise machine offers a smooth linear stepping pedal motion. And since it's not circular, it has less impact on the knees than recumbent bikes. In addition, the pedals are giant and anti-slip with safety edges to keep your feet in place. But what we like the most is the handlebars; they are vertically adjustable to allow all family members to do a low-impact exercise regardless of height.
This recumbent cross-trainer by Teeter features a silent magnetic resistance that simultaneously applies to the handlebars and the pedals. The fact that the resistance refers to the lower and upper body makes this machine much better than expensive similar recumbent bikes that offer pedal resistance only.
Learn more in my complete review below!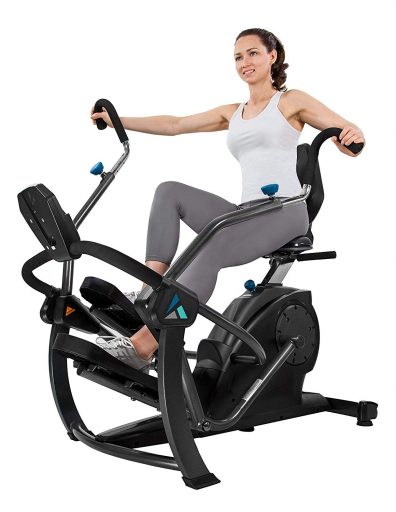 Product: Teeter LT-1 FreeStep Recumbent Cross-Trainer
Price: For a great deal on this hybrid, merely go here on Amazon
Warranty: Frame 1 year / Parts 90 days
My rating: is 9/10
Affiliate Disclosure: As an Amazon Affiliate Program participant, I earn commissions on purchases made through links in this post. Full disclosure
Details and Specifications
Assembled dimensions: 54L x 38W x 52H inches (137L x 97W x 132H cm)
Assembled weight: 110 lbs (50 kg)
Stride: 13″ (33 cm)
Weight capacity: 300 lbs (136 kg)
Resistance: Manual magnetic, eight levels
Fitness Monitor: Time, distance, speed, calories burned, scan mode
Warranty: Frame 1 year / Parts 90 days
LT-1 Frame Construction
The Teeter FreeStep trainer features a heavy-duty frame of steel tubing to support users up to 300 lbs (136 kg). However, its construction integrates several ABS parts. For example, the drive system covers, the pedals, and several other small covers are non-metallic. But the machine provides durability and overall sturdiness compared to a light-commercial machine.
Most of the steel parts in the machine's construction come with a rust-resistant paint finish. In addition, the adjustable sections of the moving arms and the seat adjustment post feature a chrome finish.
The FreeStep cross-trainer doesn't have a huge footprint but does take approx—54″L x 38″W (137 x 97 cm) of floor space. On top of it, the manufacturer advises assigning a usage area of at least two feet around the unit to ease access and unhindered operation.
The unit is relatively heavy. The frame is assembled and weighs approximately 110 lbs (50 kg). However, it also has a low center of gravity; most of its weight is under the user, which leads to superior stability. The rear base bar also has adjustable stabilizers and large rubber pads.
The unit is not too difficult to relocate once assembled despite its weight. Its rear base also comes with transport wheels.
Finally, the drive system's casing is molded at the front, featuring a gravity-type bottle holder. This support can accommodate most hydration bottles with no problem.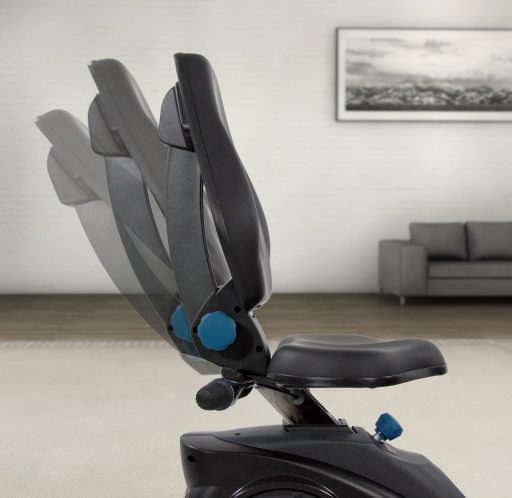 Seat
The Teeter LT-1 FreeStep cross-trainer features a seat designed for comfort. It does not have air-cell cushioning, but the seat and the backrest have a contoured layer of high-density foam padding.
The bottom part is approx. 14″ (35 cm) wide, providing plenty of contact surface, while the backrest has concave contouring to cradle your back perfectly during exercising on the cross-trainer.
The vertical seat post offers multiple adjustment positions. The post is at an angle, so its adjustments can accommodate taller persons better. This cardio trainer is for users between 4'11" and 6'6″ (149 – 198 cm). Also, if you're wondering, the seat is at approx. 27″ (68.5 cm) above floor level at the lowest position.
One of the pluses of this trainer is the adjustability of the backrest. Many recumbent bikes or other cross-trainers do not have this feature. The backrest of the FreeStep offers three reclining positions. In addition, its adjustment mechanism provides a durable lock, so the backrest delivers firm and healthy lumbar support.
Handlebars
The machine comes with two handlebars, one mobile and one fixed. The mobile handlebars are directly attached to the pedal bars. Therefore, they continue to move for as long as you pedal.
They cannot run independently from the pedals. Instead, they feature curved grips with a thick layer of rubber foam for maximum comfort.
The moving arms offer double adjustability. First, they're length-adjustable, each offering three adjustment positions. And second of all, you can lock them in an outward setting or an inward setting. Therefore, you can diversify your workouts and focus on different muscle groups.
The fixed handlebars connect to the seat, are placed behind it, and have small grips. The right grip integrates the resistance adjustment dial.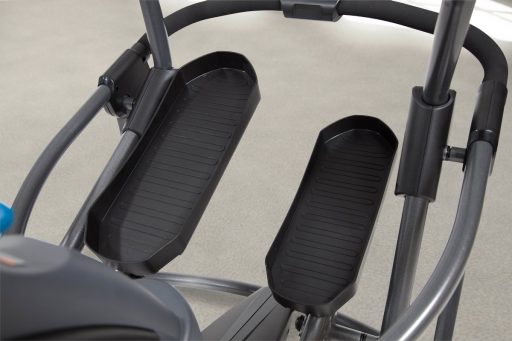 LT-1 Resistance system
The Teeter FreeStep recumbent cross-trainer integrates a magnetic resistance system with manual action. Therefore, it does not have an internal motor for resistance adjustment. The unit does not need a connection to a power source. The fitness monitor does not play any role in its resistance adjustment.
The machine's resistance system consists of a magnetic brake that connects to the tension knob incorporated into the seat's right grip. As you turn this knob, the magnetic brake moves closer or farther from the flywheel, increasing or decreasing the overall pedaling difficulty.
The resistance settings do not have markings on the knob, but eight distinct levels exist. The maximum resistance output isn't extreme, though.
A FreeStep trainer is a light or mid-range cardio training machine focusing more on comfort than resistance output. But you can still benefit from an excellent cardio workout, maintain a good cardiovascular shape, and shed some pounds.
Drive system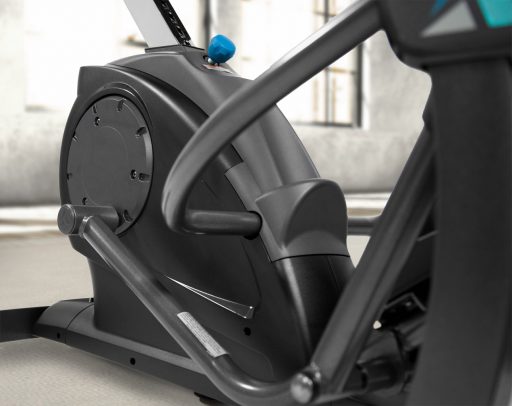 The first aspect we will focus on here is the pedals and the pedaling motion. The Teeter FreeStep cross trainer has a set of extra-large pedals made of durable ABS material.
They have a ribbed surface to reduce foot slippage and a tray-like design with borders to prevent your feet from sliding off sideways. Unfortunately, they do not have any extra cushioning, but the pedaling motion generates minimal impact.
The pedaling motion does not describe an ellipse as opposed to elliptical trainers. Instead, it's similar to the movement produced by a stepper machine. But with a backward tilt, and of course, with the comfort of being seated. The stride is approx — 13″ (33 cm), offering a satisfying range of motion for most users.
The internal flywheel weight is not specified, but considering the machine's overall weight, it should weigh between 15 and 25 lbs (7-11 kg). It delivers a steady motion and consistent momentum.
It allows a reverse movement, but reverse pedaling is somewhat awkward since the pedals don't have straps, and their design requires you to press on them.
Like most recumbent exercise bikes or elliptical trainers with a magnetic resistance system, the internal drive system uses a poly-v belt. Due to this fact, the drive train does not need any lubrication. Also, the usage of the machine is whisper-quiet.
LT-1 Fitness monitor
The machine's "monitor" is a simple fitness monitor. It does not offer preset programs, Bluetooth connectivity, a sound system, or other fancy features and is incompatible with any online fitness apps. However, it allows you to track your time, distance traveled, current pedaling speed, and calories burned.
The monitor uses imperial units to display speed and distance and does not have metric units (km/h and km). Unfortunately, it also does not have a pulse reading function. Therefore, if you need to track your pulse during your workout, use a separate device.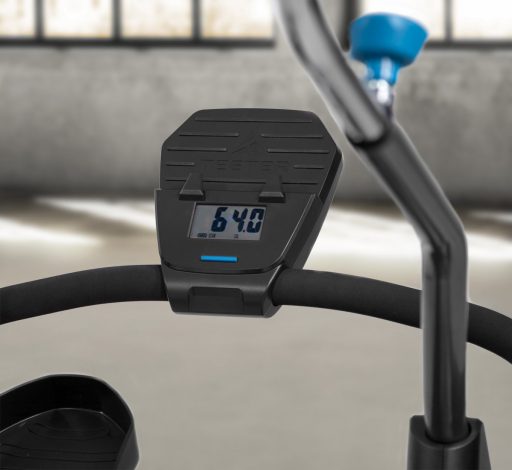 The monitor is straightforward and uses two AA (1.5 V) batteries. Its one-button covers all of its functions. It starts when you pedal and automatically turns off if it detects any bike activity for a few minutes.
By pressing the button repeatedly, you can select any metrics (time, distance, speed, calories) to appear on display or choose the Scan Mode, which automatically rotates all the parameters. Also, by pressing and holding the button, you can reset all the values to zero.
The monitor's top section features a small shelf that can serve as a tablet holder or phone holder. However, it does not have any USB ports to connect your device.
LT-1 Assembly and Maintenance
The machine's internal mechanisms are pre-assembled. Also, most of the frame parts are pre-assembled as well. Therefore, you only have to attach the rear base stabilizer, the pedals, the seat, the backrest, the front bar that supports the fitness monitor, and the moving handlebars.
Consequently, it may take more than an hour of your time; however, the whole task isn't too complicated. The manual provides step-by-step assembly instructions, well-drawn schematics, and all the tools it needs to come with the trainer.
Maintenance doesn't require much. The internal mechanism doesn't need any lubrication. For maintenance, you'll need to wipe off any sweat falling on the frame after your workout and periodically check for loose bolts and parts.
Pros
Durable frame – can support users up to 300 lbs;
Adjustable stabilizers on the rear base;
Transport wheels on the rear base;
Both mobile and stationary handlebars;
The mobile arms are length adjustable and can be locked in an upward or inward position;
Foam-padded seat and backrest;
Reclining backrest with three positions;
Adjustable seat – can accommodate users up to 6'6″;
Quiet magnetic resistance system;
Eight distinct tension levels;
Oversized pedals allow a different positioning of your feet;
The front bar can serve as a footrest bar if you want to exercise using only the moving arms;
Fitness monitor that can track time, distance, speed, and calories;
Tablet holder included;
The bottle holder included;
Reasonably easy to assemble;
Little to no maintenance is required.
Cons
The resistance levels don't have any markings on the adjustment knob;
The fitness monitor does not have a pulse reading function;
There are no preset workout programs;
The fitness monitor doesn't have online connectivity.
Teeter LT-1 FreeStep Recumbent Cross-Trainer Summary
The Teeter FreeStep Recumbent Cross-Trainer features a magnetic resistance system and a sturdy frame. In addition, it offers superior micro-adjustability; the seat post has several adjustment positions, the backrest reclines, and adjustable moving arms.
The machine provides maximum comfort and a minimum workout impact for your joints and back, making it an excellent choice for recovery training or elderly users. It's also great for a low-impact, full-body cardio workout, muscle toning, stamina development, and weight loss.
I hope you found this article helpful and informative. Would you please speak up if you have anything you'd like to share on the topic or any opinions about my website? I look forward to your comments, questions, and the sharing of ideas.
Please remember that you should consult your physician to determine if you have any medical or physical conditions that could risk your health and safety or prevent you from using the equipment properly. In addition, your physician's advice is essential if you are taking medication that affects your heart rate, blood pressure, or cholesterol level.