The Tunturi Cardio Fit B35 Upright Bike is perfect for keeping fit, rehabilitation, and consistent weight reduction. Similarly, the Tunturi Cardio Fit B35 is the right exercise equipment for light to moderate exercise intensity.
The Tunturi Cardio Fit B35 Upright Bike features eight manual magnetic resistance levels, allowing the user to customize their workout depending on the moment's desired challenge. With a 15 lb (7 kg) magnetic flywheel, the B35 runs smoothly and quietly.
The fitness console is straightforward and convenient to use. With a display of the essential data during exercise, it's easy to monitor your making progress. The LCD shows speed, time, distance, calories burned, and heart rate during a workout.
Additionally, the B35 features an ergonomic seat, which is very comfortable during long workouts. The B35 also comes equipped with an adjustable handlebar and can be set in an upright, flat, or racing position. The B35 also features oversized ergonomic pedals that are comfortable for either short or long workouts.
Learn more in my complete review below!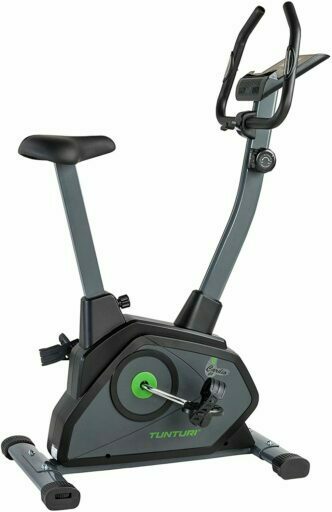 Product: Tunturi Cardio Fit B35 Upright Bike
Price: For a great deal on this bike, merely go here on Amazon
Warranty: 2 years limited
My rating: 7.5/10
Affiliate Disclosure: As an Amazon Affiliate Program participant, I earn commissions on purchases made through links in this post. Full disclosure
Details and Specifications
Assembled dimensions: 34.3L x 20.1W x 51.6H inches (87L x 51W x 131H cm)
Flywheel weight: 15.4 lbs (7 kg)
Assembled weight: 48.5 lbs (22 kg)
Weight capacity: 242.5 lbs (110 kg)
Seat: 2-way adjustable
Pedals: Weighted, with straps
Drive: Belt
Resistance: Manual magnetic, eight levels
Fitness console: Time, distance, speed, calories, ODO, pulse, SCAN, goal setting
Amenities: Tablet holder
Warranty: 2 years limited
B35 Frame construction
Since it's a light-capacity upright exercise bike, the Tunturi B35 Cardio Fit is not a heavy-structure fitness machine. Its fully-assembled frame weighs only 48.5 lbs (22 kg), making it easy to transport and assemble by one person. But on the other hand, its center of gravity is situated relatively low, which results in more excellent stability. Plus, the adjustable levelers' stability is improved, which comes equipped on its rear base bar.
The bike's frame is steel tubing; the only non-steel parts in its construction are the side covers of the flywheel and resistance elements, the tablet holder, and the base bars' protective caps. These are durable ABS materials.
Like most other upright exercise bikes in this price and feature range, the Tunturi B35 does not require much usable space. This is because it has a relatively small footprint. It is approx 34.3″ (87 cm) long and 20.1″ (51 cm) wide. However, it is advisable to leave at least two clearance feet on each side and one foot of clearance at its rear and front for safe operation and access.
All the steel tubes within the frame composition come coated with a corrosion-resistant paint finish. The bike is made exclusively for indoor use, though. Using or storing it outside, moisture may eventually corrode certain parts or bolts that are not rust-proof.
The paint finish color is dark gray, which is the only color available for it. The only exceptions are the crank arms, which are chrome plated.
Even though the fully assembled bike isn't too heavy, its front base bar features transport wheels. Therefore, you can easily roll it away to its assigned storage place once you have finished your workout.
Seat and handlebars
The saddle included with the Tunturi B35 is for optimal comfort. It has a standard design without air-cell cushioning, but its top does integrate a layer of padding. Its upright post features a triangular plate at the top to which the saddle attaches via three bolts. If you're new to cycling, this type of saddle may not be too comfortable for you. But you can improve its comfort with a gel seat cover.
The seat only offers two-way adjustability (up-down). It doesn't have a horizontal slider like some other bikes. However, its post does have several adjustment notches, and the bike should be able to accommodate users between 5'2 ″ (157 cm) and 6'2 ″ (188 cm) with no problem, allowing a complete leg extension and range of motion. It's also durable enough to support users up to 242.5 lbs (110 kg).
The bike's handlebar features a multi-grip design. A layer of rubber foam material fully covers it to provide a secure grip. In addition, it integrates stainless steel pulse sensors. It's also adjustable; it attaches to the front mast via a collar and a knob, which allows you to adjust its angle if you want to change your cycling posture.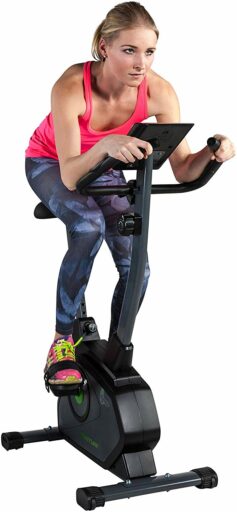 B35 Drive system
The bike's internal flywheel features a perimeter-weighted design; this leads to more intense inertia and a more stable pedaling motion. However, it's relatively heavy for an exercise bike of this caliber. It weighs 15.4 lbs (7 kg); however, its weight shouldn't matter much since the bike's resistance system is magnetic and not friction-based.
The internal pulley is relatively large; it's slightly larger in diameter than the flywheel. It comes equipped with solid steel crank arms. However, this is not a spin bike, and therefore, it does not support spinning workouts or standing up on the pedals. It's for seated workouts only.
The included pedals are made of durable nylon material and have a metallic core. They integrate weight elements to self-level when you remove your feet from them. They are also equipped with adjustable straps, offering the possibility to secure your feet on them perfectly.
The internal drivetrain of the bike uses a standard transmission belt. Since it uses a belt and not a chain, it delivers a smoother pedaling motion. It also doesn't need any lubrication.
Resistance system
As I've mentioned earlier, the B35 exercise bike comes equipped with a manual magnetic resistance system. This means that the unit does not require a power source, while the console does not play any role in the resistance adjustments. Also, since the brake is magnetic, there is no internal friction between it and the flywheel, resulting in a smooth and quiet cycling experience.
The bike's resistance system consists of an internal magnetic brake. The magnetic bracket is relatively large, covering approx 1/3 of the flywheel's perimeter. Therefore, it generates a reasonably decent resistance. The brake element is connected to the tension knob on the front mast's right side through a steel wire. As you turn the knob forward, the steel wire tightens and enables the brake to move closer to the flywheel, which increases the magnets' pull. This leads to greater pedaling difficulty.
The resistance system offers eight distinct tension levels. The first one is relatively light, great for recovery training. The 8th one, on the other hand, simulates a steep climb and allows you to achieve a higher cardio output and a higher calorie burn.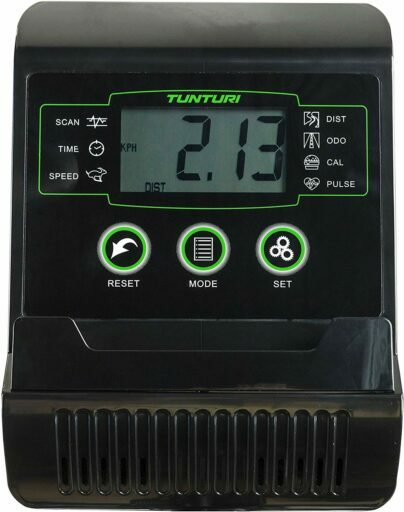 B35 Console
The Tunturi B35 features an LCD that tracks time, distance, total distance, speed, calories burned, and pulse. It also has a SCAN mode, which rotates all the workout metrics, showing each one for 4 seconds.
The console does not have any preset programs like the bikes with an automatic resistance system. However, it does offer the possibility to set up goals for each one of the workout metrics. When a goal is selected, the display will show the remaining value for reaching the goal chosen.
For the pulse reading function, you have to use the sensors integrated into the handlebars. The console is not telemetric; therefore, it cannot read your pulse through a wireless HR transmitter.
There are three buttons on the console: Mode, Set, and Reset. The Mode button allows you to select any workout values you want to view or choose the SCAN mode to rotate them. Via the Set button, you can enter the set-up mode to select goals for your workouts. And finally, the Reset button clears all the values to zero, except the odometer, which only resets by removing the unit's batteries.
The fitness console requires 2 AA batteries. It starts when you press the Mode button or when you begin pedaling. It also automatically shuts down if there is no input for more than 4 minutes.
Finally, the console unit integrates a tablet holder; this element is at the unit's bottom. It's reasonably large so that it can accommodate any smartphone or tablet. However, the console does not have any connection ports for your tablet or smartphone and cannot communicate with your device in any way.
B35 Assembly and Maintenance
The base frame with all the internal parts is pre-assembled. Next, you'll need to connect the two base bars, the seat post, the saddle, connect the brake cable and the console mast, and finally add the console and the pedals. This shouldn't take more than 30 minutes. An essential toolkit is (included,) and the manual provides straightforward assembly tips.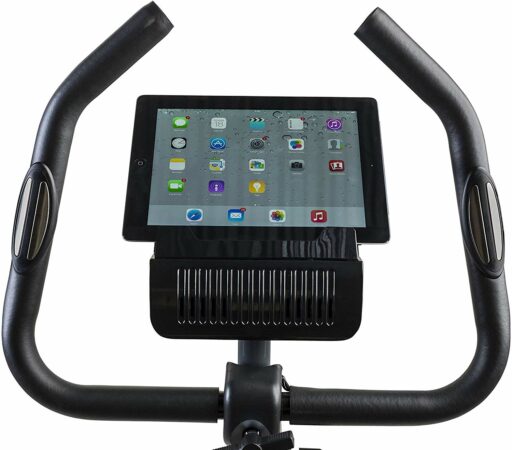 It is advisable to wipe any sweat from the frame or console at the end of working out for maintenance. It's also advisable to periodically check for loose bolts and parts. However, internal care is not needed, at least not for a very long time.
Pros
Fairly sturdy frame for a light exercise bike;
Transport wheels on the front base;
Adjustable stabilizers on the rear base;
Multi-grip and angle adjustable handlebar;
Pulse reading function;
2-way adjustable seat;
Perimeter-weighted flywheel for a steady pedaling motion;
Quiet belt drive;
Zero friction magnetic resistance;
Eight resistance settings;
Weighted pedals with adjustable straps;
The fitness console comes included;
ODO, SCAN, and goal setting functions on the console;
Little maintenance required;
Easy to assemble.
Cons
A tablet placed on the media holder will cover the LCD;
No bottle holder;
Calorie reading is not too accurate.
Tunturi Cardio Fit B35 Summary
The Tunturi Cardio Fit B35 is a basic upright exercise bike made for home use. It features a manual magnetic resistance system with eight levels and a fitness console that can track the main workout metrics and offer goal settings. It's a reasonably small and light trainer, easy to assemble and handle.
It's a trainer for light to medium intensity workouts, muscle toning, calorie-burning, stamina development, and recovery training. And finally, it's an affordable exercise bike, offering reasonably decent value for the price.
I hope you found this article helpful and informative. Would you please speak up if you have anything you'd like to share or any opinions about my website? I look forward to your comments, questions, and the sharing of ideas.