The L NOW D577 Indoor Cycling Bike is a sturdy and smart-looking indoor spinning bike with a maximum user weight limit of up to 300 pounds (136 kg). The D577 features a triangular-structured 4.72-inch (120 mm) steel frame coated with black anti-corrosive and scratch-resistant paint.
The D577 has a belt drive system that consists of a durable poly v-belt, pulleys, a 3-piece crankset, alloy crank-arms, pedals, and a 44 lb (20 kg) flywheel. Together, these elements produce a smooth and near-silent motion: the pedals and the flywheel spin simultaneously without any chance of coasting.
The L NOW D577 indoor cycling bike has a friction resistance system with infinite adjustable resistance levels. It's suitable for all users, including beginners, intermediaries, and professional cycling athletes. In addition, it's also ideal for rehab purposes.
The D577 comes equipped with an above-average fitness monitor. It features an LCD monitor that tracks workout data such as Time, Distance, Odometer, RPM, Speed, Calories, and Pulse. The workout data keeps you focused and motivated, displayed via the segmented screen windows. There is also the ability to set workout goals (count down) for Time, Distance, and Calories.
Learn more in my complete review below!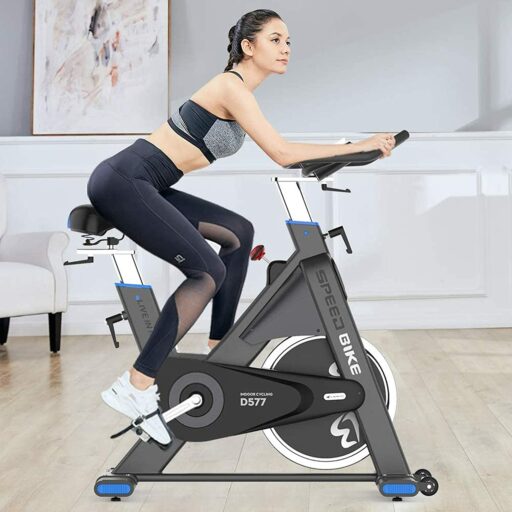 Product: L NOW D577 Indoor Cycling Bike
Price: For a great deal on this bike, merely go here on L NOW Sport.com
Warranty: 1 year limited
My rating: is 9/10
Affiliate Disclosure: As a participant of the L NOW SPORT Affiliate Program, I earn commissions on purchases made through links in the post. Full disclosure
Details and Specifications
Assembled dimensions: 46.6″L x 20.8″W x 51.9″H (118L x 53W x 132H cm)
Assembled weight: 123.4 lbs (56 kg).
Flywheel weight: 44 lbs (20 kg)
Weight capacity: 300 lbs (136 kg)
Seat: 4-way adjustable
Pedals: With toe cages
Drive: Belt
Resistance: Friction, adjustable
Fitness Monitor: Time, speed, distance, total distance, calories, pulse, scan
Extras: Bottle holder, phone holder
Warranty: 1 year limited
D577 Frame Construction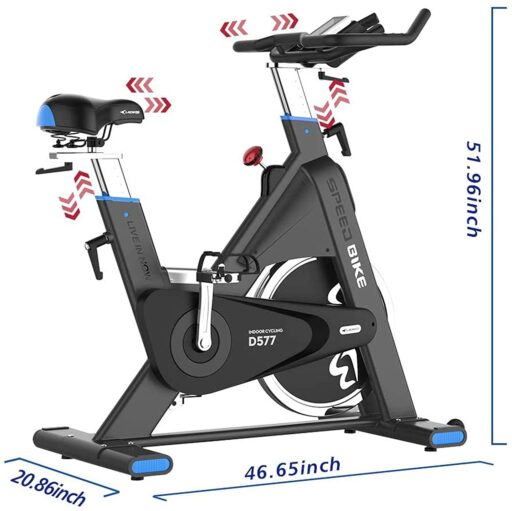 The L NOW D577 indoor cycling bike has a classic triangular design for improved sturdiness. Its structure is massive; the fully assembled unit is approximately 123 lbs (56 kg), which is more than three times the average road bike's weight. Furthermore, this weight delivers superior stability, enabling the cycle to support any spin workout.
Most of the bike's frame comes with a chip-resistant and corrosion-resistant paint finish. The primary color used is black, with the "pooboo" logo and several other inscriptions painted white, these being the only colors available for this model.
The only exceptions are the seat post, the handlebar post, and the flywheel, which have a chrome finish. Of course, the bike also integrates several durable ABS plastic parts. These are the belt, flywheel side, and several other small covers.
Compared to other bikes, the L NOW D577 is a bit larger. With the frame fully assembled, it is approx. 46.6″ (118 cm) long and 20.8″ (53 cm) wide, while with the handlebar extended up, its height reaches approx—51.9″ (132 cm).
It is also advisable to leave at least two feet of clearance on each side of the bike, and at least one foot at the front and rear, for ease of access and unhindered operation.
Last but not least, both base bars of the bike comes equipped with adjustable stabilizers. In addition, they have rubber pads to provide a better grip on the floor. Finally, the front base has a set of transport wheels that allow you to relocate it quickly.
Seat and handlebars
The D577 features a four-way adjustable seat (up, down, forward, and backward). In addition, its upright bar has multiple adjustment notches, while the horizontal slider provides a few extra inches of front-to-back adjustment.
Thus, the bike can accommodate users between 5'0 ″ (153 cm) and 6'5 ″ (196 cm) with no problem. In addition, the seat assembly is durable enough to support users up to 300 lbs (136 kg).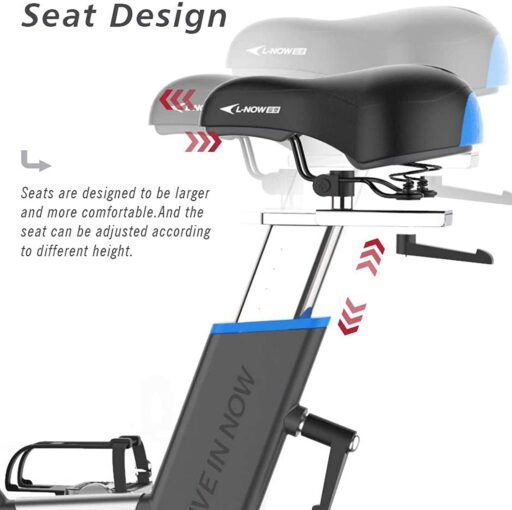 The saddle itself is comfortable. It is considerably more significant than the average spin seat and integrates a thicker cushioning layer.
It is approx. 10″ (25 cm) long and 7.5″ (19 cm) wide, providing plenty of contact surface. In addition, its top is made of durable rubberized material. It is contoured and has a central groove to provide superior breathability during seated workouts.
Regarding cushioning, the saddle also integrates a set of two springs in its rear section, enabling it to adapt to your movement during seated workouts, resulting in a custom fit. In addition, the seat has a standard connection system to its slider, so compatible options are widely available if you ever have to replace it.
The bike comes equipped with a multi-grip handlebar. A layer of foam material covers it entirely to provide a secure grip. Its side grips integrate pulse sensors, while the center area hosts the fitness console and a dual bottle holder.
Just like the seat, the handlebar is four-way adjustable. So, you can adjust its height and lock it closer or farther from the seat, depending on the posture you want to adopt or feel more comfortable using.
D577 Drive system
The L NOW D577 indoor cycling bike has an extra-heavy 44 lbs (20 kg) flywheel. Its perimeter-weighted design provides aggressive inertia, which is excellent for spin workouts. Furthermore, this design improves its stability, making the pedaling motion smooth.
The flywheel permits reverse pedaling. However, the pedals continue to spin for as long as the flywheel is spinning. So, it's advisable to use the emergency brake to safely stop the pedals from turning. Also, coasting on this bike is not possible.
Since it's a heavy-duty bike designed to support spin workouts, the L NOW D577 is equipped with a durable crankset and aluminum alloy pedals.
As I've mentioned earlier, the bike's maximum user weight limit is 300 lbs (136 kg), which also applies to the crank and pedals. So, as long as you don't exceed this weight, you should be able to exercise while standing up on the pedals without any problem.
The pedals feature a non-slip surface. Unfortunately, they do not have SPD clips for spin shoes but have toe cages if you need an extra thrust for each pedal stroke. They have standard 9/16″ threads, so you can always replace them with SPD pedals.
Resistance system
The bike's drive system uses a heavy-duty poly-v belt. Thus, the pedaling motion generates very little noise (almost entirely silent) and vibration. You will never have to worry about its lubrication, like bikes with a chain drive system.
This L NOW exercise bike comes equipped with a friction system in terms of resistance. Its brake consists of a felt pad placed at the top of the flywheel and concealed by the large cover. The brake pad connects to the tension knob on the oblique frame tube.
So, by turning this knob, you can add more friction or reduce the drag to benefit from a satisfying pedaling tension level.
The tension knob doesn't have pre-determined levels, like most magnetic resistance bikes. So, tighten it until you get the resistance you want for your training. In addition, it also integrates a metallic spring, which allows you to press it down and quickly stop the flywheel from spinning if needed.
D577 Console
The D577 comes equipped with a fitness monitor similar to the PYHIGH S7. In addition, it features an LCD with multiple sub-sections, showing up to 5 workout metrics at once. It tracks time, distance, total distance, speed, RPM, calories, and pulse.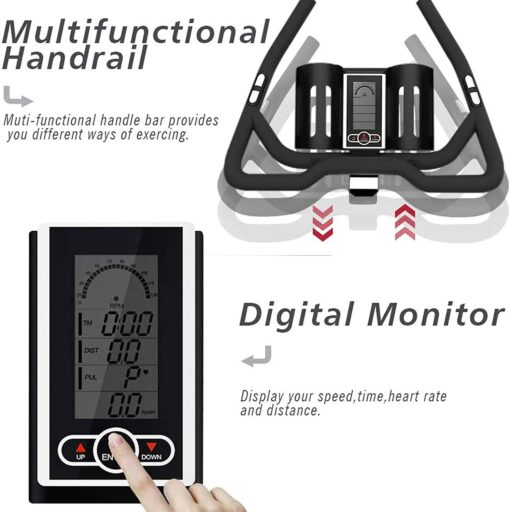 Unfortunately, it is not telemetric, though. So, you will have to use the sensors integrated into the handlebar for the pulse reading. It cannot read your pulse from an HR chest strap transmitter.
The workout monitor is straightforward to use. It only has three buttons – Up, Down, and Enter. Up and Down controls allow you to select a goal for time, distance, or calories burned, while the enter button fulfills the selection and reset functions. To reset everything on the monitor, you can hold the Enter button for a few seconds.
The monitor is battery-powered and requires a CR2032 lithium battery (3V), which does not come with the bike. It starts when you pedal and automatically shuts off after a few minutes of inactivity on the bike to save battery.
Assembly and Maintenance
The bike's mainframe comes pre-assembled with the main drive and resistance elements already attached. So you only need to connect the base bars, the seat post, the handlebar post, the handlebar, the fitness monitor, and the pedals.
Consequently, it shouldn't take more than 30 minutes of your time. The bike has a basic set of tools, and the manual provides precise assembly instructions.
Since the bike has a belt drive, its transmission doesn't need lubrication. However, the brake pad may require silicone lubrication if it emits a loud squeaking noise when contacting the flywheel. Other than these, it would help if you kept the bike clean and periodically checked for loose or broken parts.
Pros
Commercial-grade, heavy-duty frame construction;
Can support users up to 300 lbs;
Adjustable stabilizers included;
Transport wheels included;
4-way adjustable seat;
4-way adjustable handlebar;
Cushioned seat with rear spring shock absorption and a longitudinal groove for breathability;
Multi-grip handlebar;
Pulse sensors integrated into the handlebar;
Smooth, almost silent belt drive;
Extra-heavy 44 lbs flywheel;
Friction resistance for a wide array of pedaling difficulty levels;
Aluminum alloy pedals with toe cages;
Fitness monitor included – it can track time, distance, total distance, speed, RPM, calories, and pulse;
Goal settings for time, distance, and calories;
Dual bottle holder included;
Easy to assemble;
Little maintenance is required.
Cons
There are no SPD clips on the pedals;
The battery for the monitor does not come with the bike;
The fitness monitor LCD does not have a backlight.
L NOW D577 Indoor Cycling Bike Summary
The L NOW D577 is a commercial-grade indoor cycling trainer that supports any spin workout. It has a friction resistance system, a comfortable seat, a 44-lb flywheel, and a fitness monitor that can track all the essential workout metrics. It also offers superior micro-adjustability and comfort factors.
Moreover, it's a great exercise bike for intense cardio training, interval training, leg muscle strength development, stamina development, and weight loss. Admittedly, it's not one of the most affordable exercise bikes, but it still is a few $100s cheaper than many other commercial spin bikes, so I can safely say it offers excellent value.
I hope you found this article helpful and informative. Would you please speak up if you have anything you'd like to share or any opinions about my website? I look forward to your comments, questions, and the sharing of ideas.
Please remember that you should consult your physician to determine if you have any medical or physical conditions that could risk your health and safety or prevent you from using the equipment properly. In addition, your physician's advice is essential if you are taking medication that affects your heart rate, blood pressure, or cholesterol level.