The 2021 version of the UREVO URSB002 Indoor Cycling Bike adopts a sturdy triangular steel thickened frame that overcomes the unsteady defects of some exercise bikes on the market. In addition, a solid build, and a maximum weight capacity of 265 lbs (120 kg), give you safe riding.
Equipped with a 35 lbs (15.8 kg) flywheel and silent belt-driven, this UREVO bike gives you an unbelievably smooth and silent ride. The continuous infinite resistance adjustment allows you to simulate actual road riding. Press down the emergency brake knob and stop it immediately when you want to finish.
The UREVO URSB002 indoor cycling bike has a fitness monitor featuring an LCD that tracks your time, speed, distance, calories burned, and pulse while cycling. Then, download the Zwift app, connect the UREVO bike to your phone via Bluetooth, and enjoy a more exciting and motivating workout.
The 4-way adjustable seat offers a vertical adjustment span of approx. 7.5 inches and a back-and-forth span of approx. 3 inches. The aluminum alloy caged pedals are safe and comfortable. A sawtooth design and cage prevent your feet from slipping with adjustable straps for a customized fit.
Learn more in my complete review below!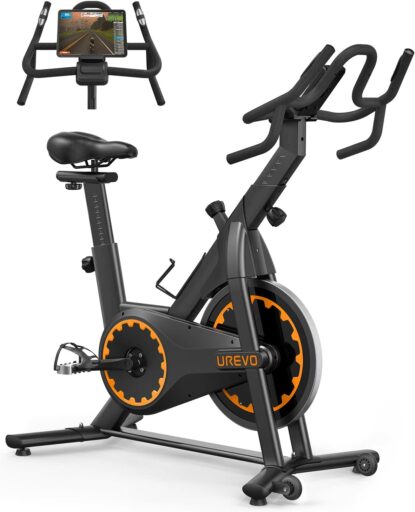 Product: UREVO URSB002 Indoor Cycling Bike
Price: For a great deal on this bike, merely go here to Amazon.com
Warranty: 1 year limited
My rating: is 9/10
Affiliate Disclosure: As an Amazon Affiliate Program participant, I earn commissions on purchases made through links in this post. Full disclosure
Details and Specifications
Assembled dimensions: 45.7L x 21.7W x 47.5H inches (116L x 55W x 120H cm)
Shipping weight: 81 lbs (36.7 kg)
Flywheel weight: 35 lbs (15.8 kg)
Supported weight: 265 lbs (120 kg)
Seat: 4-way adjustable
Drive system: Belt
Resistance: Manual magnetic
Fitness Monitor: time, speed, RPM, distance, calories, pulse, goals, Bluetooth, Zwift compatible
Extras: Device holder, bottle holders
Warranty: 1 year limited
URSB002 Frame Construction
The UREVO URSB002 is an indoor cycling bike that will support any spin workout. It features a triangular steel tubing frame. All the steel bars in its construction are oval for improved sturdiness. Also, the base bars are v-shaped for extra stability.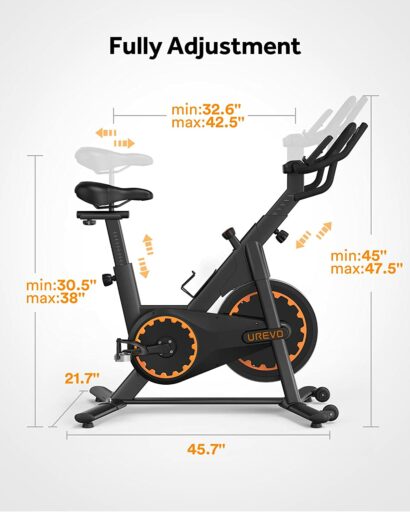 All the steel tubes in the bike's construction come coated with a corrosion-resistant black paint finish. The side covers of the flywheel and the drivetrain cover are rigid ABS plastic materials. They are also black with an orange border for an extra aesthetic touch.
The bike is not super large compared with other fitness machines but does have a slightly larger footprint than other spin bikes. It is approximately 45.7″ (116 cm) long and 21.7″ (55 cm) wide. It is also advisable to allow at least 24″ (61 cm) of clearance all around it for ease of access and safe usage.
The bike is not super heavy but does weigh over 75 lbs (34 kg). Therefore, two people should carry and assemble the bike. However, one person can transport the bike once completed, as its front base stabilizer features a set of transport wheels. Also, both base stabilizers have adjustable levelers with rubber pads.
Seat and handlebars
The UREVO URSB002 indoor cycling bike includes a slim race-type saddle. It is approximately 11″ (28 cm) long and 6″ (15 cm) wide. It integrates a thick layer of foam cushioning for improved comfort. In addition, it also has a median groove for superior breathability.
The saddle features a standard collar-type attachment system. Therefore, you can also adjust its angle slightly if needed. Plus, it's easy to remove, and you can find other compatible saddles in any bike shop.
The bike's seat is adjustable (up, down, front, back). Its vertical post offers an adjustment span of approx—7.5″ (19 cm). The minimum pedal-seat distance is 30.5″ (77.4 cm), while the maximum is 38″ (96.5 cm).
Therefore, the bike can comfortably accommodate users between 5'0″ and 6'5″ (153 – 196 cm) with no problem. It also has a maximum user weight limit of 265 lbs (120 kg).
This UREVO indoor cycling bike comes equipped with a multi-grip handlebar. It features a set of drop-down grips and offers the possibility to adopt a climbing grip, an aero grip, a cruising grip, and a close grip. It comes entirely covered by a layer of PVC foam for improved contact. In addition, it also integrates HR pulse sensors.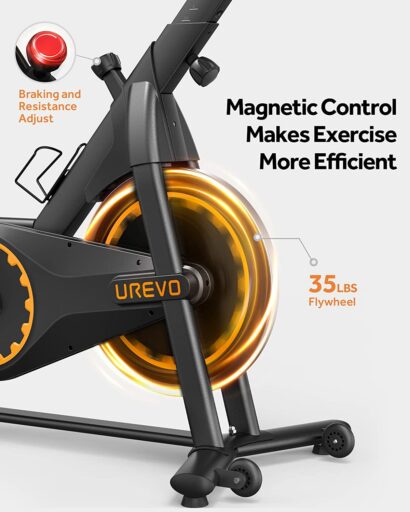 The handlebar is only two-way adjustable (up, down). However, it adjusts diagonally, so the higher it is, the longer the distance between it and the seat. Its adjustment span is approx. 2.5″ (6.3 cm), while its maximum height is 47.5″ (120 cm).
URSB002 Resistance system
The UREVO URSB002 indoor cycling bike features a manual magnetic resistance system. Therefore, you don't need to connect it to a power source. Unfortunately, the cycle does not adjust the resistance automatically, and the included fitness monitor does not have pre-set programs.
The resistance system consists of a magnetic brake attached to the frame above the flywheel and the tension knob on top of the bike's frame. When you turn the knob clockwise, the magnets move closer to the flywheel, increasing the magnetic field's intensity.
Consequently, this leads to an increased pedaling load. Conversely, if you turn the knob to the left, the magnets move away from the flywheel, reducing the workout load.
This magnetic brake system comes with two main advantages. First, the magnets do not touch the flywheel, so the brake pad won't need lubrication or replacement. The pedaling motion is very smooth and quiet due to the lack of contact between the brake pad and the flywheel.
The bike does not have pre-set tension levels. Instead, turn the knob left or right until you get the desired pedaling difficulty. The tension knob also has the function of an emergency brake. You can press it down to instantly stop the flywheel from spinning.
Drive system
The UREVO URSB002 indoor cycling bike comes equipped with a belt drive system. It integrates a poly-v belt, which is highly resistant to abrasion and stretching.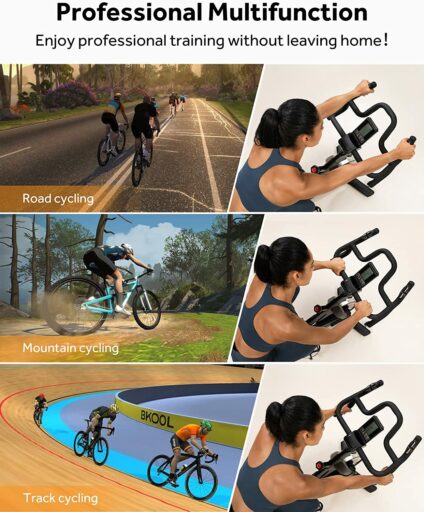 Unlike a chain drive, the belt drive system comes with several advantages. First, it generates less vibration, so the bike delivers a smooth and quiet pedaling motion. And second of all, it does not require lubrication.
The bike's flywheel weighs 35 lbs (15.8 kg) which is not bad for a home-use spin bike. However, it's lighter than most commercial models and usually has 40 lbs or heavier flywheels. In addition, it is perimeter-weighted for superior inertia and more consistent momentum.
The flywheel is bi-directional so that you can pedal in reverse on this bike. But since its driving system is more straightforward than the one of a road bike, you cannot coast on it. Also, when you backpedal, the resistance remains constant, depending on the position of the magnetic brake.
The bike comes with a heavy-duty, 3-piece crankset featuring oval arms similar to road bikes. The pedals are aluminum alloy and withstand spin workouts while standing up with no problem. Unfortunately, they do not have SPD clips for spin shoes, but they have adjustable toe cages.
URSB002 Fitness monitor
The UREVO URSB002 indoor cycling bike has a fitness monitor that offers a few extra features over a simple one. First, it has an LCD that divides into six sub-sections to show multiple workout metrics at once.
It tracks time, speed, distance, RPM, calories, and pulse. The distance and speed are in miles and MPH. The pulse reading function is handgrip only.
The monitor does not have pre-set programs but does offer the possibility to set workout goals. For example, if you put in a 5-mile plan for distance, the monitor will count down from the selected 5-mile distance to zero, notifying you when you complete it.
The fitness monitor also has Bluetooth connectivity and is compatible with the Zwift fitness app. In addition, it comes with a QR code which you can scan with your phone to install the app.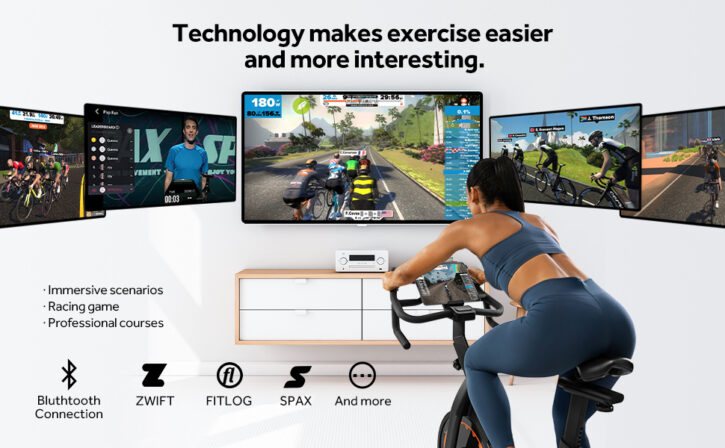 In addition, the app offers additional workout metrics, a cycling game that allows you to compete with others, and the possibility to track your progress online. Similarly, it's compatible with Fitlog, Spax, Kinomap, FitShow, and more.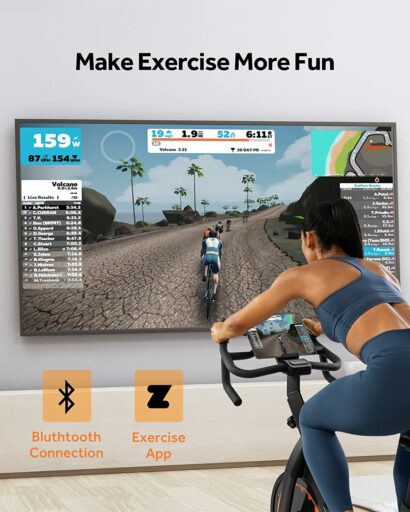 The fitness monitor is pretty easy to use. It has four buttons, Reset, Up, Mode, and Down. The Reset button clears all the monitor values to zero and activates the Bluetooth connection if pressed for more than two seconds. The Up/Down arrows allow you to increase or decrease values for workout goals. And finally, the Mode button covers the selection function.
The unit is battery-powered, and the batteries come with the bike. In addition, it also comes equipped with a small device holder for a tablet or phone.
URSB002 Assembly and Maintenance
The main body of the bike comes pre-assembled. You only need to attach the two base bars, the seat, the handlebars, the pedals, and the fitness monitor.
Therefore, it shouldn't take more than one hour of your time. In addition, the manual provides clear assembly instructions and all the necessary tools that come with the bike.
It is advisable to keep the bike clean and wipe the sweat that may drop on the frame at the end of the workout for maintenance. In addition, it would also be best to periodically check the nuts and parts to ensure they remain tight in place. The belt drive and the brake do not need any lubrication.
Pros
Durable steel frame – can support users up to 265 lbs;
Aesthetic design;
Transport wheels on the front stabilizer;
Adjustable levelers on both base stabilizers;
Metallic pedals with toe cages;
Multi-grip handlebar including drop-down grips;
Pulse sensors integrated into the handlebar;
4-way adjustable seat;
Maintenance-free belt drive;
Perimeter-weighted flywheel (35 lbs) for enhanced inertia;
Frictionless magnetic resistance;
Fitness monitor included – it tracks time, distance, RPM, speed, calories, and pulse;
Bluetooth connectivity and compatibility with the Zwift app;
Device holder;
Bottle holder;
Little maintenance is required;
Easy to assemble;
Assembly tools included.
Cons
No backlight on the fitness monitor LCD;
A tablet placed on the device holder will cover the LCD.
UREVO URSB002 Indoor Cycling Bike Summary
The UREVO URSB002 is a home-use indoor cycling bike. It features a manual magnetic resistance system, a 35-lb flywheel, a 4-way adjustable seat, and a multi-grip handlebar. It also includes a fitness monitor compatible with the Zwift app with Bluetooth connectivity.
Moreover, it's a bike for spin workouts, high-intensity cardio training, interval training, stamina development, and weight loss.
I hope you found this article helpful and informative. Would you please speak up if you have anything you'd like to share on the topic or any opinions about my website? I look forward to your comments, questions, and the sharing of ideas.
Please note that you should consult your physician to determine if you have any medical or physical conditions that could risk your health and safety or prevent you from using the equipment properly. In addition, your physician's advice is essential if you are taking medication that affects your heart rate, blood pressure, or cholesterol level.