Train at Home, On Your Time, and enjoy the privacy of at-home exercise. The Weslo Cadence G 5.9i Folding Treadmill will fit your budget without sacrificing the quality of your workout or the space in your home.
Discover A New You and improve your health and life as you train on the Cadence G 5.9i. Bluetooth technology connects you to the thrilling world of iFit personal training, the tool that will improve your workouts and give you access to world-class personal trainers.
The Weslo Cadence G 5.9i Folding Treadmill features 16 x 50 inches of belt space, so you won't run out of room as you exercise. Crafted to give you a comfortable breadth as you run, jog, or walk, users under 6 feet tall will feel at home on their Weslo tread deck.
Comfort Cell cushioning technology gives your joints the support they deserve, making for a more comfortable workout and a faster recovery. Getting in shape can be challenging, but it shouldn't be painful.
Learn more in my complete review below!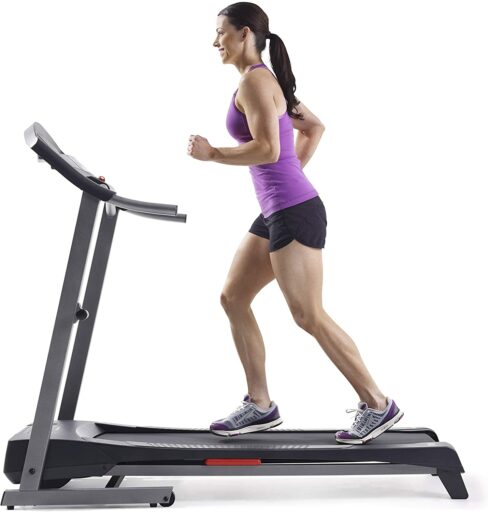 Product: Weslo Cadence G 5.9i Folding Treadmill
Price: For a great deal on this treadmill, merely go here to Amazon.com
Warranty: Motor 1 year / Parts 1 year / Labor 1 year
My rating: is 8/10
Affiliate Disclosure: As an Amazon Affiliate Program participant, I earn commissions on purchases made through links in this post. Full disclosure
Details and Specifications
Assembled dimensions: 64.5L x 29W x 55.5H inches (164L x 74W x 141H cm)
Tread belt dimensions: 50L x 16W inches (127L x 40.6W cm)
Assembled weight: 118 lbs (53.5 kg)
Supported weight: 275 lbs (125 kg)
Motor: 2.25 HP, 0.5 – 10 MPH
Incline: Manual, two positions
Fitness Console: 6 onboard programs, Bluetooth, iFit enabled
Extras: Device holder, accessory trays
Warranty: Motor 1 year / Parts 1 year / Labor 1 year
G 5.9i Frame Construction
The Weslo Cadence G 5.9i treadmill features a rectangular tubing steel frame. In addition, all the steel parts in its construction come with a rust-resistant paint finish, gray.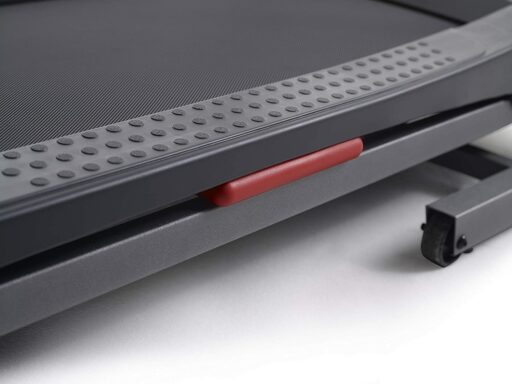 The machine also integrates several parts of durable thermoplastic material. The most notable ones are the side covers of its rails, the motor cover, and the console dashboard.
The Weslo Cadence 5.9i is relatively tiny compared to other models. With all the parts assembled, it is approximately 64.5″ (164 cm) long and 29″ (74 cm) wide. Therefore, leaving at least two feet of clearance on each side of the deck and at least three feet at the rear is also advisable for easy access and safe usage.
The treadmill is foldable. Its deck can fold up to save space. It does not have a hydraulic element for a slow unfolding like other similar machines. However, the deck isn't super heavy.
The machine's net weight is 118 lbs (53.5 kg). Therefore, two people should carry the packaged unit. However, once assembled, one person can quickly move the treadmill as its front base frame integrates a set of small wheels.
Deck and incline system
The Weslo Cadence G 5.9i features a pretty sturdy deck for a home-use treadmill. It features a maximum user weight capacity of 275 lbs (125 kg) which is not bad. Furthermore, the belt offers a running/walking surface of 50″L x 16″W (127 x 40.6 cm). Therefore, users up to 6'0″ – 6'1″ (183 – 185 cm) should be able to run correctly, benefiting from a complete stride.
The integrated belt features a textured surface for improved contact. It's multi-layered and pretty thick, resistant to stretching.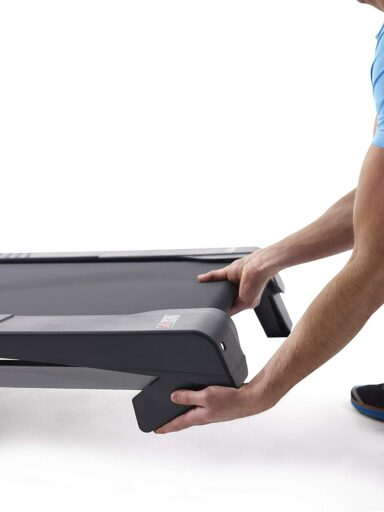 The diameter of the internal rollers is not specified, but as a general idea, they're not as thick as a commercial treadmill. However, they have a crowned design for improved traction and a prolonged belt lifespan. They also have industrial-grade ball bearings built-in for smooth motion.
The machine's deck comes equipped with a cushioning system. It consists of two significant shock absorption elements in the middle of the deck, one on each side. They attach screws to the deck board, so their position is not adjustable. Also, the internal deck board has a bit of flex. So, the treadmill provides a reasonably decent shock absorption, reducing the workout's impact.
This Weslo treadmill comes with a manual incline system. Its rear stabilizers can fold to provide a few degrees of incline for the deck. However, since the incline requires manual adjustment, you cannot adjust as you're actively running or walking on the treadmill; you must pause your workout.
The belt height is approx. 6.5″ (16.5 cm) above floor level. Therefore, using this treadmill in a room with a ceiling at least 10″ (25.4 cm) higher than your height is advisable.
G 5.9i Drive motor
This Weslo G 5.9i is an electric treadmill. Thus, you need to have an external power source. It comes with a power cable featuring a standard US plug. The cable connects to the front base section of the machine, and there is also an On/Off switch.
This Weslo treadmill comes equipped with a 2.25 HP motor which offers a reasonably decent duty, offering the possibility to run or walk for at least a few hours without overheating or losing performance. It also integrates a small flywheel for improved motion stability.
The motor offers a speed range of 0.5 – 10 MPH. In addition, the console provides controls for gradual speed adjustment and quick adjustment. The incremental speed adjustment controls (+, -) have a dual function.
A short press will adjust the speed in increments of 0.1 MPH, while if you press and hold them, the speed will change in increments of 0.5 MPH. Transitioning from one-speed level to another is smooth, so adjusting your pace is leisurely.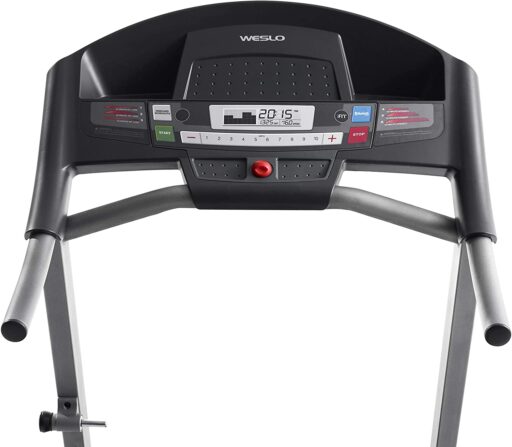 The motor itself is not too loud. However, depending on your running technique, weight, footwear, and other factors, your cadence may generate more or less noise. Also, since the motor is not a superpower, the extra costs for your energy bill are insignificant even with daily use.
Console
The Weslo Cadence G 5.9i treadmill comes with a Bluetooth-enabled and iFit-ready console. It also includes one free month of iFit membership. Therefore, you can download the iFit app into your phone and sync it with your treadmill to track your progress online, benefit from interactive fitness courses, run on virtual trails, and more.
However, the use of the iFit function is not necessary. The machine provides a manual mode. To do that, you must press and hold the Bluetooth button for at least 30 seconds when starting the machine for the first time.
The unit's console features an LCD with an LED backlight. It tracks time, speed, distance, calories, and pulse. The speed and distance are English units (MPH and miles) by default, but they can also change to metric units (kmh and kilometers).
The console has a contact sensor for the pulse reading function to place your finger to count and display your pulse. However, the console is also compatible with various HR chest belts. However, an HR chest belt does not come with the treadmill.
If you're not going to use the iFit workouts and the iFit app, the console has six built-in workout programs. Three are for weight loss, and the other three are intensity workouts. They are accessed from the "Onboard Workout" key on the console.
If a workout is selected, the machine will automatically adjust the speed depending on the current workout segment. The workout segments appear on the left section of the console display.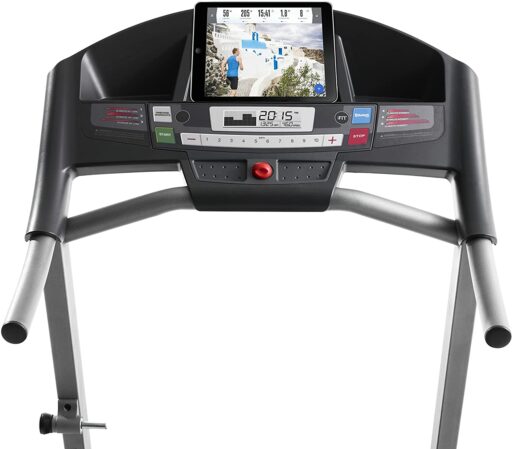 The machine's console does not have built-in speakers or an AUX port for playing music through the treadmill. It also does not have a USB port or a workout fan. Instead, its dashboard integrates two accessory trays and a tablet holder. So, if you will use iFit, you can place your tablet on the console.
G 5.9i Assembly and Maintenance
The machine's deck with the drive motor, belt, side covers, and other parts comes pre-assembled. Therefore, you only have to attach the front base frame, the two handlebars, and the console.
Consequently, this shouldn't take more than 30 minutes. The manual provides step-by-step assembly instructions and all the necessary tools for the machine.
The belt is pre-lubricated from the factory and should not require further lubrication. You'll also have to keep the treadmill clean, especially the belt, periodically check for loose bolts and parts, and retighten as needed.
Pros
Sturdy construction – can support users up to 275 lbs;
Folding deck, space-saving design;
Transport wheels on the front base frame;
Integrated deck cushioning;
Manual incline with two levels;
Speed range between 0.5 and 10 MPH;
Speed adjustment increments of 0.1 and 0.5 MPH;
Quick speed adjustment controls for 1 to 10 MPH;
Six onboard workout programs;
Bluetooth connectivity;
The iFit-enabled console has a month of free iFit membership;
Device holder included;
Accessory trays built-in the console dashboard;
Pulse sensors and telemetric console (works with HR chest straps);
Minor assembly is required;
Little maintenance is needed.
Cons
The Wireless HR chest strap does not come with the machine;
The console does not have a sound system.
Weslo Cadence G 5.9i Folding Treadmill Summary
The Weslo Cadence G 5.9i is a home-use treadmill. It features a folding deck with a running surface of 50″L x 16″W and offers a weight capacity of 275 lbs. In addition, it comes equipped with a Bluetooth-enabled console compatible with iFit (1 month of iFit membership included), which has six built-in workout programs.
Moreover, it's a reasonably decent treadmill, great for low to high-intensity cardio workouts, muscle toning, stamina development, and weight loss. It's also an affordable treadmill for less than $400.
I hope you found this article helpful and informative. Would you please speak up if you have anything you'd like to share on the topic or opinions about my website.? I look forward to your comments, questions, and the sharing of ideas.
Please remember that you should consult your physician to determine if you have any medical or physical conditions that could risk your health and safety or prevent you from using the equipment properly. In addition, your physician's advice is essential if you are taking medication that affects your heart rate, blood pressure, or cholesterol level.