The XTERRA MB550 Indoor Cycle is an excellent choice for people who want a low-priced quality bike, that will help them meet their fitness goals, no matter how extreme they might be. The MB550 Indoor Cycle with Wireless LCD Display delivers a fast cardio indoor cycling as well as strength workout featuring felt-pad dial, infinite micro-adjustments resistance.
Designed with a resistance knob located conveniently on the frame allows for easy resistance adjustment. Flip the knob to adjust (increase or decrease) the intensity of your effort. The small flip change permits swift and smooth transitions to higher or lower intensity levels. By merely pressing down on a similar knob, the braking system activates quickly and safely.
The fully adjustable seat and handlebars of Xterra indoor cycle MB550 help proper bike fit to fulfill the necessity of your fitness workout. This MB550 Indoor Cycle's adjustable seat and adjustable handlebars allow a customizable fit for ultimate user comfort and compatibility.
Thanks to its heavy 48.5 lb precision balanced flywheel and smooth belt drive system, the pedal motion is enjoyable, and the sound of operation is minimal. Even more importantly, the belt-system requires very little maintenance, unlike chain bikes.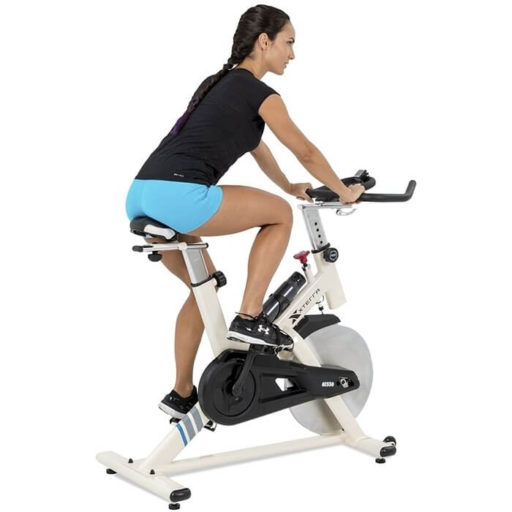 Learn more in my complete review below
Product: XTERRA  MB550 Indoor Cycle
Price: For a great deal on this bike, merely go here on Amazon
Warranty: Frame lifetime/parts and labor one year
My rating: 9/10
Amazon Affiliate Disclosure: I may earn commissions from purchases made through links in this post.
Details and Specifications
Max User Weight: 250 lbs.
Height: 39″
Width: 23″
Length: 46″
Bike Weight: 105 Pounds
User Height: 4'9″ to 6'2″
Transport Wheels: Yes
Adjustable Base Levelers: Yes
Water Bottle Holder: Yes
Power Requirement: Battery (included)
Warranty: Frame lifetime/parts and labor one year
MB550 Sturdiness and Flywheel
Featuring 250 pounds weight capacity isn't impressive, but considering the price point and the fact that it is a home use indoor cycle, it is not too bad either. Furthermore, XTERRA Fitness shows their confidence in the build quality with its lifetime on the frame.
As far as the rust and corrosion go, you have nothing to worry about. The XTERRA MB550 bike has a multi-phase paint process & stainless steel components to prevent rust and corrosion.
Unlike cheap spin bikes that usually rock when you ride off the seat, the Xterra spin bike is stable as a mountain. Thanks to broad base and the 4 point contact with adjustable levelers. XTERRA Fitness MB550 indoor cycle has durable quality wheels to make it easy to maneuver around and store after you are done working out.
The MB550 has a 48.5-pound flywheel, which adds to the bike's overall weight and sturdiness. It is a precision balanced chrome plated flywheel for a smooth ride. The bike flywheel is kept dry and protected by a sweat protection guard.
MB550's solid structure and balanced flywheel translate into momentum, speed, and a lower-impact workout. The stable machine design guarantees that you will have a smooth and close to real road bike cycling experience.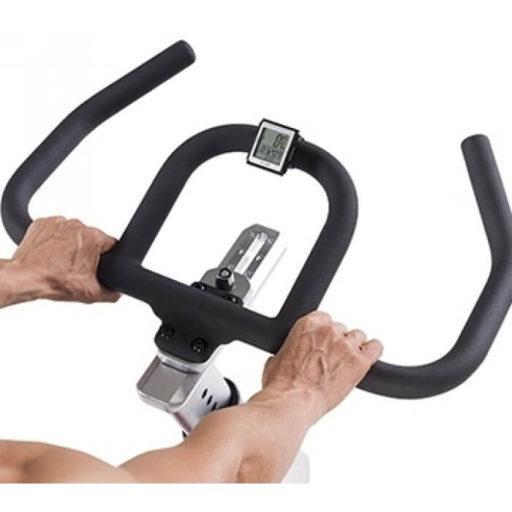 As I have always said, the weight of the flywheel is an important feature when buying a spin bike, especially if the bike has friction resistance. Thankfully the MB500 has a smooth, enjoyable exercise.
One especially important design feature that I like about the MB500 bike is the flywheel and resistance sweat protection. To keep the felt pads and the flywheel dry, they have designed a sweat guard on top of the wheel, which reduces maintenance.
Handlebars and seat
Earlier in this review, I talked about the micro-adjustment, and comfortable user bike fit accommodation. Well, it is thanks to the infinite fore and aft adjustments seat and handlebars. This XTERRA Fitness bike comes with a fully adjustable seat and handlebars, which are both quite comfortable and easy to adjust.
There are several hand-grip positions to reduce stress on your wrists and allow you to ride the bike in different areas. The XTERRA Fitness MB550 handlebars are 4-way adjustable. The handlebars feature the Aero, Cross, and Bull-Horn grip positions. But not drop bars.
The XTERRA Fitness MB550 seat is also up/down for/aft adjustable. Furthermore, It is a narrow high-performance spinning style saddle. Equally important, the seat post and handlebar stem are stainless steel.
MB550 Pedals and Q-factor
The aluminum alloy caged pedals provide slippage free comfort pedaling, which is high quality, but they are not compatible with the clipless cycling shoes. So, if you want to use cycling shoes or have a safer and more efficient pedal stroke, you will need to spend another $50-100 to buy SPD pedals and replace the MB500 pedals.
The XTERRA MB500 cycle has standard bike pedal thread size (9/16″), so you won't have any trouble changing the pedals.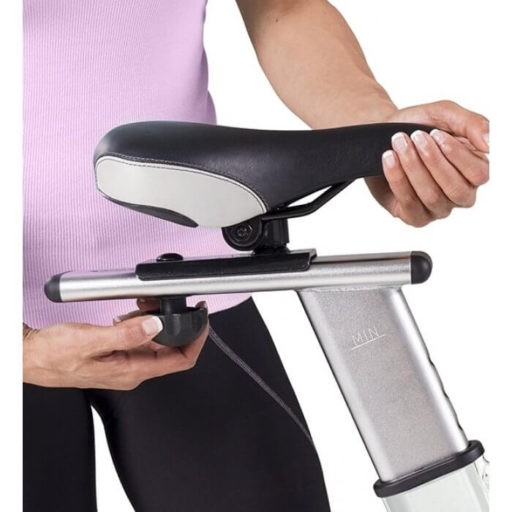 As far as the q factor goes, the XTERRA Fitness MB550 indoor bike beats most of the bikes in this price class. With 181 mm q factor, you will have a safe and comfortable ride. In case you are new to indoor cycling exercise, the q factor is the distance between the two pedals.
If there is too much distance between the pedals, your feet cannot stay aligned with your knees and hips. As a result, your knees will be under stress. Thankfully, you won't be having this issue with the MB550 Indoor Cycle, because it has a bio-mechanically correct narrow q factor of 181 mm.
Resistance and Drive
I am not a big fan of friction resistance bikes in general, because they make noise and require brake pad changing every few years of use. But this Xterra Fitness spin bike's felt-pads are high-quality, which makes them relatively quiet and more durable.
Unlike most magnetic bikes, the friction brake offers infinite resistance. Therefore, no matter your fitness level, you will be able to do a challenging strength workout in addition to cardio workout on this bike. It has a micro-adjust resistance knob with an emergency safety stop.
But if you want a silent bike because you live in a small apartment or in general don't want to bother your partner with the noise, then a magnetic resistance bike might be your best choice.
The Xterra MB550 indoor spinning cycle has a near to silent drive mechanism. The MB550 indoor cycle features a high-quality belt. The type of the belt is not (disclosed), but giving a 1-year labor warranty is a sign of excellent quality.
The MB550 indoor cycle has a top-notch quality belt that does not stretch. So, you don't have to adjust the belt every few weeks. And unlike chain indoor cycling bikes, this belt is smooth and does not require lubing. Therefore, your floor and hands stay clean.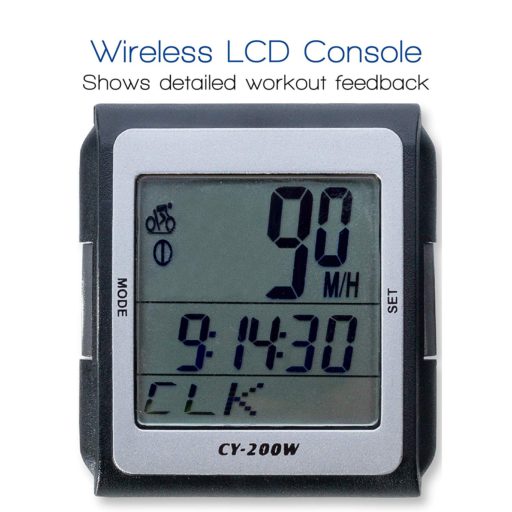 MB550 Console
The XTERRA Fitness MB550 indoor cycling bike comes with the primary computer. It is not backlit and doesn't track the RPM, which is one of the main disadvantages of this cycle compared to some other budget bikes.
This computer will track the average for your speed, distance, calories, and time. But it does not monitor the watt and also it is not Bluetooth, or ANT/+ enabled.
Therefore, you can not save your progress on fitness apps or join virtual cycling competitions. Thankfully there are other encouraging and motivation options if the watt/power and workout tracking is something you want. The cheapest option would be a Wahoo sensor. While it does not track the watts, it tracks your time, distance, and RPM.
Wahoo sensors have Bluetooth and ANT+ technology that allow you to join cycling apps online and track your fitness progress on your smartphone or tablet.
Warranty
This XTERRA Fitness indoor bike is for home use.
The home use warranty includes:
Lifetime Frame
1 Year Parts
1 Year Labor
You will need to register the bike to claim parts under warranty.
MB550 Assembly and Shipping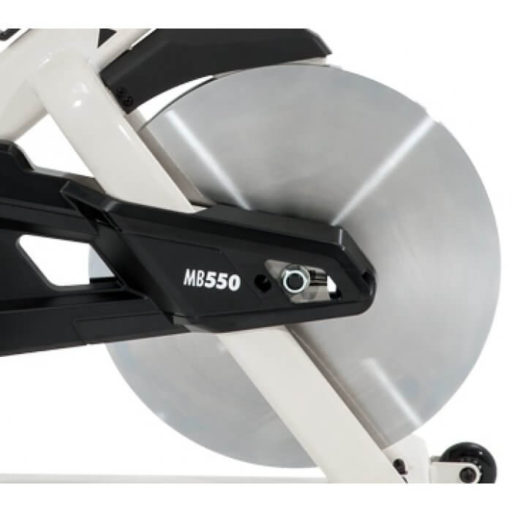 According to pretty much all the consumers, the XTERRA MB550 exercise bike arrives much packed with minimal parts to assemble, thanks to lack of bells and whistles. Shipping box dimensions are 43″ Long x 10″ Wide x 38″ High.
Based on the few parts that need assembly, it should be straightforward and fast to assemble the MB550 spin bike. You will need to tighten a few things. You'll need to install the pedals, seat, handlebars, stabilizer feet, and the water bottle holder.
XTERRA Fitness MB550 Indoor Cycle Manual, as well as the required tools for easy assembly (are included). The construction is effortless and should take about 30-40 minutes.
Pros
The heavy-duty steel frame gives cross country cycling experience.
Multi-grip 4-way adjustable handlebars offer various riding postures for full workouts.
Fore/aft versatile adjustable seat with high-end density padding.
Portable wheels on its base are highly stable, ensuring hassle-free transportation without damaging your floor or carpet.
A quality brake pad provides a low-maintenance smooth and quiet exercise.
Aluminum alloy caged pedals provide slippage free comfort pedaling.
48.5 Pounds balanced chrome plated bidirectional flywheel to provide momentum while resisting abrasions.
A small wireless LCD monitor that allows you to track your burnt calories along with time and distance.
Belt drivetrain with low-maintenance and less noise compared to the chain system.
There is a protection guard to prevent sweat from dripping on to the pad and flywheel.
Easy to assemble.
Affordable price.
Cons
a tablet holder (is not included), however, you can purchase separately
pedals are toe caged; they are not SPD
Resistance levels not marked, making it difficult to return to previous settings.
The handlebars do not have the drop and elbow-rest for upper body workout variety and comfort.
XTERRA MB550 Indoor Cycle Summary
The XTERRA Fitness MB550 Indoor Cycle combines the quality, performance, and great looks you desire in a design that is as solid as they come. It incorporates numerous thoughtful features that can enhance your performance and comfort the mind.
From the heavy 48.5 lb precision balanced flywheel and smooth belt drive system to the electronic console and fully adjustable seat and handlebars, every aspect of the MB550 helps users keep moving and stay motivated.
With the XTERRA Fitness comes my seal of approval with an impressive lifetime frame and 1-year parts and labor warranty. Start on the road to fitness today with the new XTERRA Fitness MB550 Indoor Cycle and exceed your expectations.
I hope you found this article helpful and informative. If you have anything that you'd like to share or opinions about the content on my website, please do speak up. I look forward to your comments, questions, and the sharing of ideas.
Recommended articles: