The Bodycraft SPT-Mag Indoor Cycling Bike is made and warranted for health club use but is perfect for at-home use. The Bodycraft SPT-Mag uses Magnetic Resistance, which offers extremely quiet, maintenance-free operation (no pads to replace). Bodycraft uses Eddy Current magnetic resistance (the best type).
The Bodycraft SPT is a choice of Cycling Classes at the gym. The SPT indoor cycle gives you the same feel as cycling on the road with a bicycle. And will provide an excellent cardiovascular workout with a low impact on your joints.
The Bodycraft SPT-Mag features a 46 lb flywheel, which creates a secure, quiet, vibration-free workout and features adjustable magnetic resistance that simulates actual riding. The heavy-duty steel frame comes double-coated using a multi-phase process to prevent rust and corrosion. The padded seat can be adjusted fore and aft, as well as the height.
The multi-grip handlebars are fully adjustable for the perfect fit. The kevlar belt drive mechanism provides silent and smooth pedaling. The bike certainly seems to have everything needed to be a spin bike. You can get the workouts to the intensity you want, from moderate to very intense.
Learn more in my complete review below!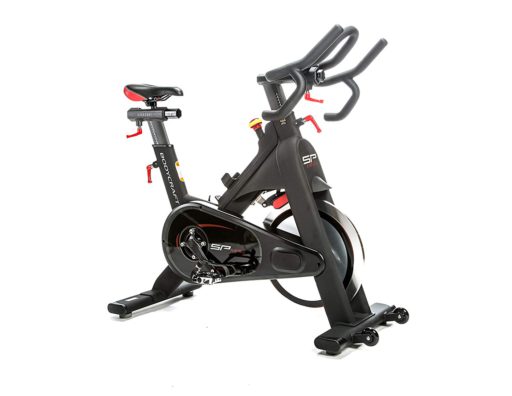 Product: BodyCraft SPT-Mag Indoor Cycling Bike
Price: For a great deal on this bike, merely go here on Amazon
Warranty: In-Home: Frame lifetime / Parts 5 years / Wear items one year / Labor 2 years (see the commercial warranty below)
My Rating: 9.6/10
Affiliate Disclosure: As an Amazon Affiliate Program participant, I earn commissions on purchases made through links in this post. Full disclosure
Details and Specifications
Assembled dimensions: 42L x 24W x 47H inches
Assembled weight: 116 lbs
Supported weight: 350 lbs
Handlebars: 4-way adjustable
Seat: 4-way adjustable
Drive mechanism: Belt
Resistance: Manual magnetic
Fitness Monitor: Not included
Bottle holder: Included
Warranty:
– Commercial: Frame 10 years / Parts 3 years / Wear items 90 days / Labor 90 days
– In-Home: Frame lifetime / Parts 5 years / Wear items one year / Labor 2 years
SPT Frame Construction
Since it's a commercial-grade exercise bike, its frame is heavy-duty steel tubing. In addition, most parts of its structure are steel-made, except for several covers.
The mainframe features a corrosion-resistant and scratch-resistant paint finish. The colors used are black for the main body and grey for the seat's upright bars and handlebar, while the seat and handlebar's horizontal adjustment sliders have a chrome finish.
The BodyCraft SPT-Mag indoor cycling bike offers exceptionally sturdy construction and exceptional stability. Not only that, but its center of gravity is also situated pretty low. Its base bars also come equipped with adjustable stabilizers, each stabilizer featuring a large rubber cap.
Plus, the whole bike weighs approx. 116 lbs, which is more than twice the average road bike's weight, also plays a significant role in its overall stability.
So, as a small conclusion here, even if you're close to the bike's maximum weight capacity, it still shouldn't wobble or move when you also exercise if you undertake a more demanding spin workout.
On the other hand, moving the bike shouldn't be too difficult; its front base bar has two large wheels facilitating its relocation.
This exercise bike isn't significant as other cardio training machines, such as treadmills or ellipticals. Therefore, it won't take up too much usable space. With the frame completely assembled, it takes 42″L x 24″W of floor space. Maintaining at least two feet of clearance all around it is advisable for safe operation, entry, and exit.
Lastly, the BodyCraft SPT-Mag bike has quite an aesthetic, professional-looking aspect. This can serve as a motivation factor. In addition, it's a rock-solid item of fitness equipment.
Seat and handlebars
The SPT-Mag indoor cycling trainer from BodyCraft Fitness has a 4-way adjustable seat. Its vertical post is oval, while the horizontal slider is hexagonal. Due to these shapes, it is almost impossible for the seat to turn sideways.
The seat's upright bar and horizontal slider offer many adjustment positions, with increments of approximately half an inch. Differently put, the bike can accommodate users between 5'0″ and 6'5″ with no problem.
The saddle is an elastomer cushioned model featuring a longitudinal groove to promote healthy blood circulation during seated workouts. It offers optimal comfort, but it's not a saddle built for comfort. Instead, it's a slim spin seat, and almost any new user to spinning will find it uncomfortable at first. However, its support is improvable with a gel cover. Also, the connection system to the slider is standard; thus, compatible models are widely available.
The BodyCraft SPT-Mag exercise bike offers a more versatile handlebar. Not only that, but its handlebar also integrates a middle loop aero bar. It also has two lateral drop-down grips, which multiplies the workout postures you can adopt during your workouts.
Like the seat, the bike's handlebar is 4-way adjustable (up, down, forward, and backward). In addition, a layer of high-density foam entirely covers it to provide a non-slip, secure grip. Its horizontal slider is also hexagonal, while its vertical post is oval.
The seat and the handlebar are effortless to adjust, as the large lock levers are easy to grip and turn. Therefore, changing the bike to your size shouldn't take more than a minute.
SPT Resistance system
As I've mentioned, the BodyCraft SPT-Mag bike has an eddy current (magnetic) resistance system consisting of a magnetic brake placed over the flywheel and connected to the main's adjustment dial bar of the frame.
The brake is not motorized, so the bike doesn't require a power source to generate resistance. Instead, it's a manual magnetic brake, and as you turn the dial clockwise, the magnets in the brake's construction will come closer to the flywheel, increasing the resistance.
The brake knob also has the function of an emergency brake. The brake uses complete contact with the flywheel by pressing it down, instantly stopping it if necessary. You may be required to do this if you repeatedly alternate regular pedaling sessions with backward ones.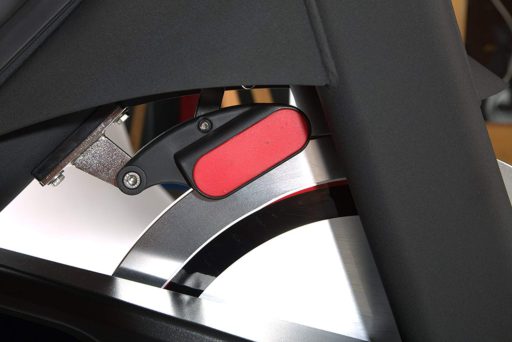 The brake doesn't have pre-determined resistance settings. Instead, you "tighten" it until you obtain the resistance that you feel is adequate for your workout.
Drive elements
The first aspect to mention here is that the BodyCraft SPT-Mag bike has a belt drive system. This feature comes with two main advantages. One, the pedaling motion is tranquil, almost silent; second, the belt doesn't require lubrication, so the bike's transmission part is maintenance-free.
The integrated flywheel is bi-directional. Thus, it allows you to pedal backward with the same resistance the selected level provides. The bike doesn't offer the opportunity to coast, though.
The flywheel weight isn't specified. However, it's a mid-range flywheel with a load between 30-40 lbs. It's perimeter-weighted and delivers an extraordinarily smooth motion and consistent momentum, perfect for spin workouts of all sorts.
Like any other spin bike, the BodyCraft SPT-Mag bike has a sturdy, 3-piece crankset. So even if you're close to the maximum weight capacity, you should be able to pedal while standing up with no problem. The bike's Q-Factor isn't the narrowest, but at 175 mm, it's still tight enough to eliminate any lateral stress on the ankle and knees during your workouts.
Finally, a heavy-duty, metallic alloy set of pedals is (included)with the bike. They're dual-sided, featuring toe cages with straps on one side. Furthermore, you can also use them on the other side without the cages.
However, they do not have SPD clips for spin shoes. Yet, they're standard pedals featuring 9/16 threads, so you can easily find replacements.
SPT Assembly and Maintenance
Most of the bike is pre-assembled; however, some parts require construction. You will have to attach the base bars, the seat upright post, the saddle, the handlebar upright post, the handlebar, and the pedals. Assembly shouldn't take longer than 20-30 minutes.
The included manual will guide you step-by-step through the assembly process. All the instructions are pretty clear and straightforward. Also, all the tools required for the assembly comes with the bike.
Since it's a belt-drive bike, the BodyCraft SPT-Mag bike's transmission doesn't require lubrication or maintenance. So the only care necessary for this bike is keeping it clean. Also, periodically check to see if all the parts are well-tightened.
Pros
Sturdy steel frame with an impressive weight capacity of 350 lbs;
Bases with adjustable, rubberized levelers;
Transport wheels on the rear base;
4-way adjustable seat;
A 4-way adjustable handlebar with a multi-grip design;
Drop-down grips on the handlebar, a feature that many other spin bikes don't have;
Frictionless, wear-free, magnetic resistance;
Balanced, perimeter-weighted flywheel for a smooth pedaling motion and solid momentum;
Heavy-duty crank made for spin workouts;
Durable, metallic alloy pedals with toe cages;
Standard 9/16 threads on the pedals;
Narrow (175 mm) Q-Factor, minimizing the lateral stress on the ankles and knees;
Smooth and quiet belt drive, great for apartment use;
The bottle holder included;
Easy to assemble;
Little maintenance is required;
Excellent warranty.
Cons
The fitness monitor does not come included with the bike;
The pedals do not have SPD elements.
Please note the Bodycraft SPT-Mag bike is not equipped with a fitness monitor. However, it's available as an accessory from Bodycraft. Its name is SP-C-BC VC-1 Computer w/Comprehensive Feedback, and it sells for around $99 (as of doing this review).
It gives Speed, Time, Distance, Calories, Heart Rate, and Odometer. You can set your Time, Distance, or Calorie goals, which count down to zero.
BodyCraft SPT-Mag Indoor Cycling Bike Summary
The BodyCraft SPT-Mag bike is a commercial-grade indoor cycling trainer featuring a frictionless magnetic resistance system and a belt drive. It has a highly sturdy frame and an impressive weight capacity of 350 lbs.
Furthermore, it also excels in micro-adjustability, with a 4-way adjustable seat and handlebar. Thus, it's a rock-solid bike, perfect for all kinds of spin workouts, light to intense cardio training, weight loss, endurance gain, and intervals.
It would be good if it came with a fitness monitor to monitor and track performance. That aside, this is a perfect bike for home use (and gym) that is robust and durable, providing the basis for many years of low-impact and intense (or moderate) cardio workouts. In addition, it offers outstanding value for the price.
I hope you found this article helpful and informative. Please speak up if you have anything you'd like to share on the topic or opinions about my website.? I look forward to your comments, questions, and the sharing of ideas.
Please remember that you should consult your physician to determine if you have any medical or physical conditions that could risk your health and safety or prevent you from using the equipment properly. In addition, your physician's advice is essential if you are taking medication that affects your heart rate, blood pressure, or cholesterol level.