With the 3G Cardio Lite Runner Treadmill, you can conserve space and still get a great workout. This machine is a small, compact, and highly well-built treadmill. It feels like a machine you would use in the gym, incredible! In addition, the frame and handlebars are substantial and surprisingly stable for a treadmill at this price point.
Much emphasis is on the cushioning and feel of the walking deck and suspension. Let's face it, the better the feel of the treadmill, the more likely you will be to use it! Also, a 300-pound user weight maximum capacity is exceptionally high for fold flat treadmills.
The 3G Cardio Lite Runner is precisely engineered with a higher torque / lower horsepower combination to ensure a smooth and consistent belt speed while walking at a lower mph. So when you walk at a slower pace or jog on the 3G Cardio Lite Runner, the belt speed will remain reliable and consistent under your feet.
On the 3G Cardio Lite Runner, you will access ten different programs, one-touch speed, and one-touch incline elevation quick touch buttons. Feedback on display includes; Time, Speed, Elevation, Distance, Calories, and Heart Rate.
Learn more in my complete review below!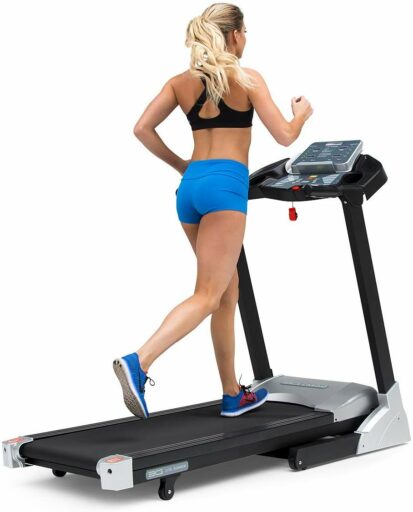 Product: 3G Cardio Lite Runner Treadmill
Price: For a great deal on this treadmill, merely go here on Amazon
Warranty: Frame lifetime / Motor lifetime / Parts 3 years / Labor 1 year
My rating: 8.25/10
Affiliate Disclosure: As an Amazon Affiliate Program participant, I earn commissions on purchases made through links in this post. Full disclosure
Details and Specifications
Assembled dimensions: 67L x 29.75W x 52.5H inches (170L x 76W x 133H cm)
Tread belt dimensions: 51.5L x 18.5W inches (130 x 47 cm)
Assembled weight: 152 lbs (69 kg)
Supported weight: 300 lbs (136 kg)
Motor: 2.5 HP
Incline: Motorized, 0%-15%
Speed range: 0.1 – 11 MPH
Console: 10 preset programs
Extras: Speakers, accessory holders, tablet holder
Warranty: Frame lifetime / Motor lifetime / Parts 3 years / Labor 1 year
Lite Runner Frame
The first aspect is that the 3G Cardio Lite treadmill features a folding design. The folding mechanism consists of a hydraulic cylinder situated on the right side of the deck, which facilitates its lowering, eliminating the risk of dropping it.
With the deck in the folded position, the machine's footprint is reduced to 32″L x 29.75″W (81 x 76 cm) but does gain a bit of height, reaching 62.5″ (159 cm). Thus, once you have finished your workout, the machine can fit into a relatively small storage space.
With the deck unfolded, it takes 67″L x 29.75″W (170 x 76 cm) of floor space. On top of this, it is advisable to leave clearance at the rear and each side for maximum safety. Therefore, you will perform all the workouts without any hindrance.
Although it's a "Lite" treadmill, this 3G Cardio Runner is not exactly a light piece of equipment. It weighs 152 lbs (69 kg). Therefore, it's advisable to have two people transport the box. However, once assembled, its transport isn't too tricky. The front base comes with wheels and the rear section of the deck. The front part of the machine also has a set of adjustable stabilizers.
Finally, the mainframe of this 3G Cardio treadmill is steel tubing. The deck's side rail covers, motor case, and the joints' covers between the console masts and metallic base are durable PVC material. Although all the steel parts feature a scratch-resistant and corrosion-resistant powder finish, the color used is black. The motor and joint covers are silver.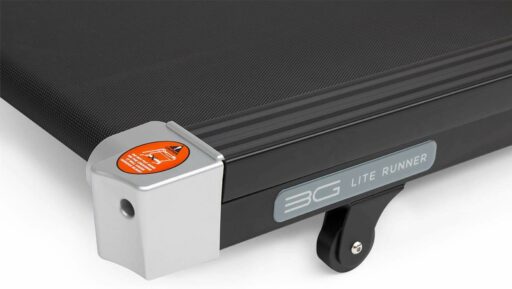 Deck
The treadmill's deck has quite a sturdy construction; it can support users up to 300 lbs (136 kg). In addition, it integrates a heavy-duty belt resistant to stretching, which provides excellent adherence to most athletic shoes.
The belt offers a walking surface of 51.5″L x 18.5″W (130 x 47 cm). Nonetheless, these dimensions suggest that it's not a machine made for high-speed running workouts.
The belt is set in motion by two large rollers equipped with sealed, industrial-quality ball bearings. They will last for an extended time and deliver excellent traction without skipping.
An important aspect to mention here regards the deck cushioning. The 3G Cardio Lite Runner integrates the Ortho-Flex Shock™ suspension system, consisting of 4 rubber cushions on each side of the deck.
These absorb an essential percentage of the workout impact. Thus, a walk or jog is more forgiving on your joints than a walk or run on concrete or asphalt.
Lite Runner Incline & step-up height
Not all lite treadmills offer an automatic incline system. The 3G Cardio does, which is why it costs quite a bit more than other similar machines. In addition, since its incline is motorized, it is only adjustable from the console. Therefore, the machine requires a connection to a power circuit. It consists of a small motor and lever situated at the front of the deck. As you adjust the incline from the console, the lever will lift the deck's front, providing the desired slope.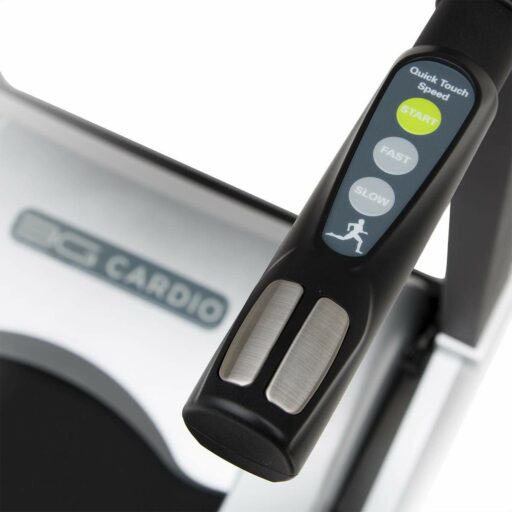 The machine offers an incline range between 0% and 15%. The incline can adjust gradually from the UP / DOWN arrows on the console. It also has controls integrated into the left grip of the machine. These offer adjustment increments of 1%. However, the console also has quick adjustment keys for the 2%, 6%, 10%, and 15% incline levels.
With the incline set to 0%, the running belt is approx. 9″ (23 cm) above floor level, so entry and exit shouldn't be difficult for anyone. By setting the deck at a maximum incline, a few inches will elevate the running/walking surface.
Therefore, it's best to place the machine for usage in a room with a ceiling at least 20″ (51 cm) higher than your height to avoid any ceiling height issues.
Motor
This 3G Cardio treadmill is a "Lite" model; only a 2.5 HP motor comes. Nonetheless, the engine features a small flywheel, which considerably enhances the belt's motion stability. Walking on a treadmill can draw more amps and higher stress on a treadmill motor than running.
Specifically, the user's foot remains in contact with the belt for a more extended time when walking. In addition, the 3G Cardio Lite Runner is precisely engineered with a higher torque / lower horsepower combination to ensure a smooth and consistent belt speed while walking at a lower mph.
Even though it's not an extremely powerful motor, the 3G Cardio Lite treadmill still offers a speed range between 0.1 and 11 MPH. As you may have guessed, the speed adjustment increments are 0.1 MPH. This micro-adjustment type gives you the possibility to find the perfect pace for your stride and your workout.
The machine's speed is only adjustable from the console or the controls integrated into the right grip. The arrow keys on the console and the ones on the right grip gradually adjust. But just as for incline, the console offers quick keys for the 2 MPH, 4 MPH, 6 MPH, and 8 MPH speed settings.
The runner's motor doesn't generate high levels of noise. It's reasonably quiet. However, if you engage in jogging or running a workout, your cadence will cause some thumping. Also, since the machine doesn't use a potent motor, the power consumption won't bring any high extra costs to your electricity bill.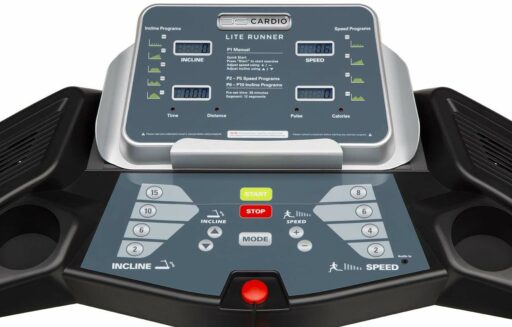 Lite Runner Console
The 3G Cardio Lite Runner doesn't have a highly advanced console, but it should suffice perfectly for the functions it provides. It's equipped with four small LCDs, the two top ones covering the incline and speed levels, while the bottom ones include Time/Distance, and respectively, Pulse/Calories.
The machine's console doesn't have online connectivity or progress tracking but offers ten preset workout programs.
The P1 program is the Manual Mode, the most used treadmill function by most runners; it allows you to change speed and incline according to your liking during your exercise. The P2-P5 are speed programs only; they do not involve incline. The P6-P10 programs adjust speed and incline.
As I've mentioned earlier, you can adjust the machine's speed and incline via the integrated controls into the lateral grips or via the console's quick keys.
The unit is not telemetric, so it can only track your pulse if you hold on to the EKG sensors into the machine's grips next to the controls. Also, the console's speed and distance readings are in MPH and miles; metric units aren't available.
Amenities
The console offers a tablet holder, two cups/bottle holders, and a sound system in extras. The tablet holder is between the keypad and the display section; it can accommodate any tablet or serve as a magazine rack. Some tablets may cover the lower displays, though. The accessory trays are on each side of the console keypad; they are large enough to fit most types of water bottles or small accessories, such as keys, earplugs, etc.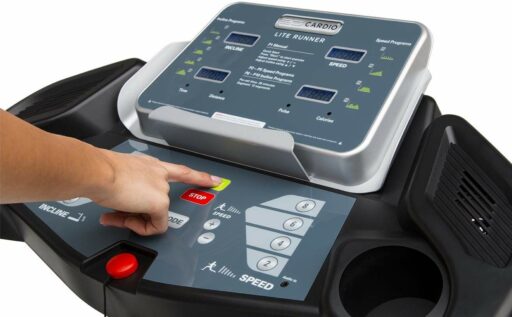 The sound system consists of two speakers, one on each side of the display section. The port for your device is on the right bottom corner of the keypad. The console sound system is compatible with most smartphones, MP3s, and tablets.
Lite Runner Assembly and Maintenance
There are three main steps within the 3G Cardio Lite Runner treadmill assembly. First, you must attach the console masts to the lower frame. Second, you must connect the console and the wires, and for the third part, you will have to attach the base covers.
The deck comes wholly assembled with its motors, rollers, running belt, incline lift, and folding mechanism. The tools required for assembly are (included), while the manual provides excellent assembly instructions.
For maintenance, you will have to lubricate the deck periodically. A bottle of lubricant is (included), and the manual instructs you on how to carry out this task.
Other than this, it would help if you kept the running belt clean to prevent any objects or fibers from being caught in the motor and causing damage. And finally, it's recommended to periodically check for loose bolts and parts, re-tighten the belt if it's the case, etc.
Pros
Sturdy construction, capable of supporting users up to 300 lbs;
Small footprint and folding design;
A hydraulic folding system that assists you with lowering the deck;
Adjustable stabilizers;
Transport wheels;
Ortho-Flex Shock™ deck suspension system;
Motorized incline with a range between 0-15%;
Speed settings up to 11 MPH;
Speed adjustment increments of 0.1 MPH, giving you the possibility to find the perfect pace for your workout;
Quick keys for incline and speed adjustment;
EGK pulse sensors built-in the handgrips;
Speed and incline controls built-in the handgrips;
Low power consumption;
LED-backlit displays;
Ten preset workout programs;
Accessory trays built-in the dashboard;
Sound system included;
Tablet holder included;
Very easy to assemble;
Little maintenance is required.
Cons
No cooling fan;
No online connectivity.
3G Cardio Lite Runner Treadmill Summary
The 3G Cardio Lite Runner is a home-use treadmill designed for walking and jogging, equipped with a 2.5 HP motor and automatic incline. It offers speeds of up to 11 MPH and an incline range between 0% and 15%. Its fitness console shows time, distance, speed, incline, pulse, and calories burned. In addition, it offers ten preset workouts and integrates two speakers to play your music through its console.
Moreover, it's a machine made for light workouts, muscle toning, endurance training, and weight loss. It's quite a bit more expensive than other treadmill models in this specs range but does offer excellent quality for the price.
I hope you found this article helpful and informative. Would you please speak up if you have anything you'd like to share on the topic or any opinions about my website? I look forward to your comments, questions, and the sharing of ideas.
Please note: Before starting any exercise program, you should consult your physician to determine if you have any medical or physical conditions that could put your health and safety at risk or prevent you from using the equipment properly. In addition, your physician's advice is essential if you are taking medication that affects your heart rate, blood pressure, or cholesterol level.