The Endurance R300 Rowing Machine from Body-Solid is an excellent option for users who want to reduce their body weight while simultaneously achieving the benefits of endurance and strength training. The R300 also strengthens the body while promoting flexibility and a broader range of motion for better results.
The Endurance R300 is a compact machine designed to ensure high-powered cardio workouts with durable performance and sturdy build quality. In addition, it is a self-generating machine that doesn't require an external power source to function.
The R300 has nine air resistance settings for having well-co-ordinated workout sessions. The damper controls the amount of air passing through the fan blades, which allows the user to increase or decrease the overall resistance. In addition, it depends on how fast the user can row the machine to generate a resistance level.
The interactive fitness monitor reports on time, heart rate, calories, paddle width, stroke rate, distance cycle, and watts and is telemetric compatible. Unfortunately, an HR chest strap does not come with the rower. Also built into the LCD are eight different exercise programs -Quick Start, Distance, Time, Calories, Game, and Intervals (20/10. 10/20. 10/10).
Learn more in my complete review below!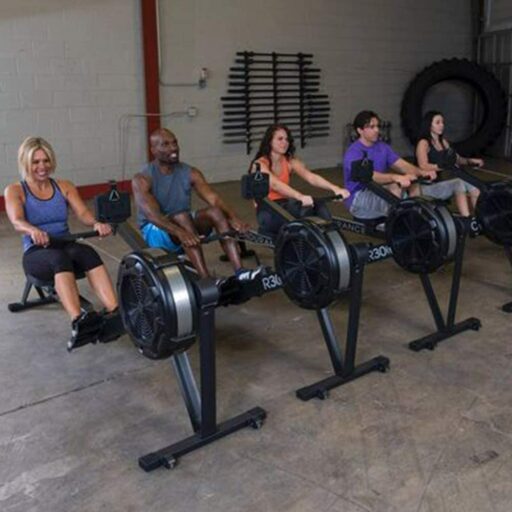 Product: Endurance R300 Rowing Machine from Body-Solid
Price: For a great deal on this rower, merely go here on Amazon
Warranty: In-home Warranty:  Lifetime on Frame / 5 Years on Parts / 2 Years on Electronics (excludes batteries) / 6 Months on Wear Items / 1 Year on Labor (see the commercial warranty below)
My rating: 9.25/10
Affiliate Disclosure: As an Amazon Affiliate Program participant, I earn commissions on purchases made through links in this post. Full disclosure
Details and Specifications
Assembled dimensions: 95.1L x 24.4W x 39.8H inches (241L x 62W x 101H cm)
Assembled weight: 81.1 lbs (36.7 kg)
Weight capacity: 330 lbs (150 kg)
Footrests: Adjustable, with straps
Resistance type: Air, nine levels
Fitness Monitor: 8 programs
In-home Warranty:  Lifetime on Frame / 5 Years on Parts / 2 Years on Electronics (excludes batteries) / 6 Months on Wear Items / 1 Year on Labor
Commercial Warranty: Frame 15 years / Parts 3 years / Electronics 2 years (excludes batteries) / Wear items six months / Labor 1 year
R300 Frame Construction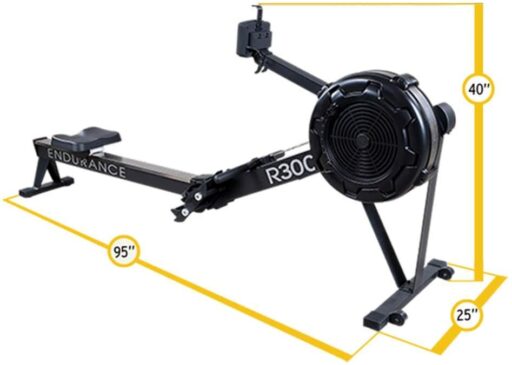 The Endurance R300 rower features a heavy-duty steel frame to support 330 lbs (150 kg) users. The frame is steel tubing, but the machine also integrates several ABS parts. For example, the flywheel covers and several other small parts are durable ABS plastic.
Unlike the Concept2 rower, the R300 does not have a folding frame. However, the rail is easily detachable from the front part with the resistance system, so the unit can split into two parts to take up less space when it's not in use.
The fully assembled machine is quite large, especially lengthwise. It is approx — 95″ (241 cm) long and 24.4″ (62 cm) wide. In addition, the rail is long enough to accommodate users up to 6'5″ (196 cm), allowing a complete leg extension and a full range of motion.
The machine's base bars do not have adjustable stabilizers, but they rest on small rubber pads to protect the floor. In addition, they also prevent it from moving during more intense routines.
Lastly, this rower is relatively heavy, weighing approximately 81 lbs (36.7 kg) with all the parts assembled. However, it's easily moved once built using the small wheels attached to the front base bar.
Seat and other parts
The Endurance R300 includes a seat designed for optimal comfort. Its top is high-density foam; it's not super soft, but not extremely hard. In addition, its surface is contoured to provide better positioning and prevent you from sliding backward during the push phase of the rowing motion.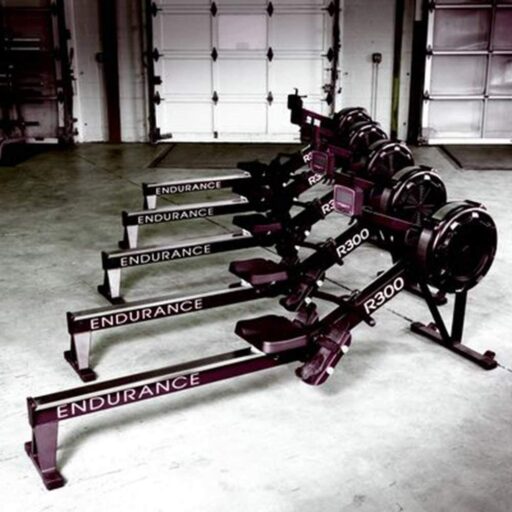 The seat is approx. 13″ (35 cm) above floor level. Therefore, entry and exit shouldn't be difficult, even for users with disabilities or the elderly. It's also important to note that the rail is horizontal, not slightly inclined, similar to other machines. Thus, the leg-push phase does not require that slight extra effort.
The seat frame is steel-made and durable enough to support up to 330 lbs (150 kg). It comes with two sets of wheels that integrate ball bearings. The wheels have a rubberized shell on the outside, designed to minimize noise and provide smooth operation for the seat.
The R300 rower features adjustable footrests. They offer seven adjustment positions each and can accommodate athletic shoes of all sizes. In addition, they also have heel guards and adjustable straps for maximum foot stability.
The footrests attach to the frame via two steel rods each. Therefore, they do not pivot. Instead, their position is stationary at an angle of approx — 45 °.
The unit's pulling handle features an ergonomic design. It is curved towards the user to provide a more natural hand positioning and minimize the wrists' impact. Unfortunately, it does not integrate any HR pulse sensors; however, the console is telemetric compatible.
R300 Drive and resistance
The Endurance R300 from Body-Solid is an air-resistance rower. The main resistance-generating element is the large flywheel fan at the front of the unit. The machine does not have a magnetic brake or an additional eddy current resistance system.
However, the fan casing comes with a damper. Therefore, you can adjust the damper to change the fan casing's airflow to increase or decrease the overall resistance.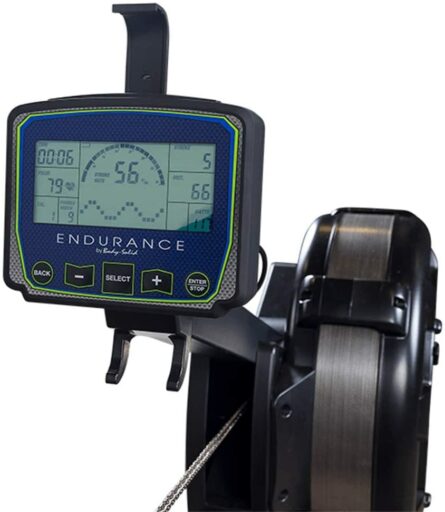 The unit's damper offers nine resistance settings. The lowest delivers a relatively light resistance, while the 9th setting provides extra difficulty. Unfortunately, since the machine does not have a magnetic brake, the resistance is not automatic, and the fitness monitor does not control the resistance adjustment in any way.
One of the most important aspects I have to mention here is the dynamic response this machine provides, specific to any air-resistance rower. Regardless of the selected level on the damper, the resistance generated depends on how hard you pull.
If you pull the handle harder, the flywheel will spin faster and create more resistance. Therefore, it can be quite a plus for professional rowing athletes, which may need a rowing sensation as close as possible to rowing a real boat through the water.
It's also important to note that the main drive element of the Endurance R300 is a chain, not a nylon strap. This type of drive can last a lifetime if it's properly lubricated. Also, the fan casing minimizes the noise, so the machine is not too loud.
Fitness monitor
Although the Endurance R300 rower's fitness monitor does not have any online capabilities, it does provide an impressive range of features. First, it has an LCD divided into multiple sub-sections to show as many workout metrics as possible at once, so you don't have to use a scan function to rotate them.
The display tracks time, strokes per minute (SPM), total strokes, distance, watts, calories burned, and pulse. It also indicates "paddle width," which is the distance per stroke, a function that few other rower computers show.
The distance is either kilometers or miles. Also, you will have to use a wireless HR chest strap to benefit from a pulse reading. Unfortunately, this accessory does not come included with the machine.
The fitness monitor has eight built-in programs to keep you motivated. The 1st program is the QuickStart program, which allows you to row freely while monitoring all your workout stats.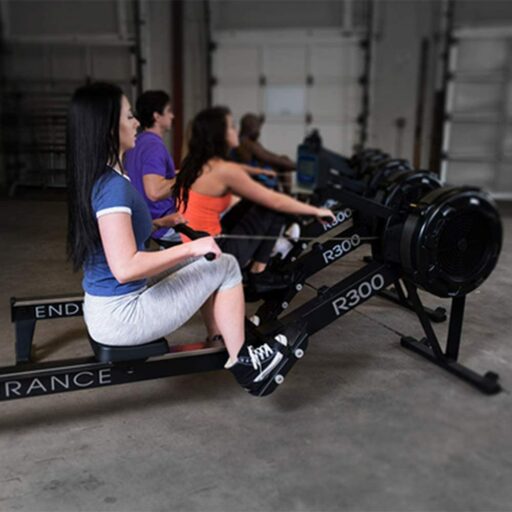 The following three are goal programs for distance, time, and calories. You can select a goal for each of these, and the monitor will count down from it until you finish it.
The 5th program is a game program that requires you to row slower or faster to move a line (your boat) through a set of obstacles. Finally, the last three programs are 20/10, 10/20, and 10/10 intervals.
The monitor is straightforward to use. The battery-operated monitor requires two C-size batteries. It starts up when you begin rowing or press one of the buttons. It also automatically shuts down after 20 seconds of inactivity on the machine.
R300 Assembly and Maintenance
The flywheel section comes pre-assembled. However, the rest of the parts do require assembly. Therefore, you will have to attach the rail frame with the seat to the front frame part, connect the front and rear stabilizers, and add the footrests and the fitness monitor.
Consequently, it shouldn't take more than 30 minutes of your time. The manual provides clear assembly instructions, and a set of necessary tools comes with the rowing machine.
Since it's an air resistance rower, periodically remove the fan casing dust by vacuuming the unit from the outside. The chain also needs periodic lubrication, and the rail should be wiped clean to prevent damage to the seat wheels.
Pros
Commercial grade construction – can support users up to 330 lbs;
Easily detachable rail for better storage possibilities;
Front wheels for transport;
Rubberized stabilizers;
Long rail – can accommodate users up to 6'5″;
Padded, contoured seat;
Adjustable footrests with straps and heel guards;
Air resistance, providing a dynamic response during rowing;
Multi-window fitness monitor which can track time, distance, calories, watts, pulse, spm, total strokes, and paddle width;
Eight workout programs including 20/10, 10/20, and 10/10 preset intervals;
Phone holder included;
Easy to handle and relocate;
Easy to assemble;
Little maintenance is required;
Excellent warranty.
Cons
No backlight on the fitness monitor LCD;
An HR chest strap does not come with the rower.
Endurance R300 Rowing Machine Summary
The Endurance R300 Rowing Machine from Body-Solid is a commercial-grade air resistance rowing machine offering nine resistance levels, an extra-long rail, and a fitness monitor with eight distinct workout programs.
Moreover, it's a rowing machine for users of all levels, from beginner to pro. It is excellent for a full-body cardio workout, stamina development, muscle toning, and weight loss. And finally, even though it's not the most affordable air resistance rower, it offers excellent value for the price.
I hope you found this article helpful and informative. Would you please speak up if you have anything you'd like to share on the topic or any opinions about my website? I look forward to your comments, questions, and the sharing of ideas.
Please remember that you should consult your physician to determine if you have any medical or physical conditions that could risk your health and safety or prevent you from using the equipment properly. In addition, your physician's advice is essential if you are taking medication that affects your heart rate, blood pressure, or cholesterol level.