The pooboo C511 Indoor Cycling Bike has a commercial-grade construction that features an oversized heavy-duty thick rectangular steel tubing and a triangular-shaped frame. The steel parts come with anti-corrosive and scratch paint that prevents rust and indiscriminate scratch.
The base framework has ovalized front and rear steel bars with adjustable levelers underneath them. As a result, the C511 base provides excellent stability and can adapt to various floor types. Therefore, the bike is durable and sturdy enough to support maximum users' weight of up to 440 lbs (200 kg).
The pooboo C511 Indoor Cycling Bike comes with a belt drive system. The belt drive system comprises a solid leather transmission belt, pulleys, durable crankset, heavy-duty crank-arms, 42 lbs (19 kg) flywheel, and pedals. The drive is bidirectional, meaning you can pedal in reverse if you wish.
The C511 has a friction resistance system that provides micro resistance levels suitable for beginners, intermediaries, and pro athletes. Turn the tension knob clockwise or anticlockwise to increase or decrease the resistance. The resistance level to which you can adjust it is infinite.
Learn more in my complete review below!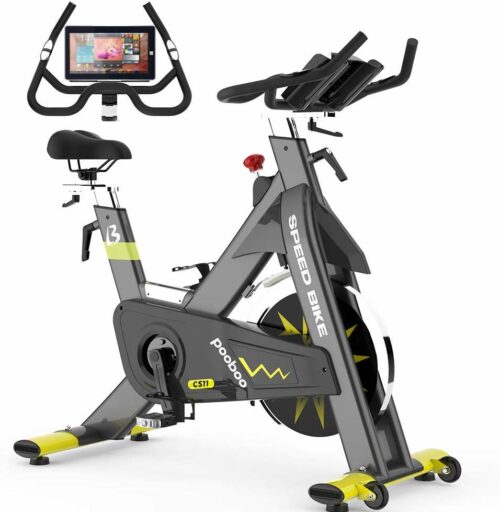 Product: pooboo C511 Indoor Cycling Bike
Price: For a great deal on this bike, merely go here on Amazon
Warranty: 1 year limited
My rating: 9.5/10
Affiliate Disclosure: As an Amazon Affiliate Program participant, I earn commissions on purchases made through links in this post. Full disclosure
Please note that the tablet pictured in the image does not come with the bike.
Details and Specifications
Assembled dimensions: 51L x 23W x 48H inches (130L x 58W x 122H cm)
Assembled weight: 121 lbs (54.8 kg)
Flywheel weight: 42 lbs (19 kg)
Weight capacity: 440 lbs (200 kg)
Seat: 4-way adjustable
Pedals: With toe cages
Drive: Belt
Resistance: Friction, adjustable
Fitness Monitor: Time, speed, distance, total distance, calories, pulse, scan
Extras: Bottle holders, the device holder
Warranty: 1 year limited
C511 Frame construction
The pooboo C511 features a highly robust, triangular frame of thick steel tubing. It has a maximum user weight capacity of up to 440 lbs (200 kg), impressive even for a club-grade bike. All the tubes in its construction are ovalized for superior aesthetics and double-coated with a durable, corrosion-resistant paint finish.
The primary color is gray, with the "pooboo" logo painted white and the bases painted yellow. The only exceptions are the seat tube, the handlebar tube, and the flywheel, chrome-plated.
The fully assembled bike is quite substantial. It weighs approx. 121 lbs (54.8 kg), while its boxed weight is 136 lbs (61.6 kg). Therefore, it is advisable to be carried and assembled by two persons. However, only one person can quickly relocate it once constructed, as its front base comes with large silicone transport wheels.
The bike's weight plays an essential role in its overall stability. As a result, you can be sure that it won't rock or move even if you engage in the most demanding workouts.
Plus, both its base bars come with adjustable stabilizers, which allow you to level it flawlessly on any surface. However, placing and using the bike on a rubber mat is advisable as it may still damage the floor due to its weight.
One last important aspect is the small bar that unites the seat tube with the frame's main oblique tube. This element improves the bike's overall sturdiness, but it can also serve as a stepping pad. Not all spin bikes have this feature, so it is quite a plus as you can perform specific spin workouts that require you to mount and dismount to engage more muscle groups repeatedly. In addition, this short bar has a reinforced steel plate that prevents the wear of its paint finish.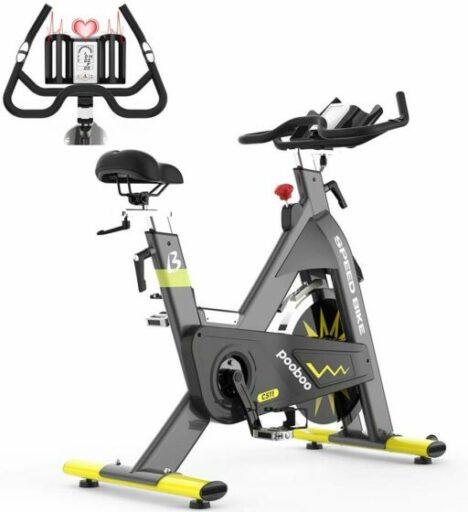 Seat
Although the pooboo C511 is an indoor cycling bike designed for spin workouts, it doesn't have the average slim, race-type seat. Instead, the included saddle is full, offering more contact surface and comfort. In addition, it integrates a thicker layer of cushioning and has a contoured body for extra breathability.
Plus, it features a classic (collar-based) attachment system, which makes it easy to replace. You should be able to find at least a few compatible options in any bike shop in case you will ever want to replace your seat.
The bike's seat is four-way adjustable (up, down, front, back). Its vertical post offers approx. 10″ (26 cm) of adjustment while its horizontal slider adds approx. 3.3″ (9 cm) of front-to-back adjustment. Therefore, the bike should accommodate no problem users between 5'2″ and 6'5″ (157 – 196 cm).
As mentioned earlier, the bike has a maximum user weight capacity of 440 lbs (200 kg), which also applies to the seat.
C511 Handlebars
Just like the seat, the handlebar is four-way adjustable. Its vertical post has seven adjustment positions with approx. 0.7″ (1.7 cm) in between, plus its horizontal slider offers a few extra inches of front-to-back adjustment.
Although the handlebar does not have drop-down grips, it does offer multiple grip possibilities. First, it features two long, converging sidebars with front grips curved upward for a better race grip.
It has a transversal bar slightly curved upward in the middle for a close grip and another median bar to which the bottle holder attaches, which can also serve as a perfect secondary grip.
The handlebar integrates pulse sensors in its side grips. Therefore, the included bike fitness monitor can monitor your heart rate if you hold on to them. In addition, the handlebar assembly has a layer of high-density foam for a secure and comfortable grip.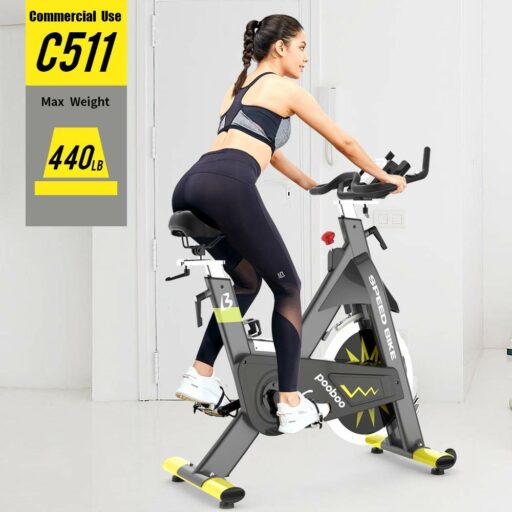 Drive System
The pooboo C511 indoor cycling trainer comes with a reasonably heavy flywheel. It weighs 42 lbs (19 kg) and features a perimeter-weighted design for enhanced inertia, perfect for spin workouts. The flywheel is chrome-plated; it also has black/yellow ABS side covers for extra protection and improved aesthetics.
The flywheel permits reverse pedaling. However, since the bike's drive system is simple, you will get the same resistance when pedaling in reverse when pedaling forward. Thus, you can alternate pedaling with reverse pedaling sessions to engage more muscle groups. However, it's also important to note that coasting is not possible on this bike.
Since it's a bike made for spin workouts, the C511 features a heavy-duty crankset. The crank arms and the pedals can support the user's total weight so that you can alternate seated exercises with standing-up workouts with no problem. The pedals are dual-sided, featuring SPD clips on one side and toe cages.
Last but not least, the bike has a belt drive system. This type of drive offers several advantages. First of all, it does not require lubrication. Second, it generates less vibration than a chain, and third, it promotes a smooth pedaling motion.
C511 Resistance System
The bike's resistance system is friction-based, with manual adjustment. Therefore, you don't have to connect the cycle to an external power source to benefit from resistance adjustment. Furthermore, the bike fitness monitor cannot automatically adjust the resistance.
The resistance system consists of a brake pad. It connects to the tension knob on top of the mainframe tube. By turning this knob clockwise, the brake pad applies more friction to the flywheel increasing the drag and the pedaling difficulty. Also, the tension knob acts as an emergency brake if you must stop the wheel from spinning.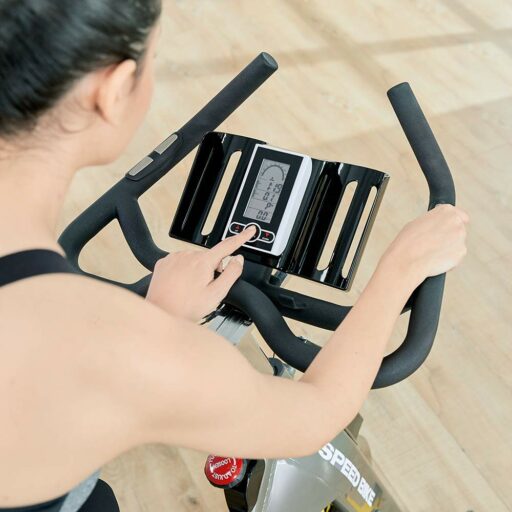 Like most other exercise bikes with a friction resistance system, the pooboo C511 does not have pre-determined resistance levels. Instead, you tighten the brake until you find the right pedaling difficulty.
Fitness monitor
The pooboo C511 includes a fitness monitor similar to the pooboo D578. In addition, the monitor features an LCD with multiple sub-sections, showing up to 5 workout metrics at once, tracking time, distance, total distance, speed, RPM, calories, and pulse.
Unfortunately, it is not telemetric, though. So, you will have to use the sensors integrated into the handlebar for the pulse reading. It cannot read your pulse from an HR chest strap transmitter.
The fitness monitor is easy to use. It only has three buttons – Up, Down, Enter. The Up and Down controls allow you to select a goal for time, distance, or calories burned, while the Enter button fulfills the selection function and the reset function. To reset everything on the monitor, you can press and hold the Enter button for a few seconds.
The monitor requires a CR2032 lithium battery (3V) as its power source, which does not come with the bike. It starts when you begin pedaling and automatically shuts off after a few minutes of inactivity on the bike to save battery.
C511 Assembly and Maintenance
Most of the bike's frame comes pre-assembled; the flywheel, the crankset, the belt, and the resistance elements are already attached to the mainframe. So you only need to connect the two base bars, the seat post and the seat, the handlebar post, the handlebar, the fitness monitor, and the pedals.
Therefore, it shouldn't take more than 30 minutes of your time. The included manual provides step-by-step assembly instructions, and a set of essential tools for the task comes with the bike.
In terms of maintenance, this indoor cycling bike does not require much. The brake pad may need a bit of silicone lubricant from time to time. You will have to keep the cycle clean and periodically check for loose bolts and parts and retighten.
Pros
Commercial-grade, heavy-duty frame construction;
Can support users up to 440 lbs;
Adjustable stabilizers on both bases;
Transport wheels included;
4-way adjustable seat;
4-way adjustable handlebar;
Cushioned and contoured saddle;
Multi-grip handlebar;
Pulse sensors integrated into the handlebar;
Smooth, almost silent belt drive;
Perimeter-weighted, 42 lbs flywheel;
Friction resistance for a wide array of pedaling difficulty levels;
Dual-sided pedals with SPD clips on one side and toe cages on the other;
Fitness monitor included – it tracks time, distance, total distance, speed, RPM, calories, and pulse;
Goal settings for time, distance, and calories;
Dual bottle holder included;
Device holder included;
Easy to assemble;
Little maintenance is required.
Cons
The battery for the fitness monitor LCD does not come included;
No backlight on the fitness monitor LCD.
pooboo C511 Indoor Cycling Bike Summary
The pooboo C511 is a commercial-grade indoor cycling bike designed for all spin workouts. It comes with a 42-lb flywheel, a friction resistance system, and a fitness monitor that tracks your main workout stats.
It features a heavy-duty frame with a maximum weight capacity of 440 lbs. Additionally, it also offers superior micro-adjustability. As a result, it's an excellent trainer for high-intensity cardio training, interval training, stamina and strength development, and weight loss.
I hope you found this article helpful and informative. Would you please speak up if you have anything you'd like to share on the topic or any opinions about my website? I look forward to your comments, questions, and the sharing of ideas.
Please note you should consult your physician to determine if you have any medical or physical conditions that could put your health and safety at risk or prevent you from using the equipment properly. In addition, your physician's advice is essential if you are taking medication that affects your heart rate, blood pressure, or cholesterol level.