The frame of Marcy MKM-81010 Home Gym is 2 x 2.5″ heavy-duty, 14-gauge steel tubing. The base frame sports rectangular tubing, whereas the press arms and other cylindrical parts. Thus, although this is not a commercial gym machine, it's constructed with superior durability in mind.
The MKM-81010 features a standard cable resistance system and a weight stack system. Each plate weighs 15 lbs (6.8 kg), whereas the top selector plate weighs 5 lbs (2.26 kg). Hence, the weight of the stack is 200 lbs (90.7 kg).
The Marcy MKM-81010 is easy and comfortable to use. All handles and arm developers have good grips to hold them and work them out with reliability. In addition, the dual-function arm developer and leg developer feature excellent foam padding, making this home gym unit extremely comfortable to use.
The Marcy MKM-81010 Home Gym has a 200 lbs vinyl/concrete weight stack, 291 lbs maximum weight resistance, five main workout stations, and the possibility to perform over 30+ exercises. The Marcy MKM-81010 is an excellent home gym system for beginners and intermediate users because it can work out almost every muscle in users' bodies.
Learn more in my complete review below!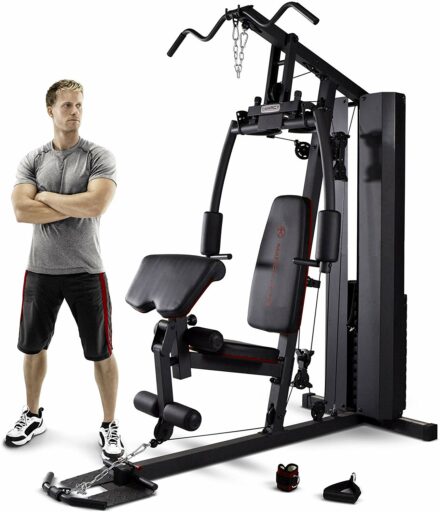 Product: Marcy MKM-81010 Home Gym
Price: For a great deal on this gym, merely go here on Amazon
Warranty: 2 years limited
My rating: 8.25/10
Affiliate Disclosure: As an Amazon Affiliate Program participant, I earn commissions on purchases made through links in this post. Full disclosure
Details and Specifications
Assembled dimensions: 52L x 39W x 84H inches (132L x 99W x 213H cm)
Assembled weight: 374 lbs (170 kg)
Max. user capacity: 300 lbs (136 kg)
Stack weight: Vinyl/cement, 200 lbs (90.7 kg)
Max. weight resistance: 291 lbs (132 kg) back press
Possible exercises: 30+
Warranty: 2 years limited
MKM-81010 Frame Construction
Although the Marcy MKM-81010 is not a commercial gym machine, it offers superior durability. Its frame is heavy-duty, 2 × 2.5″, 14-gauge steel tubing. The base frame structure features rectangular tubing, while the press arms and several other parts are cylindrical.
Compared to other gym systems, this home gym is smaller. Its assembled footprint is approx. 52″L x 39″W (132 x 99 cm); however, it is advisable to assign a usage area of at least 90″ x 70″ (228 x 178 cm) for the unit to be able to perform all the exercises correctly. Also, the height of the fully assembled gym is approximately 84″ (213 cm). Therefore, it will be a tight fit in a room with a seven ′ ceiling height.
The fully assembled unit is substantial because the machine comes with a weight stack that weighs more than 200 lbs. Its overall weight is approximately 374 lbs (170 kg). Therefore, once built, it's not easy to relocate. In addition, the unit doesn't have adjustable stabilizers but does rest on several rubber pads. Consequently, it has an excellent grip on the floor, and due to its weight, it doesn't move or wobble during exercise.
Parts and accessories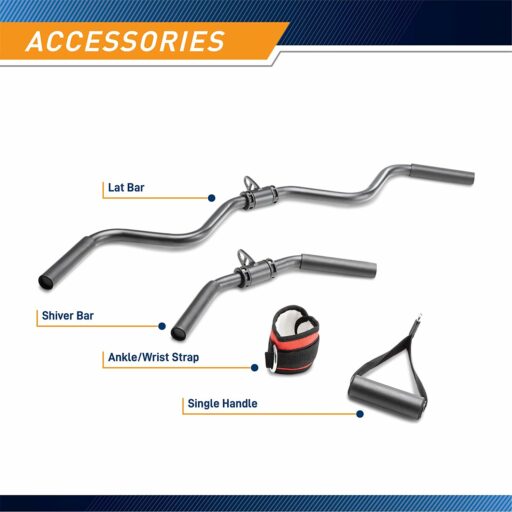 The Marcy MKM-81010 home gym has a reasonably large seat, featuring approx. 2″ (5 cm) of foam padding for optimal comfort. It also has durable vinyl upholstery. The leg developer unit features a similar cushioning for its rollers. They're 4″ (10 cm) thick, providing comfort for leg extensions or stand-up leg curls.
Only the backrest is adjustable, offering several front-back adjustment positions. In case you're wondering, the distance of the seat from the floor is approx. 23″ (58 cm), while the distance from the floor to the press handles is approx—37″ (94 cm).
Therefore, the machine may not be the best choice for users over 6'0″ (183 cm), as they may not benefit from a full range of motion for specific exercises, such as front press or fly press. Also, the seat assembly has a maximum user weight capacity of 300 lbs (136 kg).
The unit integrates 14 pulleys of heavy-duty nylon material and sealed ball bearings for prolonged use. The cables are steel ropes covered by a thin sheet of PVC material. They can withstand much higher tension than the maximum 291 lbs tension this machine can provide.
Cable tension is only adjusted by moving up or down the lower pulley in the double pulley bracket behind the machine's main vertical tube.
This Marcy home gym includes a short, curved curl bar, an ankle cuff, a standard D-handle with a rubberized grip, an extension chain, and the lat pulldown bar for accessories.
MKM-81010 Workout stations and attachments
The Marcy MKM-81010 features five main workout stations and accessories. These are:
Press/fly station. It is the primary workout station of the machine. It has dual functionality and two adjustment positions, allowing for front presses, seated mid rows, and pec fly exercises.
Additionally, it features two large cushioning pads for extra comfort during fly presses and a set of pure grips for the standard horizontal press.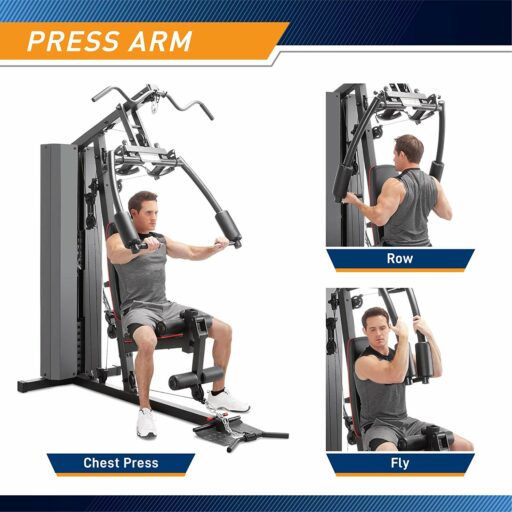 The maximum weight resistance generated by the front press is approx. 270 lbs (122 kg), while if set to a back position, the maximum resistance reaches 291 lbs (132 kg) due to the extra leverage.
High pulley station. This workout station allows the execution of lat pulldown exercises; ab crunches; triceps press downs, etc. It uses only one pulley; the lat pulldown bar is (included) and has an extension chain.
Low pulley station. This workout station allows various exercises, including seated rows, standing-up biceps curls, standing-up rows, etc. In addition, the front part of the frame features a stepping platform to help with your balance during the standing-up exercises.
Leg developer attachment. It's a standard home gym attachment for leg extensions. However, you can also execute standing-up leg curls using only one leg at a time.
Preacher pad attachment. The included preacher pad features a thick layer of padding, especially at the top, similar to the seat and the backrest. It offers the possibility to perform seated preacher curls, and the small curved bar for this type of exercise is (included) with the gym.
Weight Stack and Resistance System
The Marcy MKM-81010 features a classic cable resistance system and includes a weight stack composed of 13 main weight plates and the top selector plate. Each plate weighs 15 lbs (6.8 kg), while the top selector plate weighs approximately 5 lbs (2.26 kg). Therefore, the total weight of the stack is 200 lbs (90.7 kg).
Each workout station delivers different results in terms of weight resistance. As I've mentioned earlier, the maximum weight resistance is 291 lbs (132 kg), provided by the press. The chart below shows the resistance for each of the main workout stations.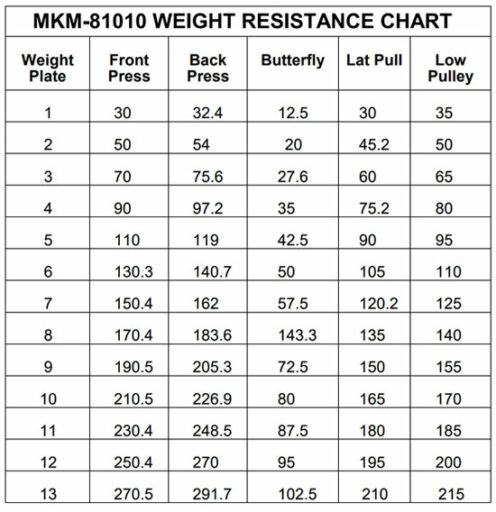 The included weight plates are made of concrete material, and each plate has a durable vinyl shell. They're less durable than standard cast iron plates, but since this is a home gym system, they won't come close to the wear and tear of the plates from a commercial gym machine, so they can last a lifetime, even with daily use. The two main benefits of this weight stack are that the machine is considerably cheaper, and the plates' contact doesn't generate too much noise when the machine is in use.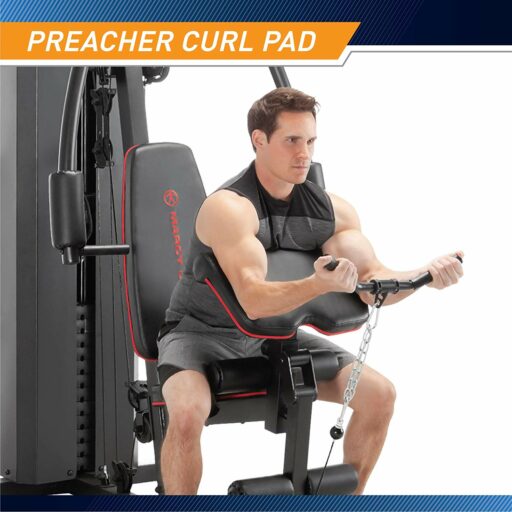 MKM-81010 Possible Exercises
Seated Biceps Curls
Stand-up Biceps Curls
Preacher Curls
Concentration Curls
Tricep pressdowns
Tricep Extensions
Triceps Kickbacks
Ab Pulldowns
Low Pulley Trunk Rotations
Deltoid Raises
Seated Rows
Upright Rows
Mid Rows
Chest Presses
Fly presses
High Cable Cross-Overs
Lat Pulldowns
Leg Curls
Leg Extensions
Kickbacks
Squats
and more.
MKM-81010 Assembly and Maintenance
The Marcy MKM-81010 home gym comes packaged in several boxes and does require an entire assembly. Due to the weight and many parts of the complete gym.
Consequently, the assembly task may take more than 3-4 hours, but the manual provides all the necessary step-by-step instructions, while the schematics are clear and precise. Three Allen wrenches come with the machine; however, you will also need a Phillips screwdriver, an adjustable wrench, and a rubber mallet.
Maintenance doesn't require much once assembled. However, the pulleys may need periodic lubrication, so it's advisable to use light oil. If lubricated during the assembly, the pulleys may not require further lubrication for a long time.
Pros
Sturdy construction, elegant frame design;
Thick and durable vinyl upholstery with consistent padding for maximum comfort;
Foam roller padding on the chest press bars and leg developer attachment;
A relatively small footprint for a home gym system;
Adjustable backrest;
Several workout stations and attachments, including press/fly station, high pulley, low pulley, preacher pad, and leg developer;
Up to 291 lbs weight resistance;
Short curl bar included;
Ankle strap included;
D-handle included;
Lat bar included;
Extension chain included
Over 30+ exercises available;
An exercise chart included;
Quiet operation, a suitable machine for apartment use;
Little maintenance is required;
Reasonably easy to assemble.
Cons
The included weight stack is not upgradable;
The seat is not adjustable (only the backrest);
Not for users taller than 6'0″ (183 cm).
Marcy MKM-81010 Home Gym Summary
The Marcy MKM-81010 is a home gym system featuring a 200 lb vinyl/concrete weight stack and five main workout stations. It provides a maximum weight resistance of 291 lbs and the possibility to execute more than 30+ exercises involving multiple muscle groups.
It's an excellent machine for beginners and intermediate users and an affordable one, offering excellent value for the price.
I hope you found this article helpful and informative. Would you please speak up if you have anything you'd like to share on the topic or any opinions about my website? I look forward to your comments, questions, and the sharing of ideas.
Please remember that you should consult your physician to determine if you have any medical or physical conditions that could risk your health and safety or prevent you from using the equipment properly. In addition, your physician's advice is essential if you are taking medication that affects your heart rate, blood pressure, or cholesterol level.