The Ativafit F8 Upright Bike features an X-type folding frame design sturdy and stable with a maximum user weight capacity of up to 265 lbs (120 kg). In addition, the space-saving folding capabilities make the workout bike the perfect choice for those who do not have much room.
Effectively track your fitness progress using the featured multi-function digital fitness console. The easy-to-read LCD tracks time, distance, speed, calories burned, and pulse. The console is not telemetric, so you'll need to hold the integrated pulse sensors in the handlebars to track the pulse. Measuring your pulse is an essential tool for exercising correctly and efficiently.
The Ativafit F8 upright bike comes equipped with 8-levels of manually adjustable resistance to meet your exercise intensity requirement. In addition, the R8 features a belt drivetrain for smooth and quiet operation. Thus, you'll be able to watch television or listen to music while using it.
Learn more in my complete review below!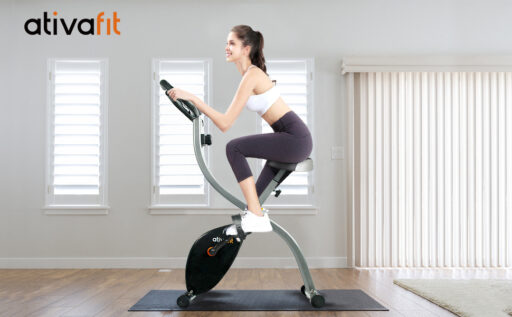 Product: Ativafit F8 Upright Bike
Price: For a great deal on this bike, merely go here on Amazon
Warranty: 90 days limited
My rating: 8.75/10
Affiliate Disclosure: As an Amazon Affiliate Program participant, I earn commissions on purchases made through links in this post. Full disclosure
Details and Specifications
Assembled dimensions: 26.2L x 15.8W x 45.7H inches 66.5L x 40W x 116H cm)
Assembled weight: 34.2 lbs (15.5 kg)
Supported weight: 265 lbs (120 kg)
Handlebar: Non-adjustable
Seat: 2-way adjustable
Resistance: Manual magnetic, eight levels
Fitness console: Time, speed, distance, calories, pulse, goals, scan
Extras: Device holder, bottle holder
Warranty: 90 days limited
F8 Frame construction
The Ativafit F8 exercise bike features an X-type frame that consists of two main parts. The part with the seat also supports the bike's drive system, while the part with the handlebar consists of two long parallel bars. The two frame parts connect in the middle and allow the bike to fold up.
Like most other upright bikes with an X-type frame, the Ativafit F8 is a fairly small unit. With all the parts assembled and the frame unfolded, its footprint is approx. 26.2″L x 15.8″W (66.5 x 40 cm).
However, the bike is a few inches longer (approx. 34″). Therefore, it is also advisable to assign a usage area with at least two clearance feet around the bike for easy access and safe usage.
The bike's frame is steel tubing, and it combines cylindrical, rectangular, and oval tubes in its construction. All the steel parts have a durable paint finish, are resistant to corrosion, and are gray. The only notable plastic parts in the bike's construction cover the drive and resistance elements.
The fully assembled bike is not too heavy. It only weighs 34.2 lbs (15.5 kg). Thus, one person can carry and build the bike. Plus, its front base stabilizer comes equipped with small wheels for easy relocation.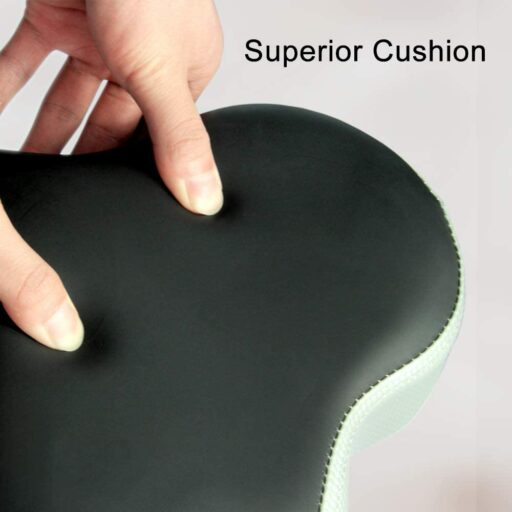 Seat and handlebars
The Ativafit R8 comes equipped with a reasonably large seat, approx. 12″ (31 cm) wide, providing plenty of contact surface. Its shell is a sturdy plastic material, while its top cover is a thick layer of high-density foam.
The seat is only two-way adjustable (up, down). However, its post features several adjustment positions. Therefore, the bike should comfortably accommodate users between 5'0″ and 5'10" (153 – 178 cm).
Taller users should still use this bike, but they may not benefit from a complete leg stretch during pedaling, even with the seat set to its highest position. Also, the bike has a maximum user weight capacity of 265 lbs (120 kg).
The bike comes equipped with a multi-grip handlebar. Its side grips feature thick sleeves of high-density foam material for improved comfort. They also integrate stainless steel pulse sensors, and the included fitness console has a pulse reading function.
The bike's handlebar does not offer any adjustability. You cannot adjust its height or angle. It inserts into the two bars of the front frame section secures via four bolts. Therefore, it won't wobble or move, as is the case for specific exercise bikes on which the handlebar attaches with only one or two screws or a collar system.
F8 resistance and drive
The Ativafit F8 folding exercise bike features a manual magnetic resistance system. Unfortunately, this means that the cycle does not adjust the resistance automatically. But on the other hand, you don't need a power adapter or an external power source.
The bike's main resistance element is an internal magnetic brake connected to the tension knob on the front part of the frame through a steel wire.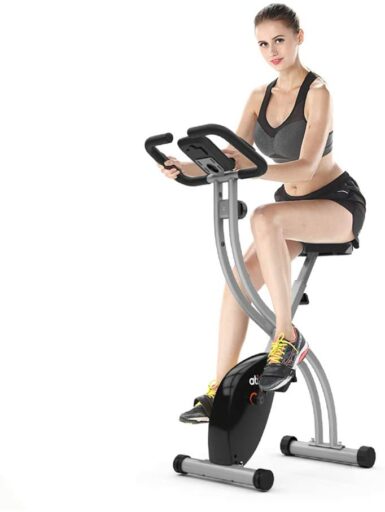 Therefore, when you turn the knob, the brake changes its position to the internal flywheel, increasing or decreasing the workout load.
The bike makes available eight resistance levels, distinguished by the tension knob. The first level delivers a relatively light pedaling difficulty, great for recovery training or muscle toning. The 8th level of resistance is considerably more pedal tension; however, it still doesn't offer a super high difficulty level.
The internal flywheel isn't hefty. Its exact weight is not specified, but considering that the bike's whole weight is less than 35 lbs, the weight of the flywheel probably doesn't exceed 10 lbs (4.5 kg).
The flywheel is perimeter-weighted for improved inertia. It is also bi-directional. Therefore, you can pedal in reverse to put some diversity into your workouts. However, coasting is not possible on this bike.
Like most other exercise bikes with a magnetic resistance system, the Ativafit F8 features a belt drivetrain. However, this type of drive system has several advantages over a chain drive. First of all, it generates less vibration, providing smoother pedaling. And second of all, you don't have to lubricate it.
The bike comes equipped with a sturdy 3-piece crankset with solid steel arms. However, it is not for standing up on the pedals or spin workouts since it's an upright folding bike. The pedals are durable thermoplastic material with a metallic center.
They are weighted, so they always turn face up when you remove your feet from them. In addition, they have a textured surface and adjustable straps for improved foot stability.
Console
The Ativafit F8 upright bike includes a fitness console that offers several more functions than a basic model. For example, it has a pulse reading function and a target setting function.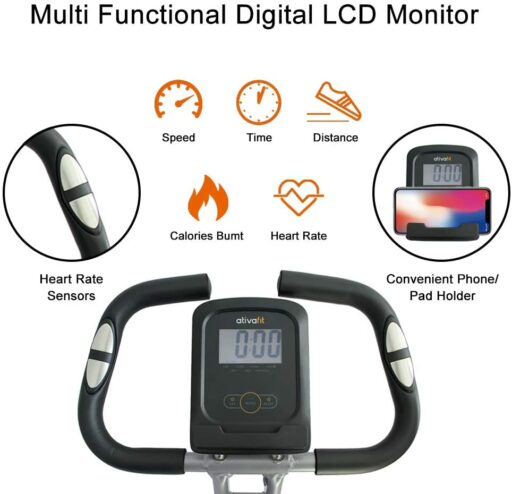 However, it does not have pre-set programs, and it is not compatible with any fitness apps. It also has a device holder that consists of a small shelf at the bottom of the console to place your smartphone or tablet on it.
The fitness console features an LCD (without backlight) that tracks time, distance, speed, calories burned, and pulse. It is not telemetric, though. Unfortunately, it can only read your pulse if you hold on to the sensors integrated into the bike's handlebars. Also, speed and distance are in metric units only.
The console is straightforward to use. It has three buttons – Mode, Set, and Reset. The Mode button allows you to select the workout metric you want to see on display or select the Scan Mode, which rotates all the metrics keeping each one on display for approx. 6 seconds.
The Set button offers the possibility to select workout goals for time, distance, and calories burned. The console will count down from the specified value until it reaches zero. And finally, the Reset button clears all the values to zero.
The console is battery-powered, and it requires two AA batteries, which do not come included with the bike. It starts when you begin pedaling or press one of the buttons and automatically turns off if it does not detect any activity on the bike for more than four minutes.
F8 Assembly and Maintenance
The bike's frame and its drive system come pre-assembled. So you only need to attach the two base stabilizers, the handlebar, the seat, the fitness console, and the pedals.
Therefore, it shouldn't take more than 30 minutes of your time. All the necessary tools come with the bike, and the manual provides precise assembly instructions.
Once assembled, its maintenance doesn't require much. All you have to do is keep the frame clean, wipe any sweat droplets that may fall on the frame at the end of the workout, and periodically check for loose bolts and parts. The internal components do not require periodic lubrication.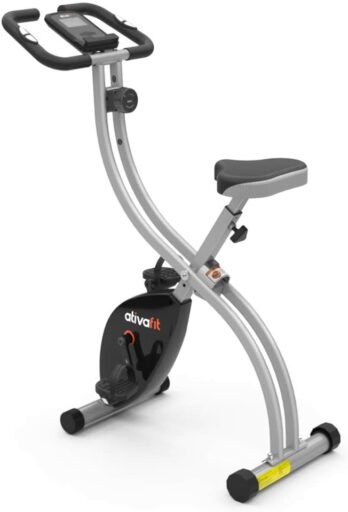 Pros
Fairly sturdy frame with a maximum weight limit of 265 lbs;
Small footprint;
Folding frame, great portability;
Transport wheels integrated into the front stabilizer;
Large padded seat;
Multi-grip handlebar with pulse sensors;
Weighted pedals with straps;
Smooth and quiet operation;
Fitness console included – it tracks time, distance, speed, calories burned, and pulse;
Goal selection function for a time, distance, and calories;
Device holder included;
Easy to assemble;
All the necessary tools for the assembly come included;
Little maintenance is required.
Cons
No backlight on the LCD;
A tablet placed on the device holder will cover the LCD;
Not for users taller than 5'10".
Ativafit F8 Upright Bike Summary
The Ativafit F8 is a foldable magnetic upright bike designed for home use. It features an 8-level manual magnetic resistance system, a large saddle, a multi-grip handlebar, and a fitness console that can track time, distance, speed, calories, and pulse.
Moreover, it's an affordable exercise bike, great for light cardio training, muscle toning, stamina development, and weight loss.
I hope you found this article helpful and informative. Would you please speak up if you have anything you'd like to share on the topic or any opinions about my website? I look forward to your comments, questions, and the sharing of ideas.
Please note: Before starting any exercise program, you should consult your physician to determine if you have any medical or physical conditions that could put your health and safety at risk or prevent you from using the equipment properly. In addition, your physician's advice is essential if you are taking medication that affects your heart rate, blood pressure, or cholesterol level.